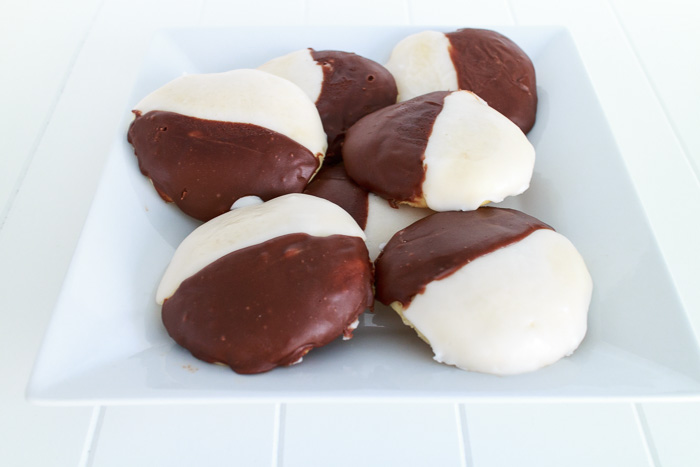 Late last summer a bakery a couple blocks away from my apartment closed. I had recently discovered it and quickly became addicted to its treats. I think its closure was due to the universe saving me from gaining 50 bajillion pounds, although technically, they were just unable to renew their lease.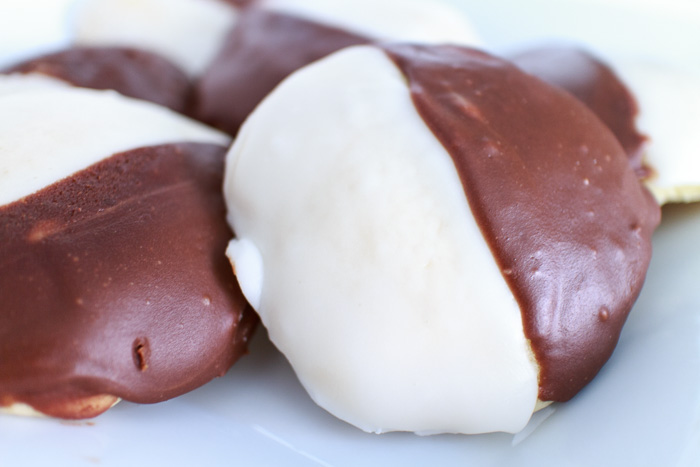 One of my favorite treats of theirs was their half moon cookies. Monstrous in size with a light cakey texture and the perfect amount of chocolate and vanilla icing.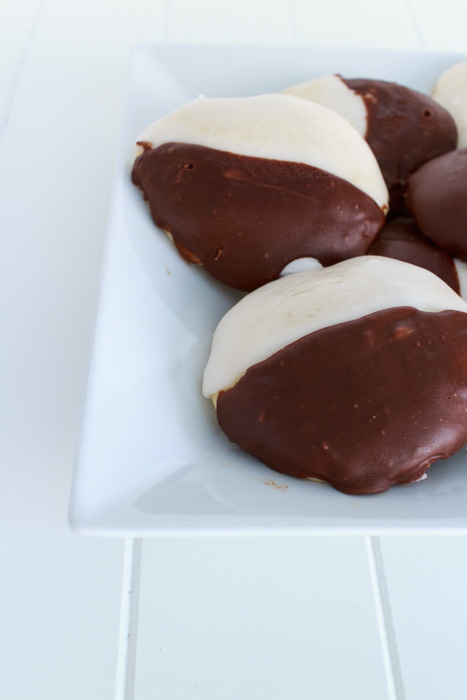 Shortly after their closing I was craving these delightful cookies and realized that Matt's half birthday was coming up. I had never done anything for Matt's half birthday before, but thought it would be a fun surprise. Half moon cookies for a half birthday, what could be better than that?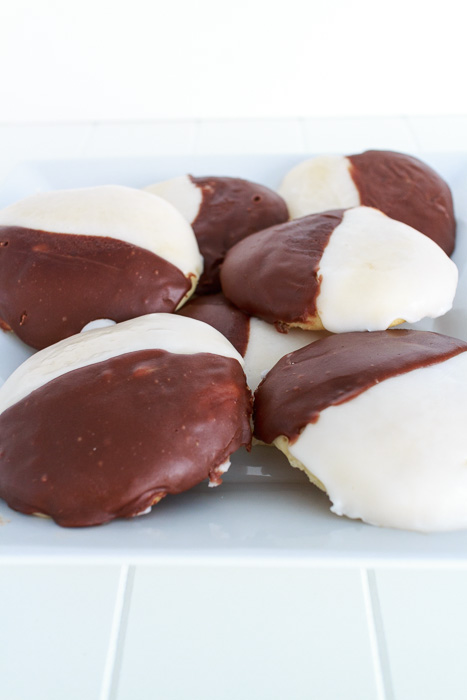 I was a little intimidated about the icing portion since my patience for decoration is minimal, but they were actually very easy to frost. And even better to eat of course. With just a hint of lemon in the cookies themselves I must admit that I enjoyed these even more than their counterparts from the closed bakery. So take that universe!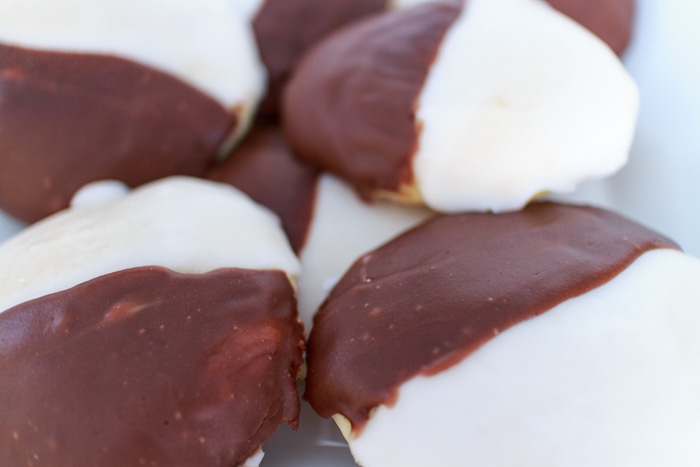 To get true white icing for your half moon cookies be sure to use clear vanilla extract. You can buy it here, in your regular grocery store or in a large craft store chain, such as A.C. Moore.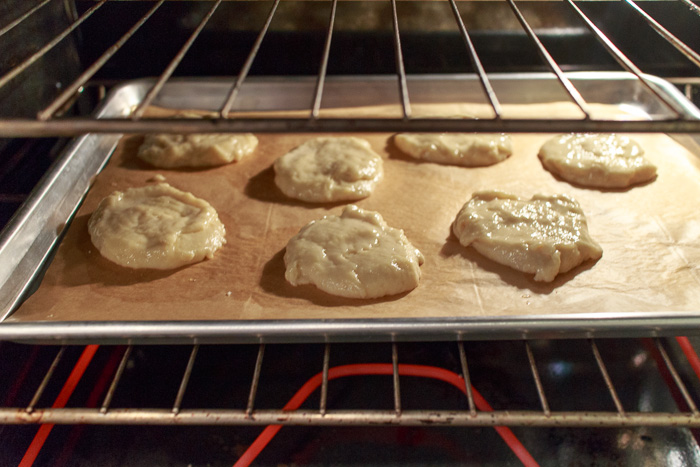 Half Moon Cookies
Ingredients
for the cookies
1½ cups sugar
1 cup unsalted butter, softened
1 tablespoon baking powder
2 teaspoons vanilla extract
1½ teaspoons salt
⅛ teaspoon lemon extract
3 large eggs
4½ cups all-purpose flour
1 cup milk (not non-fat)
for the vanilla icing
2 cups plus 2 tablespoons powdered sugar
3 tablespoons hot water
2 tablespoons light corn syrup
½ teaspoon clear vanilla extract
for the chocolate icing
1½ cups powdered sugar
2½ tablespoons hot water
2 tablespoons light corn syrup
½ teaspoon vanilla extract
½ cup semisweet chocolate chips, melted
Directions
for the cookies
Preheat the oven to 400 degrees F. Line two baking sheets with parchment paper.
Combine the sugar, butter, baking powder, vanilla extract, salt and lemon extract with the paddle attachment of a stand mixer.
Add the eggs to the sugar mixture one at a time, beating after adding each egg until combined.
Gently stir in 1 cup of the flour followed by ¼ cup of the milk. Continue alternating carefully stirring in 1 cup of flour and ¼ cup of milk, ending with the last ½ cup of flour.
Drop the dough ¼ cup at a time onto the prepared baking sheets. Wet the bottom of the measuring cup (so it doesn't stick) and press onto the dough to flatten and spread it into a 3" diameter circle. Try to make sure the circle of dough is an evenly flattened. Leave 2" to 2½" between each cookie because they will spread.
Bake for 10-11 minutes and cool them on the pan to give them time to fully set before moving them to a cooling rack
for the vanilla icing
Whisk together the powdered sugar, hot water, corn syrup and vanilla extract.
Once the cookies are completely cooled, use a butter knife or icing spatula to carefully spread the vanilla icing over half of each cookie. It is okay if you ice them a little more than half because you will be adding the chocolate icing.
for the chocolate icing
Whisk together the powdered sugar, hot water, corn syrup and vanilla extract. Add the melted chocolate and stir until smooth and well combined.
Once the vanilla icing has set on the cookies carefully spread the chocolate icing on the other half. Let the cookies rest on the cooling racks until the icing has set.
Notes
*If you don't want to purchase clear vanilla extract you can use regular vanilla extract, but your vanilla icing won't be white.
*Store at room temperature
Recipe slightly adapted from

King Arthur Flour

.