Pineapple Upside Down Pancakes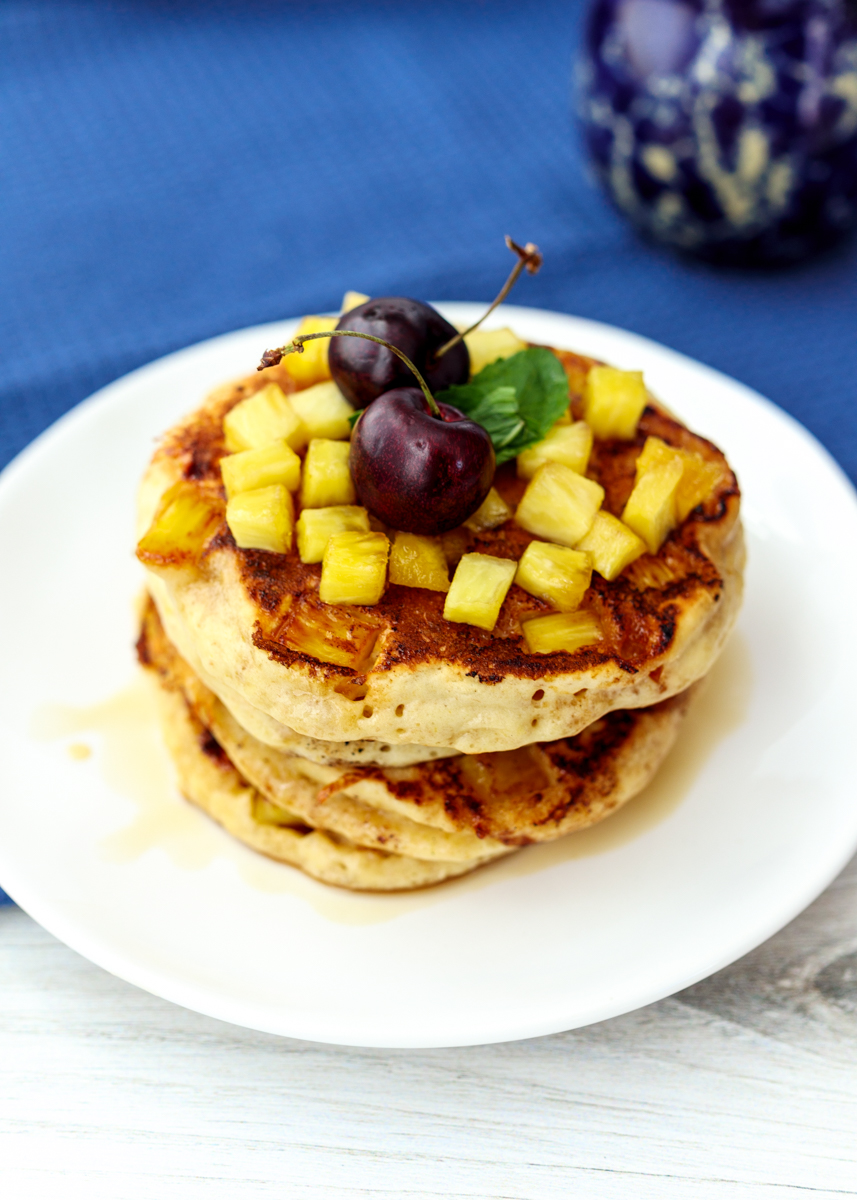 I wanted to make Matt a special breakfast treat during his birthday week so I dug into my Brunch at Bobby's cookbook to get the recipe for these Pineapple Upside Down Pancakes. Ironically, after I had already scheduled these in my Lemon & Mocha calendar, Matt picked this cookbook and this recipe as what we should make in March for our monthly new cookbook challenge.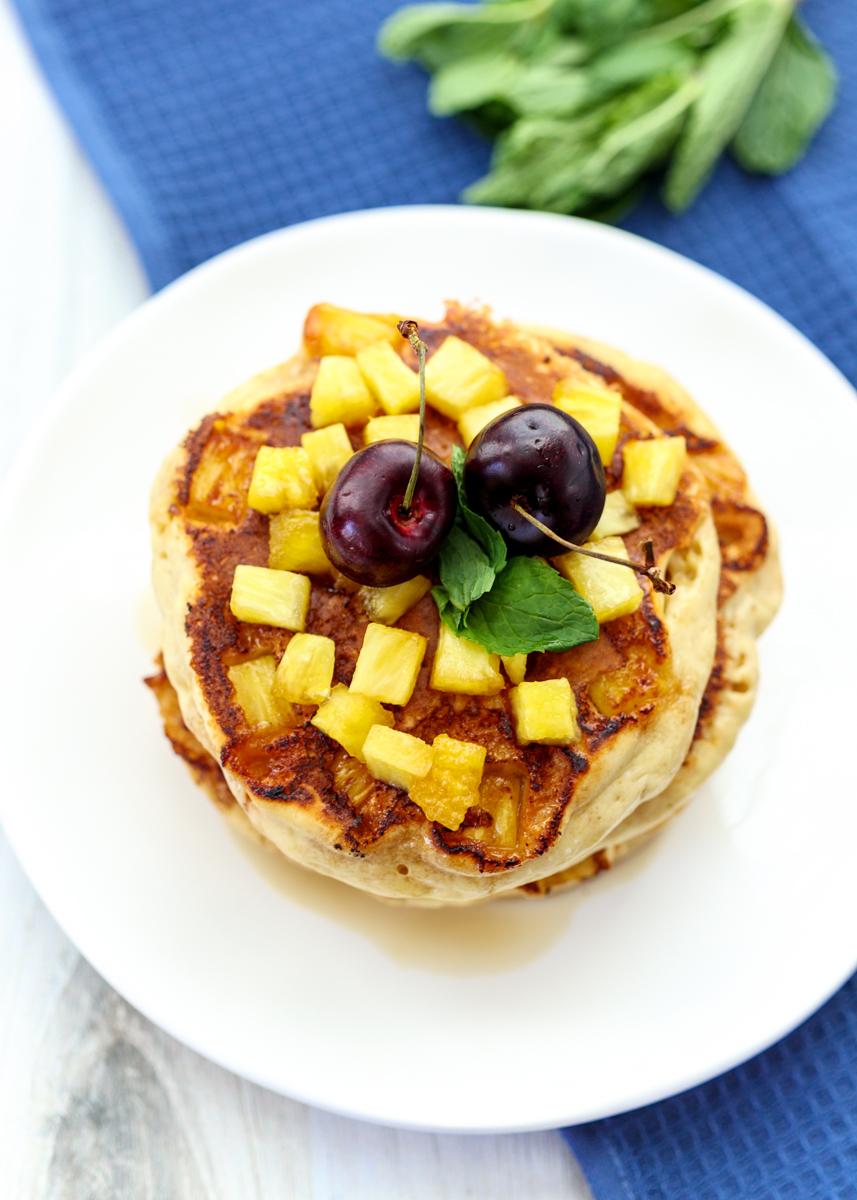 I guess I was spot on when I thought he would like the recipe! I've actually already cooked from Brunch at Bobby's though (check out these Cast Iron Home Fries with Creamy Garlic Dressing!), so I had Matt pick another cookbook anyways.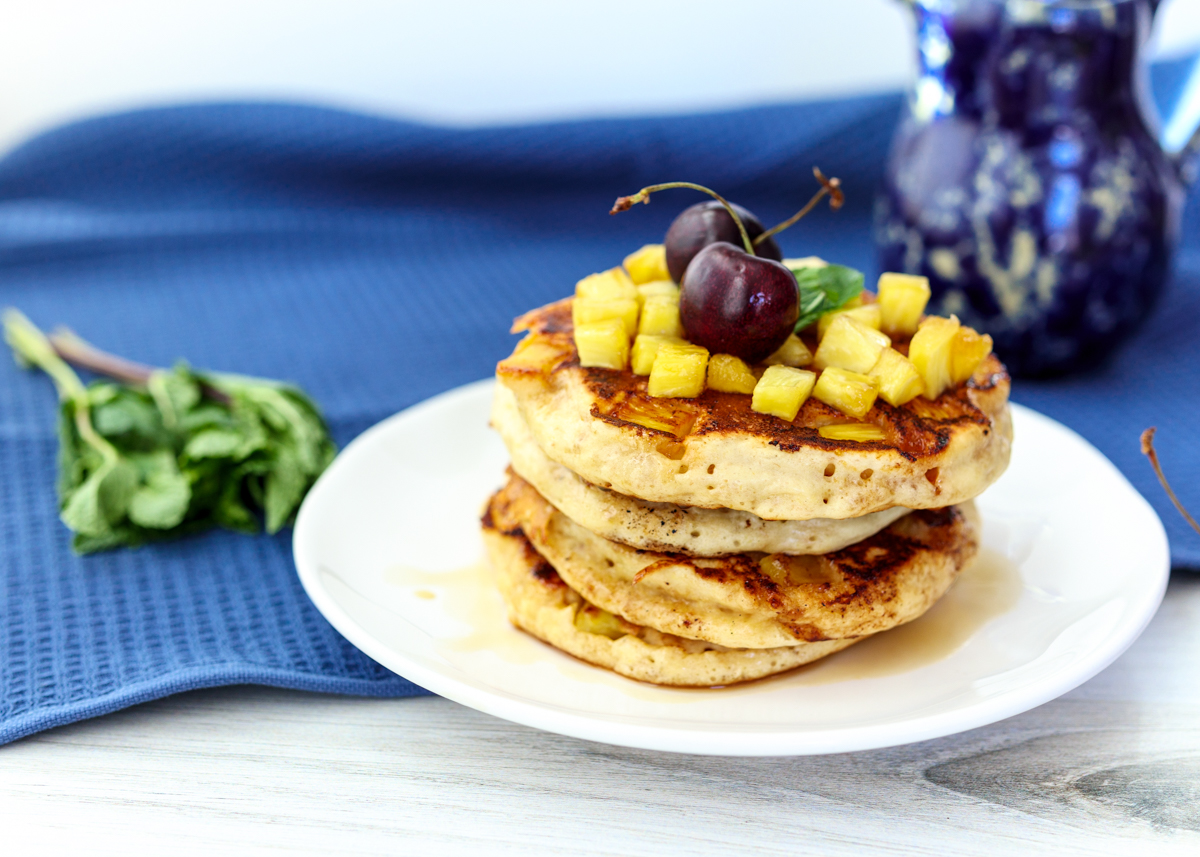 These are fluffy pancakes that have little chunks of caramelized pineapple inside and get topped with a warm pineapple maple butter syrup. Yum! When you pour the pancake batter onto your frying pan or skillet you then add a couple pieces of pineapple and a sprinkling of sugar so that when the pancake gets flipped, the sugar caramelizes right on the exposed pineapple chunk.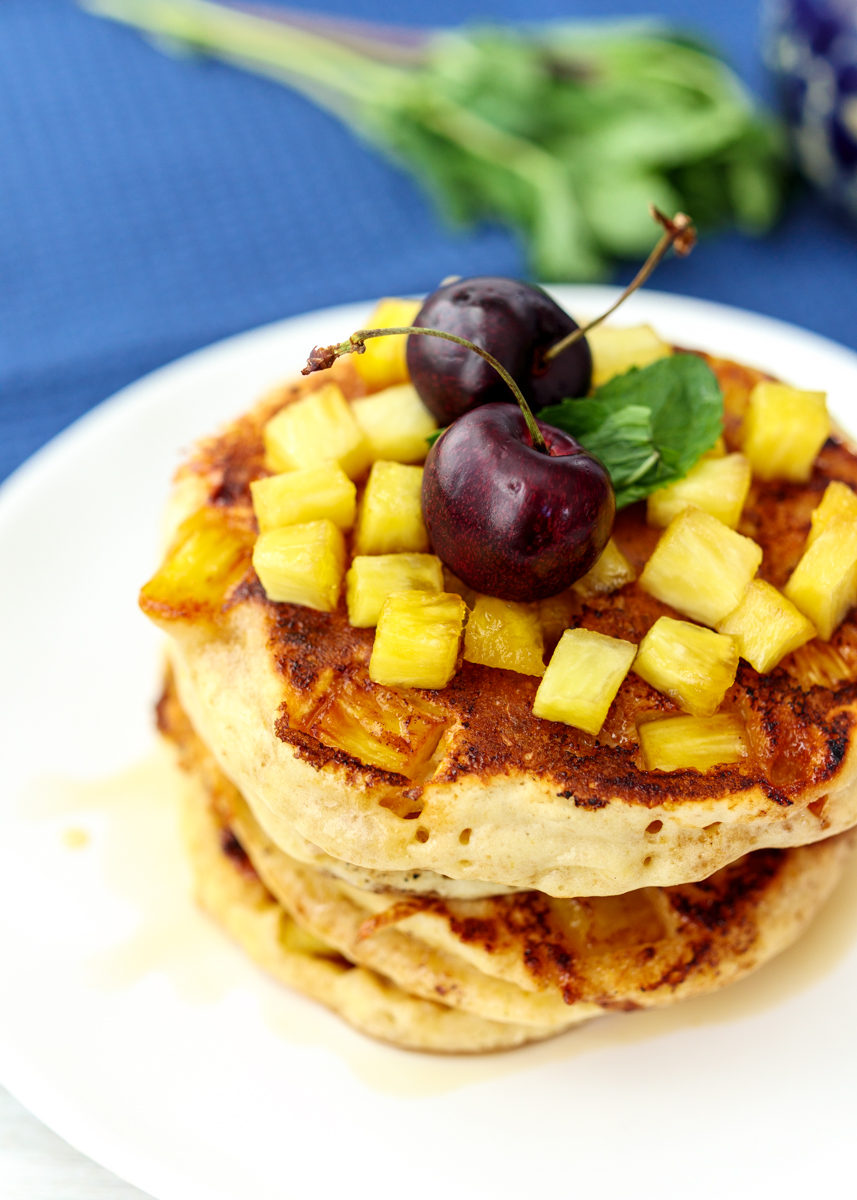 I did have to adapt this recipe from Bobby Flay's cookbook version because his pancake batter recipe let me down. The batter was too thin and as soon as I put it in my frying pan I knew it wouldn't make the big fluffy pancakes that I wanted. So instead, I used the sour cream pancake base from my The Pioneer Woman Cooks cookbook, which have the perfect pancake texture and taste. Don't worry – they don't taste like sour cream! It just helps to keep the pancakes moist and light.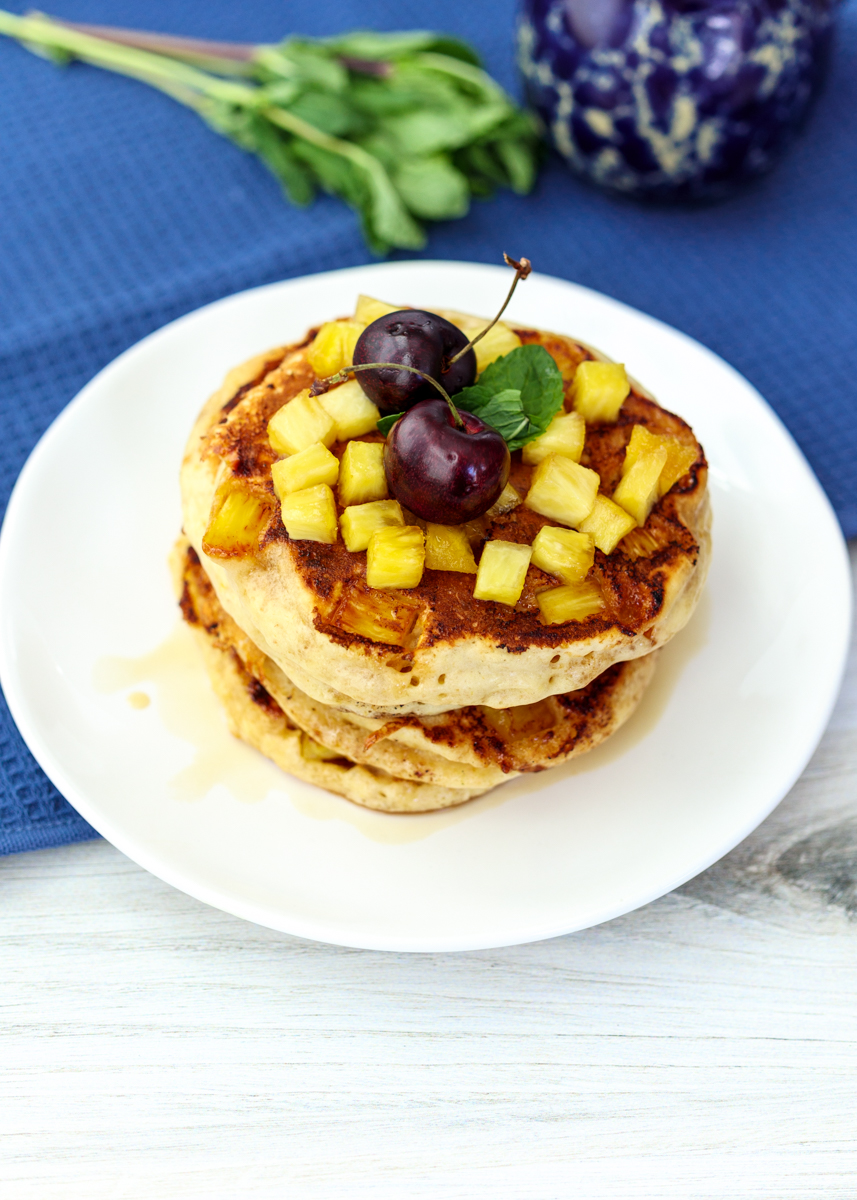 The best part of the whole recipe, though, was the simple pineapple maple butter syrup. Butter, maple syrup and pineapple chunks get cooked together to make a velvety sauce that you will want to drizzle over all your pancakes. And your waffles. And even your french toast. Maybe even on an actual pineapple upside down cake! Which I've never made before, but after having these Pineapple Upside Down Pancakes taste so good it's on my list to try soon! Enjoy!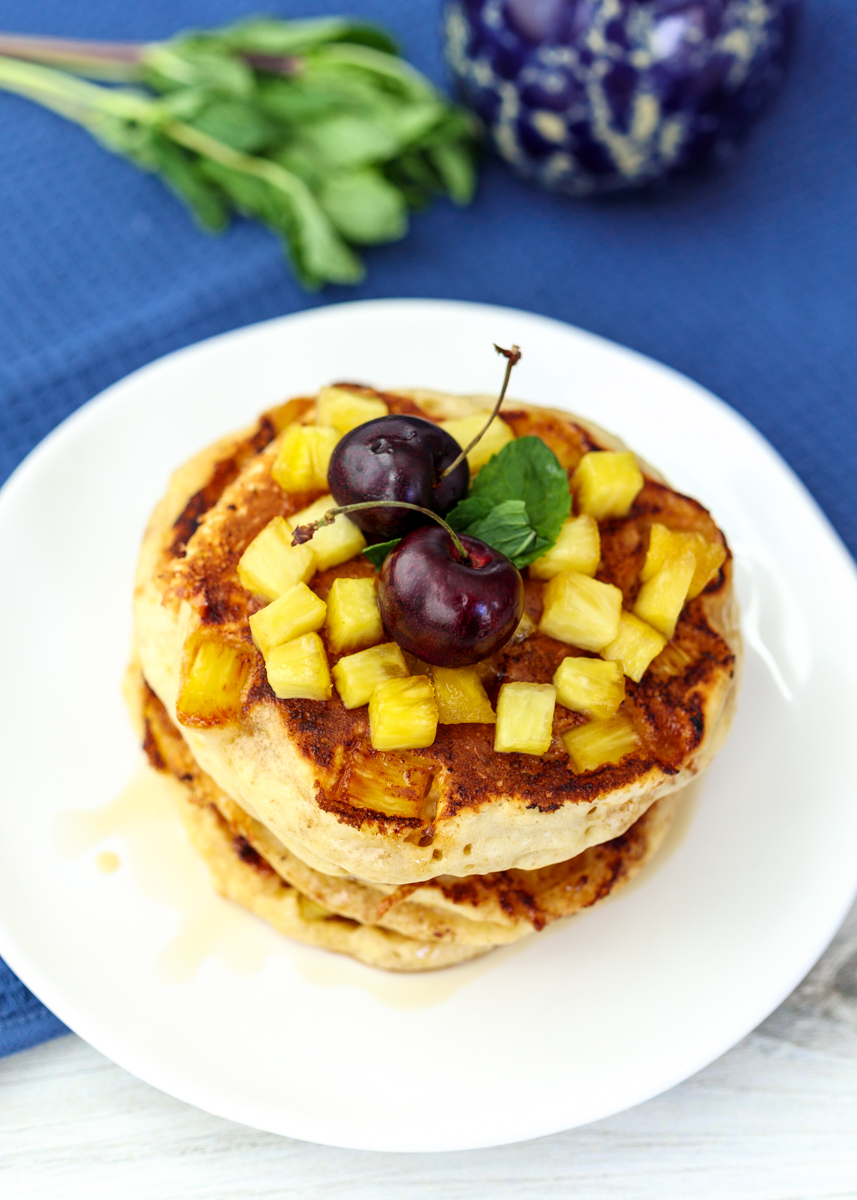 Pineapple Upside Down Pancakes
Ingredients
¾ cup pure maple syrup
4 tablespoons butter, diced and chilled in the freezer
2½ cups finely diced fresh pineapple, divided
1 cup sour cream
7 tablespoons all-purpose flour
3 tablespoon granulated sugar, divided
1 teaspoon baking soda
½ teaspoon salt
2 large eggs
½ teaspoon vanilla extract
Butter, for cooking the pancakes (alternatively you could use cooking spray)
Fresh cherries and mint for serving, optional
Directions
Heat the maple syrup in a small saucepan over low heat. Once simmering, add the cold butter, one piece at a time, and whisk until the butter has melted and the syrup has thickened slightly. Remove from the heat. Add ½ cup of the diced pineapple, stir to combine, then cover and keep warm.
Put the sour cream in a medium mixing bowl. Sift in the flour, 1 tablespoon of the sugar, baking soda and salt. Stir together until just combined. The batter will be lumpy.
In a separate small mixing bowl, whisk together the eggs with the vanilla. Pour the egg mixture into the flour mixture. Stir until just combined.
Place a frying pan or griddle over medium-low heat. Once the pan is hot melt just enough butter to lightly coat the pan or griddle and wait for it to bubble. Pour a scant ¼ cup of batter for each pancake. Try not to overcrowd your pan; the amount of pancakes you can fit will depend on your pan's size. Leave some space between the pancakes as they will expand when you add the pineapple. Once the pancakes start to bubble, about 2 minutes, add some chopped pineapple over top then sprinkle the pineapple with sugar. Flip the pancakes and cook until set, about another 1-2 minutes.
Add some more butter and repeat with the remaining batter until you have cooked all your pancakes. Keep pancakes warm in a single layer on a baking sheet in a warm oven. Serve the pancakes, caramelized pineapple side up, with the pineapple maple butter sauce and garnished with fresh cherries and mint, if using.
Pancake recipe adapted from

The Pioneer Woman Cooks

.
Syrup recipe from and pancake recipe adapted from

Brunch at Bobbys

.
Some of the links above are affiliate links, which means I may receive a small commission for my referral. This does not affect the retail cost of the item. Thank you for supporting Lemon & Mocha!