Funfetti Peanut Butter White Chocolate Waffle Snack Mix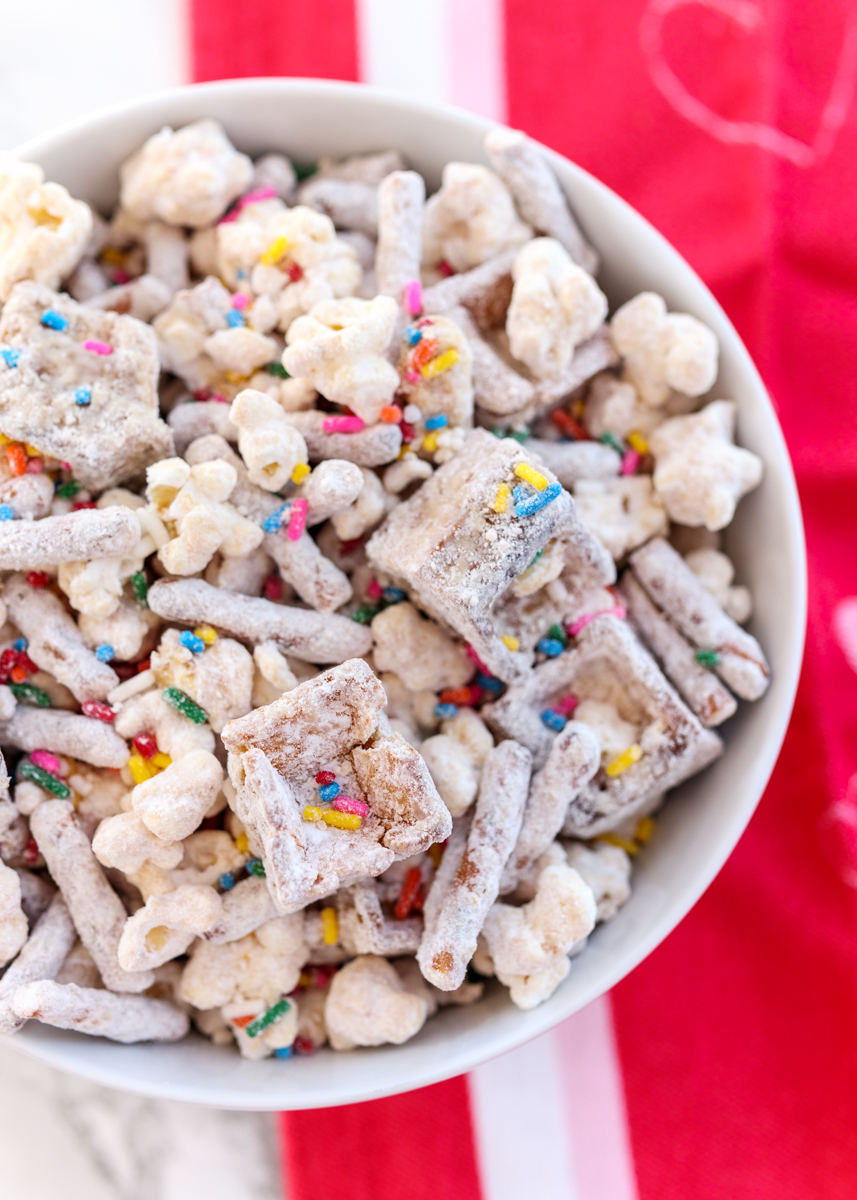 Funfetti Peanut Butter White Chocolate Waffle Snack Mix! Just writing the name of this post is getting me excited! Sometimes you want a dessert that's easy and doesn't require any baking. Sometimes you want a dessert that's called a snack so you can eat it whenever you want. And sometimes you just want something you can cover in rainbow sprinkles. All of these scenarios are perfect reasons to make this sweet and salty treat.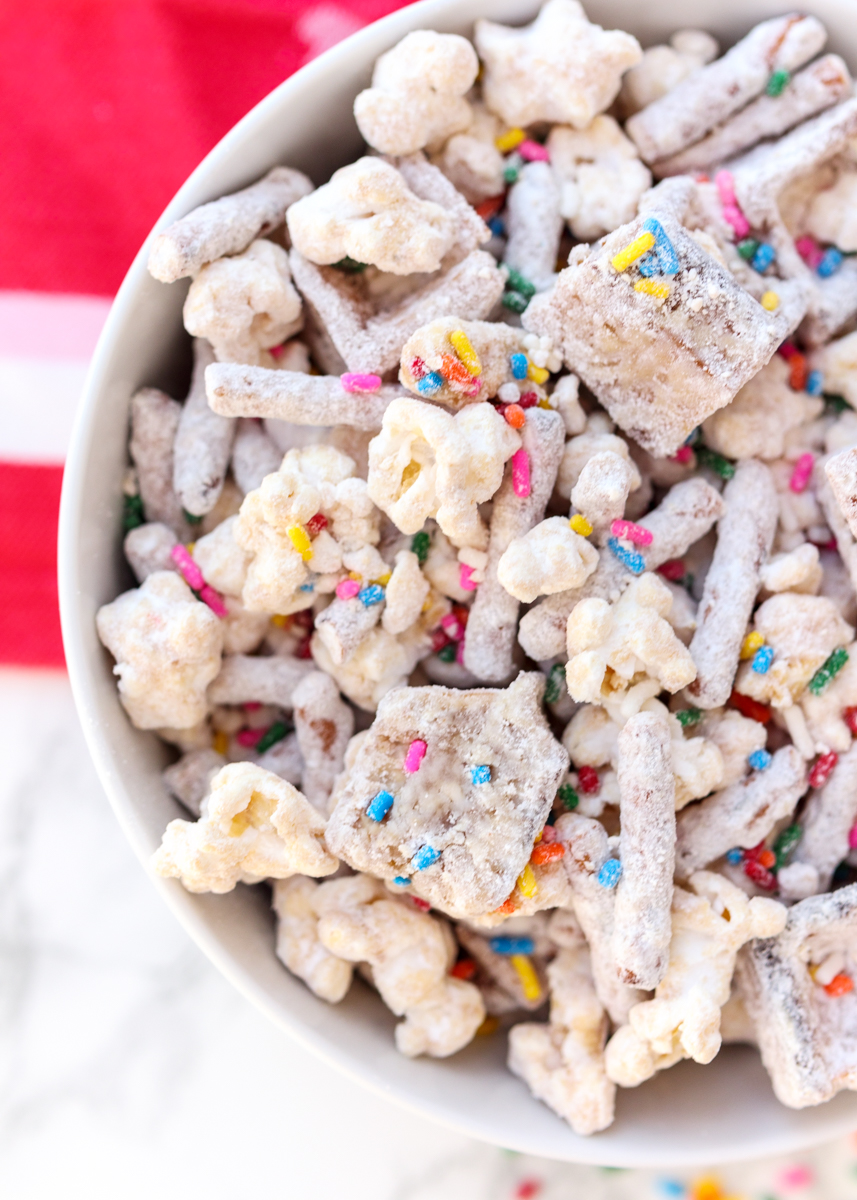 This snack mix is a slight twist on normal muddy buddies. Muddy buddies, or puppy chow, is rice cereal that's been tossed in a peanut butter chocolate mixture before being coated in powdered sugar. Today we're swapping the chocolate for white chocolate and there's no rice cereal in sight. That's because instead we're using pretzel sticks, popcorn and buttered Belgian waffles! Yes, I said waffles. Pretzel sticks help bring in a little saltiness to the snack, which is great since white chocolate is pretty sweet. You could always use mini pretzels instead of pretzel sticks, but I still had some in our snack drawer from the Game Day Cookies.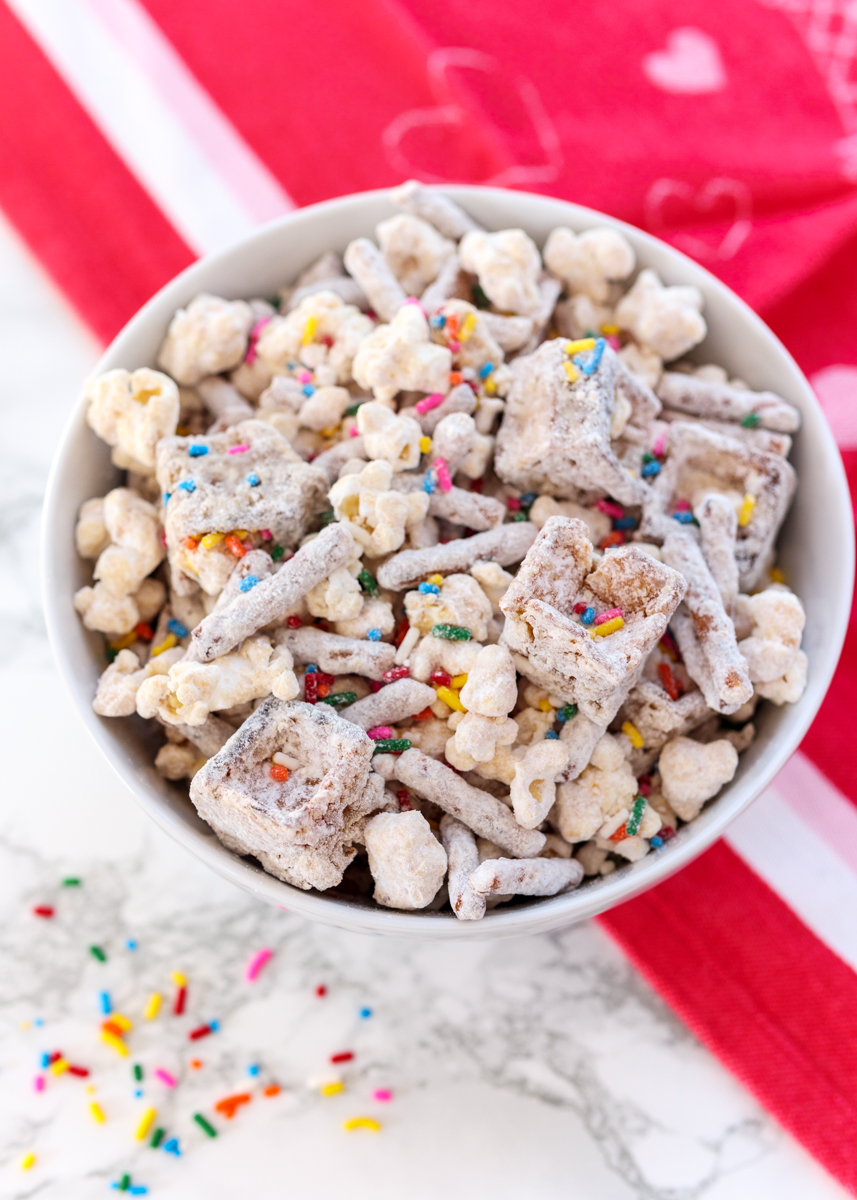 Have you ever had chocolate coated popcorn? It's one of my favorite treats so I love having the popcorn in this snack mix. There are three ways you can make the popcorn in the microwave and I have them all listed in the recipe. My ideal method is to use this collapsible silicone popcorn microwave popper. I got it for Matt as part of his Christmas gift a few years ago and it has been a big hit in our house. Since it collapses it takes up minimal space (kitchen cabinet space is precious!) and you can pop popcorn kernels in it without any oil. Sur La Table doesn't sell the one I bought anymore, but I found it on Amazon. If you don't want to go that route, you can always use a paper lunch bag or a microwave safe bowl with a microwave safe plate fit on top. I haven't tried that last method, but I've seen a lot of people mentioning it as a way to microwave popcorn without a bag.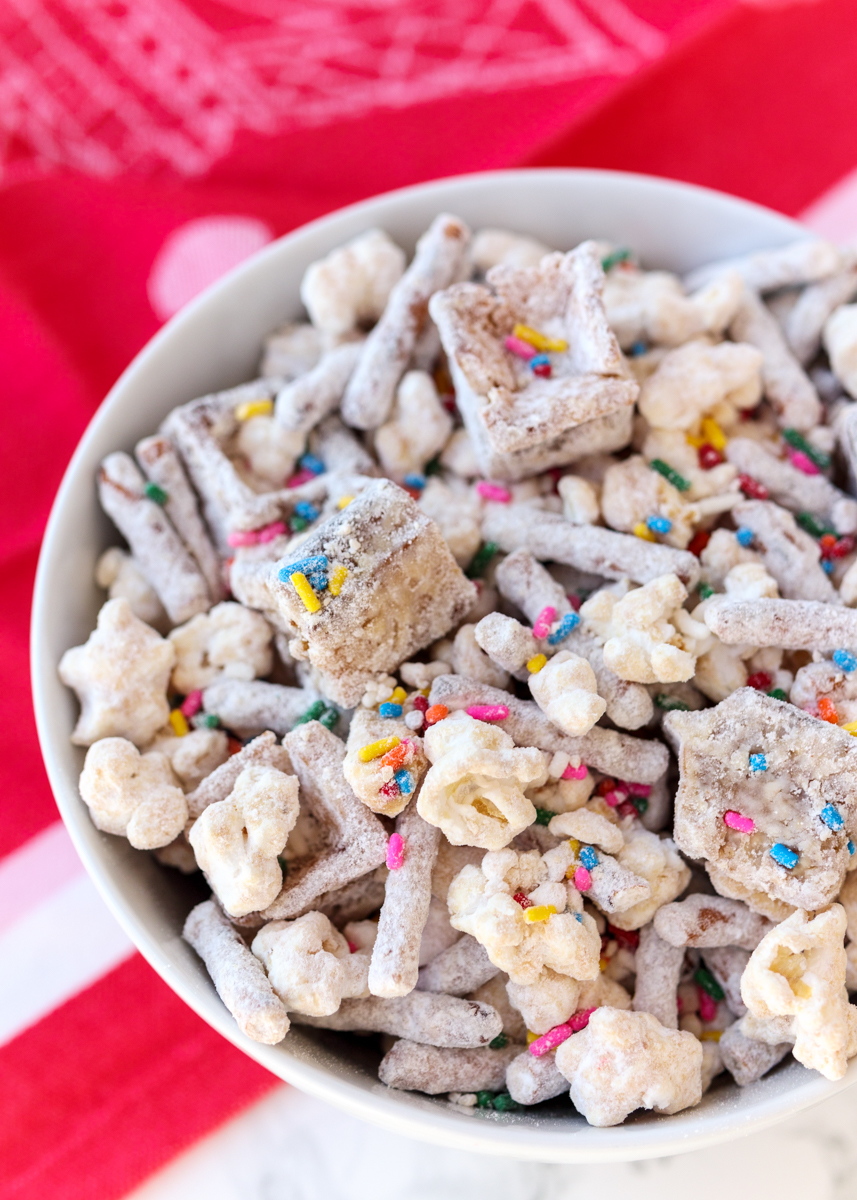 Anyways, moving on to the star of this snack mix – the buttered waffle pieces! I think every snack mix in my future needs to include chunks of Belgian waffle covered in powdered sugar because it is seriously addictive. I used frozen cinnamon Belgian waffles from Wegmans and that extra cinnamon flavor sent them over the top.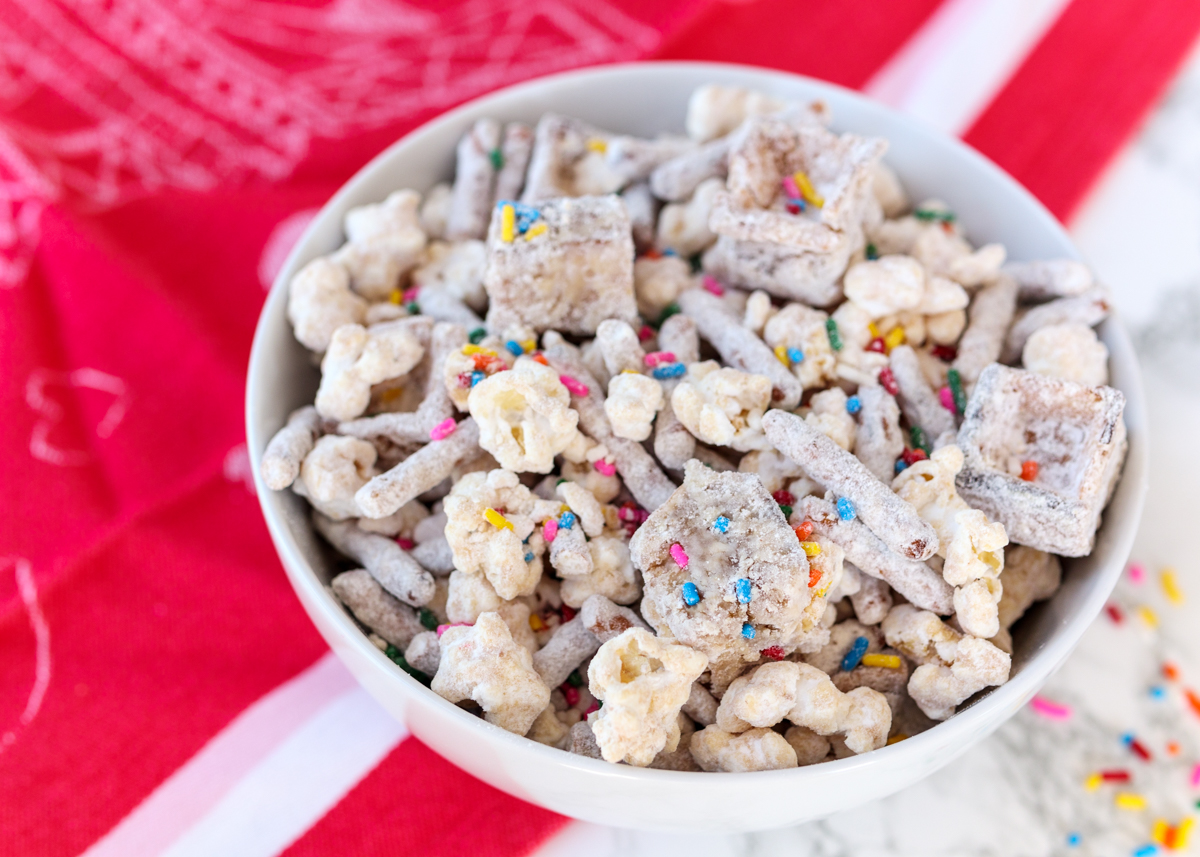 Also, I don't know how I've gone this whole post so far without drooling over the peanut butter in this since I'm peanut butter obsessed. The peanut butter flavor mixed with the white chocolate is absolute perfection. I hope you enjoy this tasty treat and happy early Valentine's Day to you all!
Funfetti Peanut Butter White Chocolate Waffle Snack Mix
Ingredients
3 tablespoons popcorn kernels
2 frozen Belgian waffles
1 tablespoon butter
1½ cups broken in half pretzel sticks
6 ounces white chocolate
¼ cup creamy peanut butter
½ cup sprinkles
¾ cup powdered sugar, plus more if needed
Directions
Place the popcorn kernels in either a brown paper bag with the top folded closed a couple times, a silicone microwave popper with the lid on, or in a medium microwave safe bowl with a microwave safe plate snugly fitted on top. Heat the kernels starting with 3 minutes and stopping the microwave as soon as the popping becomes infrequent. Carefully remove from the microwave and place in a large mixing bowl. If there are any un-popped kernels save them for the next time you make popcorn.
Toast the Belgian waffles in your toaster or toaster oven. When they're toasted, divide the butter between the waffles and it on both sides. Cut the waffles into bite-sized pieces. Add the waffle pieces and broken pretzel sticks to the mixing bowl with the popcorn.
Melt the white chocolate in a small microwave safe bowl. Start with 30 seconds, carefully remove and stir, then continue in 15 second increments, stirring after each increment, until it is melted. White chocolate seizes up easily so be sure not to over-heat. Add the peanut butter and stir until smooth. Pour the peanut butter white chocolate mixture over the bowl of snack mix. Gently toss to coat completely. Add the sprinkles and toss to coat. Sprinkle on the powdered sugar and toss to coat. Add more if needed. Snack mix can be stored in an airtight container, but tastes best eaten right away.
Notes
These recipe can easily be halved or doubled.
Some of the links above are affiliate links, which means I may receive a small commission for my referral if you purchase something. This does not affect the retail cost of the item. Thank you for supporting Lemon & Mocha!
Recipe slightly adapted from Averie Cooks.