Funfetti Peanut Butter White Chocolate Waffle Snack Mix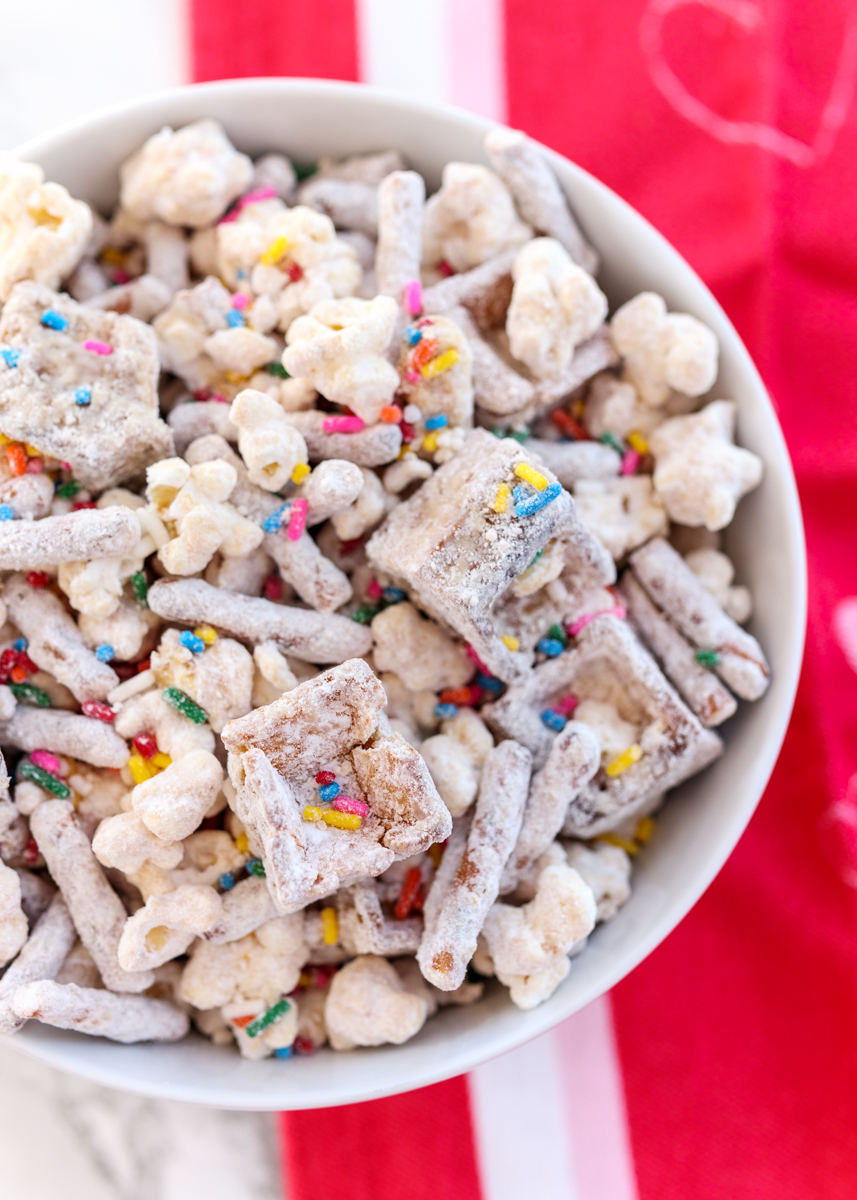 3 tablespoons popcorn kernels
2 frozen Belgian waffles
1 tablespoon butter
1½ cups broken in half pretzel sticks
6 ounces white chocolate
¼ cup creamy peanut butter
½ cup sprinkles
¾ cup powdered sugar, plus more if needed
Place the popcorn kernels in either a brown paper bag with the top folded closed a couple times, a silicone microwave popper with the lid on, or in a medium microwave safe bowl with a microwave safe plate snugly fitted on top. Heat the kernels starting with 3 minutes and stopping the microwave as soon as the popping becomes infrequent. Carefully remove from the microwave and place in a large mixing bowl. If there are any un-popped kernels save them for the next time you make popcorn.
Toast the Belgian waffles in your toaster or toaster oven. When they're toasted, divide the butter between the waffles and it on both sides. Cut the waffles into bite-sized pieces. Add the waffle pieces and broken pretzel sticks to the mixing bowl with the popcorn.
Melt the white chocolate in a small microwave safe bowl. Start with 30 seconds, carefully remove and stir, then continue in 15 second increments, stirring after each increment, until it is melted. White chocolate seizes up easily so be sure not to over-heat. Add the peanut butter and stir until smooth. Pour the peanut butter white chocolate mixture over the bowl of snack mix. Gently toss to coat completely. Add the sprinkles and toss to coat. Sprinkle on the powdered sugar and toss to coat. Add more if needed. Snack mix can be stored in an airtight container, but tastes best eaten right away.
These recipe can easily be halved or doubled.
Recipe by
Lemon & Mocha
at http://www.lemonandmocha.com/2019/02/13/funfetti-peanut-butter-white-chocolate-waffle-snack-mix/