Turtle Caramel Pecan Fudge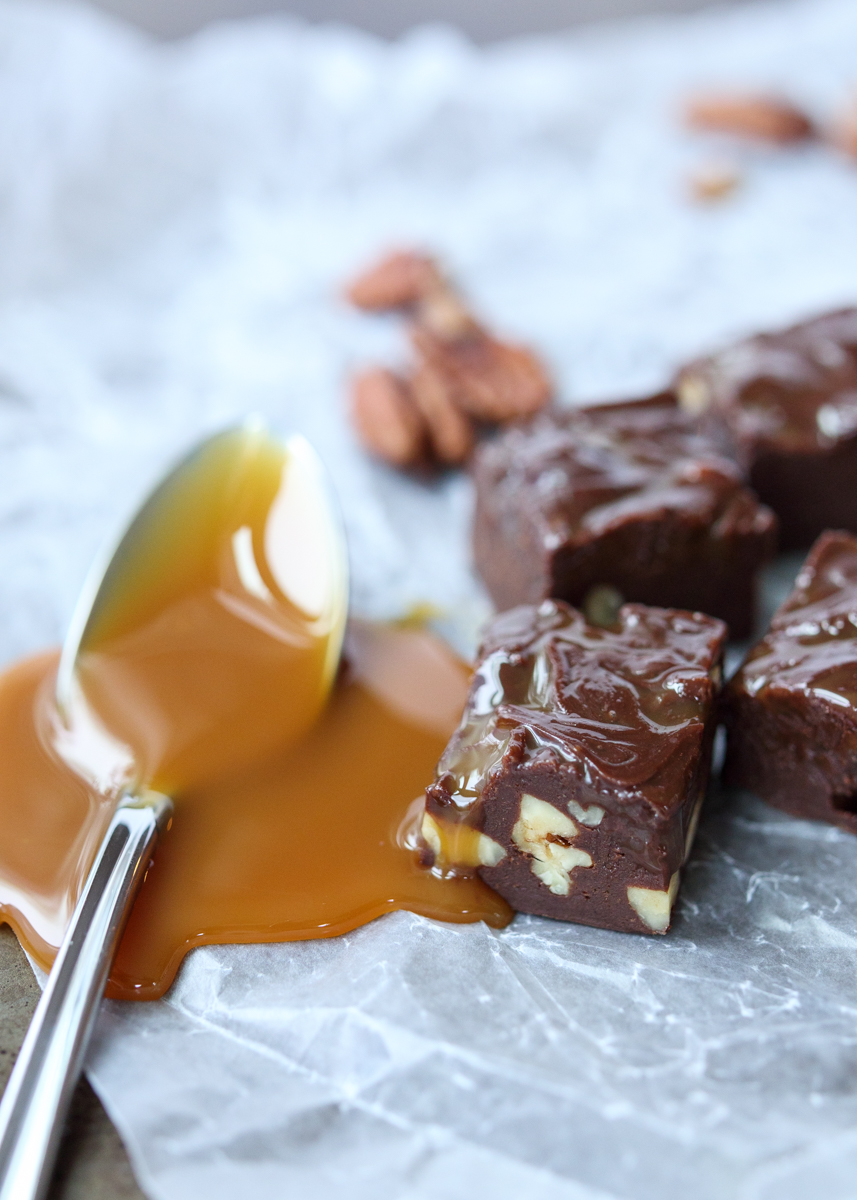 It's not even December, but I can't help diving into holiday season content. I just have too many recipes I'm excited to share! Normally I don't start listening to Christmas music until December, or at the very least I wait until Thanksgiving is over, but I've been seriously in a holiday mood this year. I think it was all the baking I was doing the week before Thanksgiving and the early snow we got here in New England, but I have to confess that I had Christmas music playing in my kitchen two weeks ago. Oops!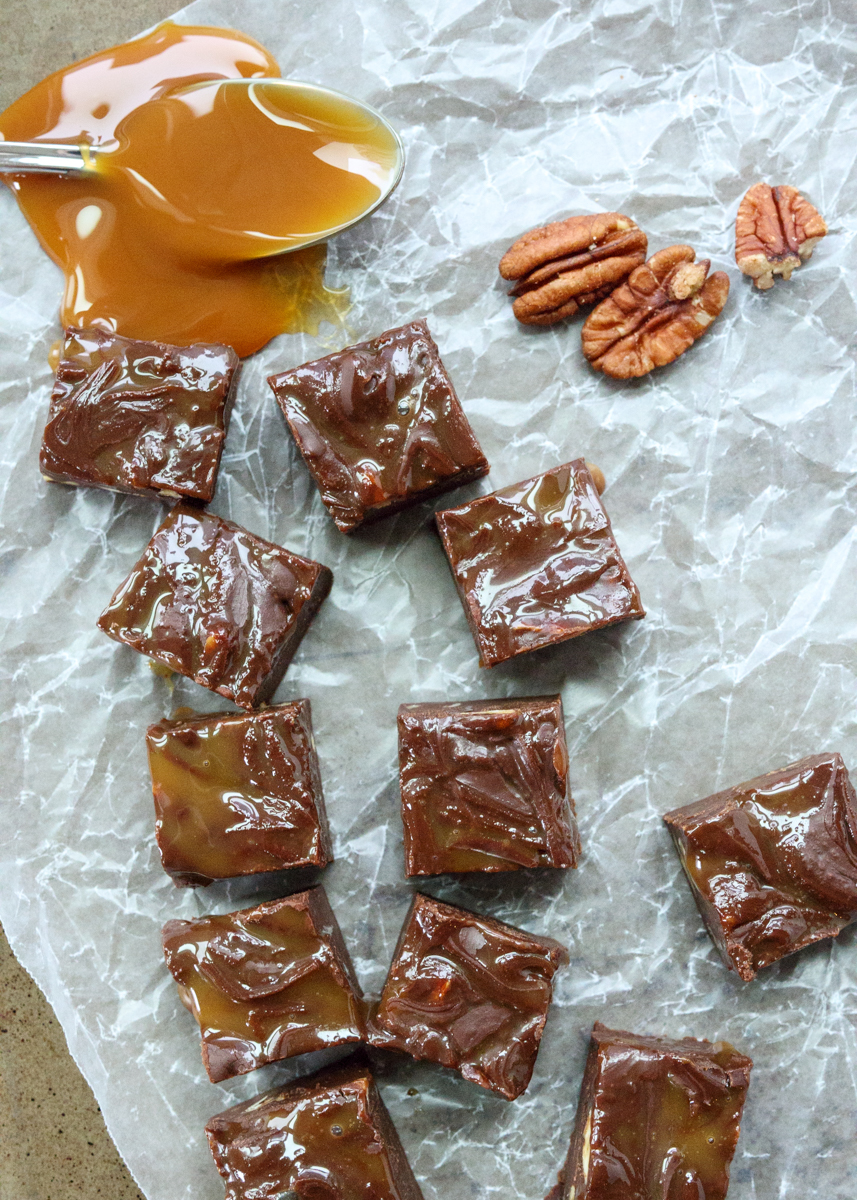 If there's one dessert that is guaranteed to get me in the Christmas spirit it has to be Diane's fudge. I love my stepmom's classic fudge recipe (and you all do too – it's the most popular recipe on Lemon & Mocha!), but I love all the fun variations I've made over the years even more. I've shared S'mores Fudge – crazy good – and Chocolate Peppermint Fudge – so Christmasty!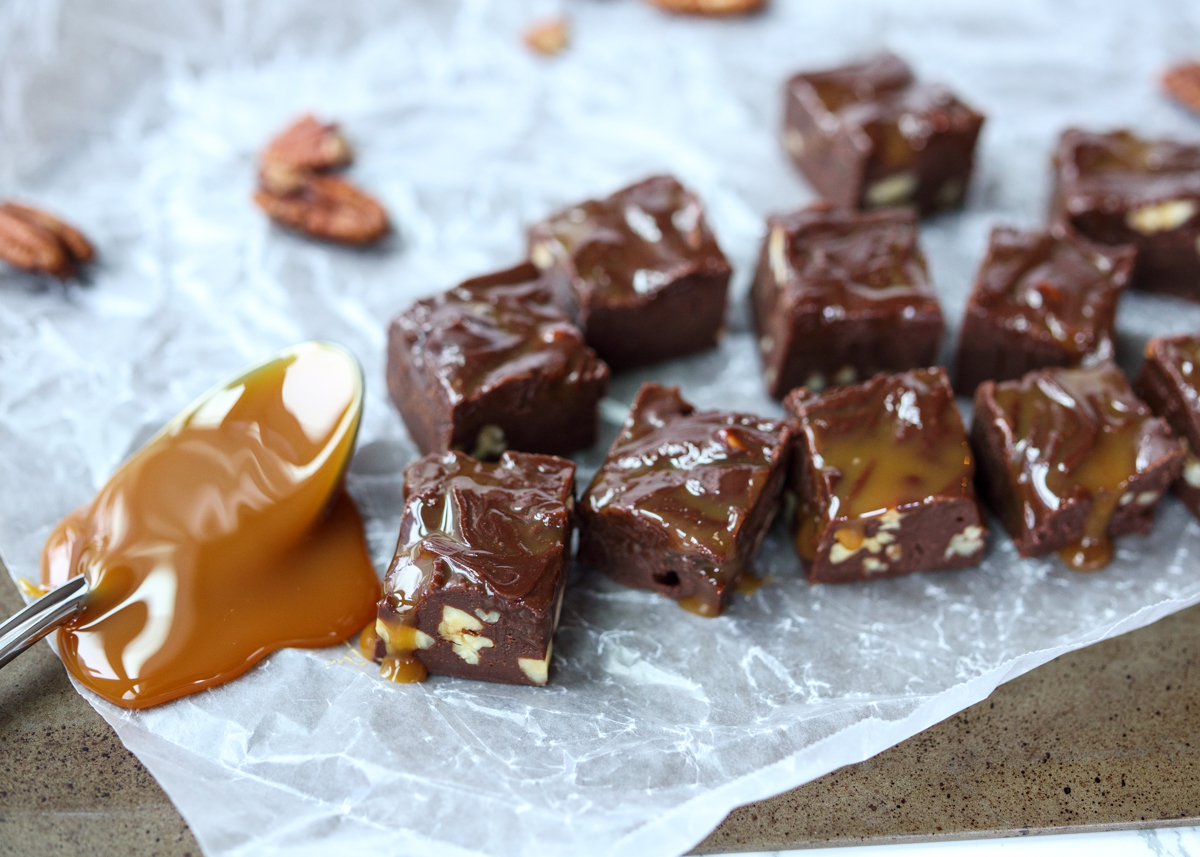 Today, we're all about the Turtle Caramel Pecan Fudge. In case you aren't familiar, chocolate turtles are chocolate covered pecans with caramel inside and they kind of look like little turtles. I wanted to take those flavors and bring them into this classic semi-sweet chocolate fudge. The end result was messy, but so good!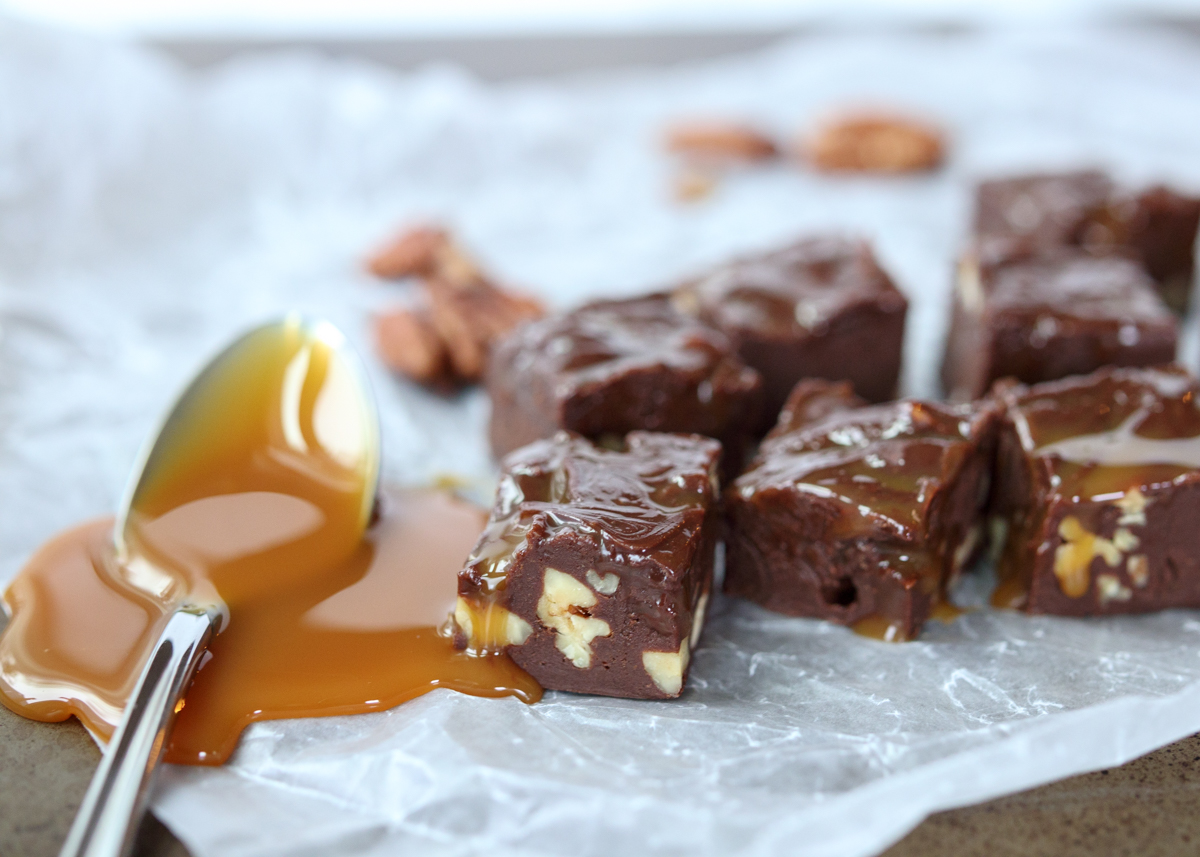 The chopped pecans are folded into the fudge so you get a little crunch in each bite. The caramel is drizzled on the fudge then swirled in before the fudge sets.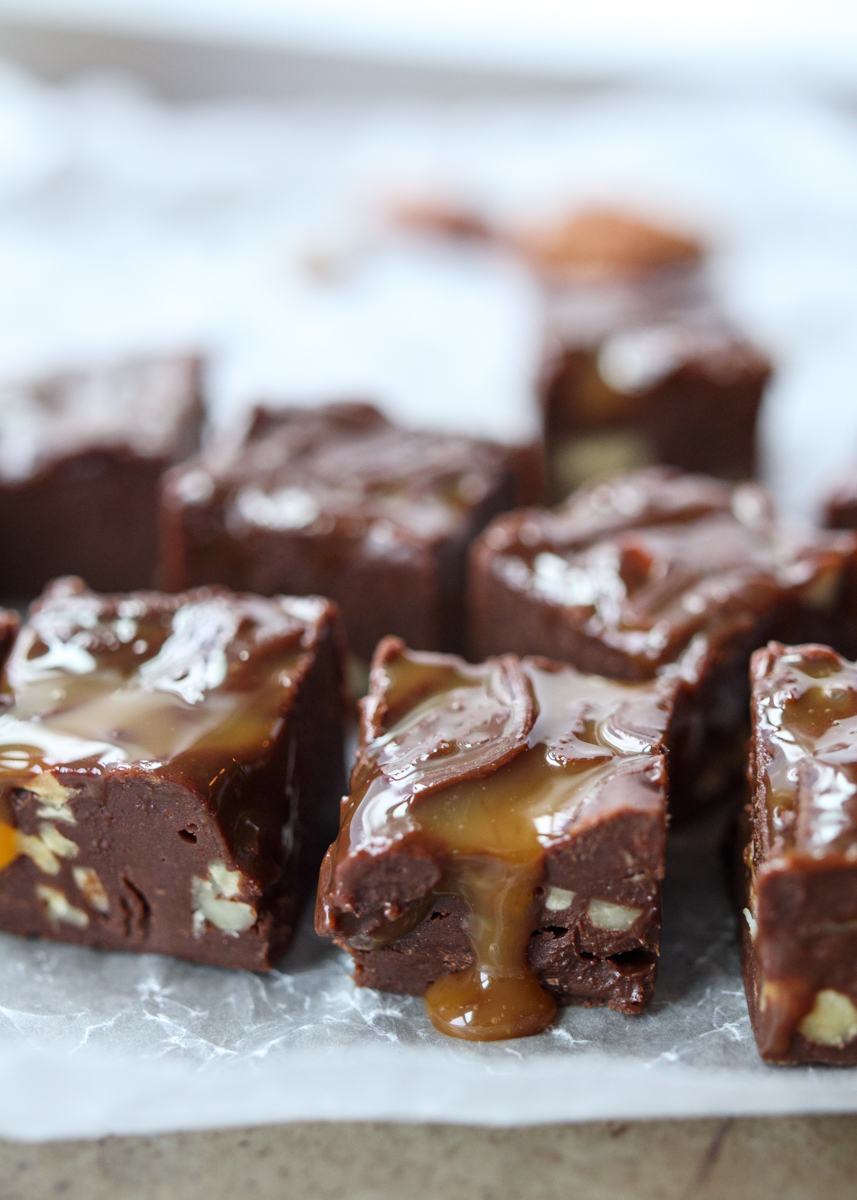 I used Smucker's salted caramel sauce since I love how quick it is to whip together a batch of fudge so I didn't want to over-complicate it with homemade caramel. Do you think you will try this twist?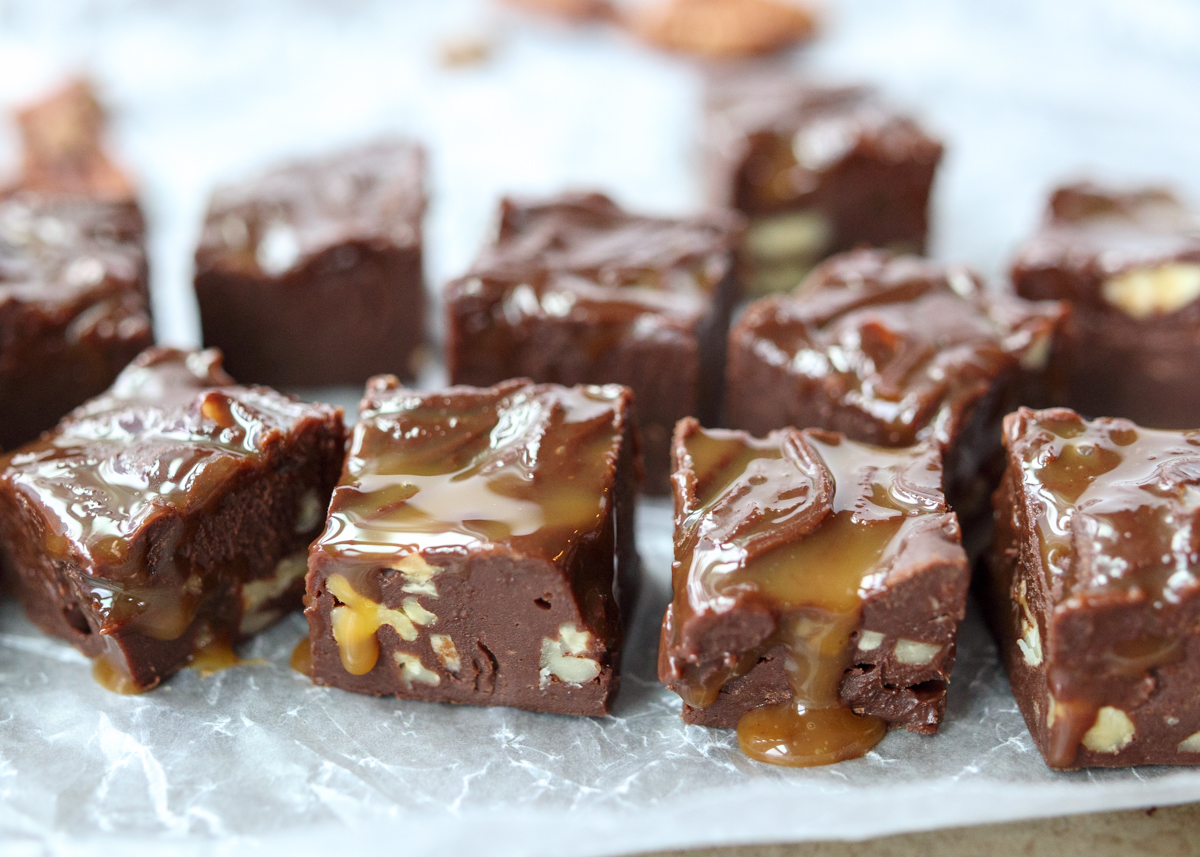 Turtle Caramel Pecan Fudge
Yield:
36-64 pieces depending on how big you cut them
Ingredients
1 ounce Baker's unsweetened baking chocolate
2 tablespoons unsalted butter
One 12-ounce bag semi-sweet chocolate chips
1 14-ounce can Eagle Brand sweetened condensed milk
1 teaspoon vanilla extract
½ cup chopped pecans
⅓ cup caramel, see note
Directions
Line an 8" x 8" pan with wax paper and set aside.
Melt butter and the Baker's chocolate in a double boiler over medium heat, stirring occasionally.
Pour in half the bag of chocolate chips and stir with a heatproof rubber spatula to help melt. Once partially melted add the rest of the bag of chocolate chips and stir until fully melted.
Carefully stir in the condensed milk to combine and remove from the heat. Stir in the vanilla extract and the pecans.
Pour the chocolate mixture into the prepared pan and smooth the top with the spatula. Drizzle the caramel sauce over the top of the fudge and use a knife to swirl into the fudge.
Refrigerate until the fudge is set then cut into bite size pieces. Best eaten straight from the fridge.
Notes
Your caramel should be soft enough to drizzle off a spoon. If it's too firm from being in the fridge, heat it slightly.