Chocolate Peppermint Fudge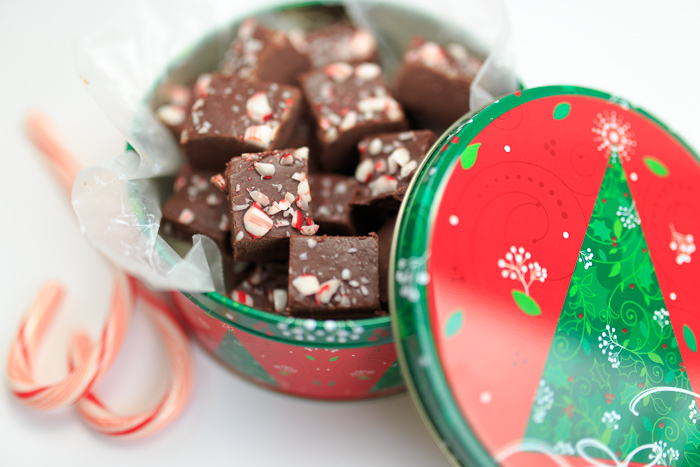 It is time for the big reveal. Ever since I mentioned fudge variations you have been waiting patiently for the chocolate decadence to continue. I've been holding you in suspense trying to distract you with crab dip and brussels sprouts. I should have known vegetables would only stall you for so long before the chocolate craving from within you started to take over. Just in time for this chocolate peppermint fudge.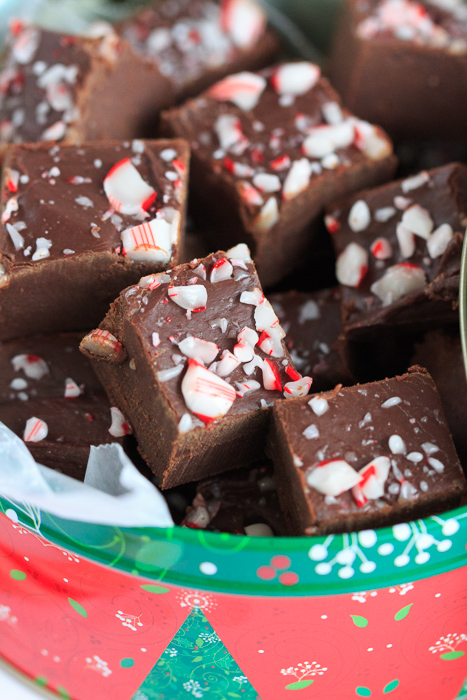 People tend to be either mint lovers or haters. Until a year ago I used to fall into the later category. Lauren used to not like something? Huge shocker, I know you're all gasping in disbelief. While I can't say I'll be whipping up mint chip ice cream anytime soon, the chocolate-mint flavor pairing has won my heart, granted that the chocolate to mint ratio is at least 3:1.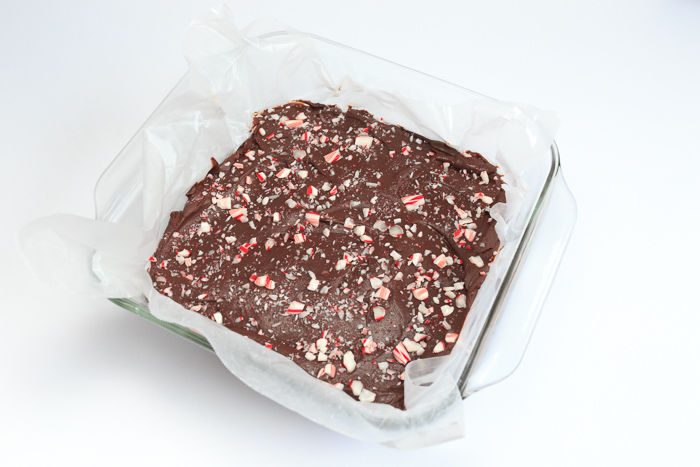 Adding mint to chocolate provides a fresh finish and refreshing break from the richness of the cocoa. This fudge has all the creamy and decadent qualities of the original recipe with a cool aftertaste and added crushed peppermint for texture. Plus how gorgeous does it look?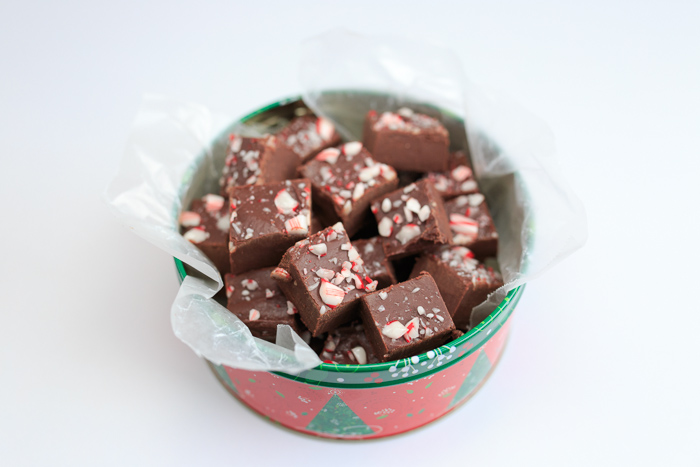 Perfect for gifting this holiday season.
Chocolate Peppermint Fudge
Ingredients
1 ounce Baker's unsweetened baking chocolate
2 tablespoons unsalted butter
One 12 ounce bag semi-sweet chocolate chips
One 14 ounce can Eagle Brand sweetened condensed milk
1 teaspoon peppermint extract
1-2 candy canes, crushed
Directions
Line an 8" x 8" pan with wax paper and set aside.
Melt butter and the baking chocolate square in a double boiler over medium heat, stirring occasionally.
Pour in half the bag of chocolate chips and stir with a heatproof rubber spatula to help melt. Once partially melted add the rest of the bag of chocolate chips and stir until fully melted.
Carefully stir in the condensed milk to combine and remove from the heat. Stir in the peppermint extract.
Pour the chocolate mixture into the prepared pan and smooth the top with the spatula. Sprinkle the crushed candy cane pieces over the top of the fudge and lightly press on the pieces so they set into the fudge.
Refrigerate until the fudge is set then cut into bite size pieces.
Notes
Although I usually promote eating fudge straight from the fridge the candy cane pieces seem to not like it in there. I had this in the fridge for a couple days and the candy cane pieces got melty and lost their crunch so I would advise you to store this unrefrigerated.