Baked Trader Joe's Cauliflower Gnocchi with Crispy Shrimp and Pesto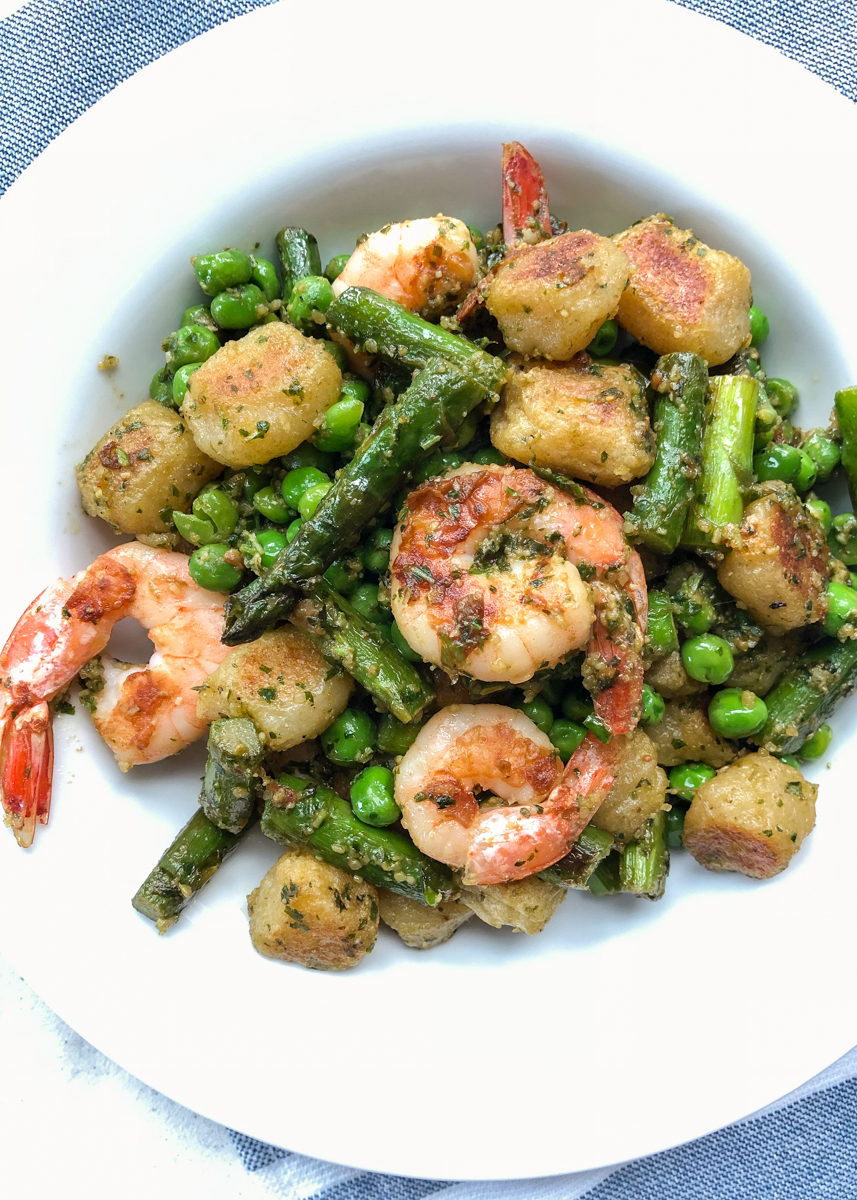 Welcome back, everyone! I hope you all had a wonderful Thanksgiving and hopefully some relaxing time off! I'm diving right into this recipe because I can't wait any longer. This is one of those recipes that didn't really start as a recipe. It was just something I threw together for Matt and I for dinner and it was so outrageously delicious that I decided it needed to be shared on Lemon & Mocha as soon as possible. And by as soon as possible I mean a couple months later because I'm working with a schedule here! This is my Baked Trader Joe's Cauliflower Gnocchi with Crispy Shrimp and Pesto. We also have some seared asparagus, sweet peas and sautéed shallots tossed in there.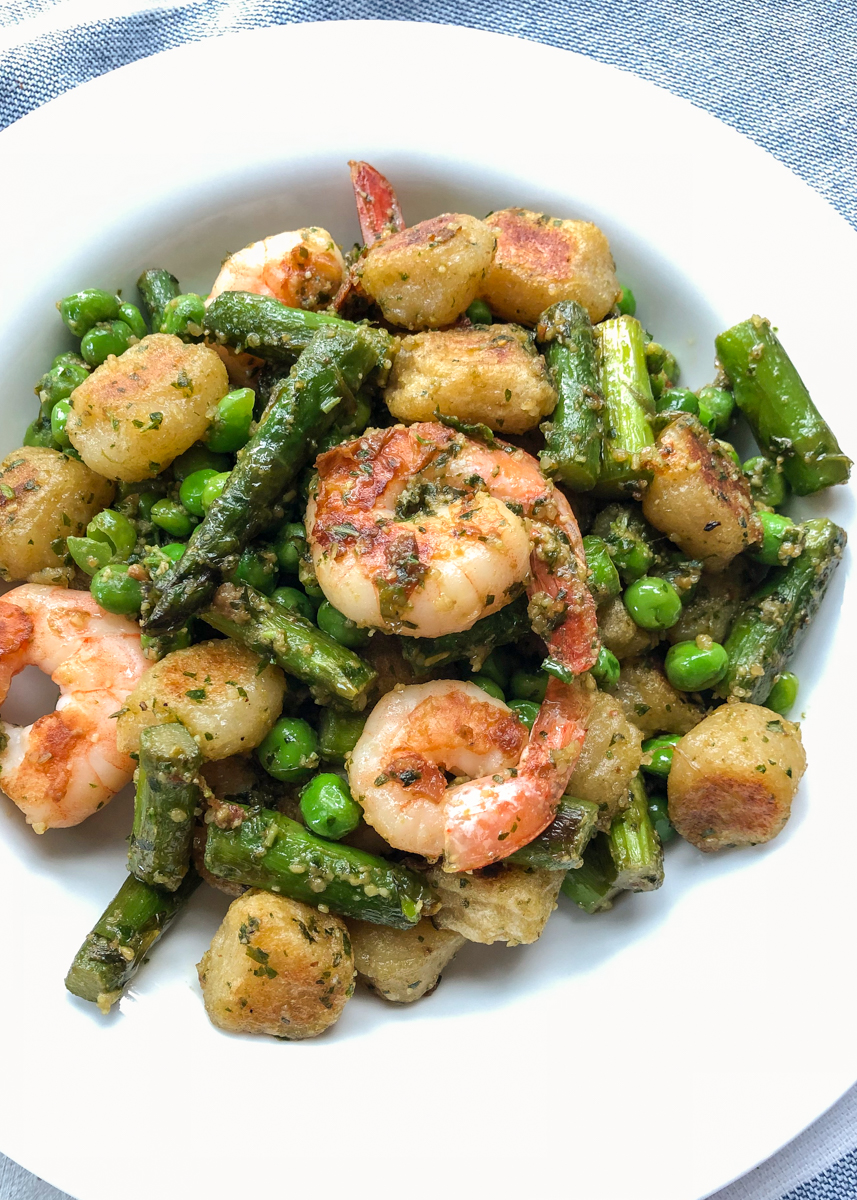 Before we go much further though, we need to discuss the product this whole dish centers around – Trader Joe's cauliflower gnocchi. Have you tried this yet? They are frozen gnocchi that have cauliflower as the bulk ingredient and have only 140 calories per serving! They are high in sodium since they are a frozen food after all, but the low calories and fat are pretty hard to beat. When I first saw people posting these gnocchi on Instagram, a lot of people were complaining about them being mushy when cooked according to the stove-top instructions on the back of the bag. The ultimate question seemed to be how to cook Trader Joe's Cauliflower Gnocchi.
I thought about how much I love roasted cauliflower and how there's no way they could get mushy if baked so I thought I would give it a shot. It worked! The gnocchi came out tender and perfectly crispy! Now, if you don't have a Trader Joe's near you there's plenty of different cauliflower gnocchi recipes posted online if you search and you should be able to bake homemade gnocchi. I will probably test some of the recipes out in the coming months since I like making gnocchi, but in the meantime I'm sticking with these time-saver frozen ones.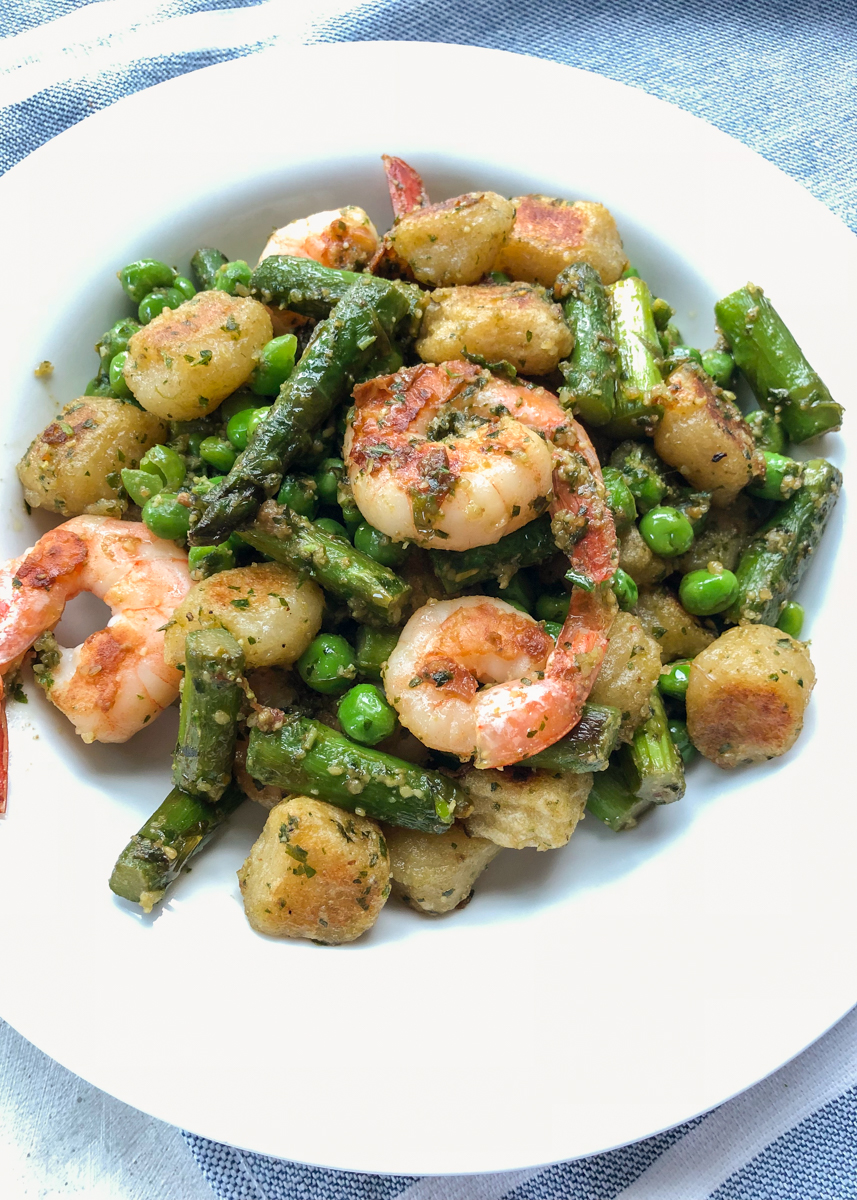 Anyways, back to this dish. The gnocchi are great on their own or with marinara sauce, but then you would miss out on these crispy shrimp coated in garlic, shallot and pesto. There are not a ton of gnocchi in the bag so I made sure to add in lots of green veggies so the dish would be plenty for the two of us for dinner. I highly recommend the asparagus and peas, but feel free to substitute in whichever vegetables you have on hand that would pair well with the shrimp and pesto. Maybe some spinach and pan-seared cherry tomatoes? Yum! Okay, I hope you all enjoyed this post because on Wednesday we're going full-blown Christmas dishes and treats!

Baked Trader Joe's Cauliflower Gnocchi with Crispy Shrimp and Pesto
Ingredients
1 bag Trader Joe's cauliflower gnocchi
1 tablespoon olive oil, plus more as needed
½ shallot, minced
1 clove garlic, minced
½ to ¾ pound asparagus, trimmed then cut into thirds
⅔ cup frozen peas
10 raw shrimp
¼ cup pesto
Salt and pepper
Directions
Preheat the oven to 400 degrees F.
Spread the gnocchi out on a baking sheet. Lightly spray them with cooking spray then bake for 40 minutes, or until they are crispy and golden, tossing/flipping 1 or 2 times during cooking.
When the gnocchi are almost done, heat the olive oil in a skillet over medium-high heat. Add the shallot and garlic and sauté for 2 minutes. Add the asparagus and cook until al dente, about 4 minutes. Season with salt and pepper. Add the frozen peas.
Push the veggies to the edges of the skillet and add a very little bit more olive oil. Add the shrimp so they are each directly touching the pan and sauté for 3 minutes on each side, or until pink and curled. Lightly season the shrimp with salt and pepper when you put them in the pan. Reduce heat to low. Add in the cooked crispy gnocchi and the pesto. Toss to combine and season with additional salt and pepper if needed. Add more pesto or olive oil as needed. Top with grated Parmesan if desired.