Apple, Brie and Bacon Bread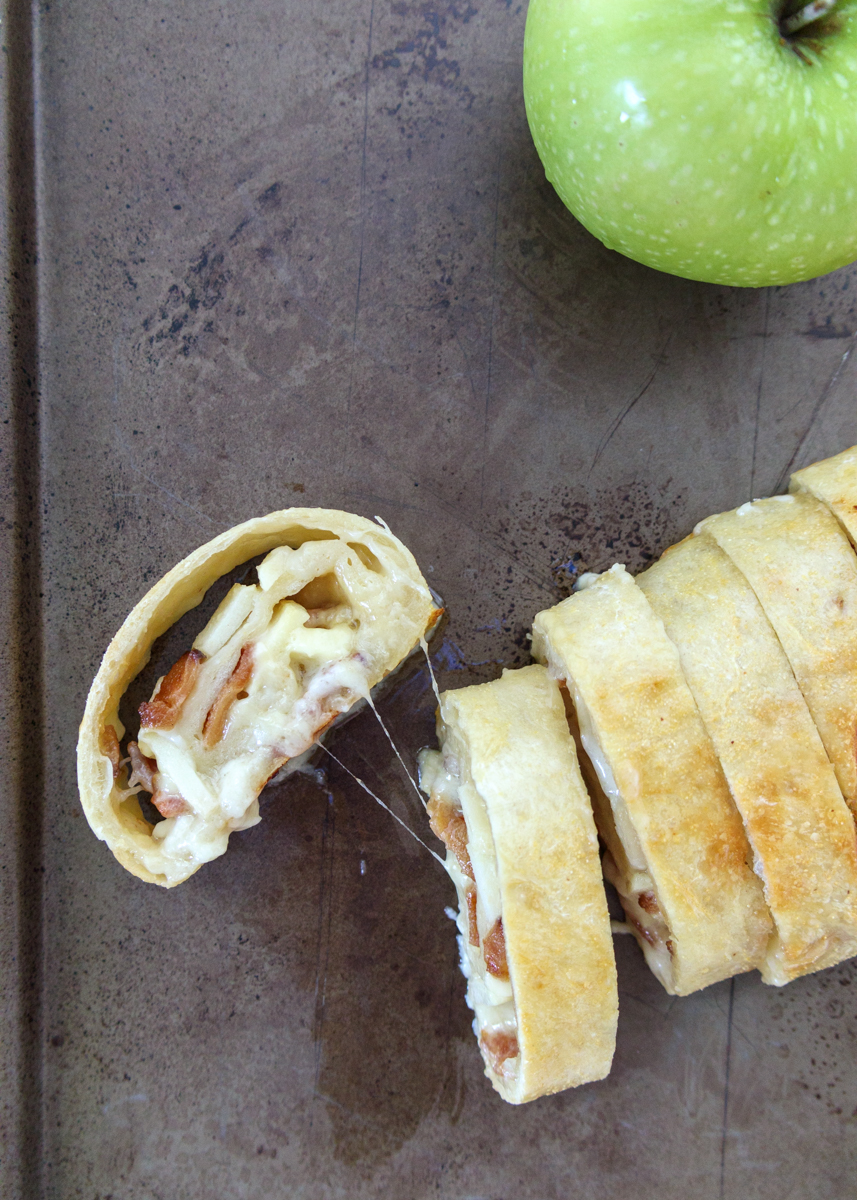 Yes! The day is finally here! I made and photographed this life-changing Apple, Brie and Bacon Bread in August and I finally get to share it with you! Of course the reason I kept from posting it was my neurotic schedule I have planned months in advance, but now it will be fresh on your mind for the holiday season so it was worth the wait.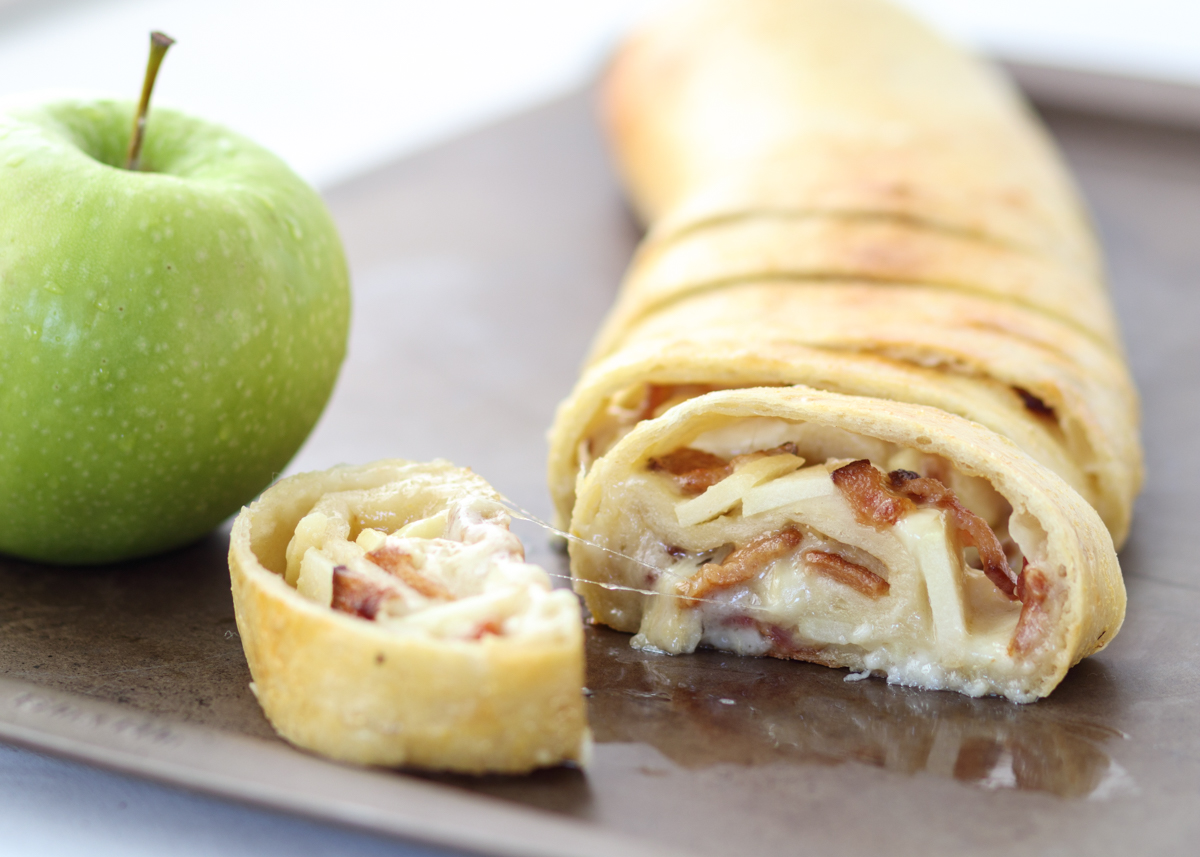 I don't even think I need to describe the bread for you to grasp how crazy delicious it is; I'm sure the title alone does it all, but let me dive in anyways. Remember my Cheesy Pesto Bread with Crispy Prosciutto? This is the same idea, just with a different flavor profile – and one that could not be more perfect for fall.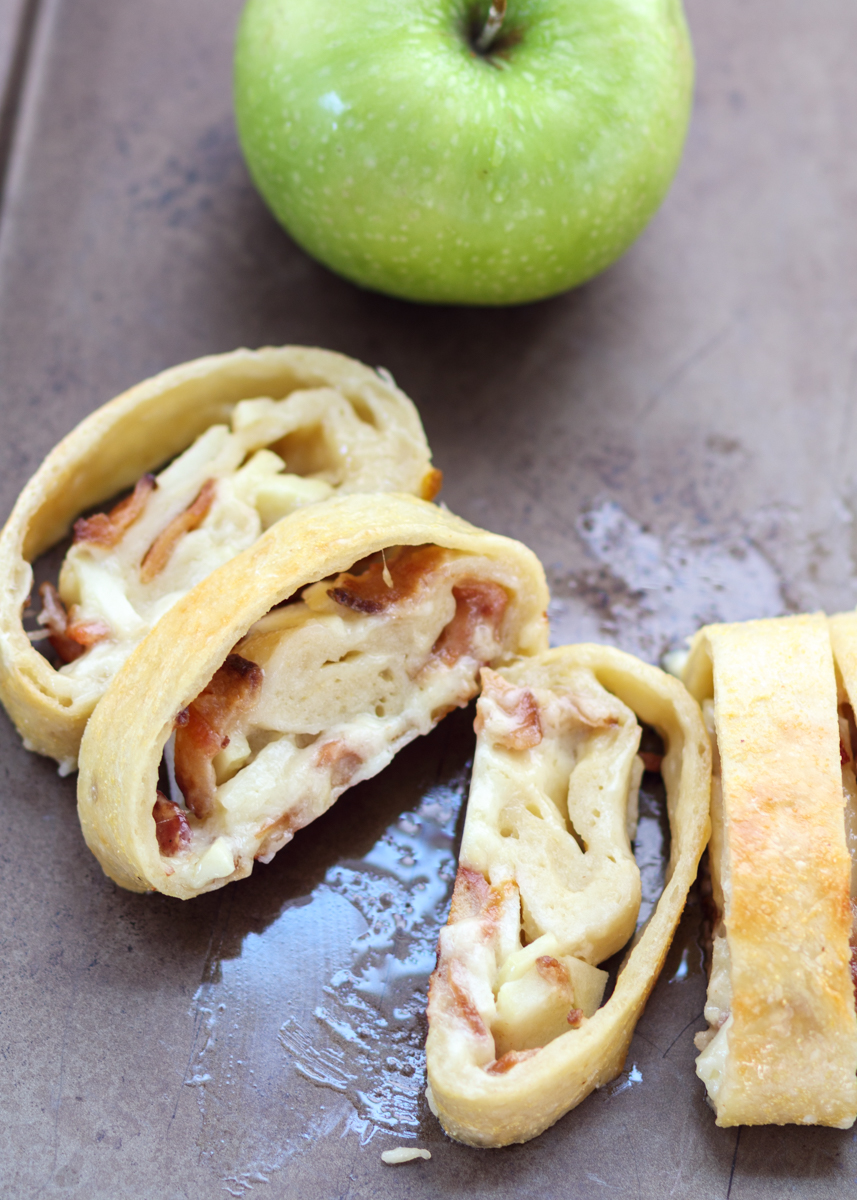 The base of the bread is a quick homemade honey mustard sauce. It's creamy, a little tangy and a little sweet. Next we have some crispy cooked bacon. Bacon makes everything better. Then we have some brie cheese that gets a little gooey. Gooey-ness is cheese perfection and brie melts really well. Brie is a creamy and more mild cheese that I love pairing with some sweet elements. Remember my Honey Walnut Baked Brie? Pure heaven. That's why the brie goes so well with the honey mustard sauce and the apple.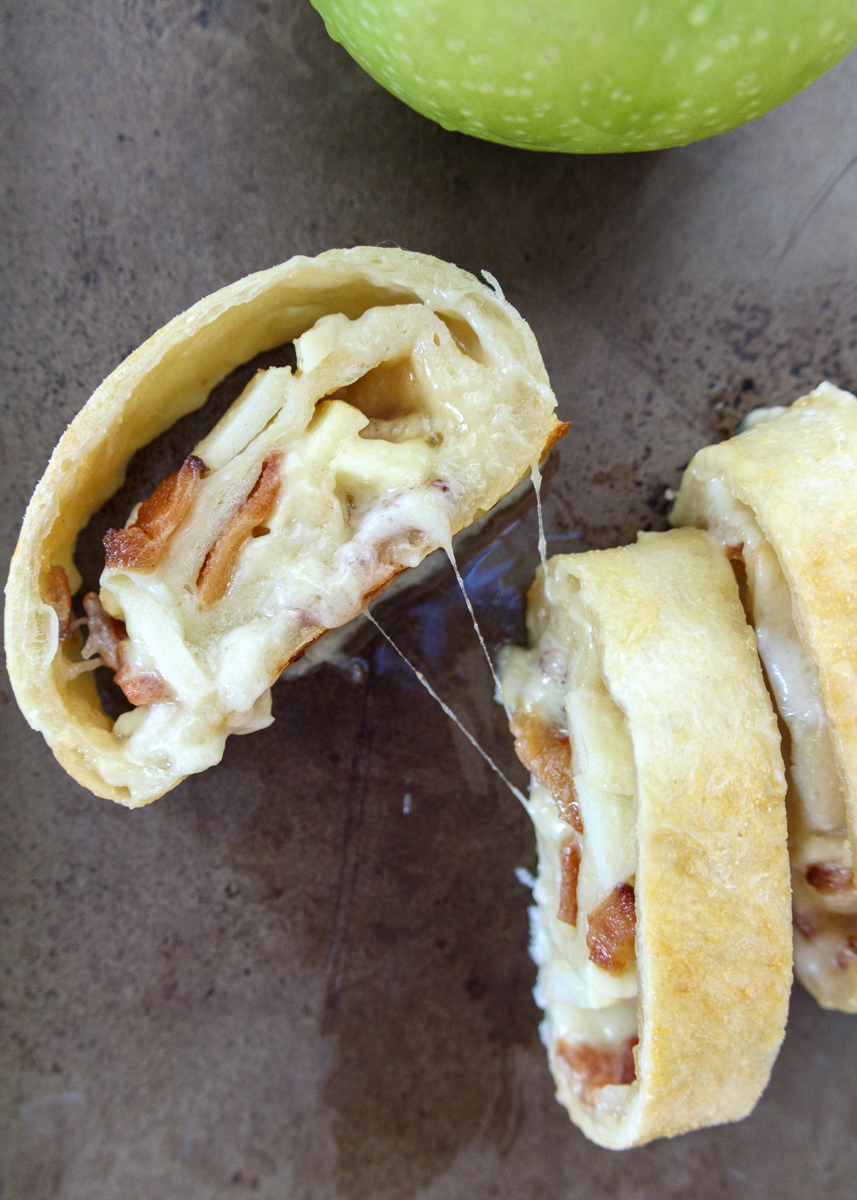 I used a granny smith apple to bring in some tartness as well as sweetness and I love the texture it has in the bread. The apple is very thinly sliced so that it almost cooks through in the bread.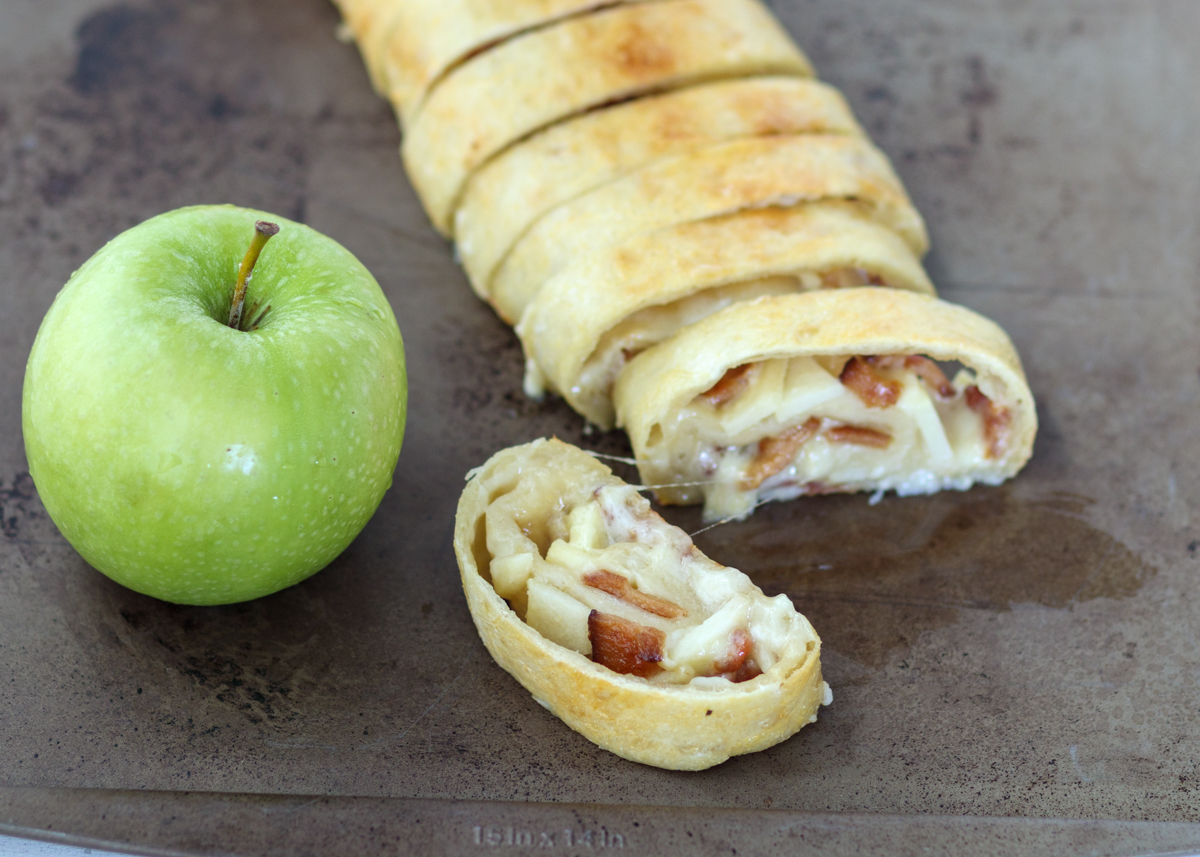 I've already been requested to make this Apple, Brie and Bacon Bread again and I'm sure I'll be making it for plenty of gatherings for the next foreseeable future. I am totally, definitely on board with that. I love this bread because like the Cheesy Pesto Bread with Crispy Prosciutto you can make it ahead of time and reheat it to serve as an appetizer or snack. I have even more variations of this bread planned so get excited for more deliciousness!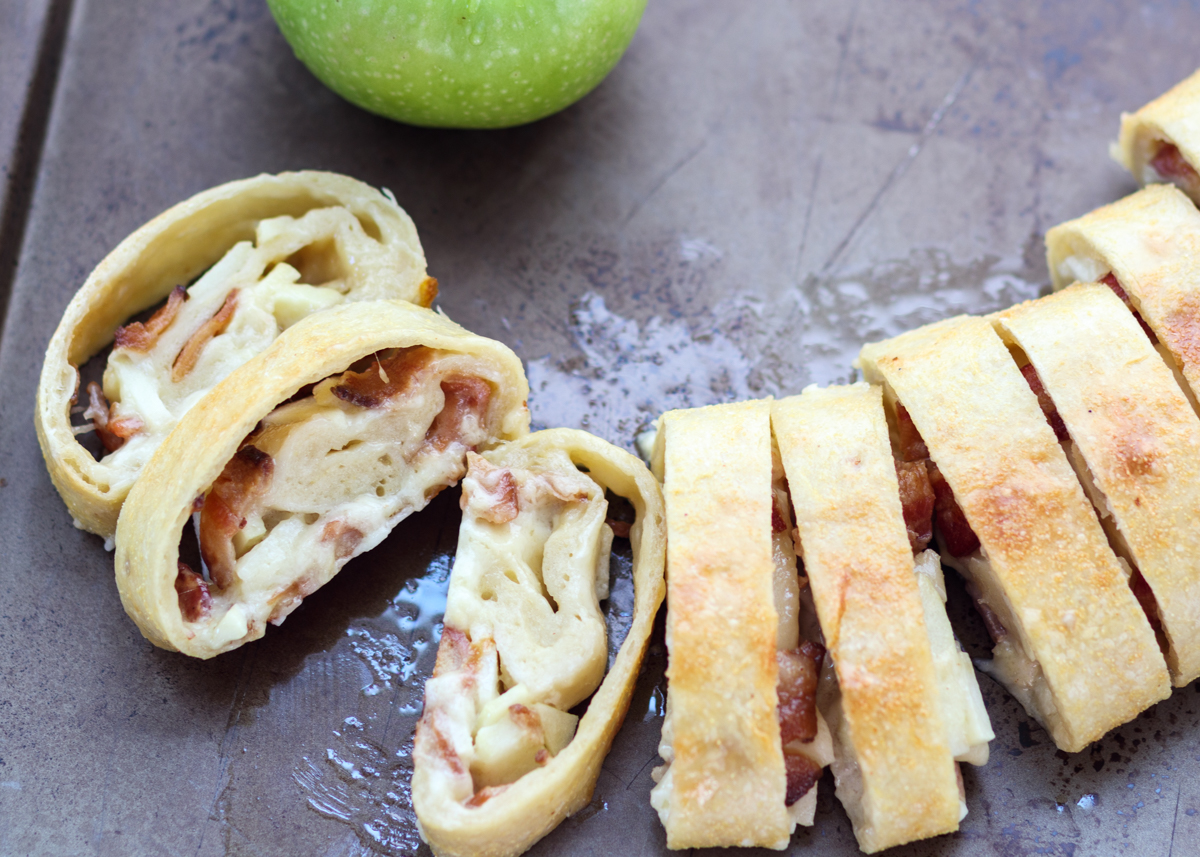 Apple, Bacon and Brie Bread
Ingredients
1 tablespoon honey
3 tablespoons mayonnaise
1 teaspoon Dijon mustard
16 ounces pizza dough
4 slices bacon, cooked
4 ounces sliced brie cheese
½ granny smith apple, peeled and thinly sliced
1 egg
Directions
Set the dough out to come to room temperature. Preheat the oven to 350 degrees F. Line a baking sheet with nonstick aluminum foil or spray with cooking spray and set aside.
In a small bowl, whisk together the honey, mayonnaise and mustard until combined to make the honey mustard.
Using flour so it doesn't stick, roll out the dough on a clean surface until it is roughly the shape of an 11" x 14" rectangle. I usually hold it then let gravity stretch the dough to get it started. Leaving a 1" border, evenly spread the honey mustard on the dough. Next, evenly lay the cooked bacon. Top with the sliced brie and sliced apple.
Beat the egg in a small bowl. Lightly brush the egg on the border you left. Gently fold the short edges in then, working carefully, tightly roll the dough up lengthwise. You want to be rolling from long edge to the other long edge, being sure to tuck in the short edge sides as needed. When you're done rolling, pinch the dough at the seam to seal it. I like to pinch it twice to make sure it's really tight. Carefully place the bread roll seam side down on the prepared baking sheet. Lightly brush the egg on all exposed top and sides of the roll.
Bake for 22-25 minutes, or until the top is golden brown. Let cool slightly then cut into slices and serve.