Apple, Bacon and Brie Bread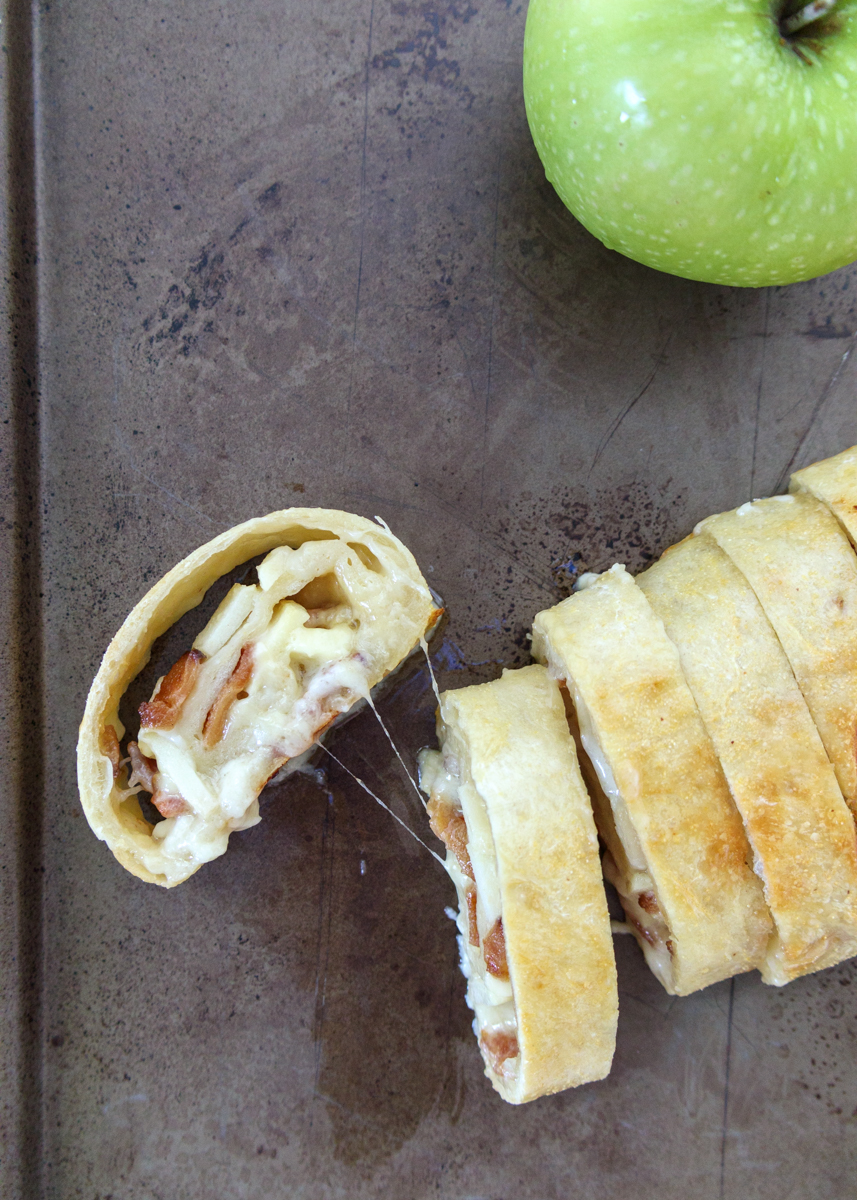 1 tablespoon honey
3 tablespoons mayonnaise
1 teaspoon Dijon mustard
16 ounces pizza dough
4 slices bacon, cooked
4 ounces sliced brie cheese
½ granny smith apple, peeled and thinly sliced
1 egg
Set the dough out to come to room temperature. Preheat the oven to 350 degrees F. Line a baking sheet with nonstick aluminum foil or spray with cooking spray and set aside.
In a small bowl, whisk together the honey, mayonnaise and mustard until combined to make the honey mustard.
Using flour so it doesn't stick, roll out the dough on a clean surface until it is roughly the shape of an 11" x 14" rectangle. I usually hold it then let gravity stretch the dough to get it started. Leaving a 1" border, evenly spread the honey mustard on the dough. Next, evenly lay the cooked bacon. Top with the sliced brie and sliced apple.
Beat the egg in a small bowl. Lightly brush the egg on the border you left. Gently fold the short edges in then, working carefully, tightly roll the dough up lengthwise. You want to be rolling from long edge to the other long edge, being sure to tuck in the short edge sides as needed. When you're done rolling, pinch the dough at the seam to seal it. I like to pinch it twice to make sure it's really tight. Carefully place the bread roll seam side down on the prepared baking sheet. Lightly brush the egg on all exposed top and sides of the roll.
Bake for 22-25 minutes, or until the top is golden brown. Let cool slightly then cut into slices and serve.
Recipe by
Lemon & Mocha
at http://www.lemonandmocha.com/2018/11/12/apple-brie-and-bacon-bread/