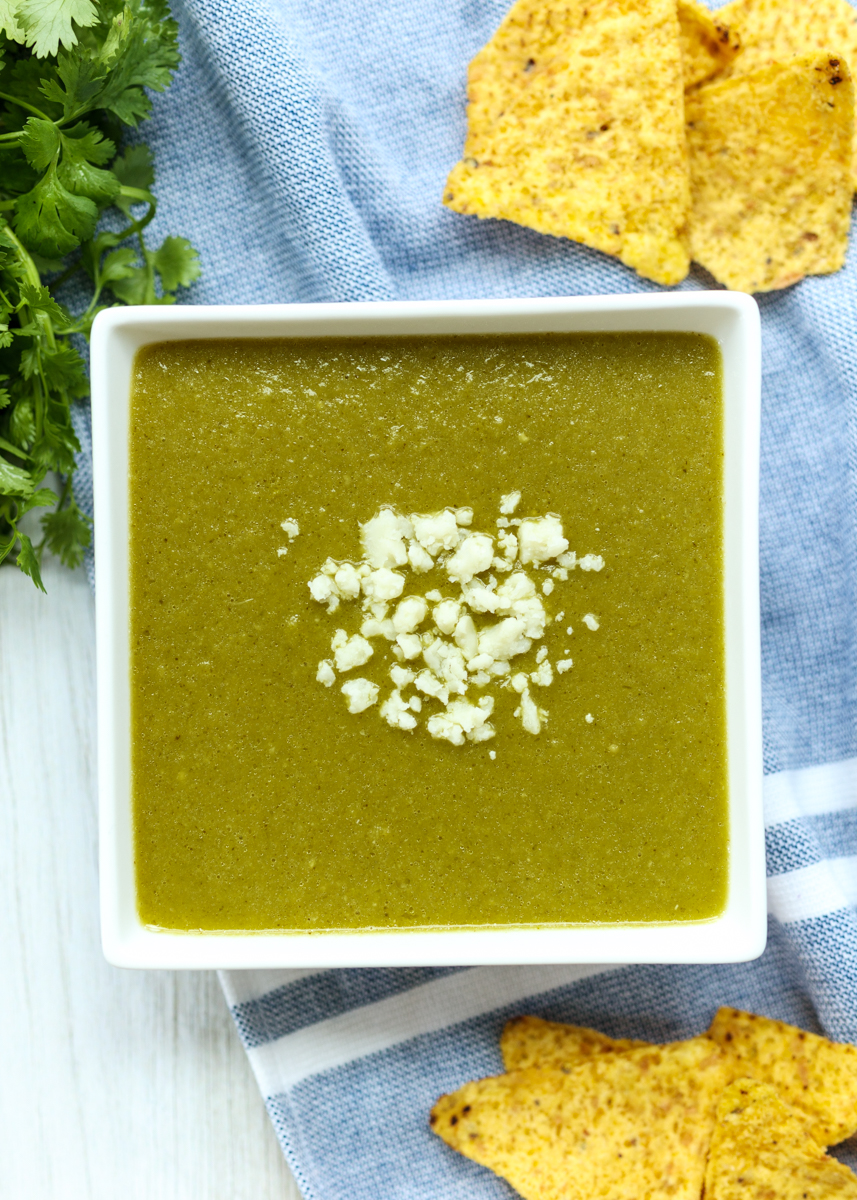 I find it so interesting how your tastebuds evolve over time. If you had told me when I first started this blog back in 2013 that I would be all jazzed up about a Salsa Verde with jalapeños, tomatillos and cilantro I'm sure I would have wrinkled my nose and shook my head at you.
Fast forward to Matt's Cinco de Mayo themed birthday a couple years ago where I made a whole bunch of recipes from a now favorite cookbook of mine, Pati's Mexican Table. I decided to make the roasted salsa and the Salsa Verde, mostly for Matt and my brother-in-law, Nick, rather than myself. Little did I know how obsessed with it I was going to be!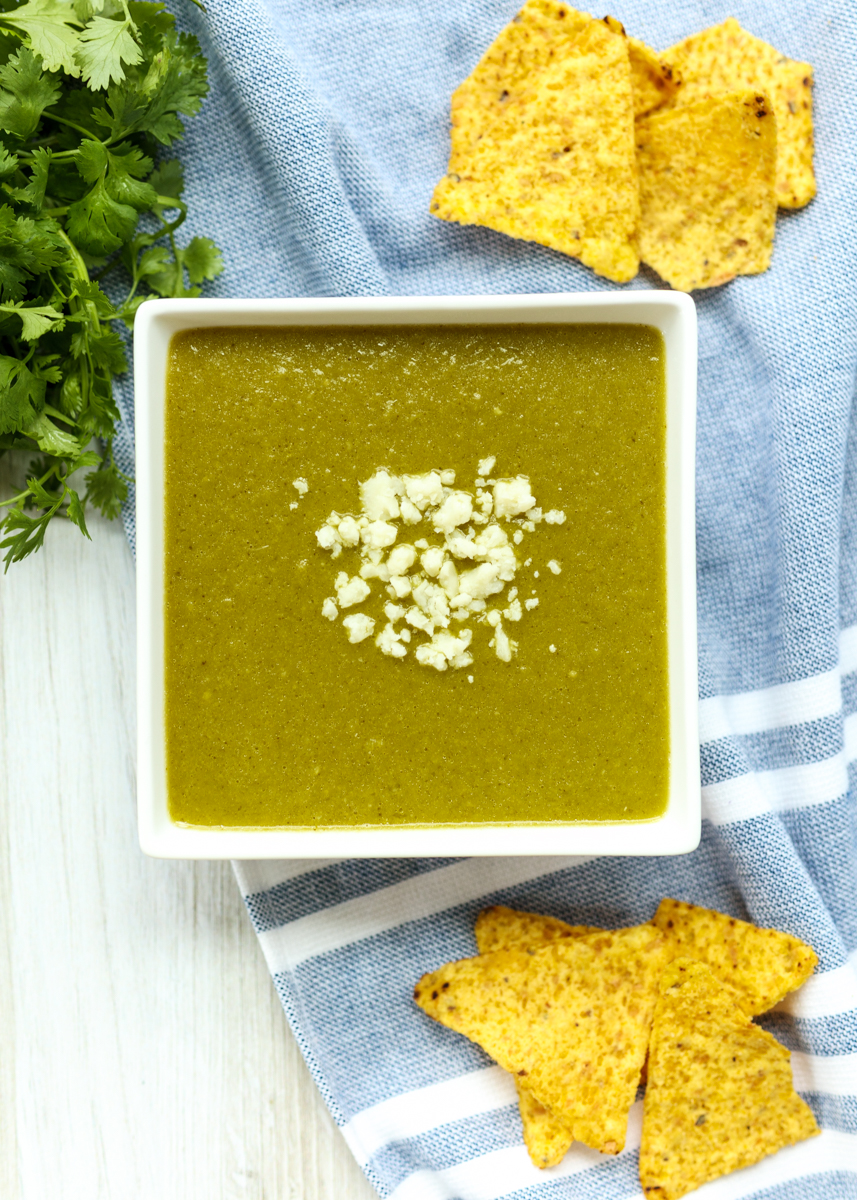 When I've made salsas in the past I've been disappointed in their blandness, but both these salsas had such depth of flavor I couldn't stop digging in for more! It's especially surprising for the Salsa Verde considering we are just boiling everything for a little, pureeing together then quickly warming on the stove-top. The layering of zesty tomatillos with fresh cilantro, lime, onion, garlic and salt is pure magic. I love that you can completely control the heat level of this salsa by what parts of the jalapeño you use. I don't like any spiciness so I leave the seeds and pith completely out. The jalapeño flesh alone does not make it spicy, but adds to that flavor punch.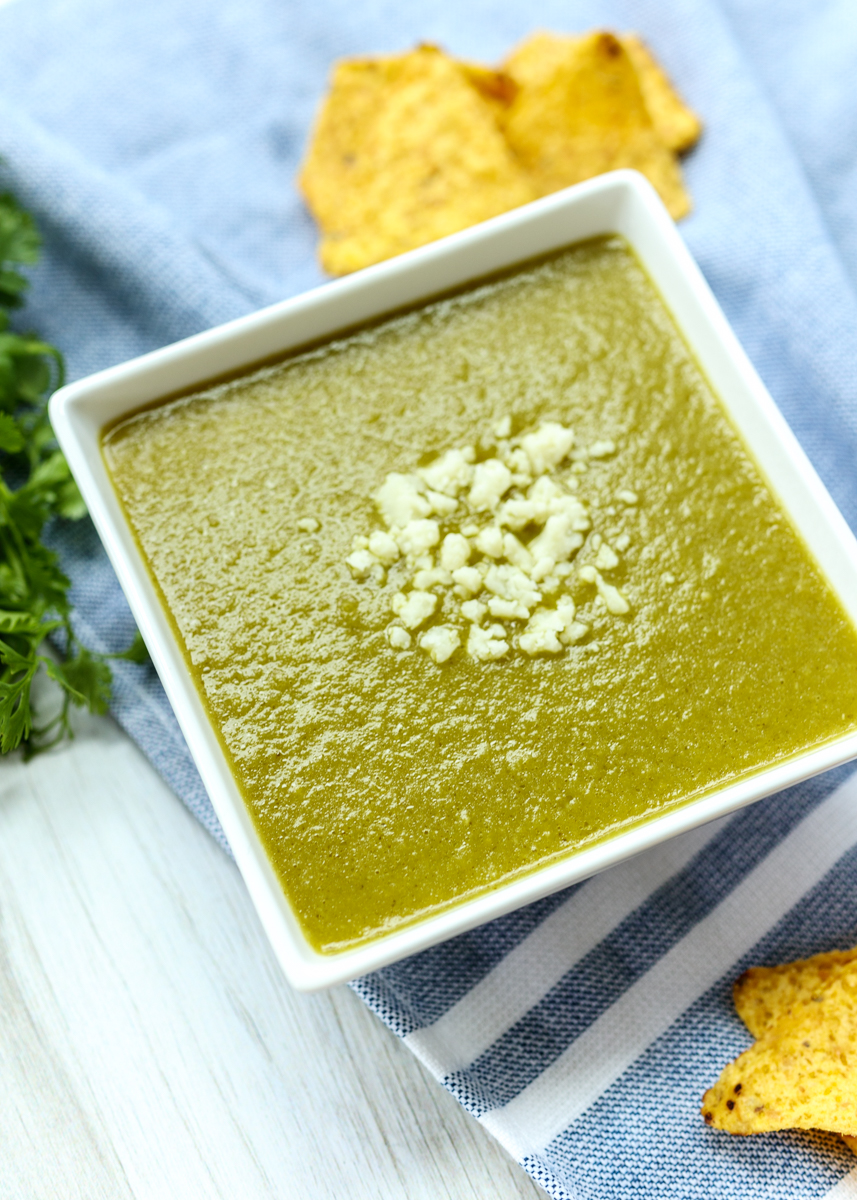 I've never been a fan of cilantro so the first time I made this Salsa Verde I used half cilantro and half parsley. My cilantro tastebuds must be evolving because when I just made it again I used all cilantro and I was still just as hooked. If you can't stand cilantro please, please don't just skip over this recipe! Try making it with all parsley because it is too good not to try. You could even try adding in the tiniest bit of cilantro; you might surprise yourself!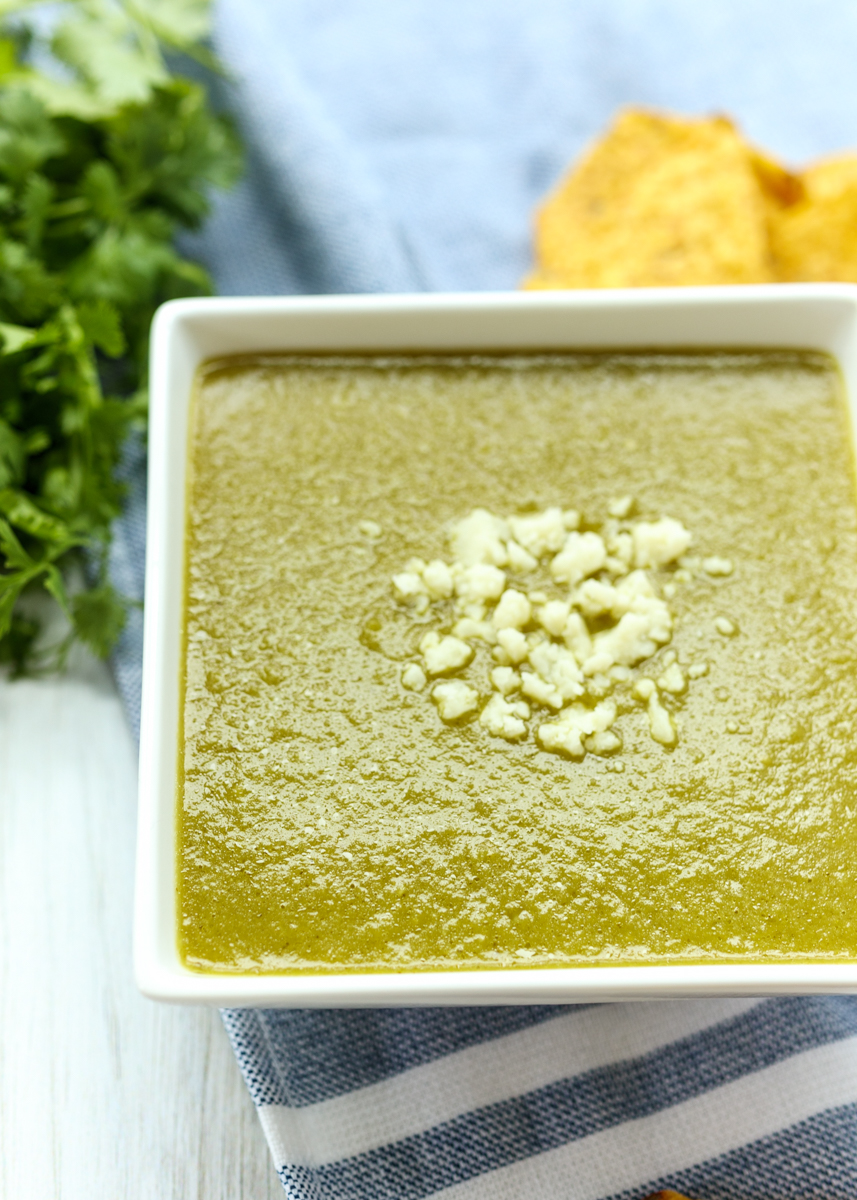 Salsa Verde
Ingredients
1 pound tomatillos, husks removed and rinsed
1 clove garlic
1-2 jalapeños, see note
⅓ cup roughly chopped white onion
1 cup cilantro leaves (can include top parts of stems)
1 teaspoon salt
3 tablespoons vegetable oil
Directions
Add the tomatillos, garlic and jalapeño to a medium saucepan and then cover with water. Bring to a boil then reduce to low and simmer covered for 10 minutes. The tomatillos should become pale green and should be soft, but not falling apart.
Use a slotted spoon to transfer the tomatillos, garlic and jalapeño to a high-speed blender or food processor. Add the onion, cilantro and salt then puree until smooth.
Heat the vegetable oil in a medium saucepan over medium heat. Once hot, add the salsa and cook until thickened slightly, about 6-8 minutes, stirring occasionally. Serve warm or refrigerate for later and serve cold or at room temperature.
Notes
If you don't want your salsa spicy only use 1 jalapeño and remove all the seeds and pith before putting in the blender. If you like it spicy try 1 jalapeño with the seeds and pith and if you want it even more spicy you could add a second jalapeño.
Recipe from

Pati's Mexican Table

.
Some of the links above are affiliate links, which means I may receive a small commission for my referral. This does not affect the retail cost of the item. Thank you for supporting Lemon & Mocha!