Key Lime Crackle Cookies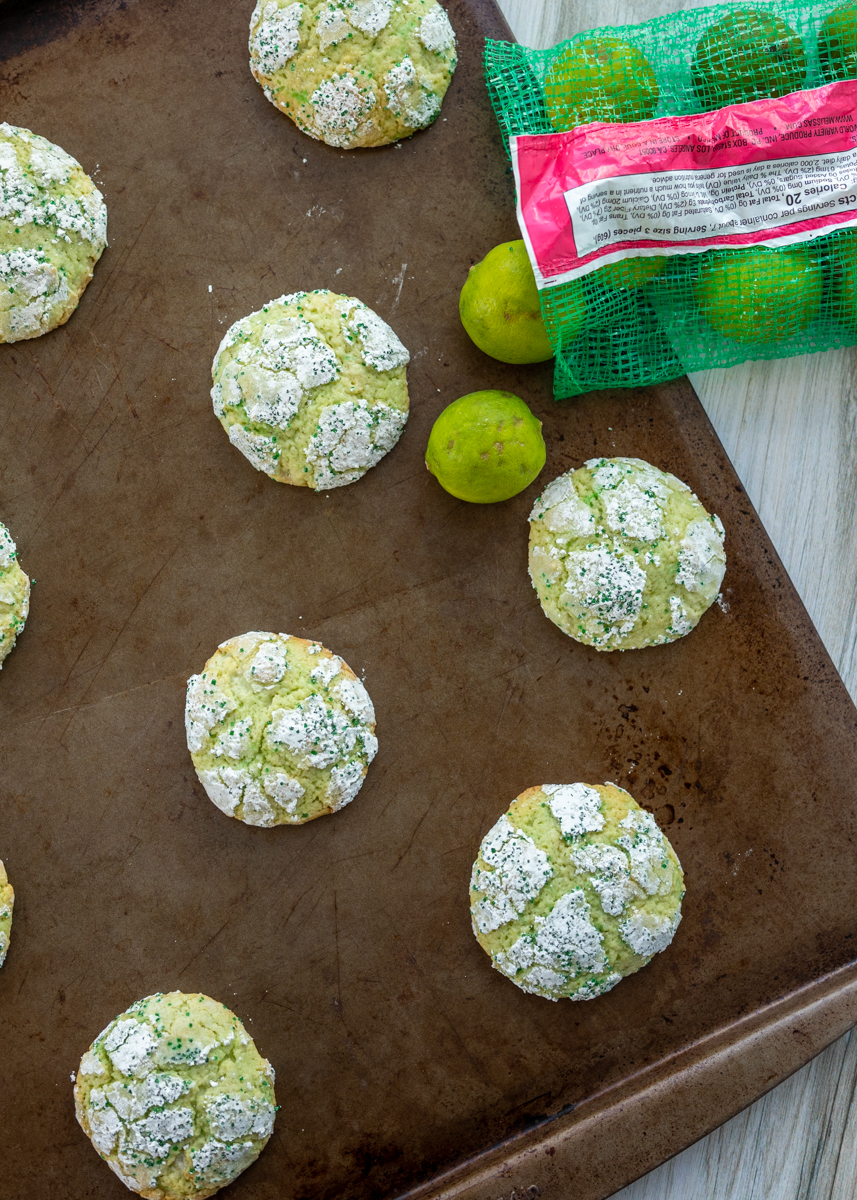 How fun and colorful are these Key Lime Crackle Cookies? Every year Food Network Magazine shares plenty of holiday cookie recipes so a few years ago I dug through my binder collection and picked out a few to try.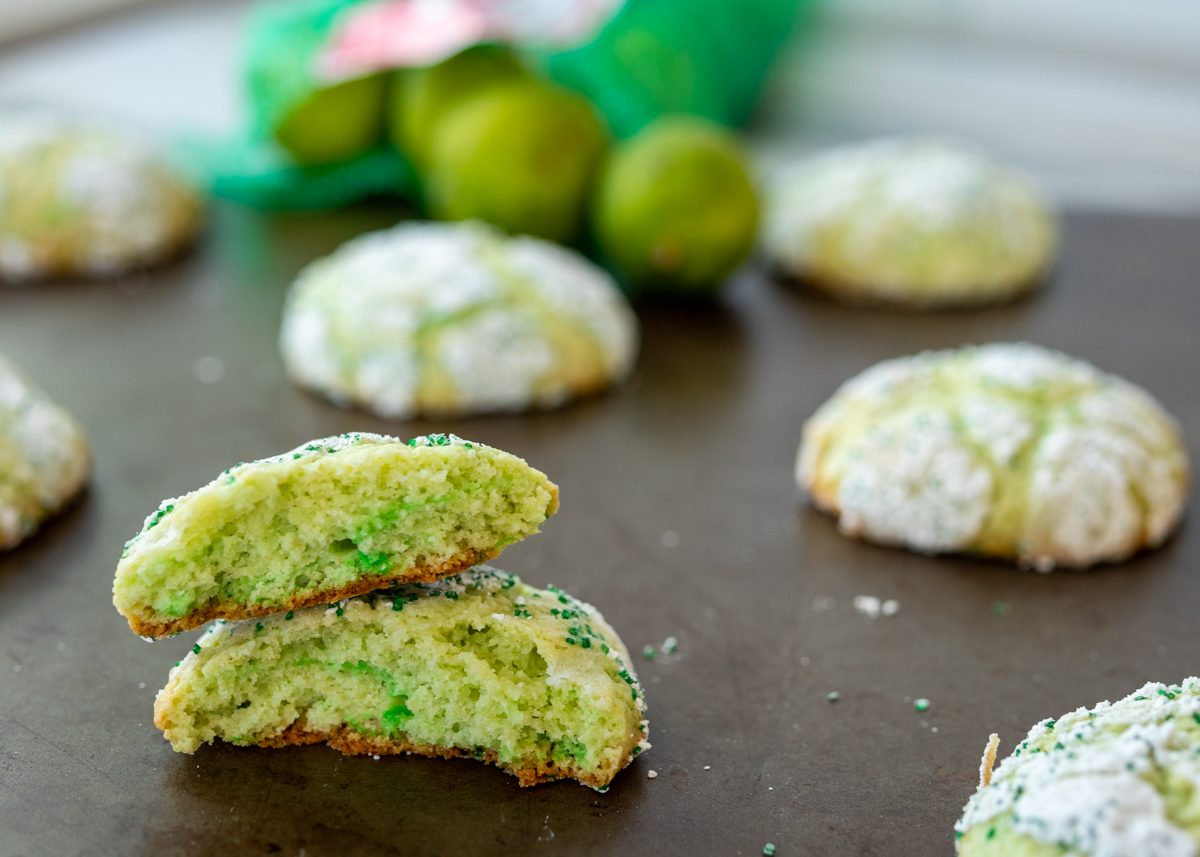 Matt and I are both suckers for anything key lime flavored so these immediately made the list. Between the key lime zest and key lime juice, the punchy citrus flavor comes through while being balanced by the sugary coating on the outside of the cookies.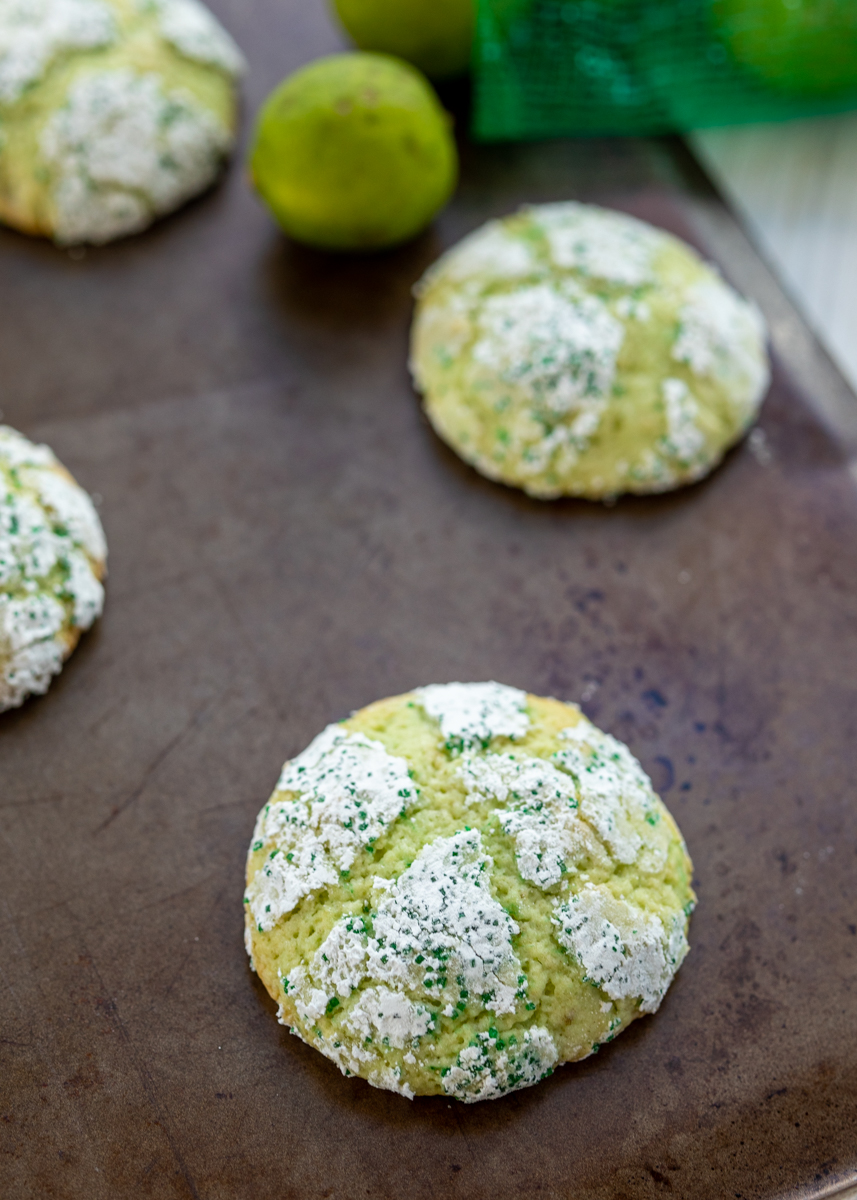 Have you ever made crackle cookies before? Typically what that entails is rolling the cookie dough ball in powdered sugar so that when it bakes the cookie puffs and crackles, leaving ridges of exposed, un-powdered cookie. We've added some green sanding sugar to the powdered sugar to give the Key Lime Crackle Cookies an extra bit of holiday sparkle.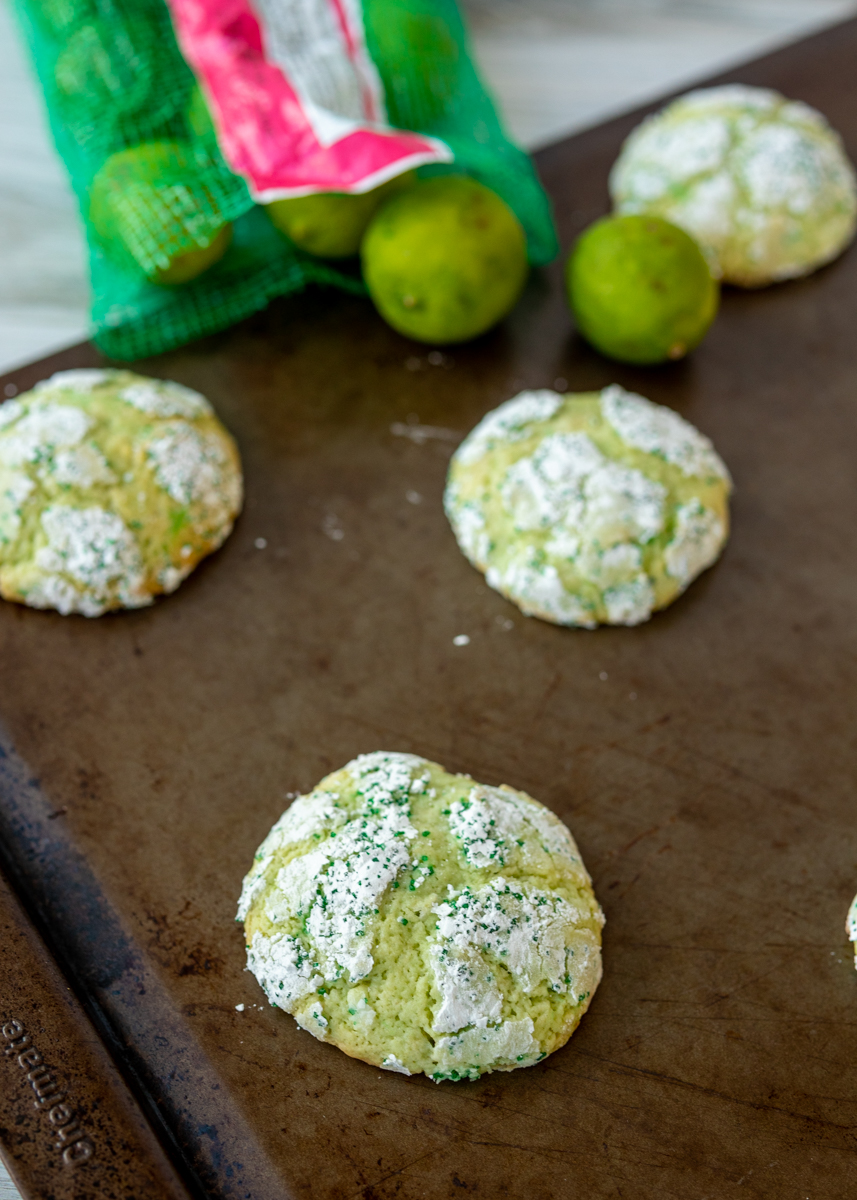 Like most crackle cookies, this key lime version is soft and chewy on the inside with a very slightly crispy exterior. Although key lime seems like an odd flavoring around Christmastime, these Key Lime Crackle Cookies are on our family's Christmas cookie must-bake rotation. It also helps that they look so festive!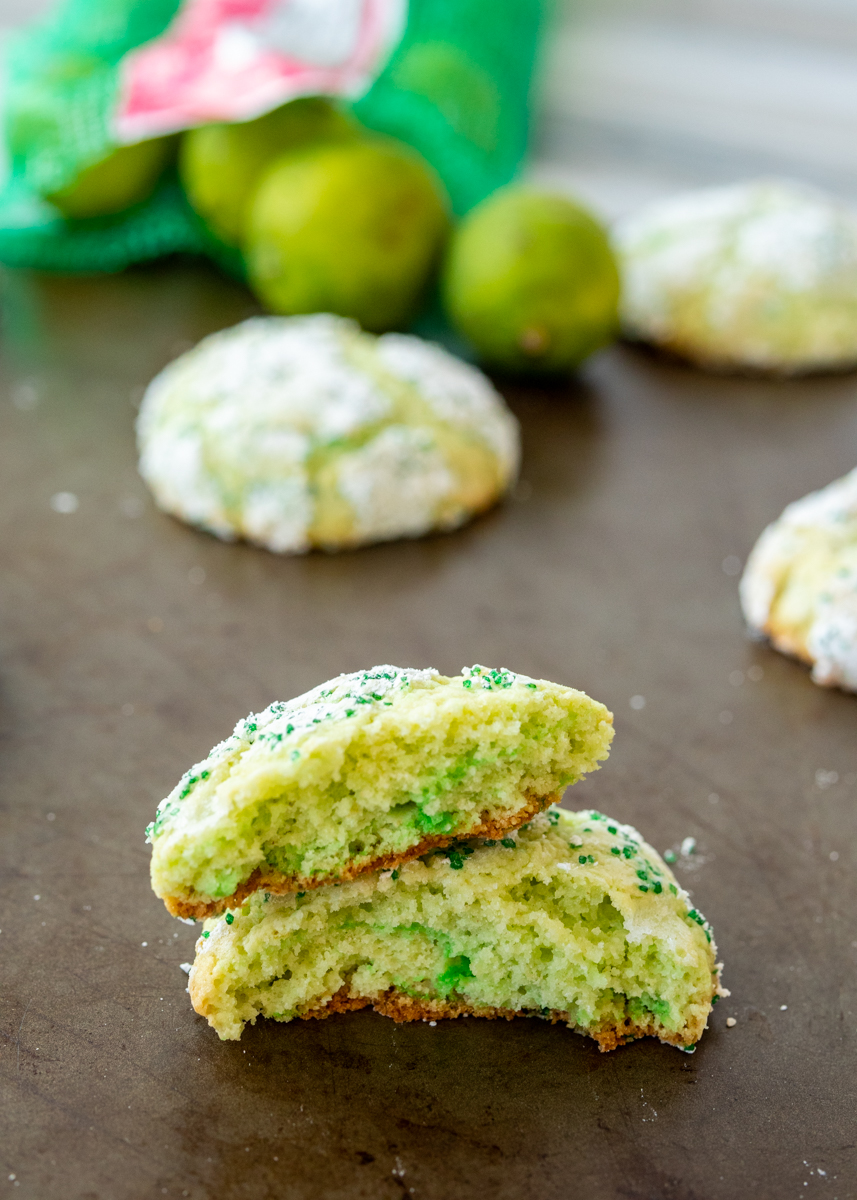 If you're still looking for something quick to lighten up the dessert table tomorrow then I highly recommend these cookies. I hope you all have a wonderful Thanksgiving with your family and friends!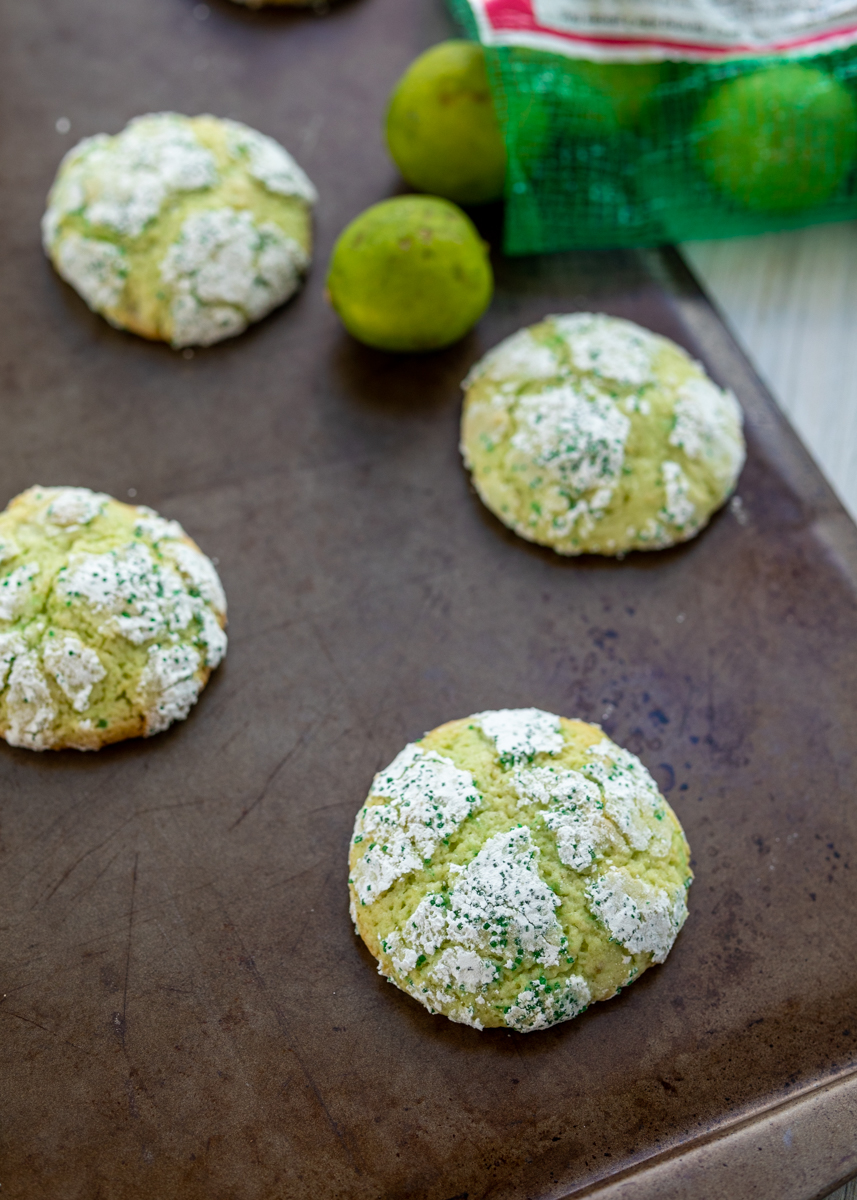 Key Lime Crackle Cookies
Ingredients
2½ cups all-purpose flour
1 teaspoon baking powder
½ teaspoon salt
8 tablespoons unsalted butter (1 stick), room temperature
1¼ cups granulated sugar
2 large eggs
1 teaspoon key lime zest (or regular lime zest)
3 tablespoons key lime juice (or 1½ tablespoons lime juice and 1½ tablespoons lemon juice)
4 drops green food coloring (or 9-10 drops green gel food coloring)
¼ cup confectioners' sugar
1 tablespoons green sanding sugar
Directions
In a medium bowl, sift together the flour, baking powder and salt.
In the bowl of a stand mixer or in a large bowl with a hand mixer, beat the butter and sugar on medium speed for 3 minutes, until light and fluffy. Add 1 egg, then beat to combine, then repeat with the second egg. Add the lime zest, lime juice and food coloring. Beat until combined, scrapping down the sides as needed. Add the flour mixture then beat on low until just combined. Cover the bowl and refrigerate for about 45 minutes or until firm.
Preheat oven to 350 degrees, making sure oven racks are in the top and bottom third positions. Line 2 baking sheets with parchment paper and set aside.
Whisk together the confectioners' sugar and green sanding sugar in a small bowl. Use a medium cookie scoop or a spoon to scoop 1½ tablespoon balls of cookie dough. Roll into a ball then toss in the sugar mixture to coat. Place on the prepared baking sheets about 2 inches apart.
Bake for 16-18 minutes, switching the baking pans halfway through. The cookies are done with they are puffed and cracked on top and are lightly golden on the edges. Cool on the pan set on a cooling rack for 5 minutes then move to the wire cooling rack to cool completely.
 Recipe from December 2015 issue of Food Network Magazine
.
Some of the links above are affiliate links, which means I may receive a small commission for my referral. This does not affect the retail cost of the item. Thank you for supporting Lemon & Mocha!