Key Lime Crackle Cookies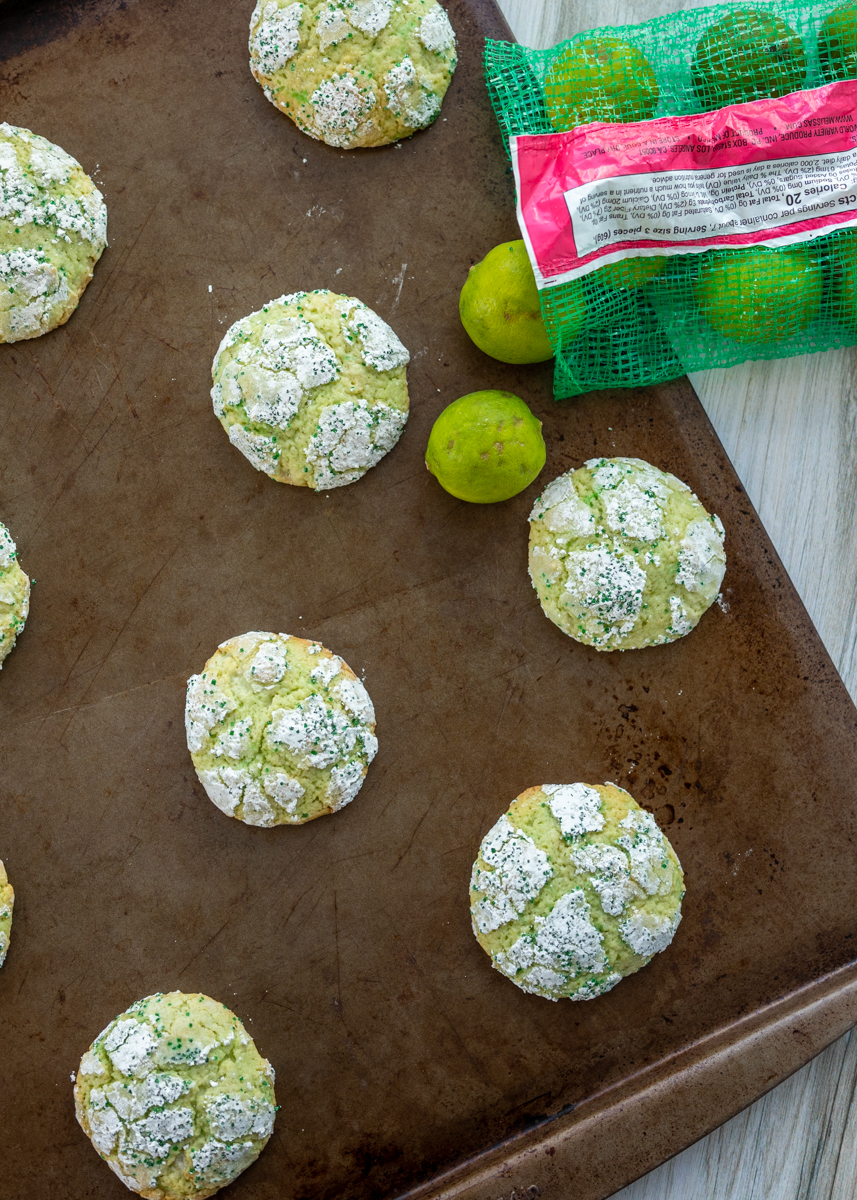 2½ cups all-purpose flour
1 teaspoon baking powder
½ teaspoon salt
8 tablespoons unsalted butter (1 stick), room temperature
1¼ cups granulated sugar
2 large eggs
1 teaspoon key lime zest (or regular lime zest)
3 tablespoons key lime juice (or 1½ tablespoons lime juice and 1½ tablespoons lemon juice)
4 drops green food coloring (or 9-10 drops green gel food coloring)
¼ cup confectioners' sugar
1 tablespoons green sanding sugar
In a medium bowl, sift together the flour, baking powder and salt.
In the bowl of a stand mixer or in a large bowl with a hand mixer, beat the butter and sugar on medium speed for 3 minutes, until light and fluffy. Add 1 egg, then beat to combine, then repeat with the second egg. Add the lime zest, lime juice and food coloring. Beat until combined, scrapping down the sides as needed. Add the flour mixture then beat on low until just combined. Cover the bowl and refrigerate for about 45 minutes or until firm.
Preheat oven to 350 degrees, making sure oven racks are in the top and bottom third positions. Line 2 baking sheets with parchment paper and set aside.
Whisk together the confectioners' sugar and green sanding sugar in a small bowl. Use a medium cookie scoop or a spoon to scoop 1½ tablespoon balls of cookie dough. Roll into a ball then toss in the sugar mixture to coat. Place on the prepared baking sheets about 2 inches apart.
Bake for 16-18 minutes, switching the baking pans halfway through. The cookies are done with they are puffed and cracked on top and are lightly golden on the edges. Cool on the pan set on a cooling rack for 5 minutes then move to the wire cooling rack to cool completely.