Summer Veggie Couscous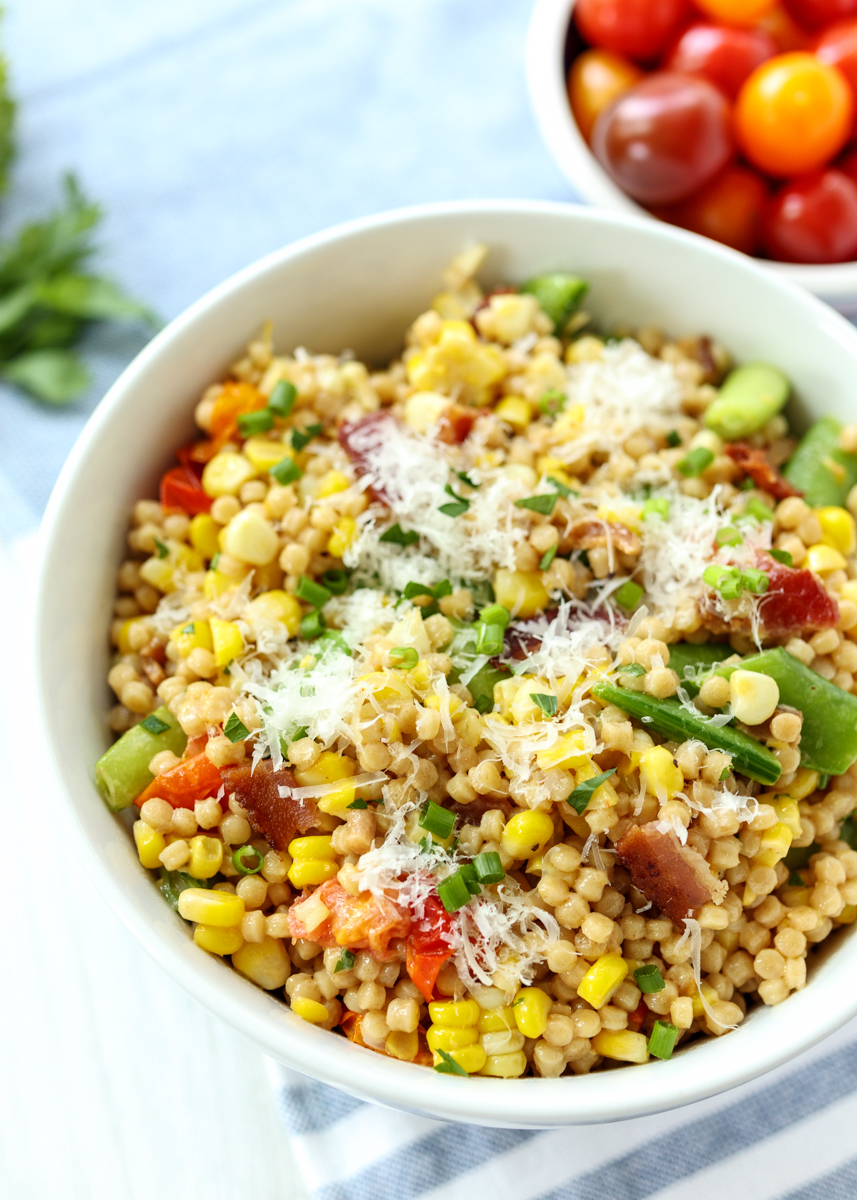 I am so excited to share this Summer Veggie Couscous with you all because, as usual, I first made it forever ago and I'm finally getting around to posting the recipe. Last June when we had family visiting I wanted to make a crowd-pleasing side dish that would scream summer for dinner the first night.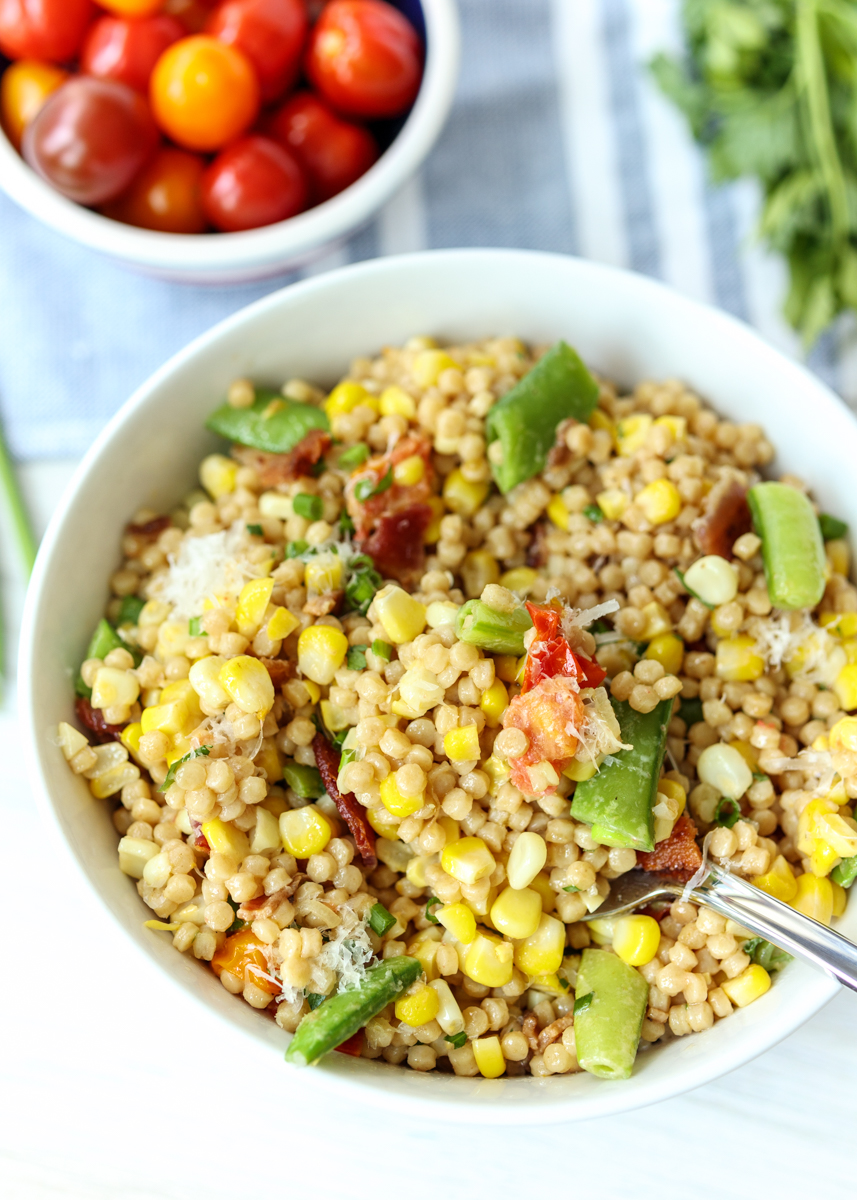 I love a good restaurant re-make so I set out to make my version of the couscous succotash from Not Your Average Joe's. Unfortunately they recently changed their menu and this side dish is no longer offered so it's a good thing I came up with my own version! Pearl couscous, also sometimes called Israeli couscous, is combined with sautéed sugar snap peas, grape tomatoes, shallot, roasted corn and crispy bacon. Mascarpone makes the dish creamy without making it heavy and some fresh parsley, chives and Parmesan pack a ton of additional flavor.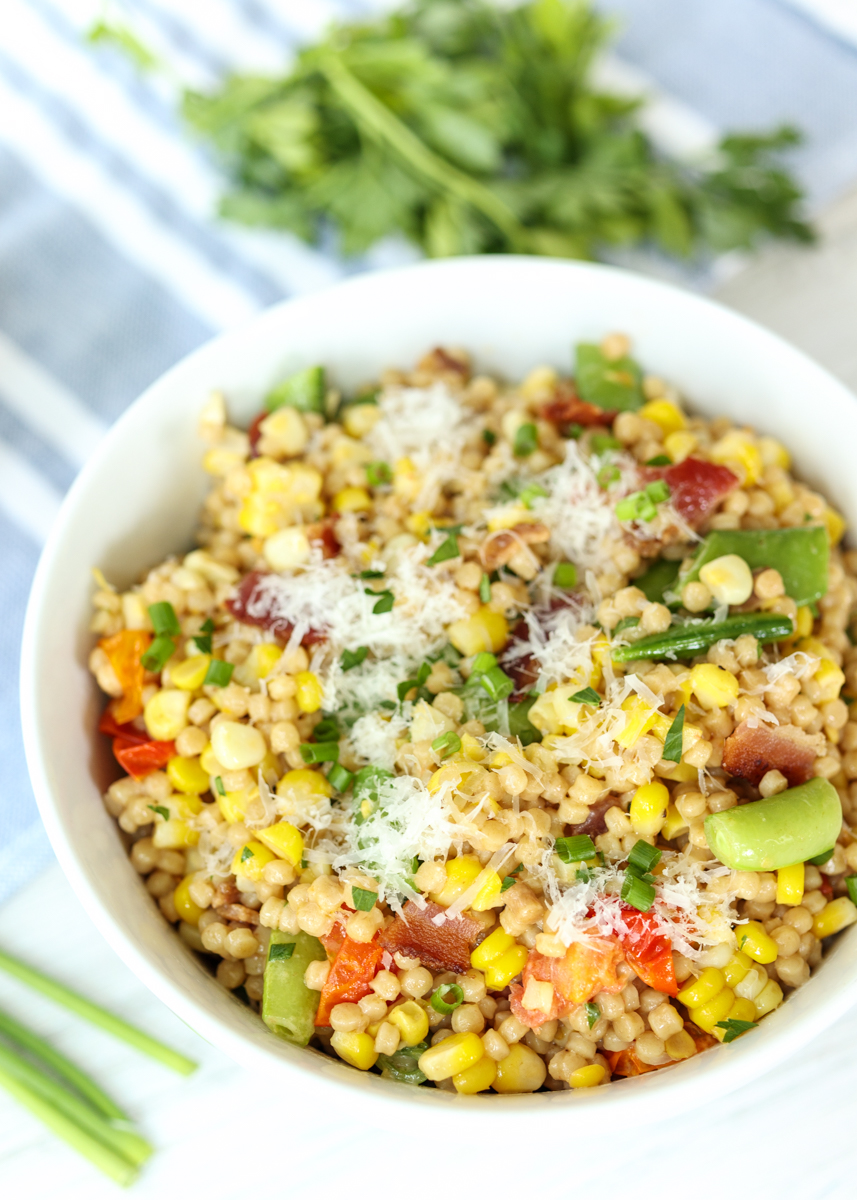 I like to serve it hot, but it would also taste good at room temperature. Once you have all your veggies prepped this Summer Veggie Couscous comes together really quickly. I like to roast the corn and fry the bacon ahead of time then keep them both in the fridge until I'm ready for them.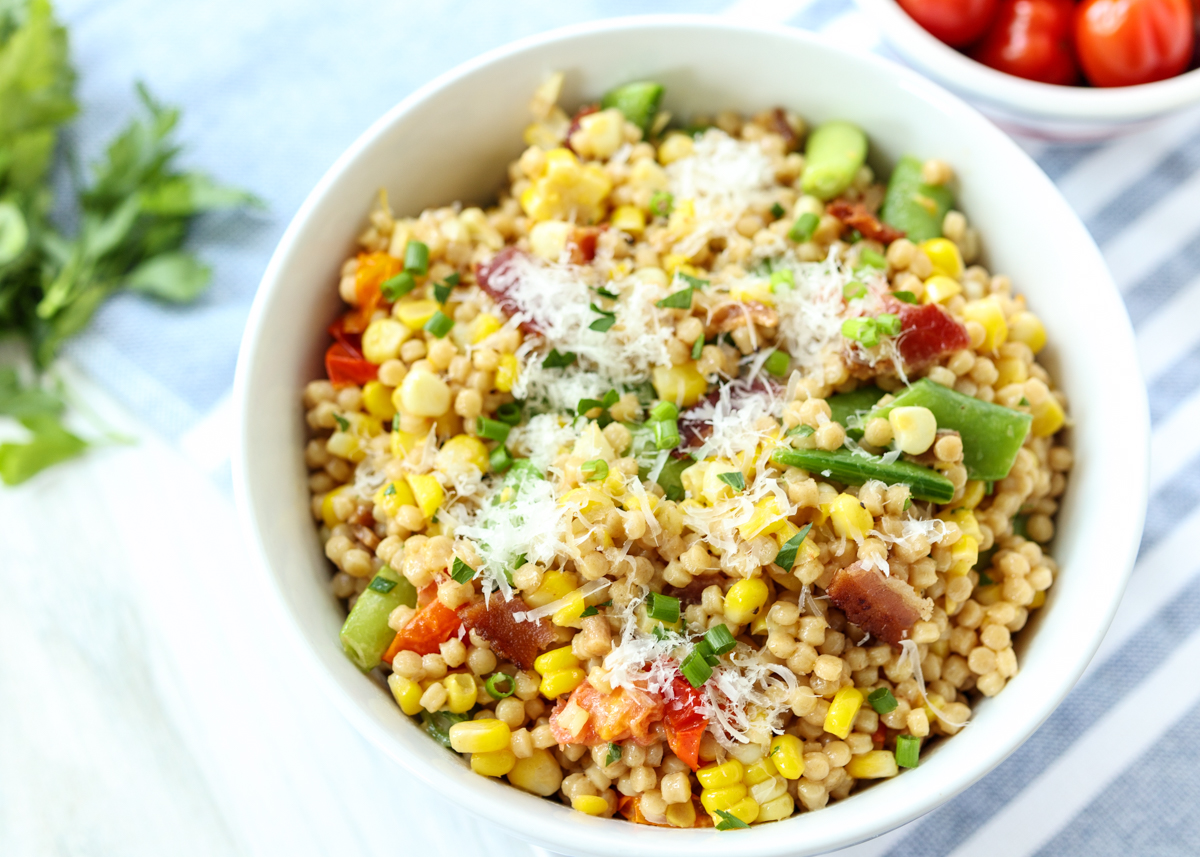 Roasting corn is my favorite way to cook corn on the cob (read all about it in my Summer Roasted Veggie Pesto Pasta Salad with Burrata post), but you can grill or boil yours if you prefer. Just keep in mind that roasting or grilling will make sure you have the most flavorful corn to add to the couscous.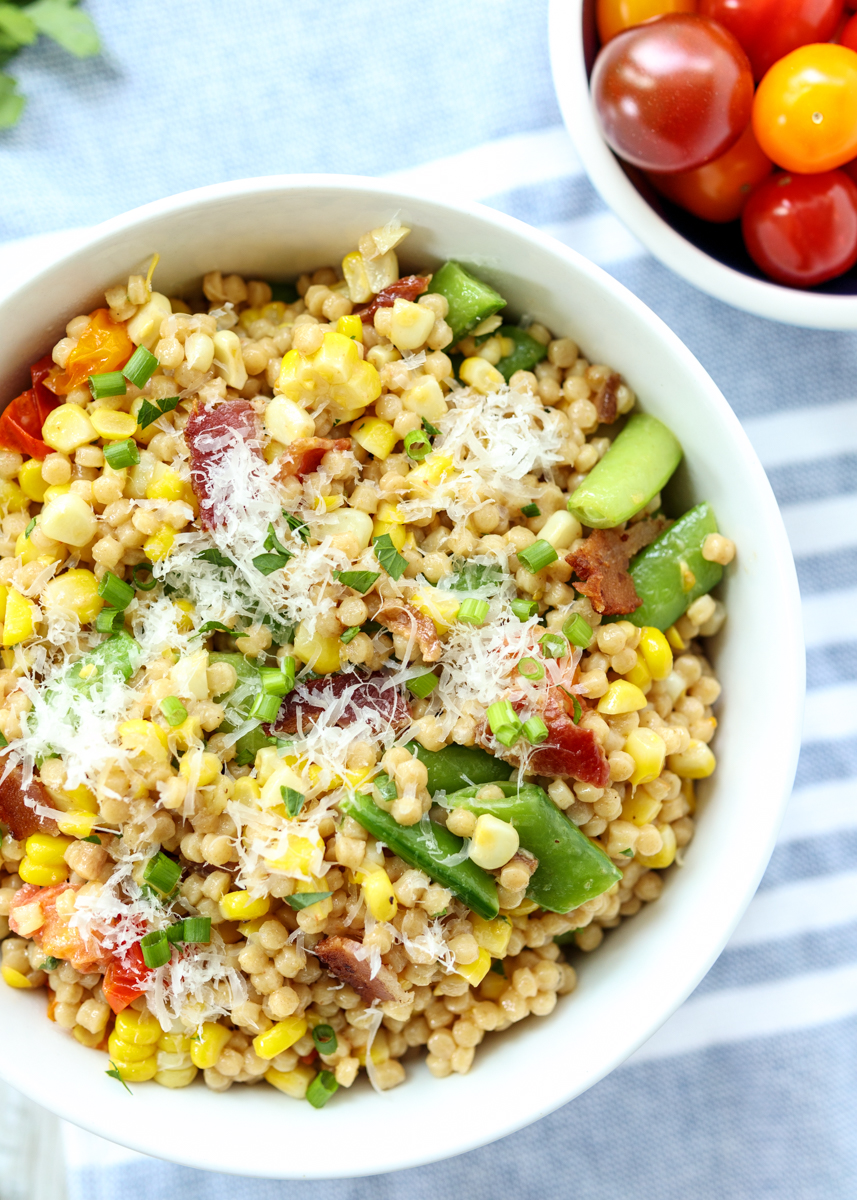 Summer Veggie Couscous pairs well with so many dishes making it the perfect go-to summer side. I originally served it alongside sous vide pork tenderloin, but I've since made it to go with burgers and hot dogs or just by itself. It would also work well with grilled chicken or shrimp; Not Your Average Joe's served it underneath seared scallops. If you want another delicious BBQ side dish that also happens to be a Not Your Average Joe's re-make, head to my Sweet Potato Salad recipe!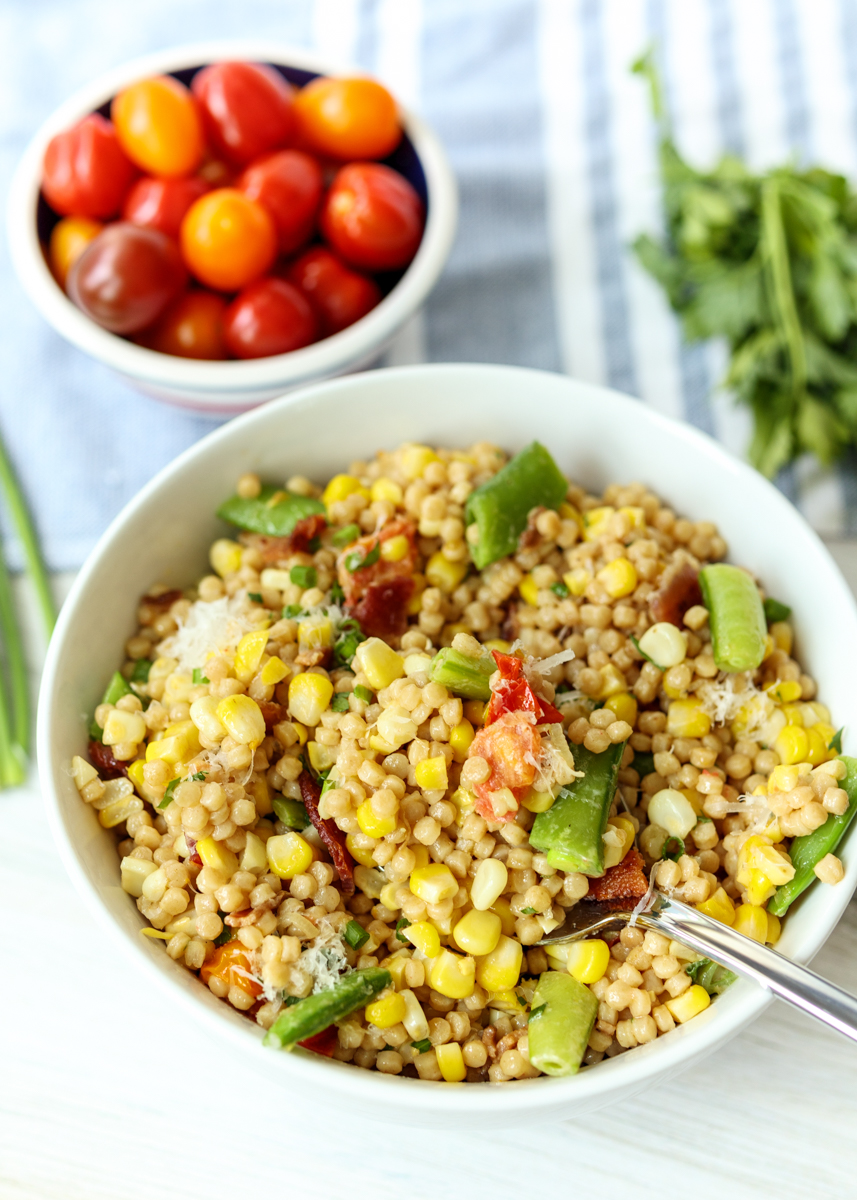 Summer Veggie Couscous
Yield:
6-8 side dish servings
Ingredients
8 ounces pearl couscous, regular or whole wheat, also called Israeli couscous
2 tablespoons olive oil
1 small shallot or ½ a large shallot, thinly sliced
1 cup sugar snap peas, trimmed and halved
1 cup grape tomatoes, halved
3 small ears of corn or 2 large ears, cooked and cut off the cob (see note)
2 slices bacon, cooked and crumbled
1 clove garlic, minced
2 ounces mascarpone
¼ cup fresh grated Parmesan, plus more for topping
½ tablespoon parsley, chopped, plus more for topping
3 chives, chopped, plus more for topping
Salt and pepper
Directions
Bring 1½ cups plus 1 tablespoon of water and ¼ teaspoon salt to a boil in a small saucepan. Add the couscous, cover and reduce to a simmer for 10 minutes. Remove from the heat when done; don't drain.
While the couscous is simmering, heat the olive oil in a large sauté pan over medium high heat. Add the shallots and sauté until they are soft, about 1-2 minutes. Lower the heat to medium and add the snap peas, tomatoes, corn kernels and bacon. Season with salt and pepper. Cook for 3 minutes then add the minced garlic. Sauté for 1 minute then turn off the heat. Add the couscous along with any remaining liquid to the sauté pan. Add the mascarpone and grated Parmesan then stir until the mascarpone has melted and everything is combined. Add the chopped parsley and chives then season with salt and pepper to taste. Serve topped with more grated Parmesan, chopped parsley and chopped chives.