Summer Veggie Couscous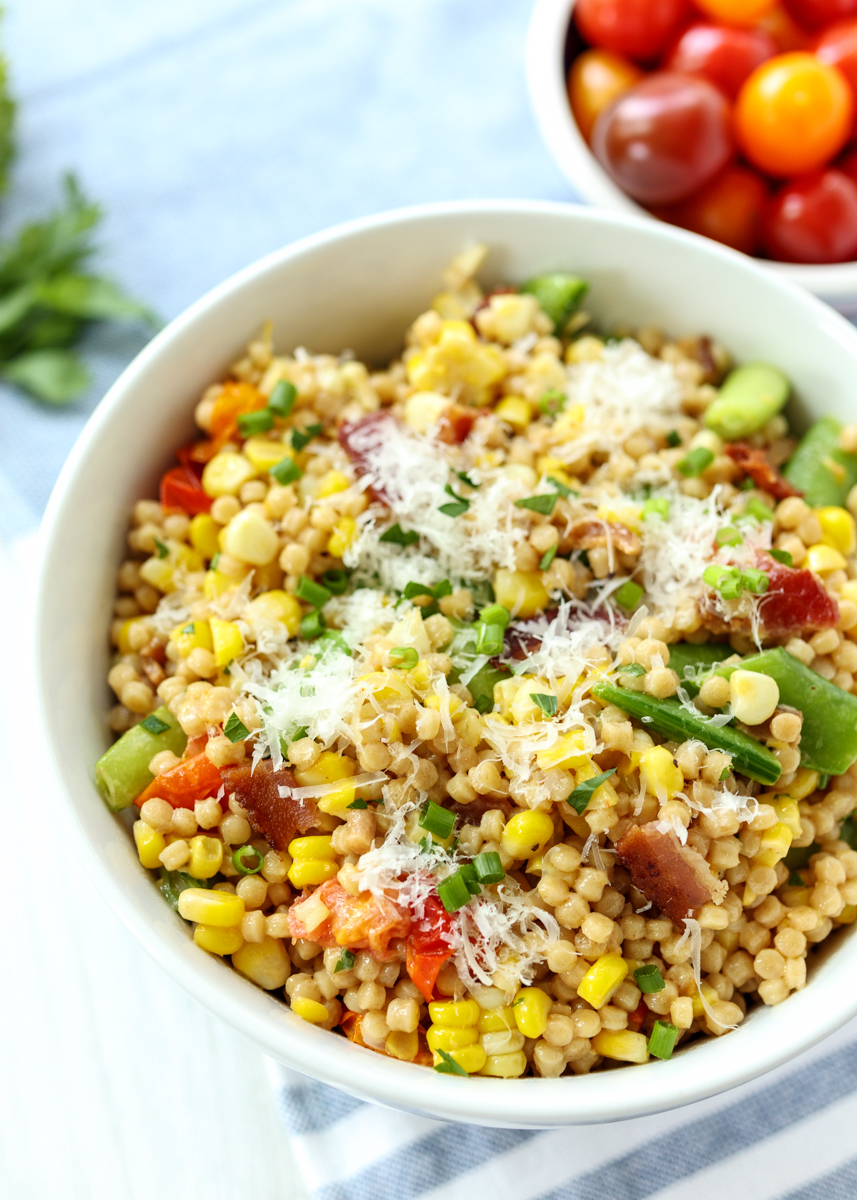 Yield:
6-8 side dish servings
8 ounces pearl couscous, regular or whole wheat, also called Israeli couscous
2 tablespoons olive oil
1 small shallot or ½ a large shallot, thinly sliced
1 cup sugar snap peas, trimmed and halved
1 cup grape tomatoes, halved
3 small ears of corn or 2 large ears, cooked and cut off the cob (see note)
2 slices bacon, cooked and crumbled
1 clove garlic, minced
2 ounces mascarpone
¼ cup fresh grated Parmesan, plus more for topping
½ tablespoon parsley, chopped, plus more for topping
3 chives, chopped, plus more for topping
Salt and pepper
Bring 1½ cups plus 1 tablespoon of water and ¼ teaspoon salt to a boil in a small saucepan. Add the couscous, cover and reduce to a simmer for 10 minutes. Remove from the heat when done; don't drain.
While the couscous is simmering, heat the olive oil in a large sauté pan over medium high heat. Add the shallots and sauté until they are soft, about 1-2 minutes. Lower the heat to medium and add the snap peas, tomatoes, corn kernels and bacon. Season with salt and pepper. Cook for 3 minutes then add the minced garlic. Sauté for 1 minute then turn off the heat. Add the couscous along with any remaining liquid to the sauté pan. Add the mascarpone and grated Parmesan then stir until the mascarpone has melted and everything is combined. Add the chopped parsley and chives then season with salt and pepper to taste. Serve topped with more grated Parmesan, chopped parsley and chopped chives.