Hummus and Roasted Veggie Flatbread Pizza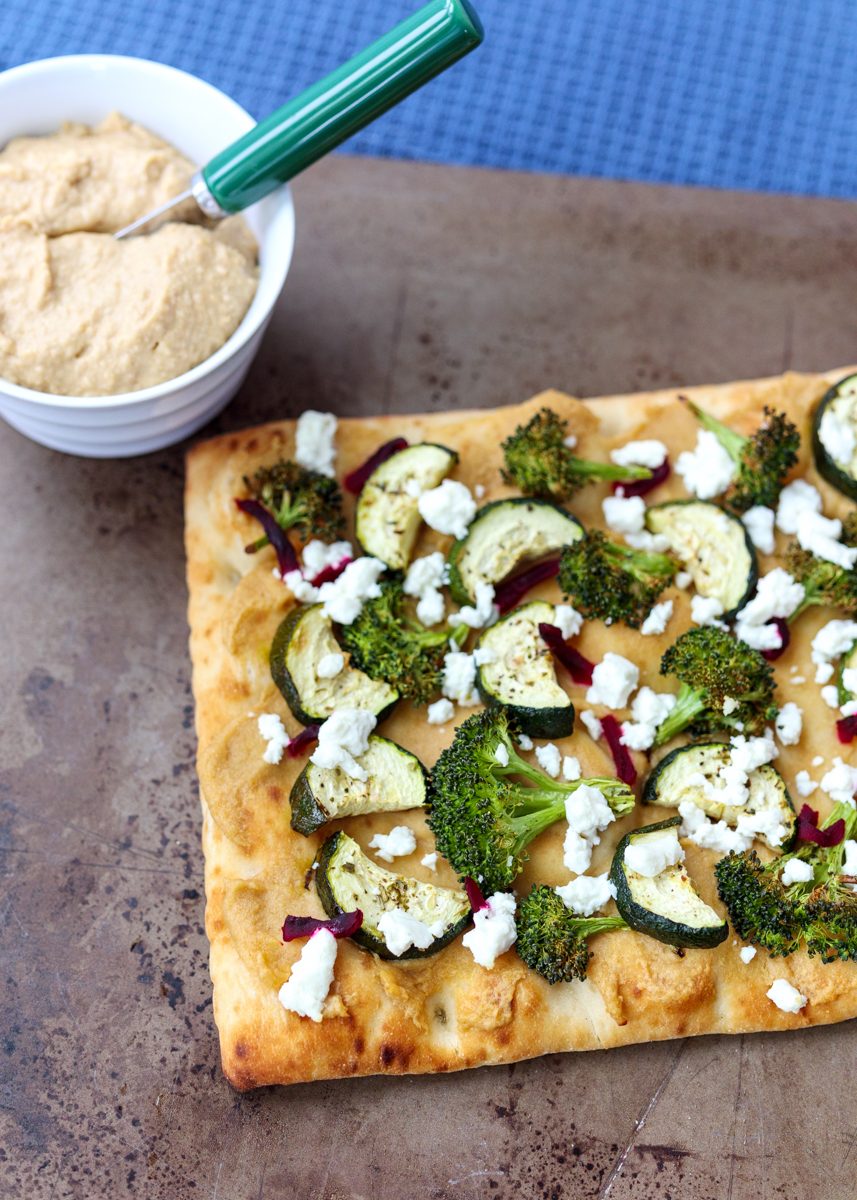 Now this, my friends, is how to truly enjoy hummus. I thought I had a love for hummus, but this Hummus and Roasted Veggie Flatbread Pizza just deepened my love ten-fold. Pita chips dipped into hummus is great. Warm, soft pita wedges dipped into hummus is even better. But a toasted pizza crust topped with warm hummus, roasted vegetables and slightly melted goat cheese is the hands-down winner.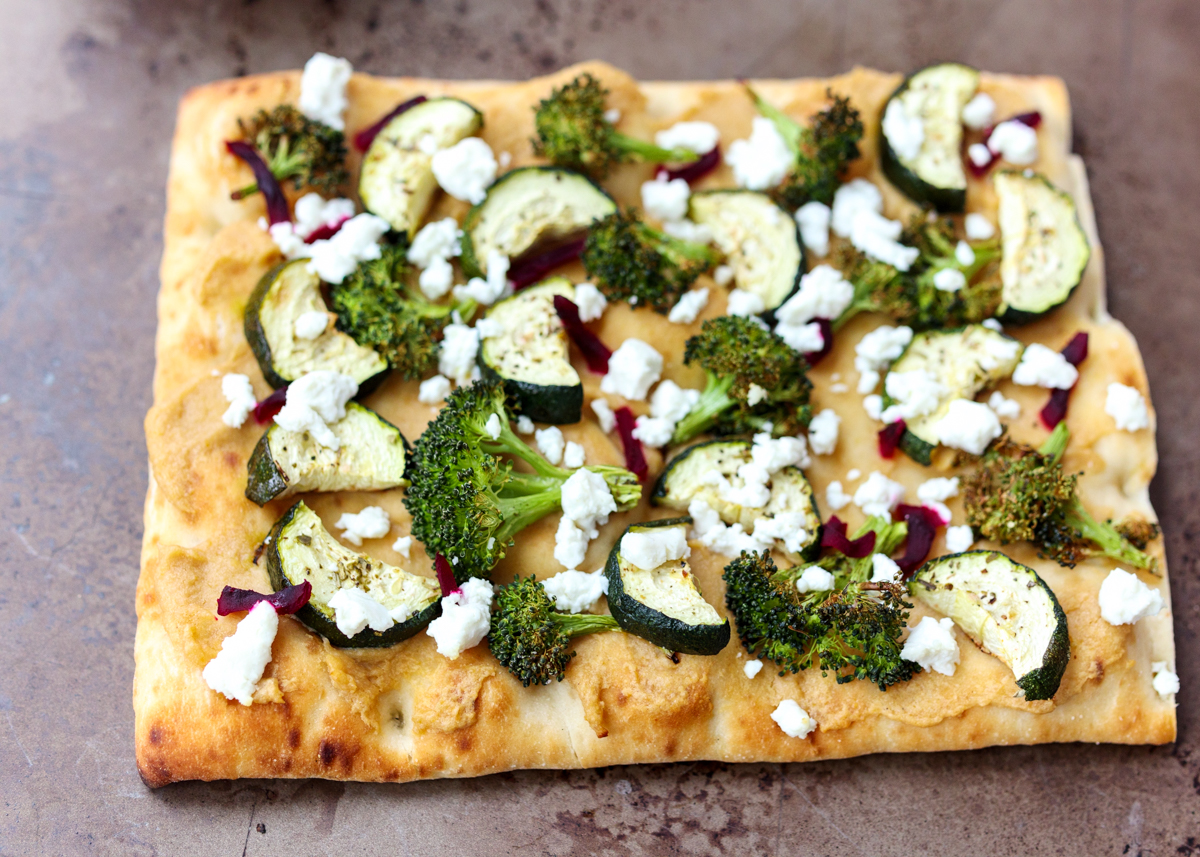 I used Monday's Caramelized Onion Hummus to make this flatbread pizza and the rich flavor balanced with the roasted zucchini and broccoli was perfect. The beauty of this dish is you can really customize it any way you would like. Swap out the hummus flavor, your favorite veggies or even add some additional protein, like some grilled chicken.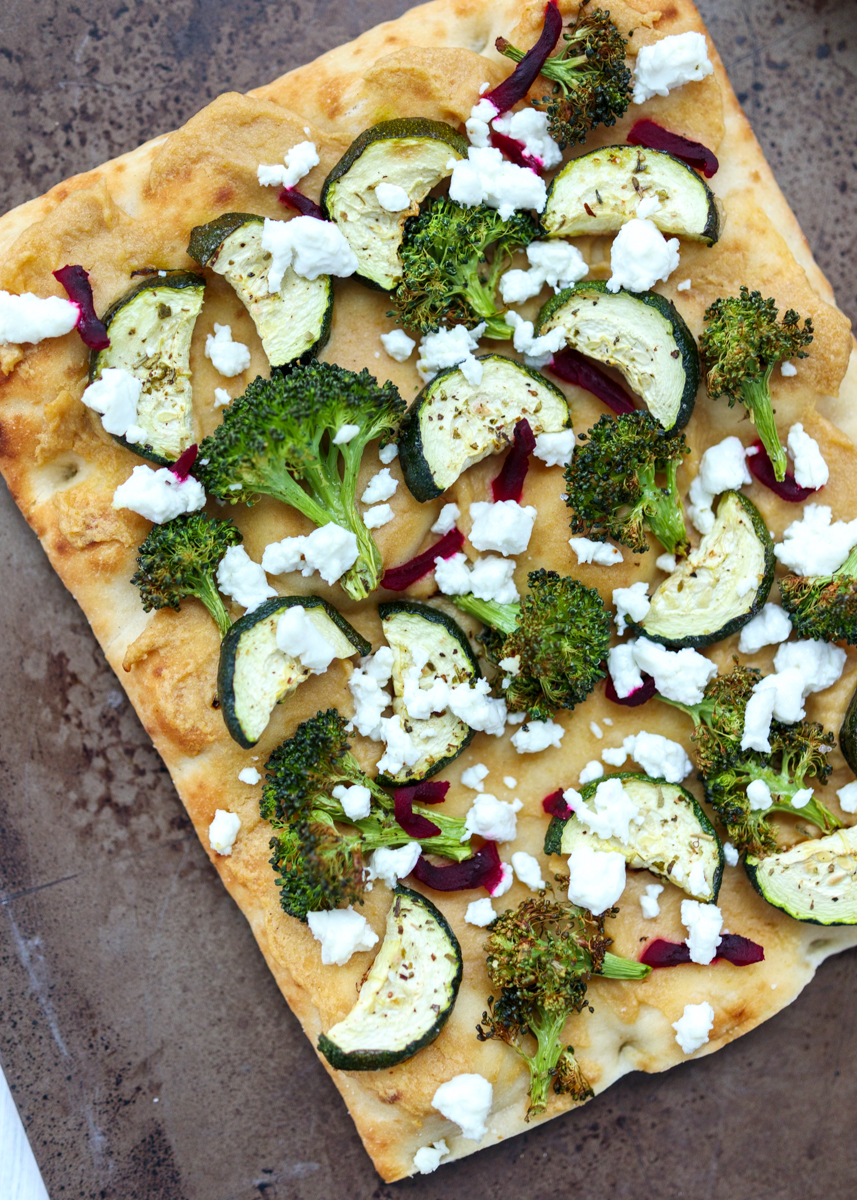 Or just make it with whatever is in your fridge because once you get the thought of a hummus pizza in your head nothing will matter until you are blissfully taking bites of the warm and crispy hummus-slathered flatbread.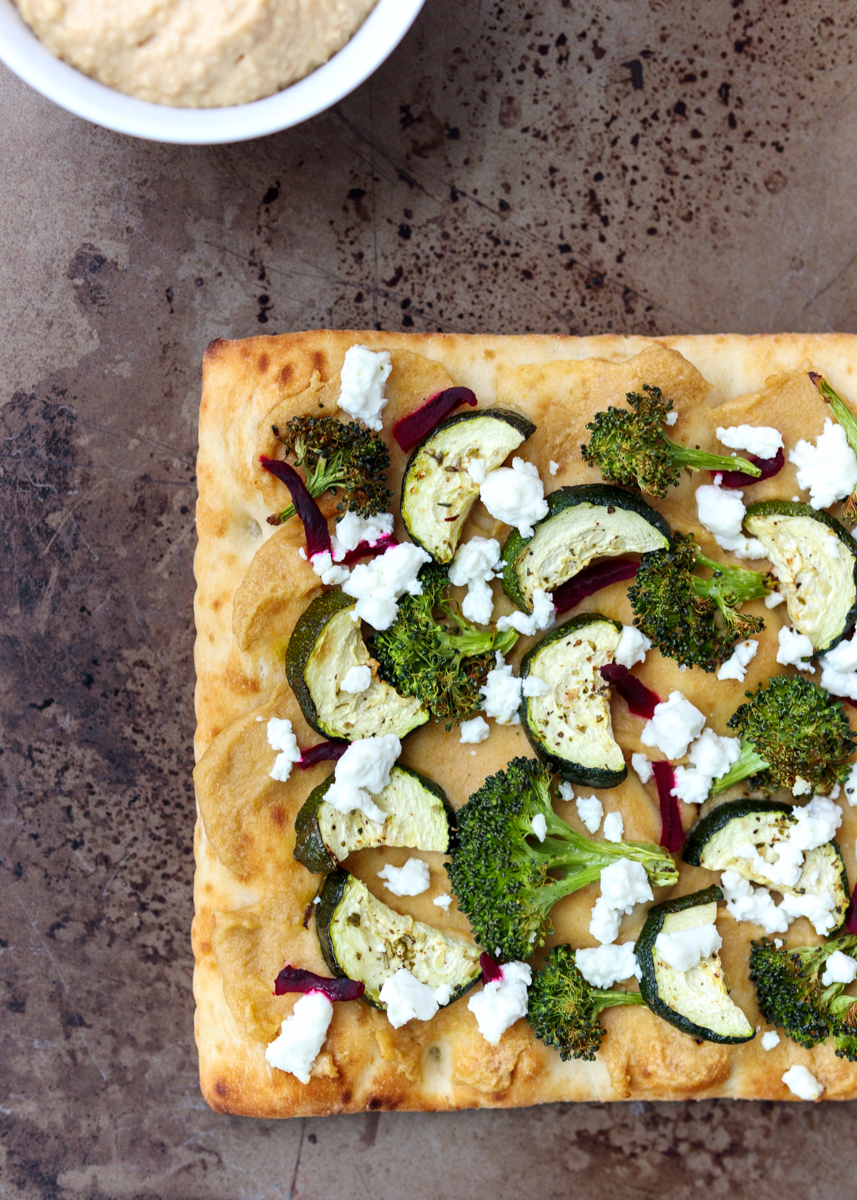 I found these new pre-made rectangular pizza crusts at Trader Joe's. They were giving out samples of them covered in pesto and gooey mozzarella so of course I got a few to stock up. They were super long so I cut them in half and popped them in my freezer. I would definitely recommend them, although naan bread, pita bread or any other type of pre-made flatbread would work well for this hummus pizza.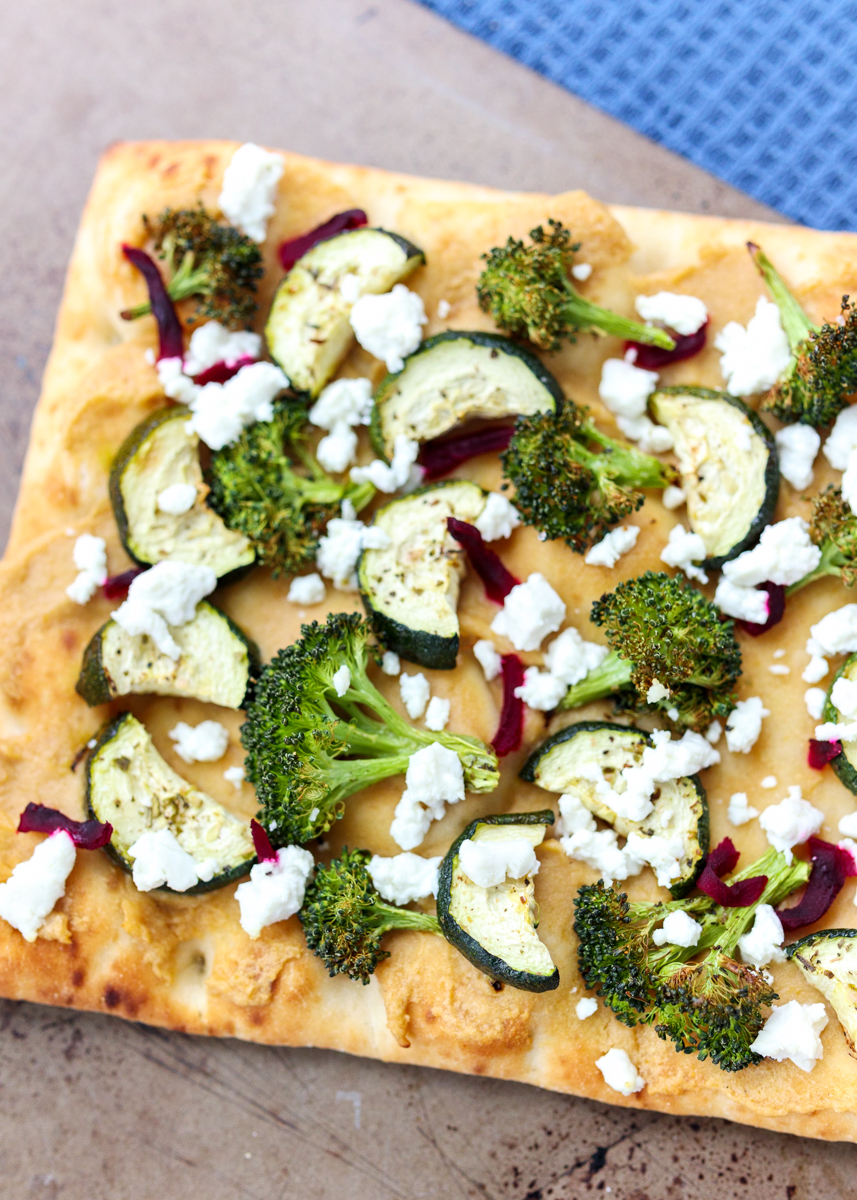 One key recipe step that I want to point out is that you have to spread the hummus on the pizza before putting the flatbread in the oven. Hummus spread on a warm pita is one thing, but hummus baked on a pizza crust is an entirely different experience. The hummus gets warm and bakes onto the crust. So good! Have you ever had a hummus pizza?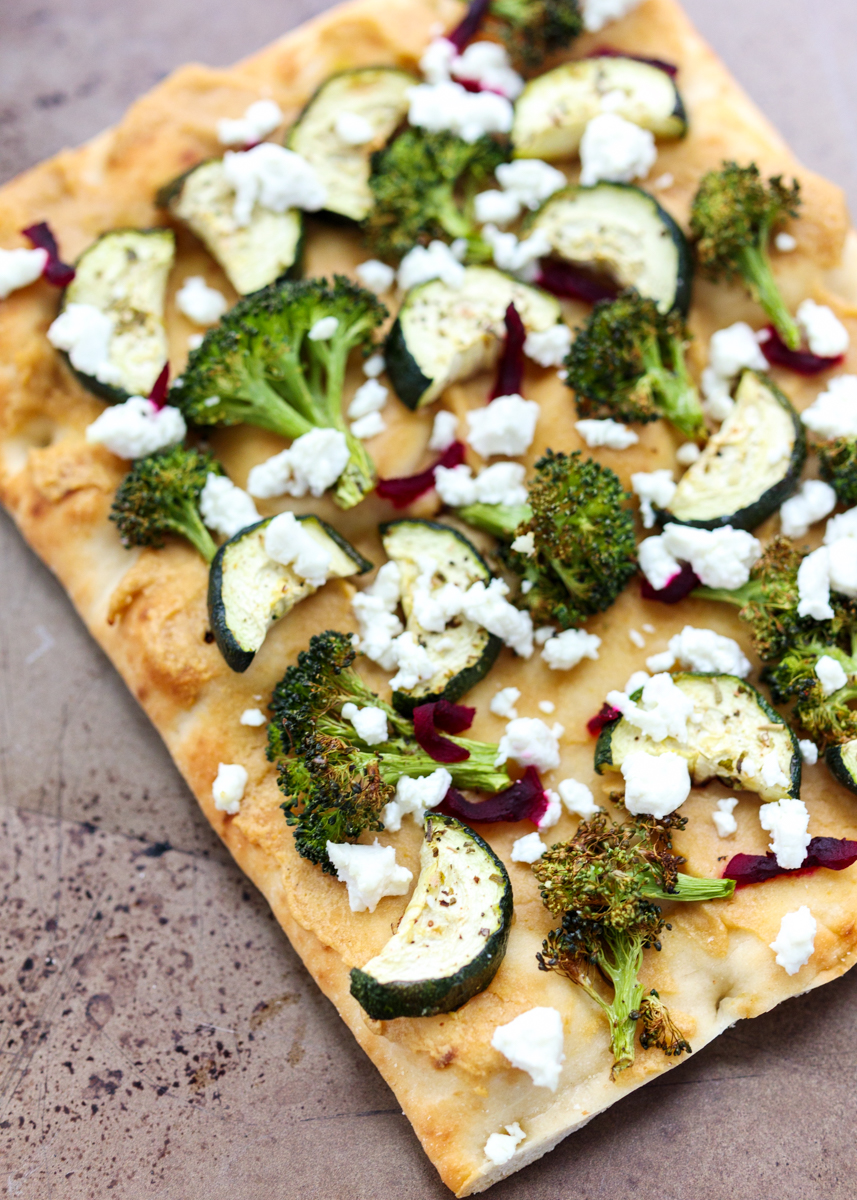 Hummus and Roasted Veggie Flatbread Pizza
Yield:
2 personal sized flatbreads
Ingredients
1½ cups small broccoli florets
1 zucchini, sliced into rounds then halved
Cooking spray
Salt, pepper, garlic powder, Italian seasoning
2 flatbreads, about 8" by 6" each
½ cup hummus
¼ cup shredded raw beets
2 ounces goat cheese crumbles
Directions
Preheat oven to 400 degrees F. Line a baking sheet with nonstick aluminum foil or parchment paper. Place the broccoli florets and zucchini pieces in a single layer on the baking sheet. Lightly spray with cooking spray. Season the veggies with salt, ground black pepper, garlic powder and Italian seasoning. Roast for 20 minutes, or until tender and lightly charred.
Divide the hummus between the 2 flatbreads and spread in an even layer. Divide the roasted veggies, raw beets and goat cheese crumbles between the flatbreads. Bake at 400 degrees for 5-7 minutes, or toast in your toaster oven, until the flatbread is warm and the goat cheese is slightly melted.