Rainbow Slice-and-Bake Cookies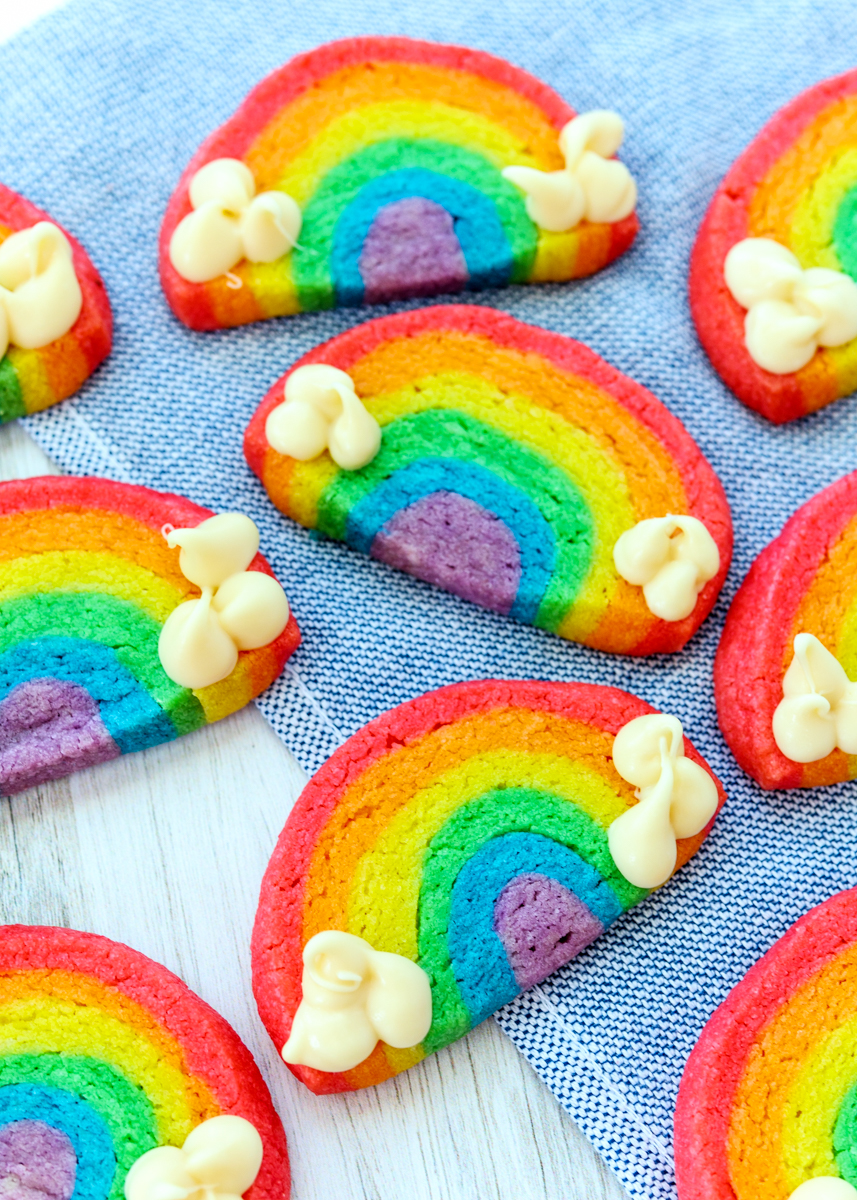 I have to admit that I was completely dreading these March cookies from the Food Network Magazine. The photos looked incredibly intimidating, especially since it's a magazine so of course the rainbow cookies in the photograph was absolute perfection. Then I looked at the recipe and saw it involved tinting the cookie dough six, yes, six, different colors and these weird instructions for rolling, measuring and wrapping the dough that somehow gives you these cool rainbow cookies. I'm committed to completing this monthly cookie challenge so I rolled my sleeves up and dove in.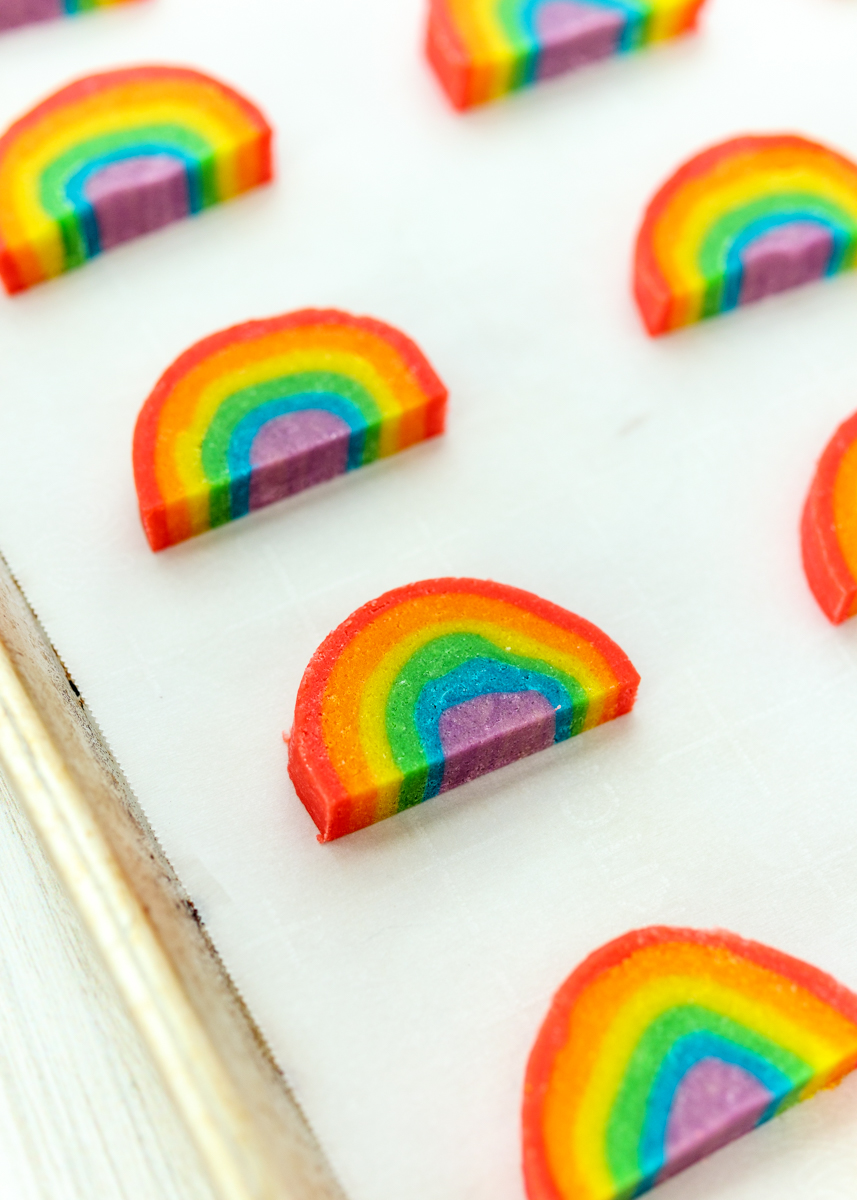 The actual cookie dough is a very simple, buttery cookie recipe. You then divide the dough into six pieces so you're going to want to make sure you have a lot of bowls ready! I used my kitchen scale to divide the dough since the recipe specified the amounts in ounces. Side note: if you don't already have a kitchen scale, I highly recommend one if you do a lot of baking. They are fairly inexpensive (under twenty dollars) and are necessary for many baking recipes. Particularly for when you are baking something with layers, for example I make Matt those Italian tricolor cookies every Christmas and it is definitely key to make sure each of those thin layers has an exactly even amount of batter.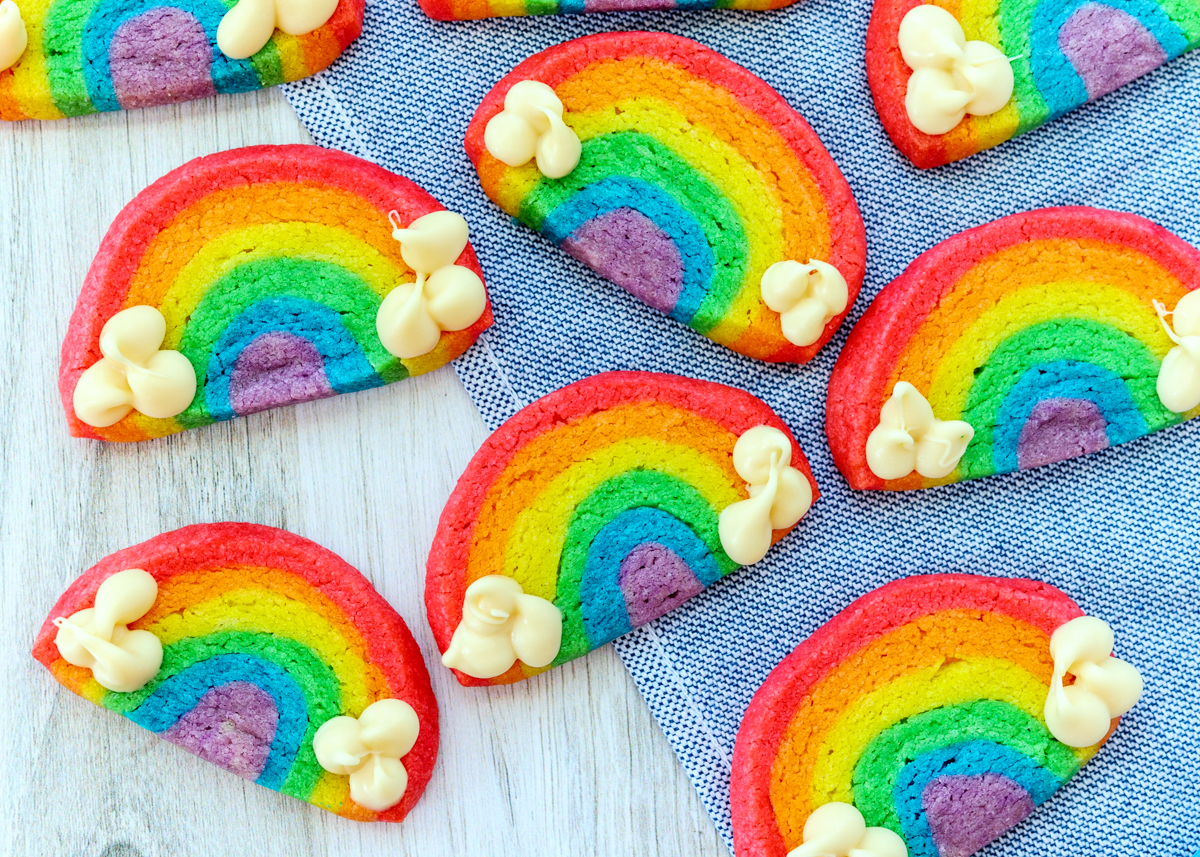 Anyways, back to these crazy rainbow cookies! So once you have your dough divided up you tint each section with gel food coloring. Food coloring typically comes in a pack of red, yellow, green and blue. You could combine colors to make the orange and purple, but I used the same neon gel food coloring that I used for my Chocolate Marshmallow Monster Cookie Sandwiches, which ended up being a lot easier and didn't use up all of the red food gel. Now, I bet you're wishing I would stop babbling about food coloring and are wondering how to get that cool layered rainbow shape!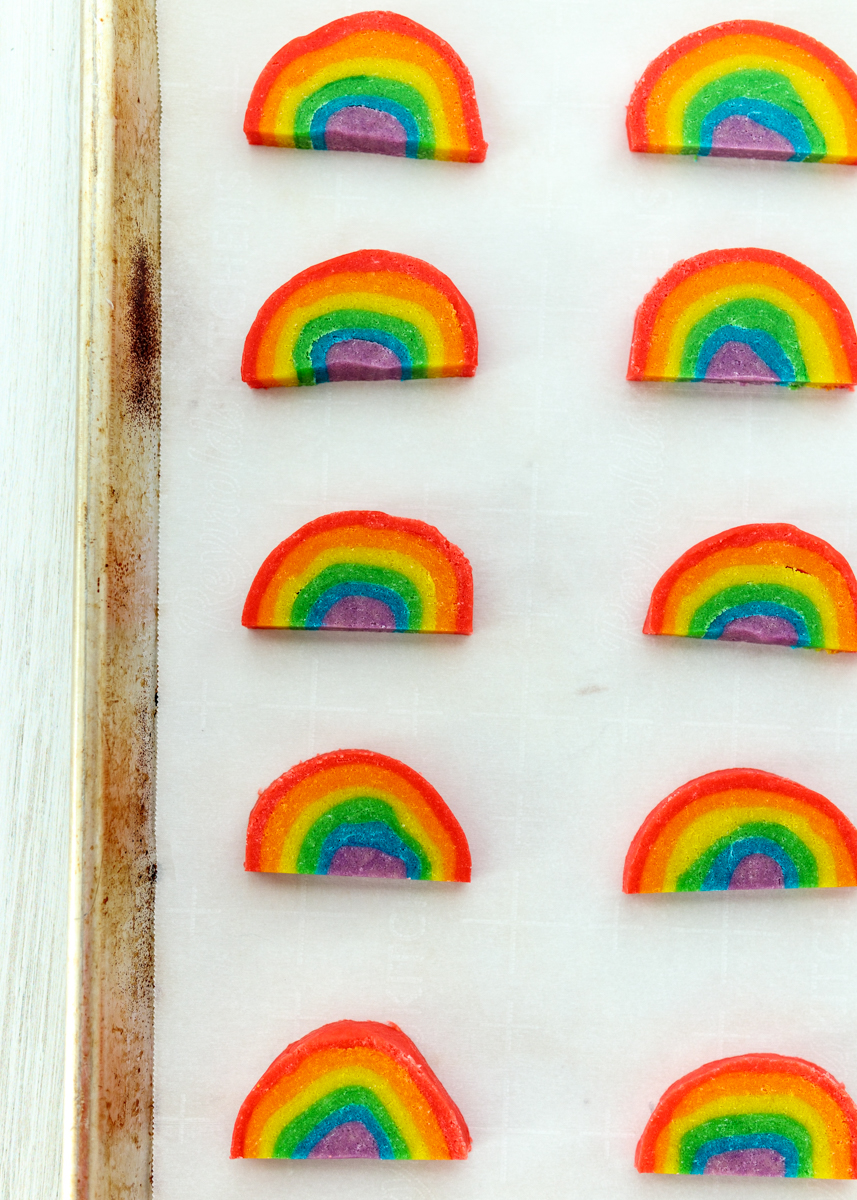 The gist of it is that the purple section gets rolled into a log. The blue section then gets rolled into a rectangle that wraps around the log, then the green section gets rolled into a slightly larger rectangle that wraps around the now larger log and so on until you have a big roll of cookie dough. After the dough log has had a chance to chill, you slice rounds, like a classic slice-and-bake cookie, then cut each round in half to get that rainbow half-circle shape. Voila!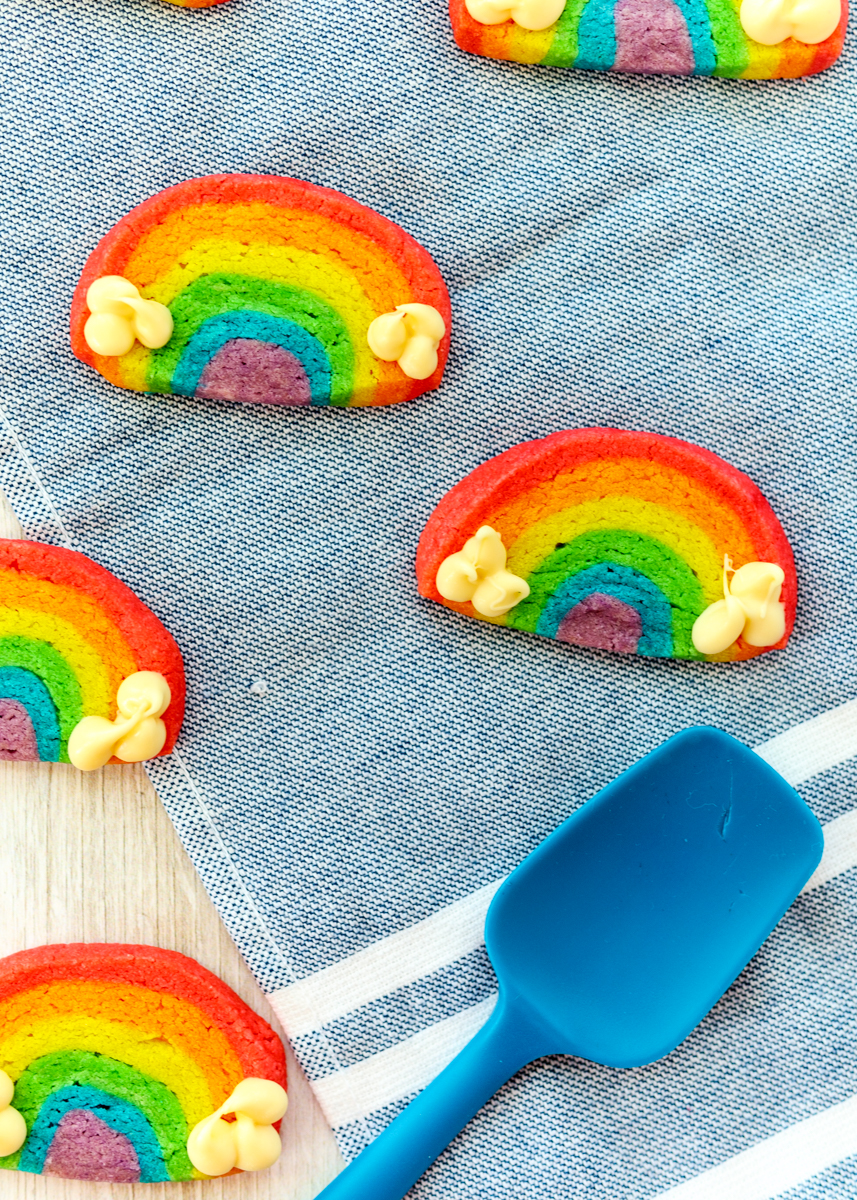 I was relieved to discover that making these cookies wasn't as bad as I anticipated, but if I ever had a desperate need for rainbow cookies in the future I would most likely just pipe rainbow frosting on top since mixing gel food coloring into cookie dough – six times – takes far too long to make it worth it in my opinion. What do you think? Would you give these pretty Rainbow Slice-and-Bake Cookies a shot?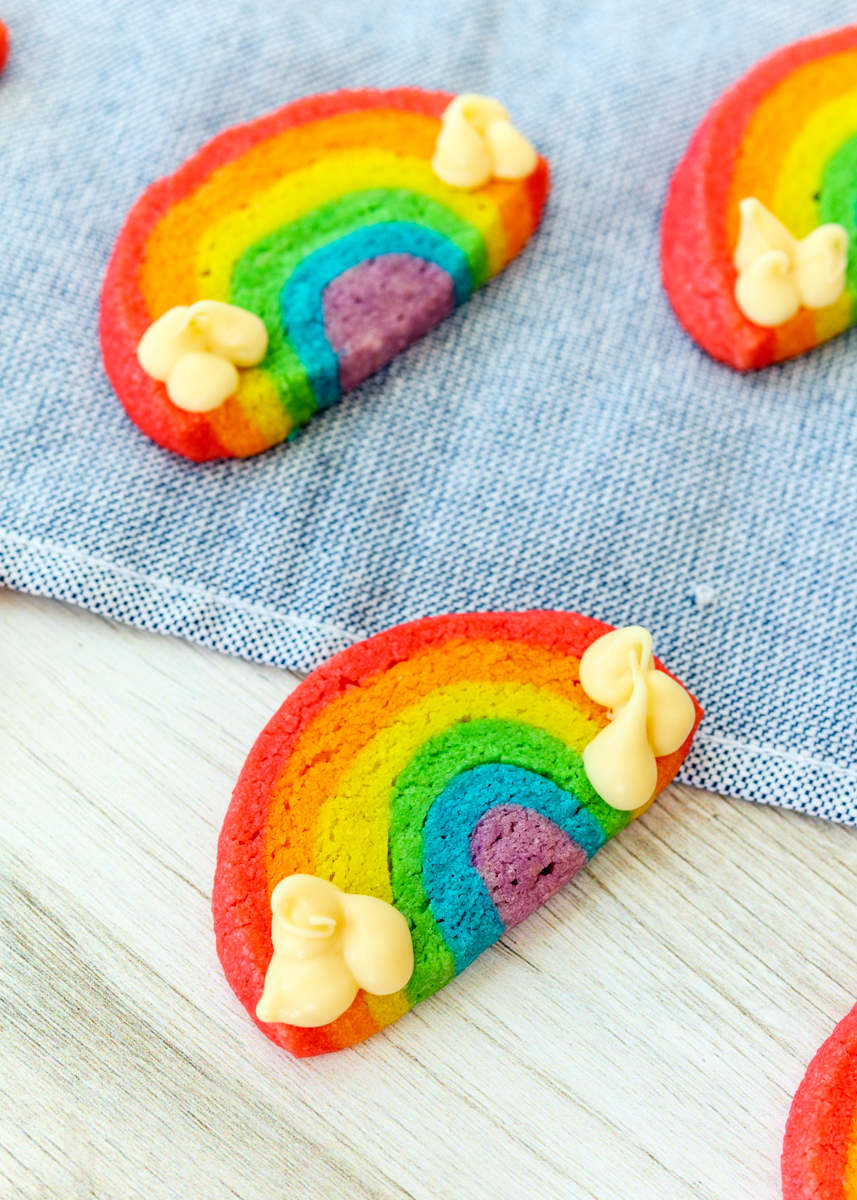 Rainbow Slice-and-Bake Cookies
Ingredients
2½ cups all-purpose flour
½ teaspoon baking powder
¼ teaspoon salt
1 cup unsalted butter (2 sticks) at room temperature
¾ cup granulated sugar
¾ cup powdered sugar
2 large egg yolks
2 teaspoons vanilla extract
¼ teaspoon each red, orange, yellow, green, blue and purple gel food coloring
1 cup white candy melts
Directions
In a medium bowl, sift together the flour, baking powder and salt. In the bowl of a stand mixer or in a large bowl with a hand mixer, beat the butter, granulated sugar and powdered sugar on medium-high speed for 2 minutes, or until light and fluffy. Add the egg yolks and vanilla then beat to combine. Gradually add the flour mixture on low speed until just combined.
Divide the dough: 2 large pieces (about 7 ounces each), 2 medium pieces (about 5 ounces each) and 2 small pieces (about 3 ounces each). Tint 1 of the large pieces of dough red and tint the other one orange. Use a rubber spatula (so it doesn't stain) to work the food coloring into the dough. Repeat with yellow and green for the 2 medium pieces of dough. Repeat with blue and purple for the 2 small pieces of dough.
Lay a piece of plastic wrap, about 12 inches long, on a clean work surface. Take a large piece of wax paper, about 12 inches long, and lightly flour it. Put on gloves so you won't get food coloring on your hands and so you can easily move from one color to the next. On the floured wax paper, roll the purple dough into a 7-inch log. It will be about ¾-inch thick. Set aside on the plastic wrap. Brush any purple dough off your gloved hands or the wax paper; dust with more flour if needed.
Use a rolling pin to roll out the blue dough on the wax paper into a rectangle, roughly 3½ inches by 7 inches. Place the purple log on the edge of the blue rectangle and use the wax paper to help you tightly roll it around the purple log, lightly pinching the seam where the 2 long blue edges meet. Set the log back aside on the plastic wrap. Brush any blue dough off your gloved hands, the wax paper or the rolling pin; dust the wax paper with more flour if needed. Repeat for the remaining colors, in these sizes and in this order: green 5 inches by 7½ inches; yellow 6 inches by 8 inches; orange 7 inches by 8½ inches; red 8 inches by 9 inches. Wrap the plastic wrap around the whole log then refrigerate for 8 hours or overnight or place in the freezer for 1 hour.
Preheat the oven to 375 degrees F. Line 2 baking sheets with parchment paper and set aside.
Cut the ends off of the log. Slice into ⅜-inch thick rounds then slice each round in half. If any of the cookies have a slight gap between the layers in spots just gently press them together. Place the rainbow cookies about 1 inch apart on the prepared baking sheets then place them in the fridge for at least 15 minutes. This helps prevent spreading when they bake.
Take one pan out of the fridge and bake the cookies for 10-13 minutes. The cookies will be just set around the edges. When you take them out of the oven, if the bottoms of the rainbow have puffed out a little, carefully use a spatula to help press the bottom of the cookie to be flat. You have to do this while they're right out of the oven because once they cool their shape will be set. Let the cookies cool on the pan for 5 minutes then transfer to a wire cooling rack to cool completely. Remove the second baking sheet from the fridge and repeat the baking and cooling instructions.
Once the cookies are completely cooled, melt the candy melts in a microwave safe bowl for 30 seconds, stir, then continue microwave and stirring in 20 second intervals until smooth. Place the melted candy melts into a pastry bag fitted with a small round tip or in a resealable plastic bag with the corner snipped. Pipe the little clouds on the ends of each rainbow cookie then let set for at least 5 minutes.
 Recipe from January/February 2019 issue of Food Network Magazine
.
Some of the links above are affiliate links, which means I may receive a small commission for my referral. This does not affect the retail cost of the item. Thank you for supporting Lemon & Mocha!