Creamy Mustard Roasted Fish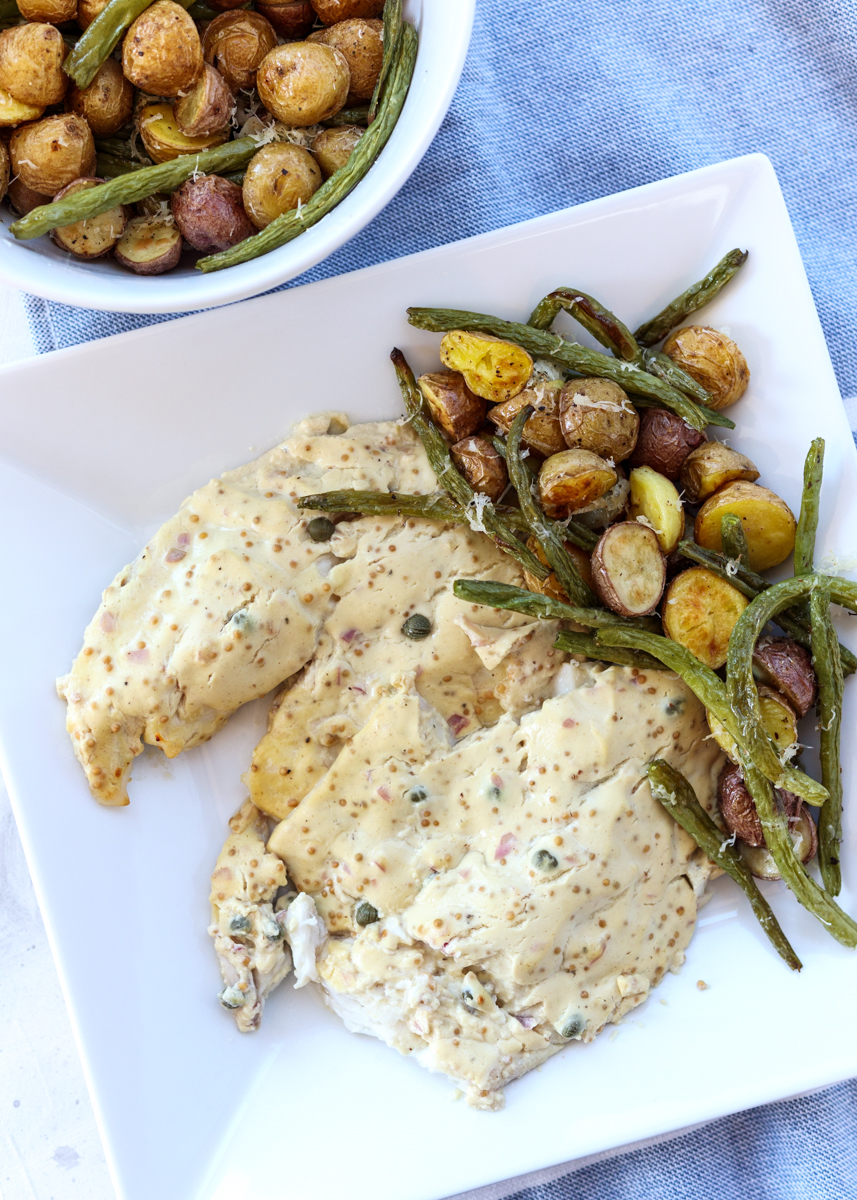 Would you believe me if I told you this recipe got Matt to eat tilapia? Of course you believe me otherwise this would be a pretty bad story if it wasn't true! While I'm busy going through my cookbooks that I have yet to make anything from I'm also focusing on sharing recipes with you all that I have made and enjoyed from my cookbooks over the years, like Giada's Breakfast Bulgur with Warm Berries and Ree Drummond's Potato, Leek and Bacon Pizza. Add to the list Ina Garten's Creamy Mustard Roasted Fish. Can you tell I'm a Food Network fan?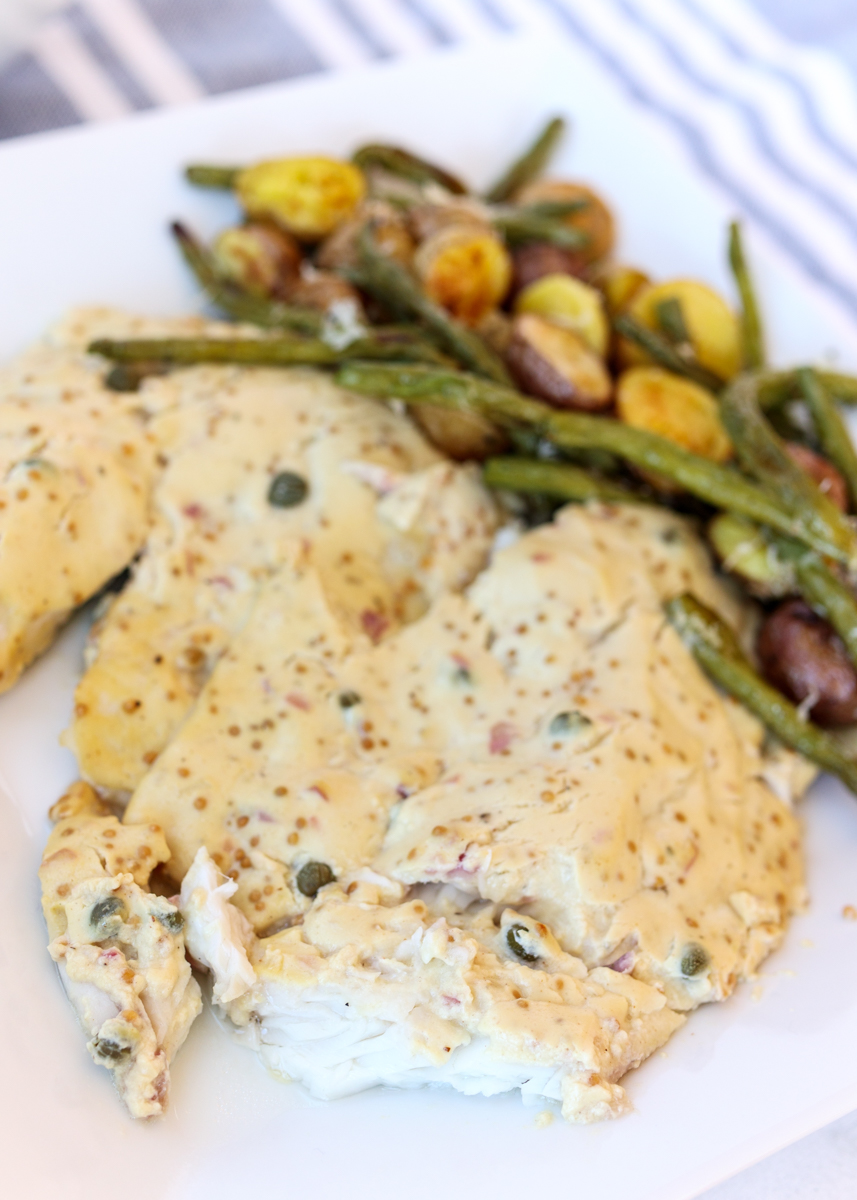 As I've mentioned before, I'm continually trying to find cooked fish recipes that Matt enjoys. Sushi is another story; he can now out-eat me on sashimi! Many years ago I wanted to make us some cooked fish and thought this creamy mustard sauce just might do the trick. It worked! Between the mustard, shallot and capers, the sauce is full of punchy flavors that keep the tilapia from tasting "fishy."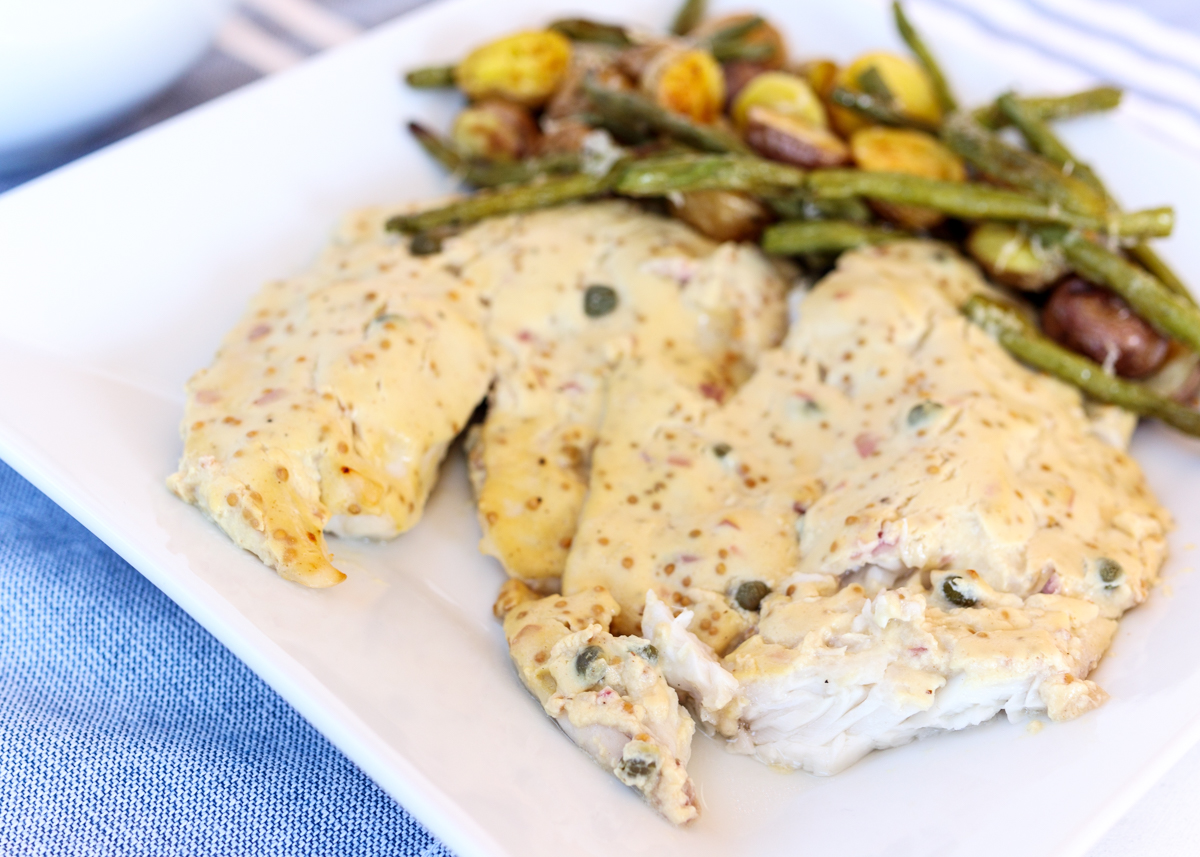 The original recipe from Barefoot Contessa uses crème fraîche to achieve the creamy and slightly sour sauce that pairs so well with the sharp mustard. Crème fraîche is delicious, but it can also be very rich and fattening. Instead, I used my new favorite recipe trick: cauliflower puree! I blended cooked cauliflower florets with plain Greek yogurt to mimic the thickness and creaminess of the crème fraîche. That was combined with the mustard, mustard seeds, shallots and capers for a perfect sauce to be poured over the white fish before baking it.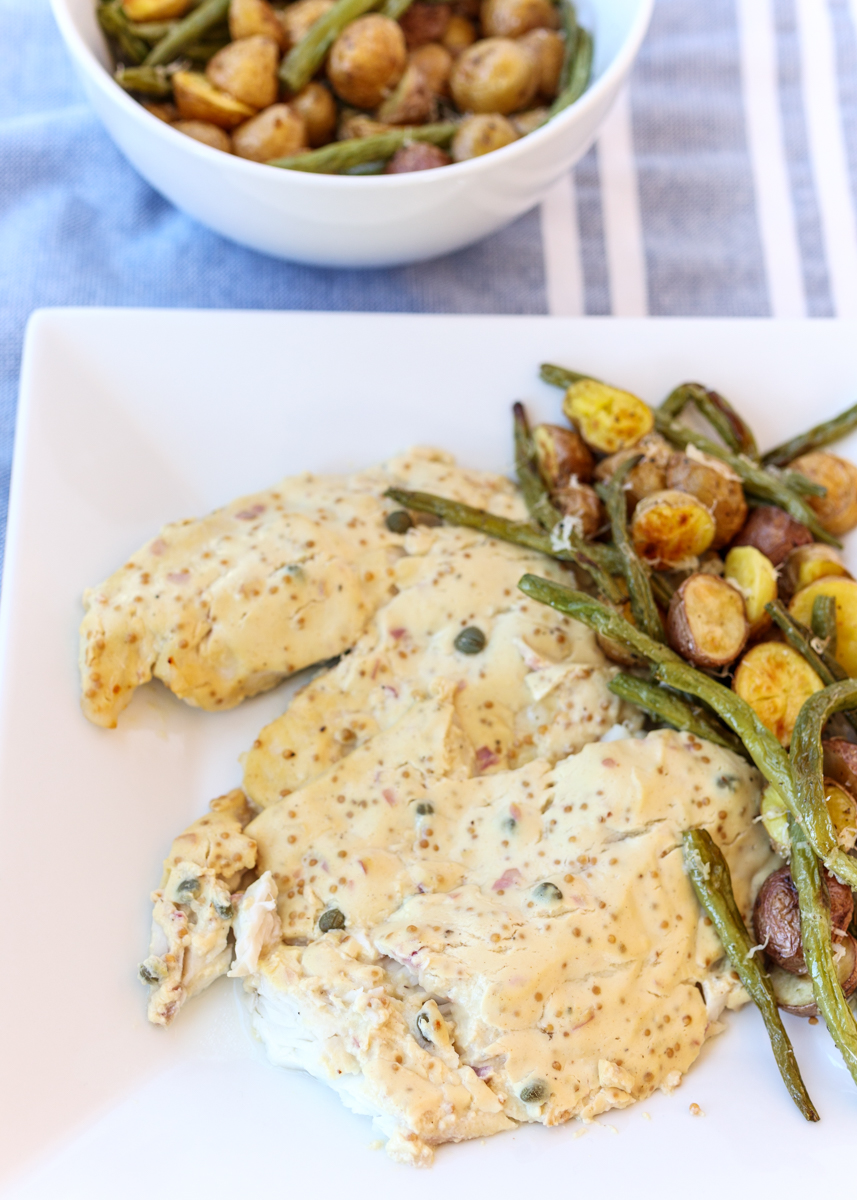 Although the flavor of the sauce is awesome, the best part is that it keeps the tilapia incredibly flaky and moist. I served this dish alongside the Sheet Pan Parmesan Roasted Green Beans and Baby Potatoes and Matt was a happy camper. Who would have thought one day Matt would happily eat tilapia for dinner?! Thanks, Ina!
Creamy Mustard Roasted Fish
Ingredients
1 cup cauliflower florets (about 8 medium-large florets)
⅔ cup water
5 ounces nonfat Greek yogurt
3 tablespoons mustard
2 tablespoons minced shallots
1 tablespoon mustard seeds
2 teaspoons drained capers
4 tilapia fillets
1 teaspoon salt
½ teaspoon ground black pepper
Directions
Preheat oven to 425 degrees. Line a baking pan large enough to fit the fish fillets with nonstick aluminum foil or parchment paper and set aside.
Add the water and cauliflower florets to a saucepan. Bring to a boil then cover, reduce heat to low and simmer for 10 minutes. Drain the liquid then puree the cauliflower with the Greek yogurt until smooth. Combine the cauliflower-yogurt puree, mustard, minced shallots, mustard seeds and drained capers in a small mixing bowl.
Place the tilapia fillets on the prepared baking pan. Season with the salt and pepper. Spoon the mustard sauce over the fish completely. Bake until the thickest part of the fish flakes, about 10-15 minutes. When it's done broil for 1 minute.
Recipe adapted from

Barefoot Contessa Back to Basics

.
Some of the links above are affiliate links, which means I may receive a small commission for my referral. This does not affect the retail cost of the item. Thank you for supporting Lemon & Mocha!