Sheet Pan Parmesan Roasted Green Beans and Baby Potatoes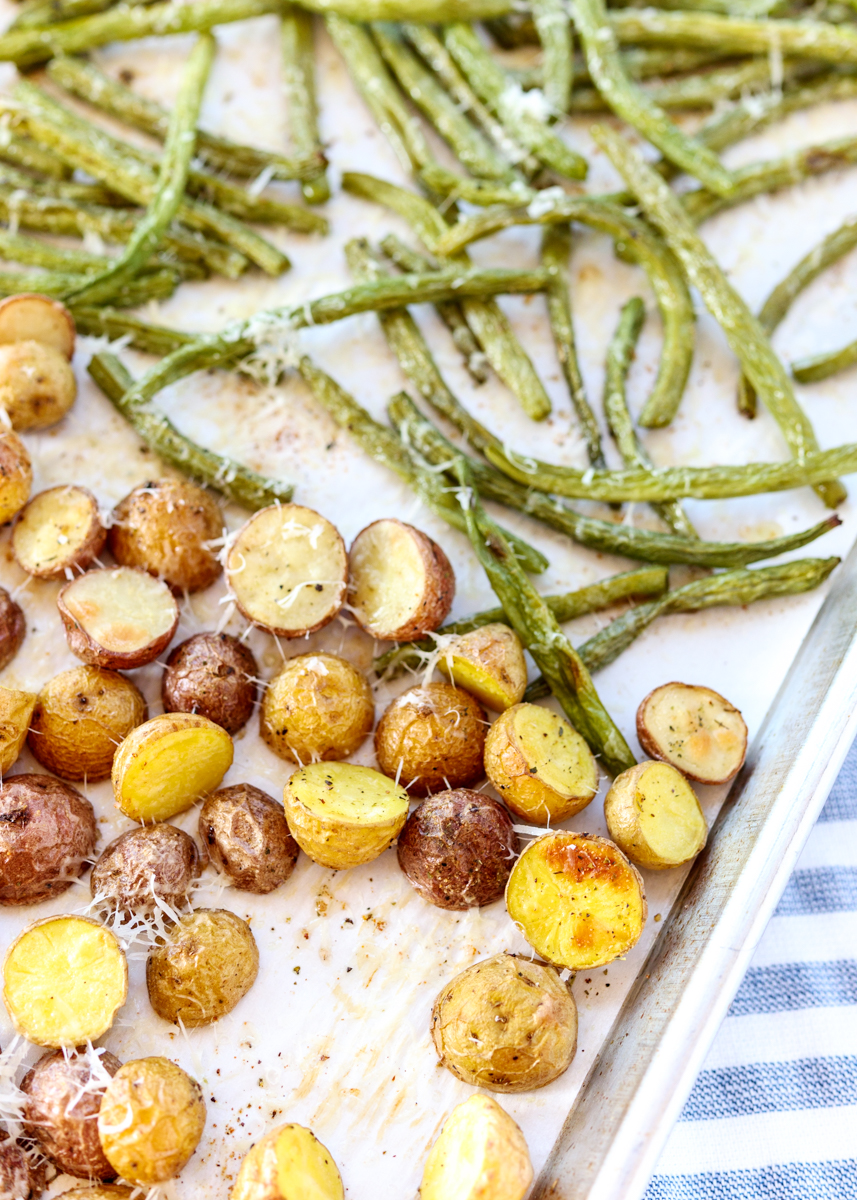 How is it Monday already? Did this weekend fly by for anyone else? Hopefully I'll make it a little better with this quick and easy recipe for Sheet Pan Parmesan Roasted Green Beans and Baby Potatoes. Cheese makes everything better, right? Especially when the Parmesan is coating charred green beans and crispy potatoes.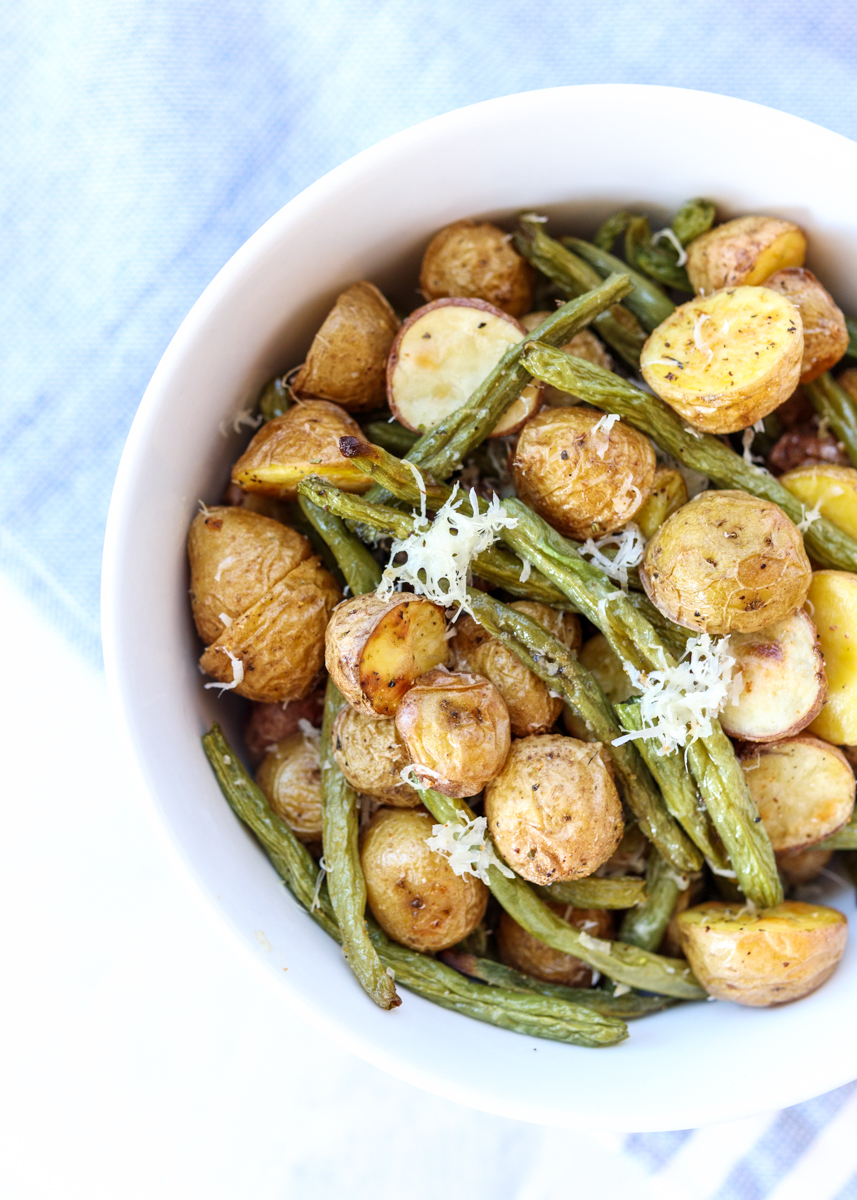 I'm not sure if you've noticed, but I love cooking meals in the oven. I know you're probably thinking, "oh yeah, oven cooking in the winter is great and cozy," but I mean I love-love it, like even when it's 80 degrees in the summertime. Oven cooking is just so easy and even though I love cooking I also love easy cooking.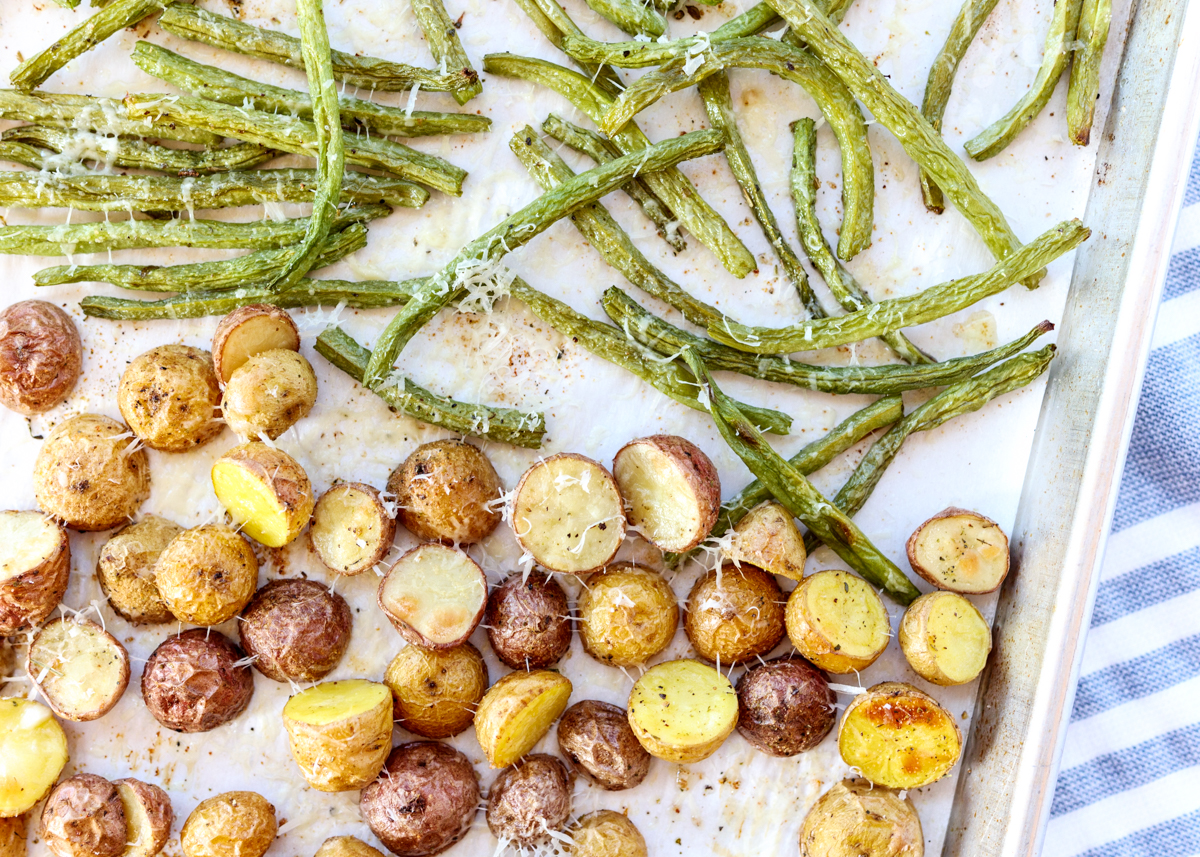 Plus, the crispy textures and caramelized flavors you get from oven cooking? Delicious!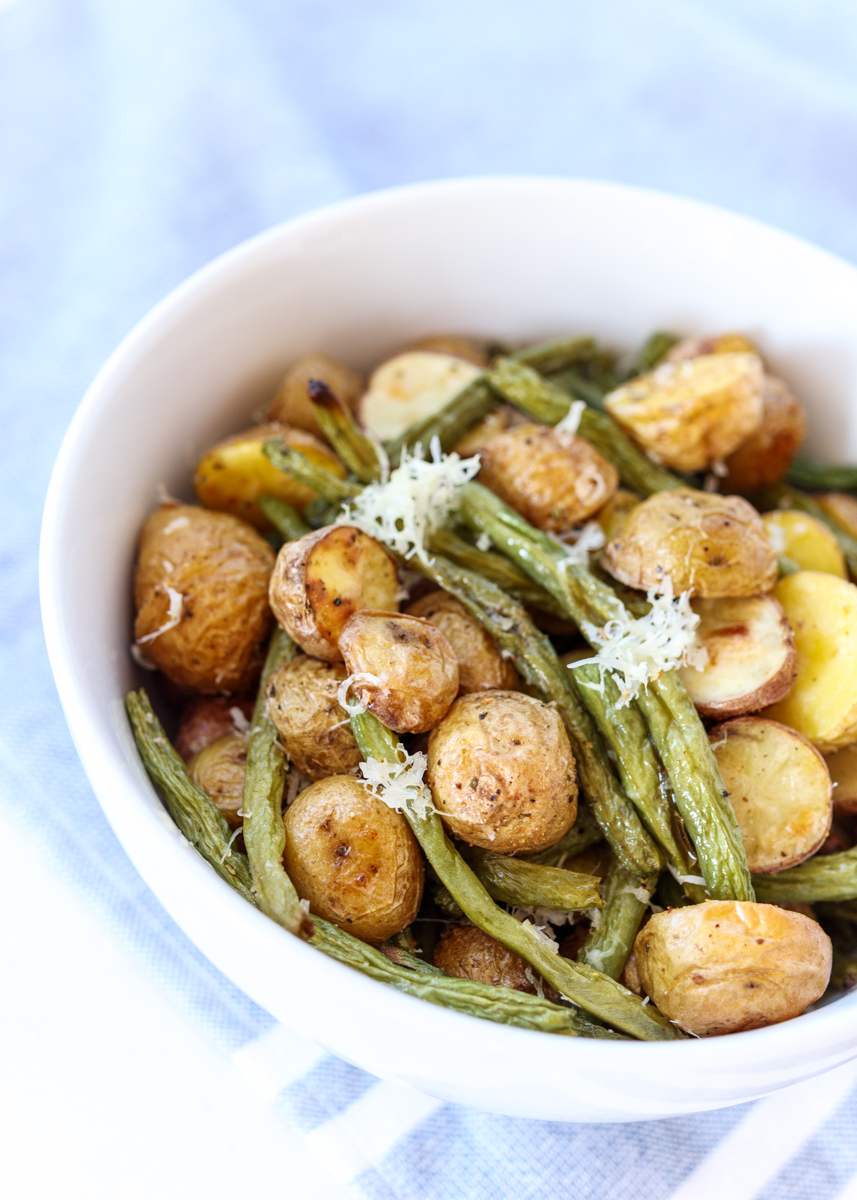 I do default to our large toaster oven for most oven meals since it preheats so quickly and doesn't warm up the kitchen, but I will definitely heat up the kitchen if it means I can just throw everything on a sheet pan and have it come out perfect while I work on other stuff like writing this post. Or watching Netflix – getting through all those shows is important work!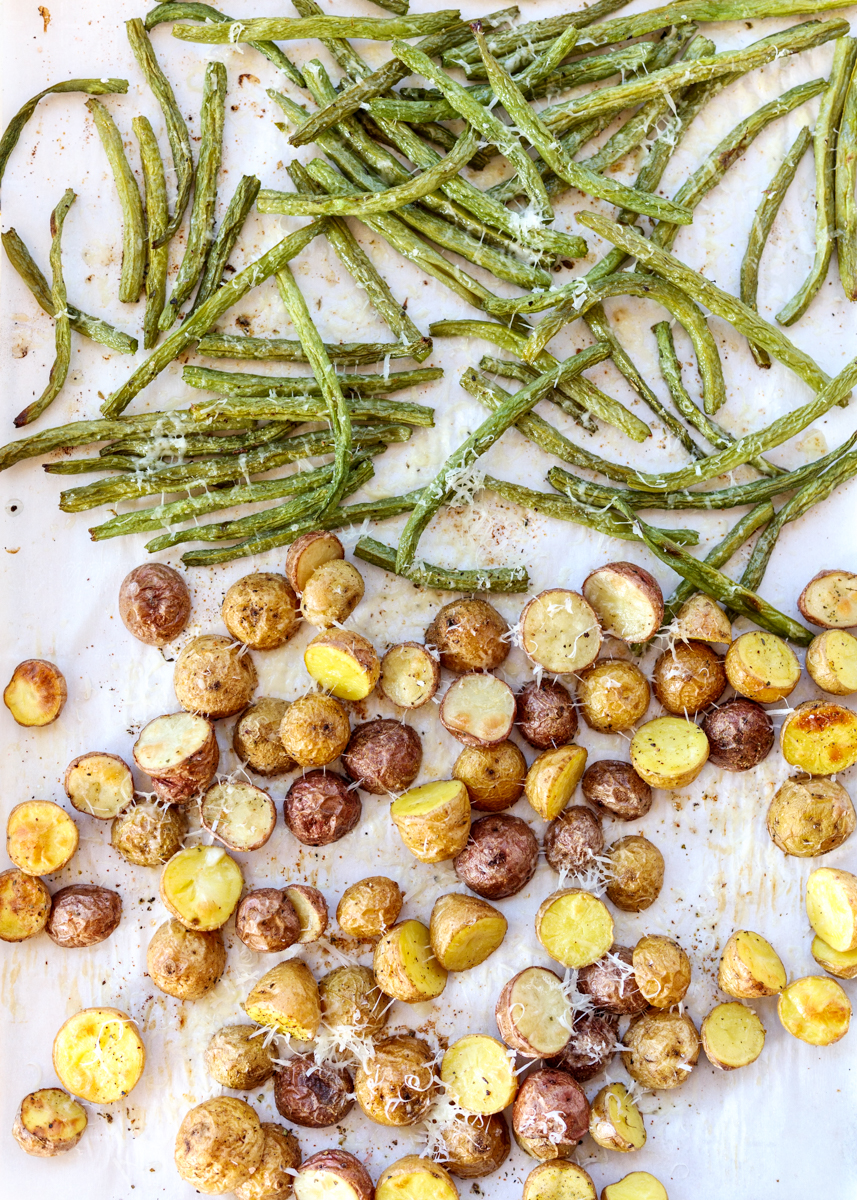 If you've never had roasted green beans then you will be instantly hooked. It's difficult to beat crunchy on the outside and fluffy on the inside roasted potatoes, but these green beans come close! Simply tossed with some olive oil, garlic powder, Italian seasoning, ground black pepper and some fresh grated Parmesan, this roasted sheet pan side dish is easy cooking perfection!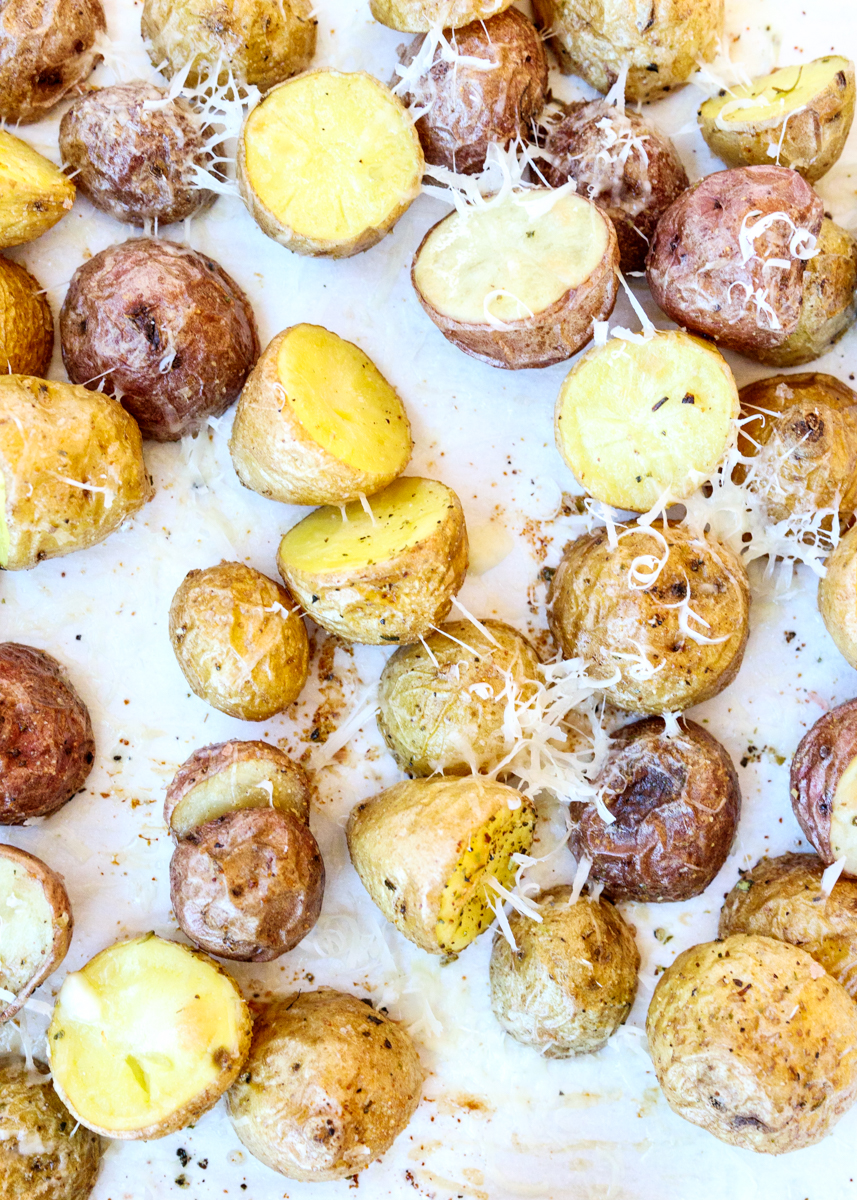 Sheet Pan Parmesan Roasted Green Beans and Baby Potatoes
Ingredients
16 ounces baby pee wee potatoes, halved (quartered if larger)
12 ounces green beans, trimmed
1 tablespoon olive oil
¼ teaspoon garlic powder
¼ teaspoon Italian seasoning
Salt and fresh ground black pepper
3 tablespoons fresh grated Parmesan
Directions
Preheat oven to 425 degrees F.
Toss the halved potatoes and green beans with the olive oil to coat then toss with the garlic powder and Italian seasoning. Season with salt and pepper. Spread out on a baking sheet lined with nonstick aluminum foil or parchment paper. Roast for 25-30 minutes, tossing the green beans and potatoes after 10 minutes. Immediately top with the Parmesan when out of the oven.
Some of the links above are affiliate links, which means I may receive a small commission for my referral if you purchase something. This does not affect the retail cost of the item. Thank you for supporting Lemon & Mocha!