Saltine Toffee Fudge aka Christmas Crack Fudge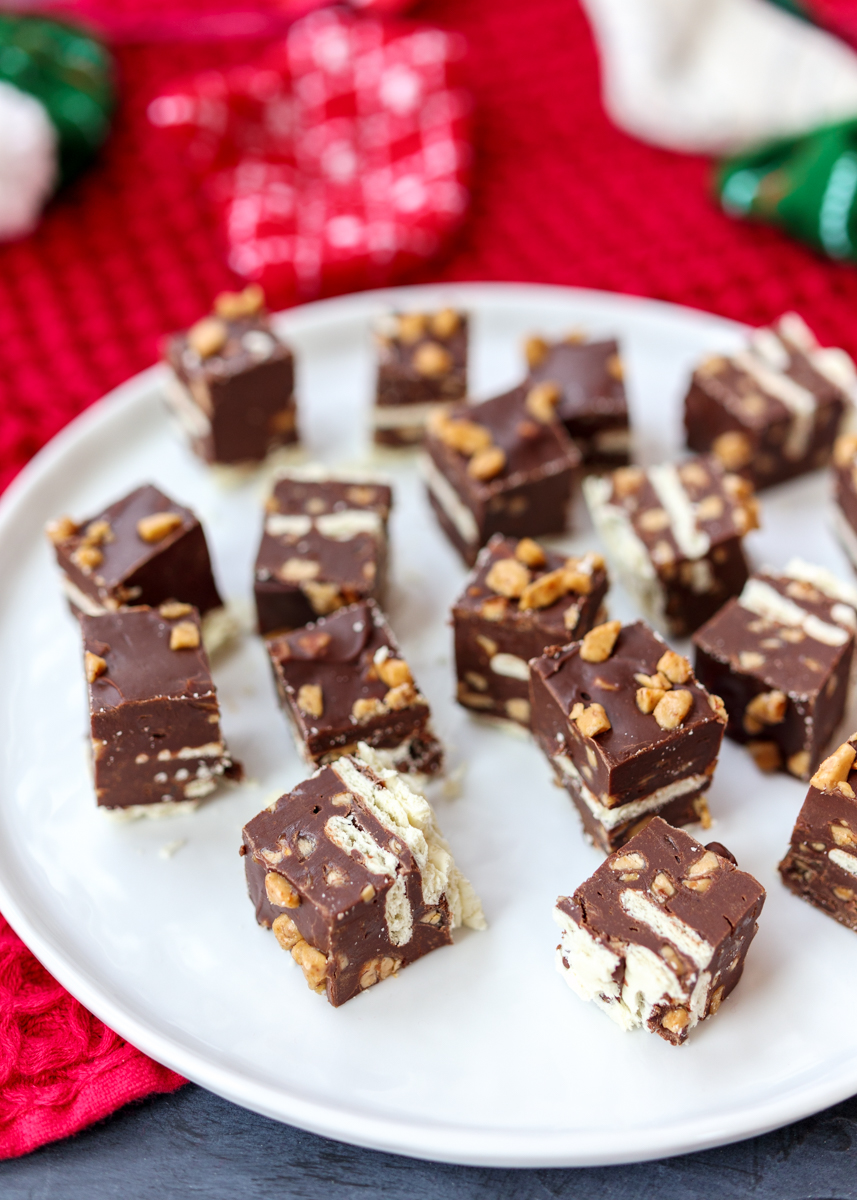 Have you heard of Christmas Crack? It's a layered candy dessert of saltines, toffee and chocolate that is sweet, salty and – you guessed it – seriously addictive. I wanted to turn this classic Christmas holiday treat into a new chocolate fudge variation. This recipe is similar to the Turtle Caramel Pecan Fudge I posted last week, but instead of pecans and caramel we're loading the semisweet chocolate up with saltines and toffee bits.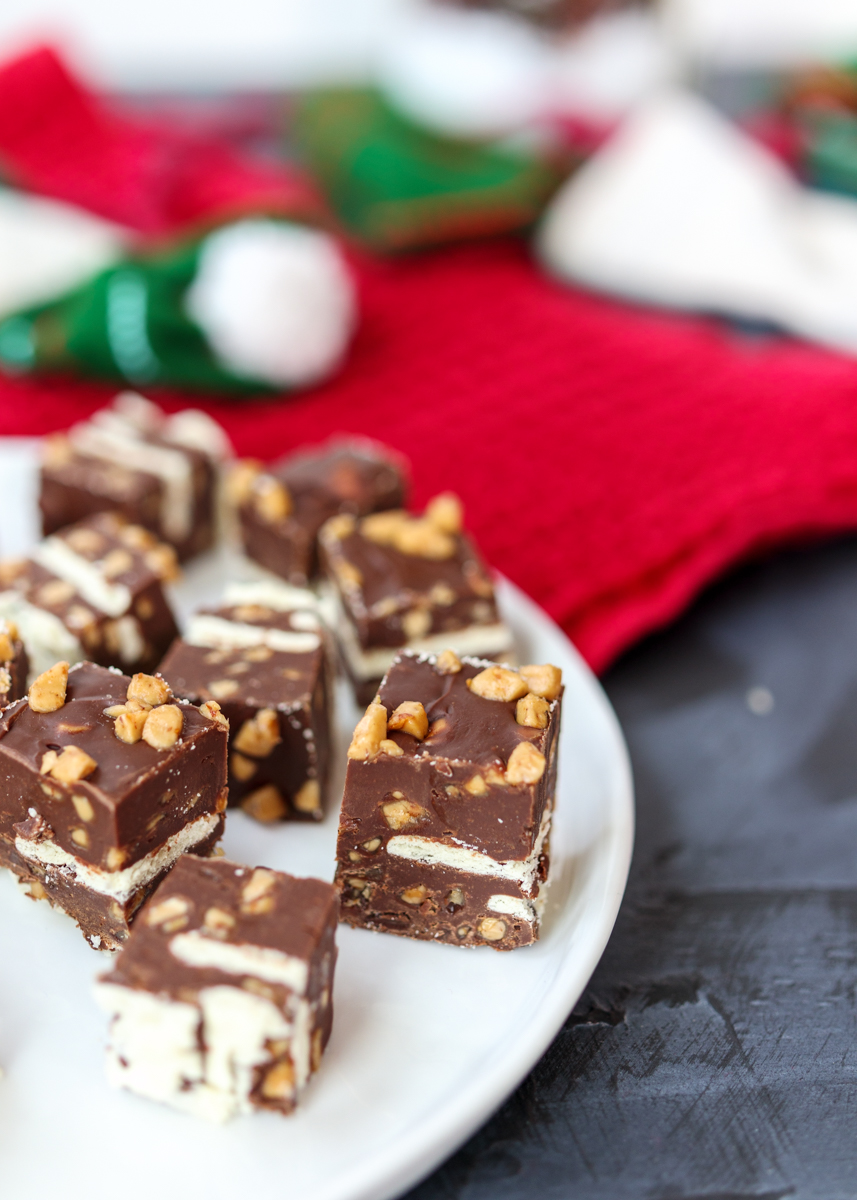 The bottom layer is a layer of saltine crackers. I think a big reason this fudge is hard to stop eating is because of the saltines. I hadn't eaten saltines in forever, but as soon as I opened the sleeve for this recipe I couldn't stop munching them! So before we even add the chocolate we're already in a losing battle. Unless your goal is to bring a dessert that gets wiped out first at the potluck, in which case you definitely would be winning that battle!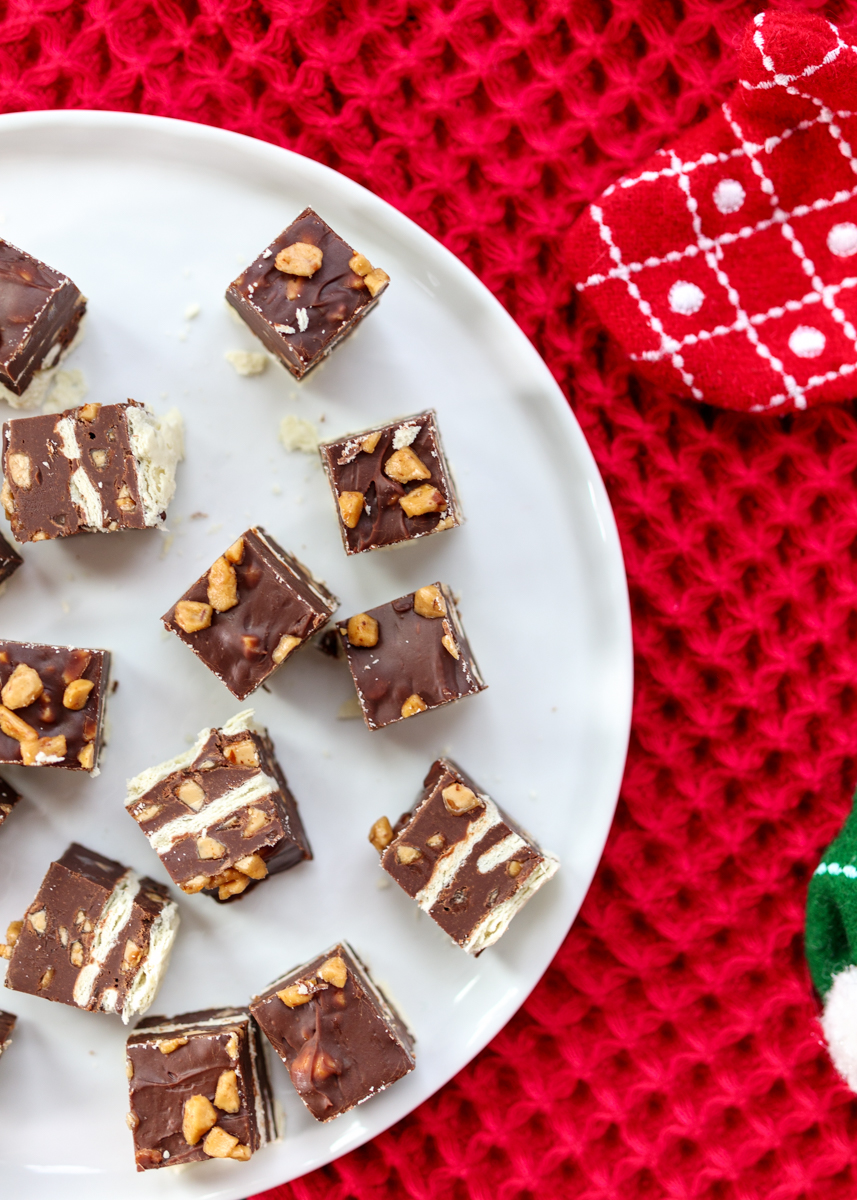 Anyways, on top of the salty cracker layer I added half a batch of the smoothest ever chocolate fudge that has been loaded with crunchy toffee bits. Why half a batch? Well that's because we're doing a second layer of saltines followed by the second half of fudge! Christmas Crack is normally very thin so I wanted to add two layers of saltines so the salty element of the treat would come through. On top we have more toffee bits. I think I went a little light on these; the sweet toffee flavor is so good so feel free to top it to your heart's content!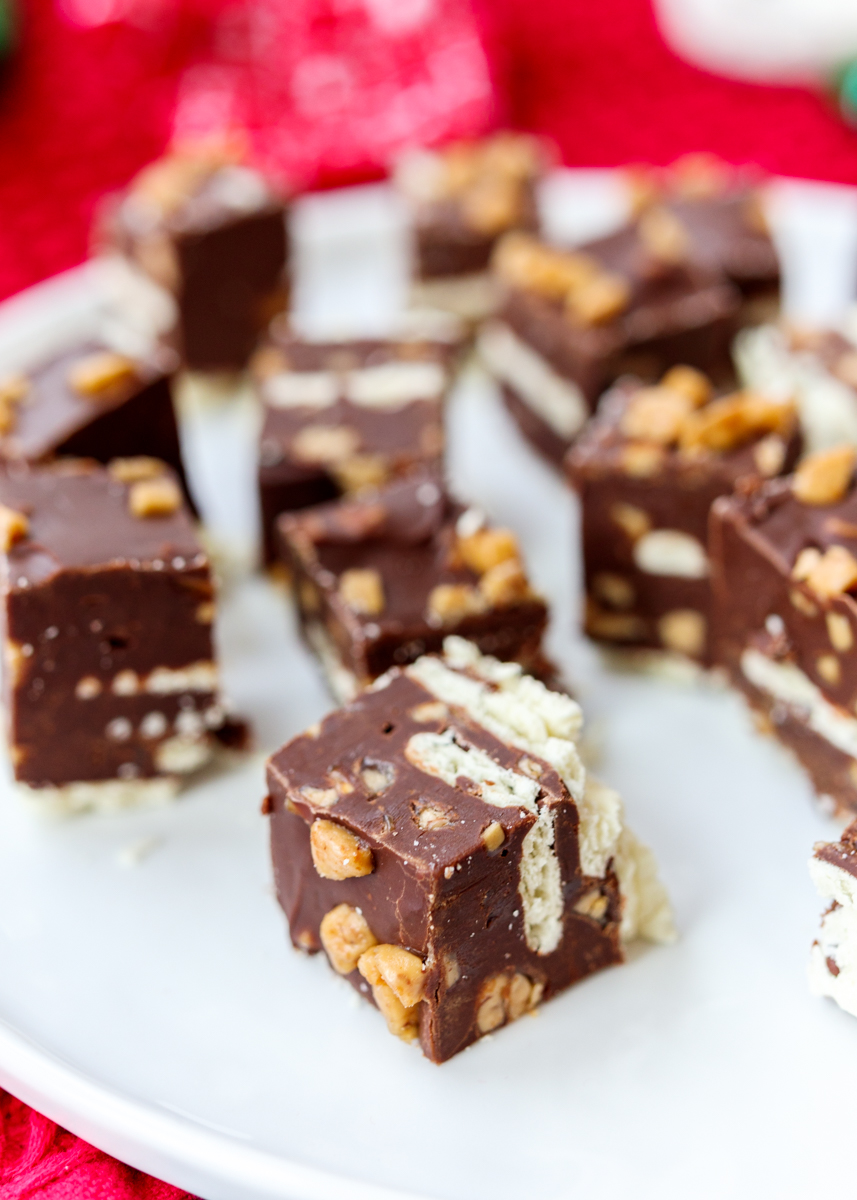 I already find the original World's Smoothest Chocolate Fudge addicting so having the salty saltines and sweet toffee bits made it that much harder to resist. So we just ate a bunch and then gave the rest away so we wouldn't have to fight the urge to eat the whole batch. You've been warned! When you cut this fudge, the saltine crackers on the bottom break off everywhere so you could spread a thin layer of chocolate down first if you want, but I found it still had enough crackers making it the way I listed in the recipe below.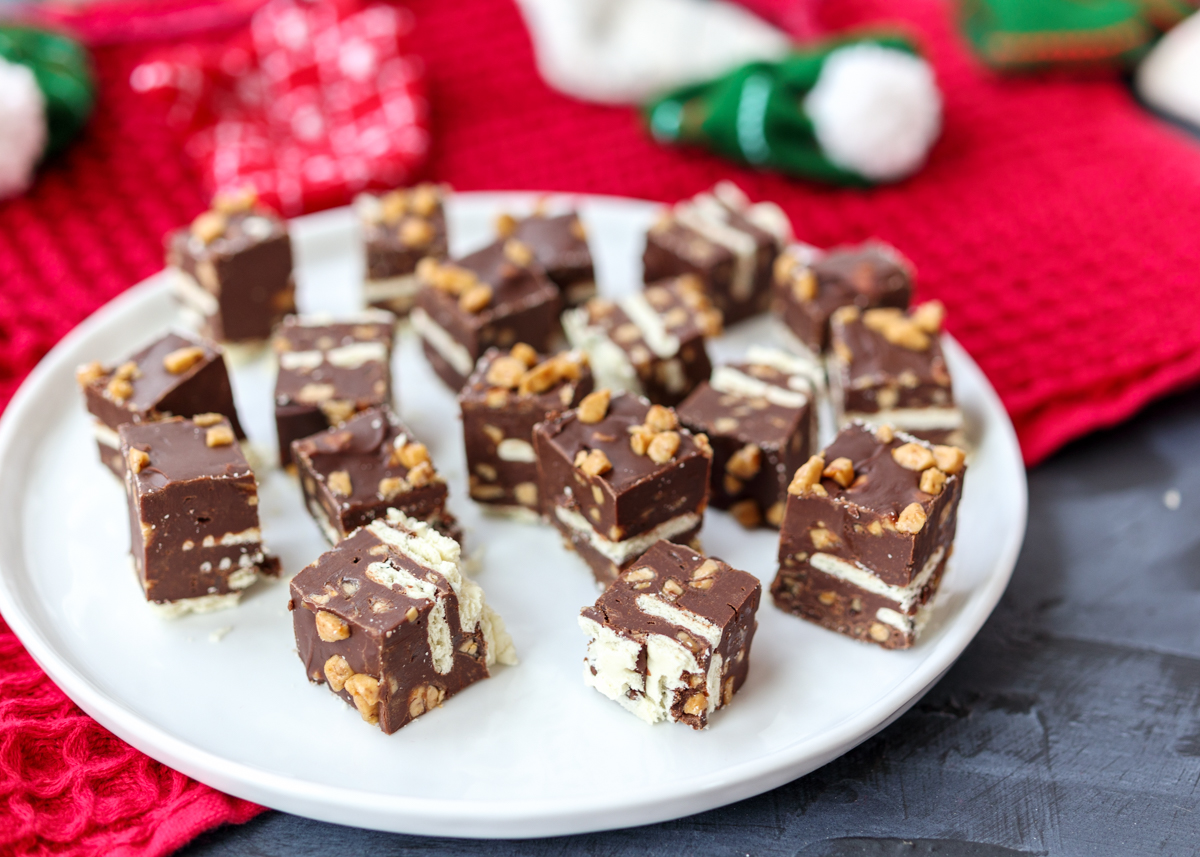 One other element of this recipe that I want to discuss is our method for making this fudge. If you've read or made any of my other fudge recipes you will know that I always use a double boiler to melt the chocolate evenly without it getting burnt. I use and love this universal double boiler since it's inexpensive and fits on any pot. However, when I was making this last batch, I was thinking about how I make chocolate ganache by warming the liquid in a nonstick pot and then adding the chocolate chips and letting them melt. I figured I would give it a shot with the fudge since using the double boiler is easy, but if I could use just one pot instead of two, it would be even easier.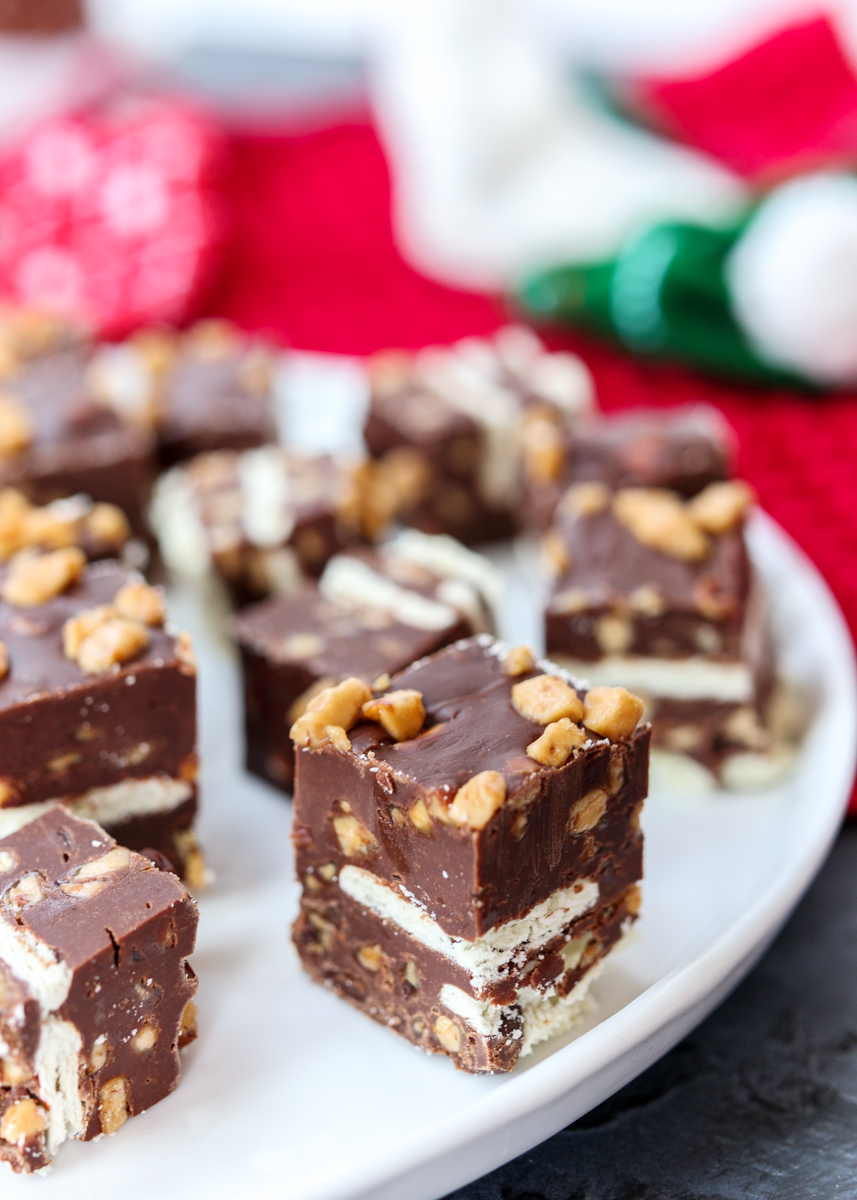 I'm so glad I tested it because it worked! I made sure to use low heat the entire time and I was constantly stirring the mixture to make sure none of the chocolate burned. So if you don't have a double boiler and don't feel like buying one then definitely give it a try with my new instructions below! Happy Friday, everyone!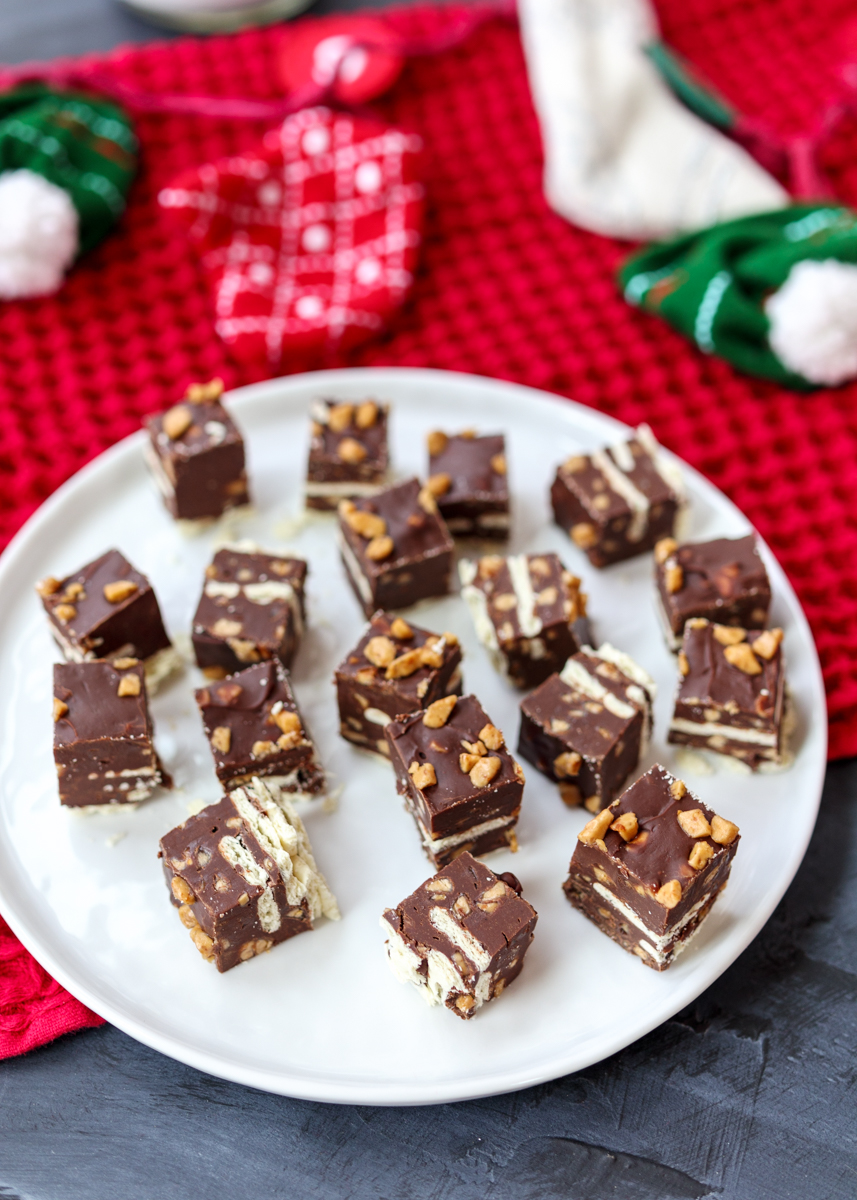 Saltine Toffee Fudge aka Christmas Crack Fudge
Yield:
32 to 64 pieces depending on how small you cut them
Ingredients
25 saltines (a little less than 1 full sleeve)
1 ounce Baker's unsweetened baking chocolate
2 tablespoons unsalted butter
One 12-ounce bag semi-sweet chocolate chips
1 14-ounce can Eagle Brand sweetened condensed milk
1 teaspoon vanilla extract
½ cup toffee bits, plus more for topping
Directions
Line an 8" x 8" pan with wax paper with some overhang so it's easy to pull the fudge out of the pan. It is easier if you crunch up the wax paper in your hands then smooth out into the pan. Layer 16 saltines on the bottom. They will be overlapped a little.
Melt the butter and unsweetened chocolate in a medium nonstick pan over low heat, stirring regularly with a heatproof spatula to make sure the chocolate doesn't burn.
Pour in the sweetened condensed milk and stir to combine. Let the mixture get a little warm then pour in half the bag of chocolate chips. Stir to help melt. Once partially melted add the rest of the bag of chocolate chips and stir until fully melted, being sure to scrape the bottom as you stir. Stir in the vanilla extract and remove from the heat. Add the toffee bits and stir to combine.
Pour half the chocolate mixture into the prepared pan onto the saltine layer and smooth the top with the spatula. Make a new layer of 9 saltines then pour over the remaining half of the chocolate mixture, smoothing the top. Top with additional toffee bits. Refrigerate until the fudge is set; I usually let mine set overnight. Carefully pull the fudge out of the pan using the wax paper overhang, place on a large cutting board and cut into bite size squares with a clean, sharp knife. I usually cut mine into quarters and then cut each quarter into 16 pieces to get 64 pieces. Best eaten straight from the fridge.
Some of the links above are affiliate links, which means I may receive a small commission for my referral if you purchase something. This does not affect the retail cost of the item. Thank you for supporting Lemon & Mocha!