Easy Christmas Table Decorations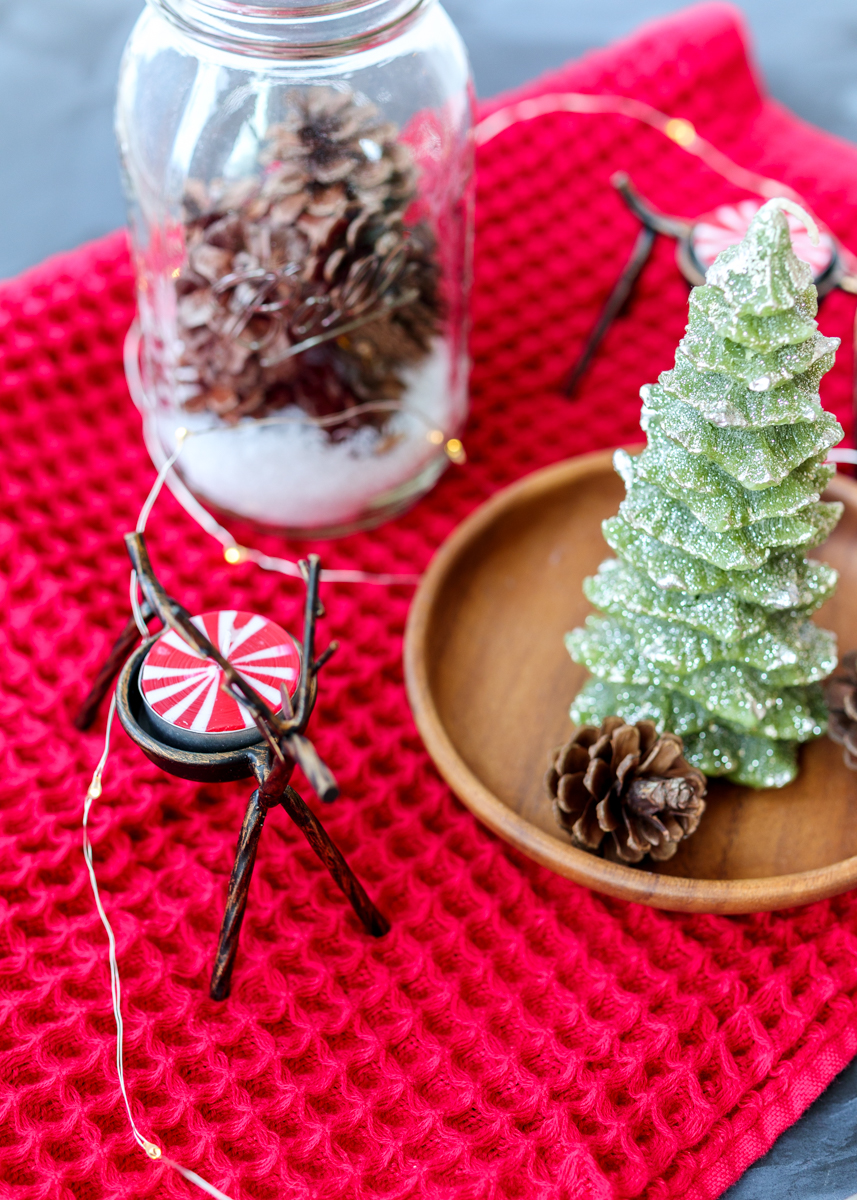 No, this post isn't for something edible, but it goes on your kitchen or dining room table so let's just go with it. Last year, Matt and I hosted Christmas dinner for the first time and as it got closer I realized I didn't have anything to put in the center of our dining room table. When figuring out what to use as our table decorations, the criteria were:
Decorations that would look simple, but nice. Simple was also important to make sure there would be plenty of room for family style platters during meals.
A tablescape that was festive for Christmas, without looking like Santa's workshop exploded all over the table.
Minimal glitter! Matt and I have a pet peeve about glitter.
Added bonus if some or all of the decorations could carry into winter beyond the holiday season.
This one was the most important: available online since going to stores in December is the worst!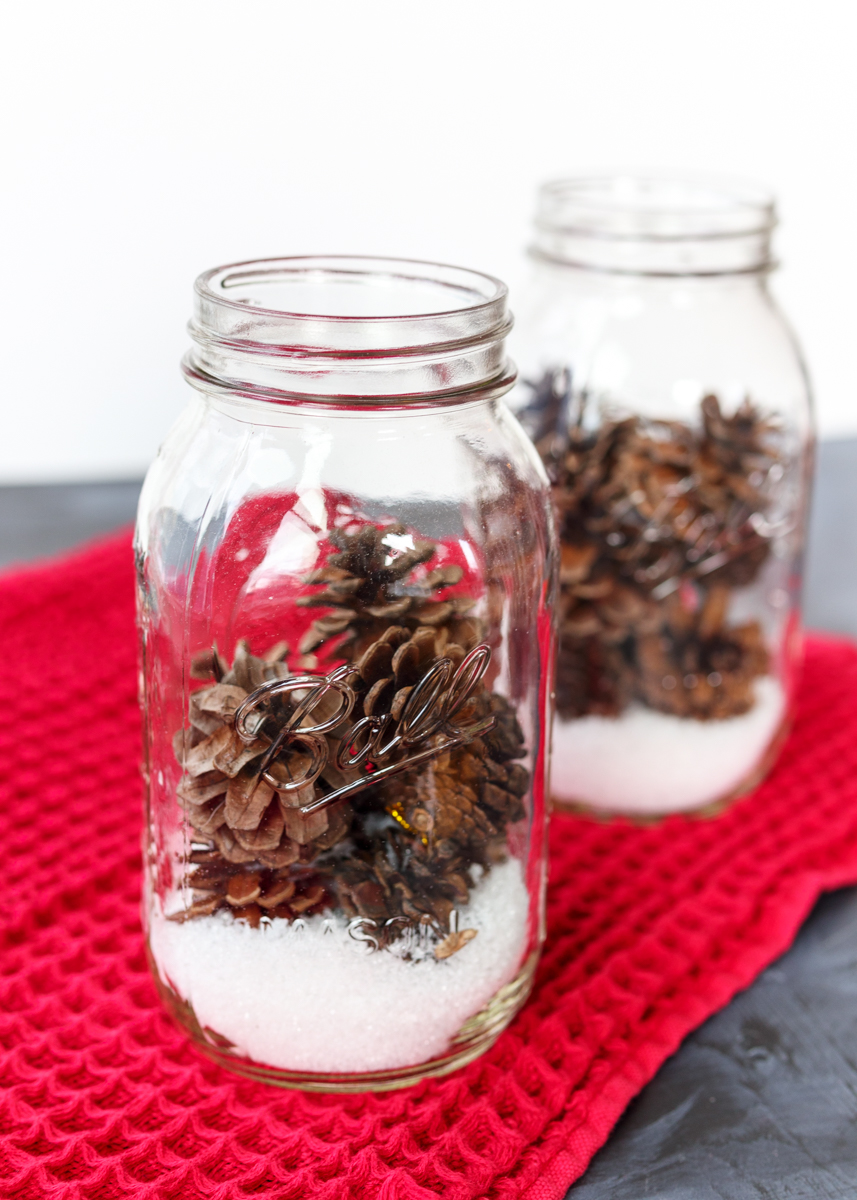 Up first are these cute snowy pine cone mason jars that you can make at home so easily with just three things. This was the only "crafty" part of my decorations and helped set the tone for the rustic winter woods vibe. To make these at home, first find two 32-ounce glass mason jars. I usually buy mine at the Christmas Tree Shop and they usually cost between $1 and $1.50 each, but here is a set of the same size and type of jar I used. Next up is the fake snow. A little goes a long way with this stuff. Finally, we have the pine cones, which are the perfect size for fitting in the mason jars and around my little tree candle.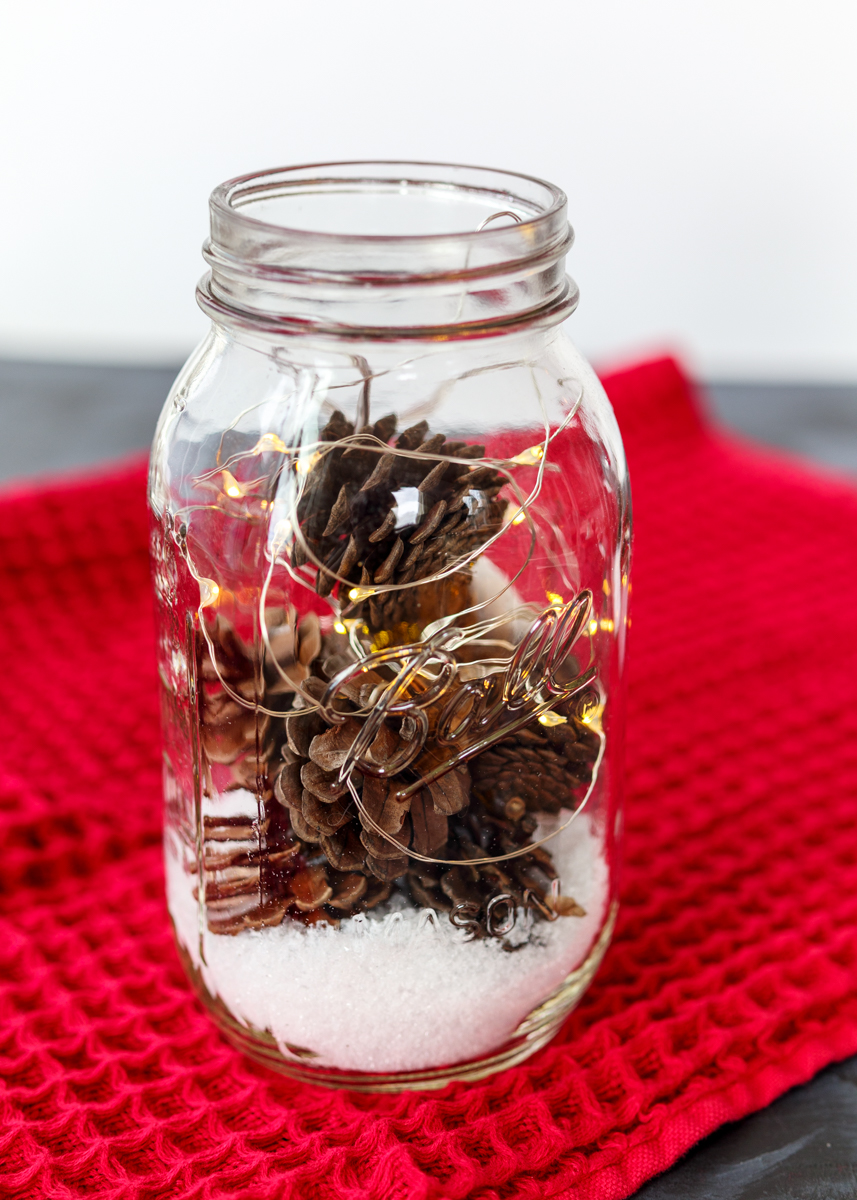 If you wanted to jazz it up even more, you could stick a small string of fairy lights in the mason jar with the pine cones. They have a little on/off switch and the battery box is really tiny so it's easy to hide in between the pine cones.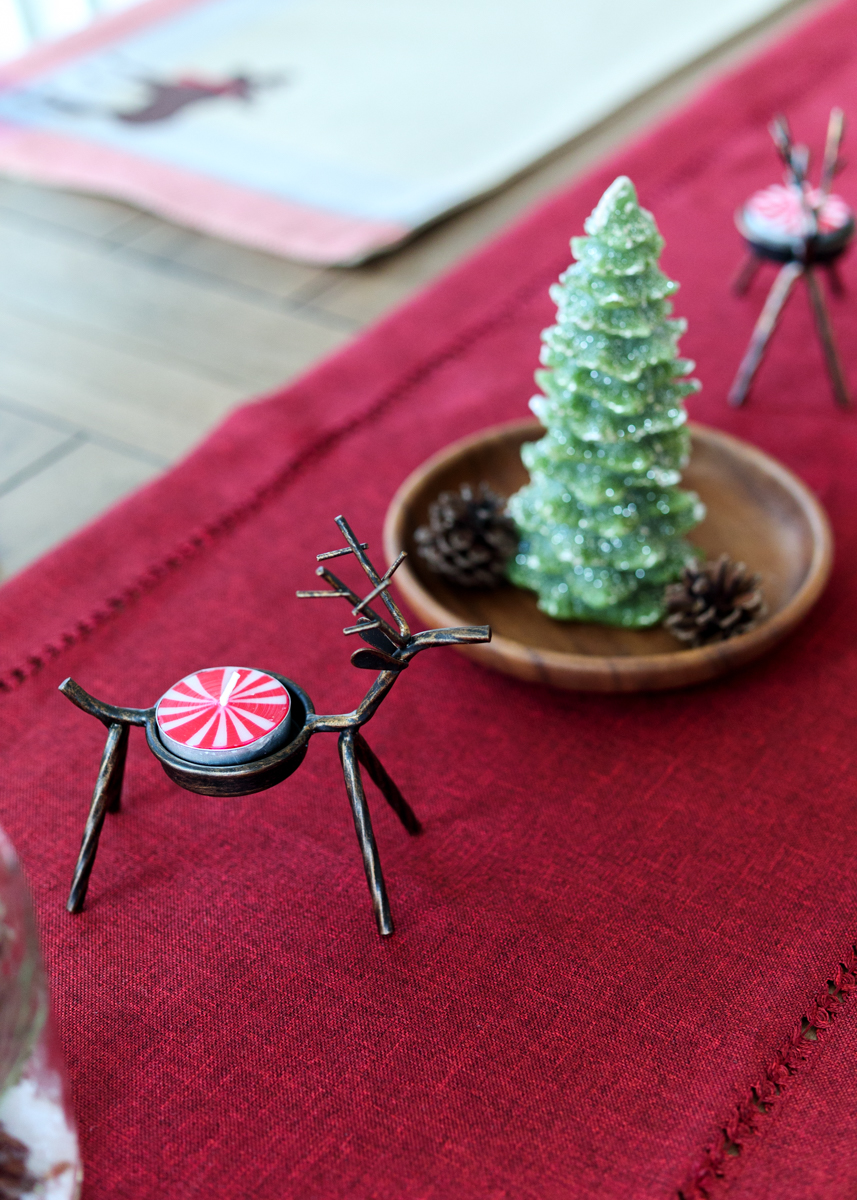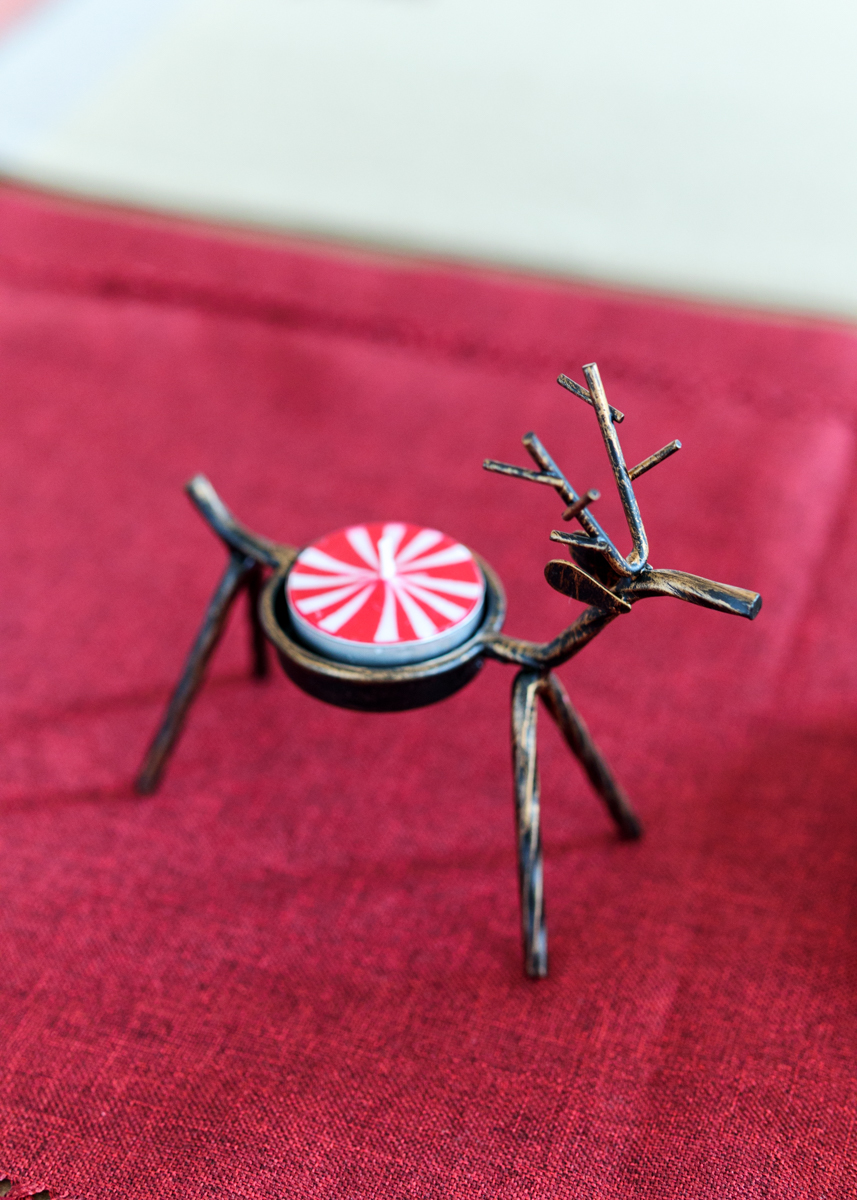 How adorable are these reindeer tea light holders? They come in a set of six; I used three on our dining room table and scattered the remaining three elsewhere in the house. They work great with LED battery tea lights or these adorable peppermint tea light candles that I got at Sur la Table.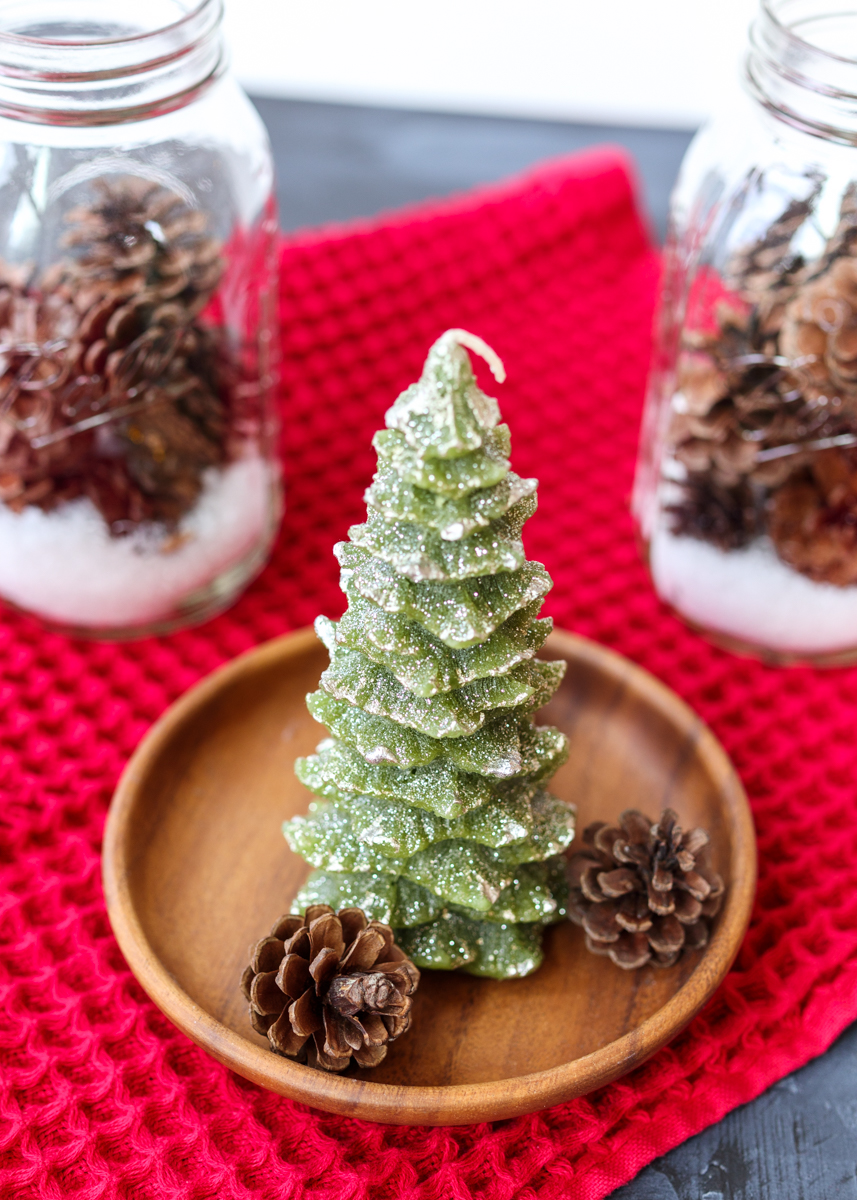 The middle wood plate, pine cone and tree candle decoration was something I put together from existing items, but you can easily re-create it since all the items are still sold in stores. I bought my 6-inch wood plate and 6-inch tree candle from Crate and Barrel. Crate and Barrel has a whole line of those cute tree candles. I haven't found a good Amazon substitute for the Crate and Barrel tree candles, but Amazon has a similar set of four wooden appetizer plates. Then I just scattered some remaining pine cones from the set I bought.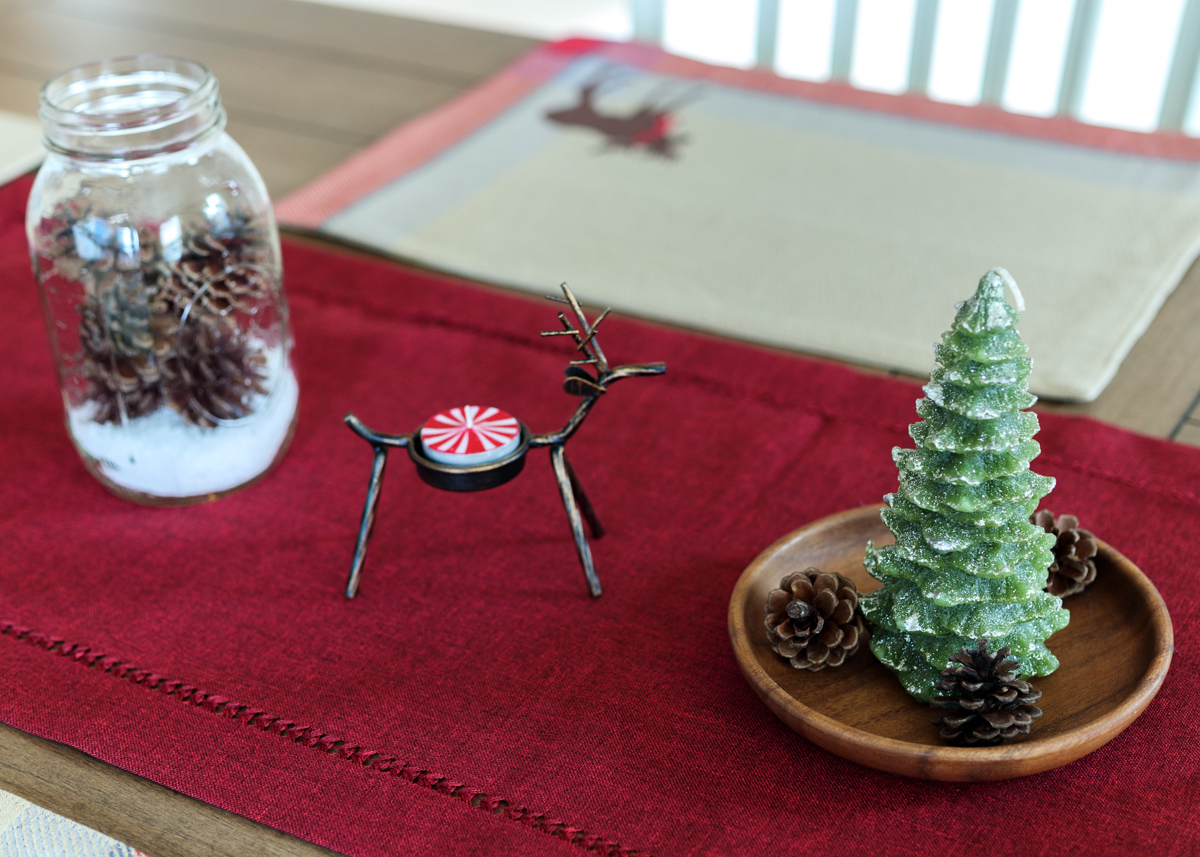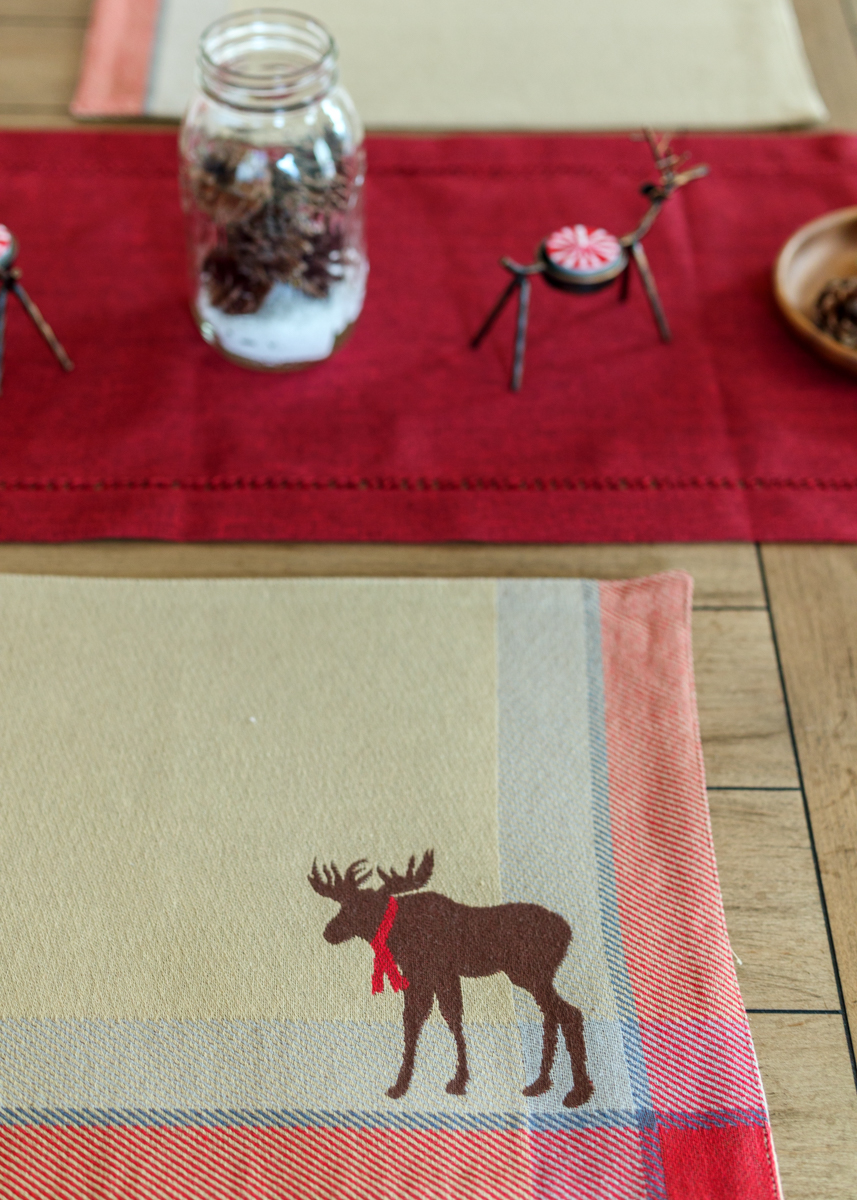 To tie everything together, I wanted some woodsy place mats and a coordinating table runner. We love the look of the wood on our table so we usually do placemats instead of tablecloths. Unfortunately, these fun moose placemats I got at Kohl's are no longer in stock, but here is a similar style by the same brand as the moose ones on our table. Here is another style as well; I'm not familiar with this brand, but I'm linking it just to show you the different neutral moose or reindeer themed placemats out there.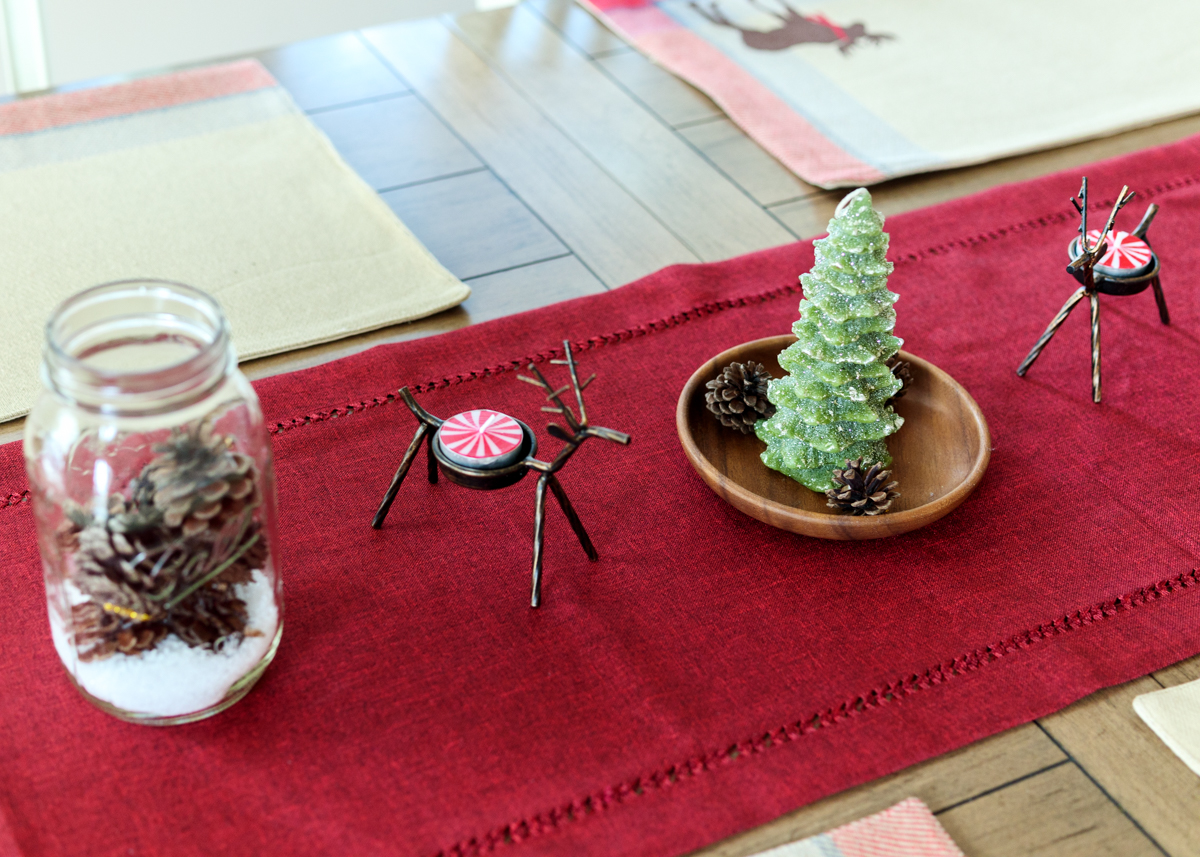 We got the table runner in the cranberry color and the 14-inch by 48-inch size. When pairing placemats with a table runner you either want a runner that is long enough to hang over each end of your table by a few inches and place the two end placemats on top (if you have more than four place settings) or you want the runner to fit right in the the empty center area of the table, which is what we did here. I've done it both ways and I really think it looks nice either way.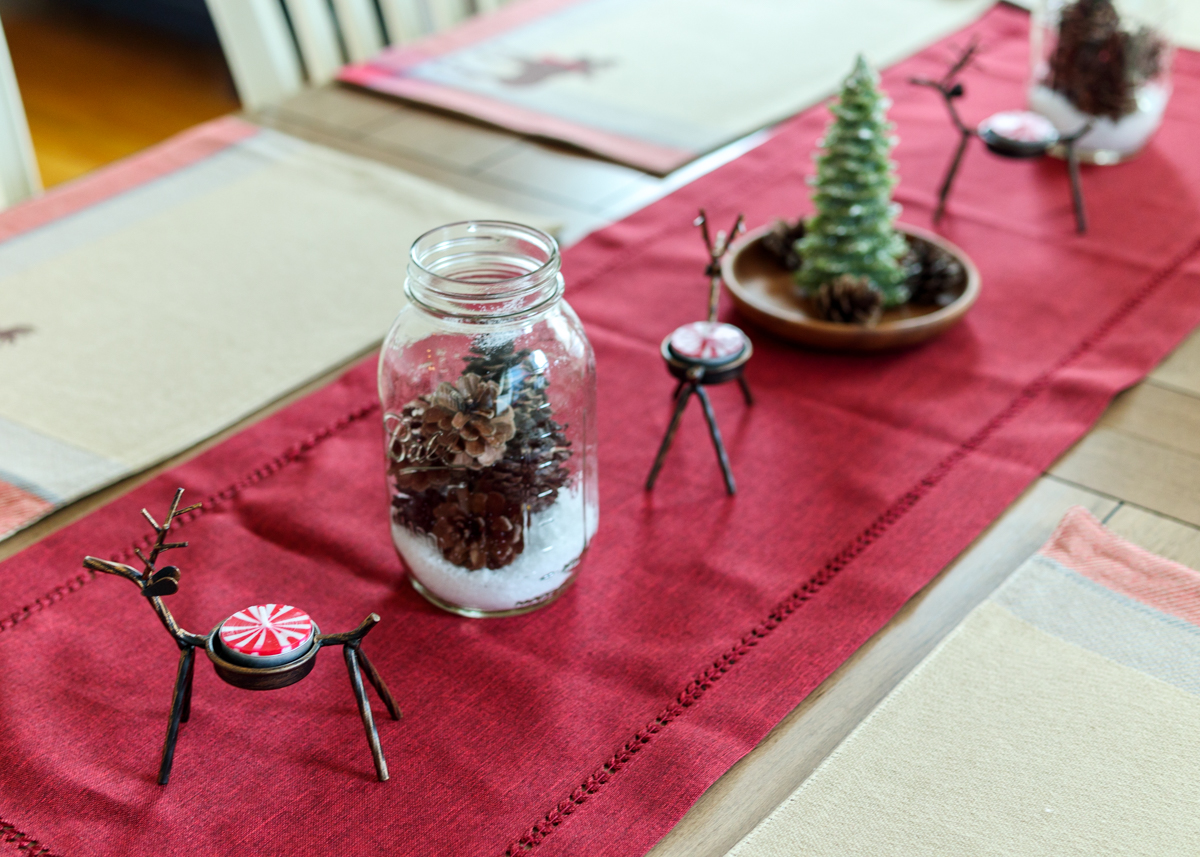 I linked to everything below as an easy to view list. I hope this little post gives you some holiday tabletop inspiration for your kitchen table or dining room!
Snowy Pine Cone Centerpieces
Two mason jars
Fake snow
Pine cones
Fairy lights, optional
Rustic Winter Woods Table Decorations
Table runner … love that this comes in so many sizes.
Place mats … how cute are these placemats?
Reindeer tea light holders … adorable and you get 6 of them for scattering throughout the rest of your house.
Tea lights … peppermint stripes perfect for the holidays.
Small wooden dish … great as a nut dish when it's not being a Christmas decoration.
Tree candle … these Crate and Barrel candles come in multiple sizes.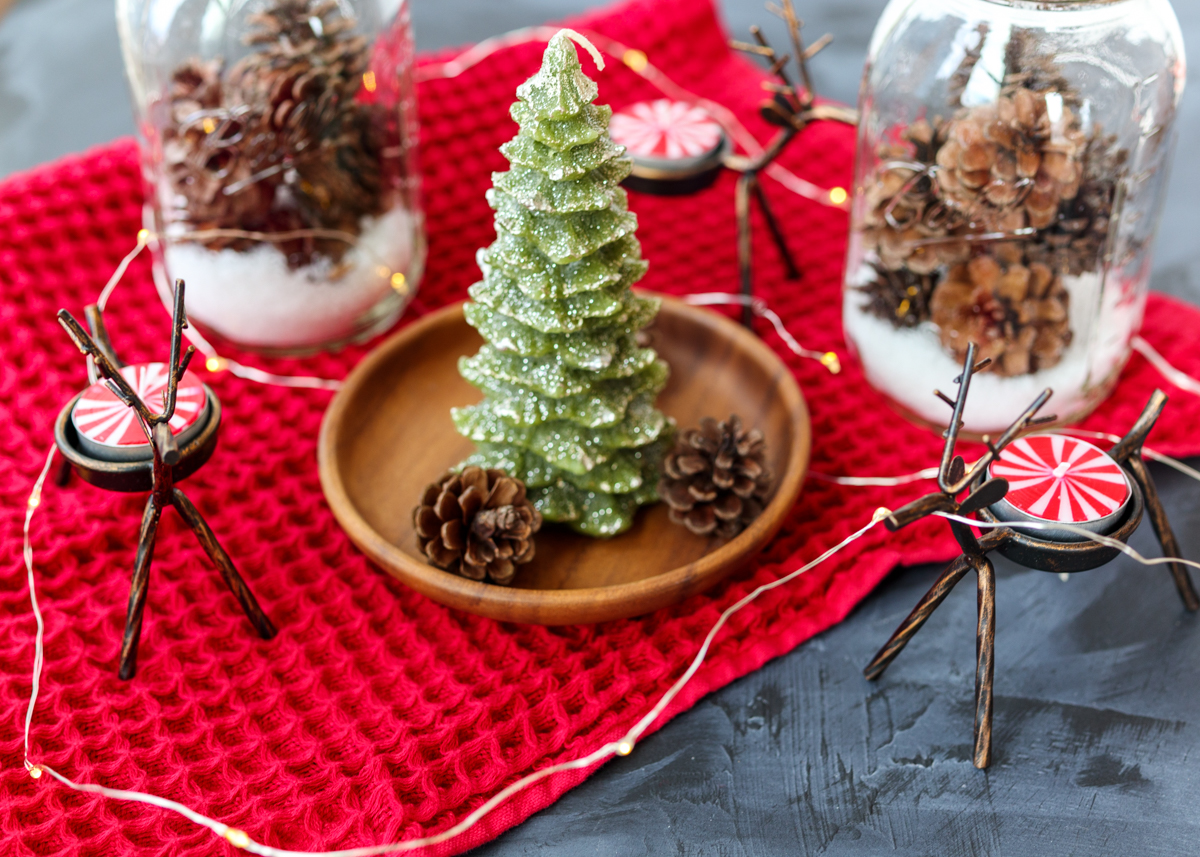 Some of the links above are affiliate links, which means I may receive a small commission for my referral if you purchase something. This does not affect the retail cost of the item. Thank you for supporting Lemon & Mocha!