Cookie Butter Cheesecake Stuffed Pumpkin Bread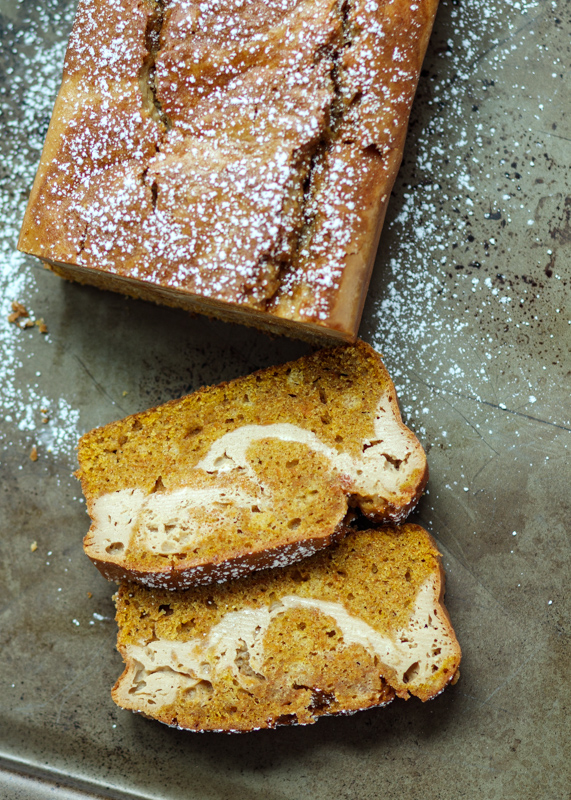 Yes, this is real life. We've taken a layer of cheesecake and stuffed it inside pumpkin bread. Not just plain cheesecake, but cookie butter cheesecake. This, my friends, is the one baked good you need to make this fall. And then again in the winter. And maybe even this spring and summer because you won't have gotten enough of it yet.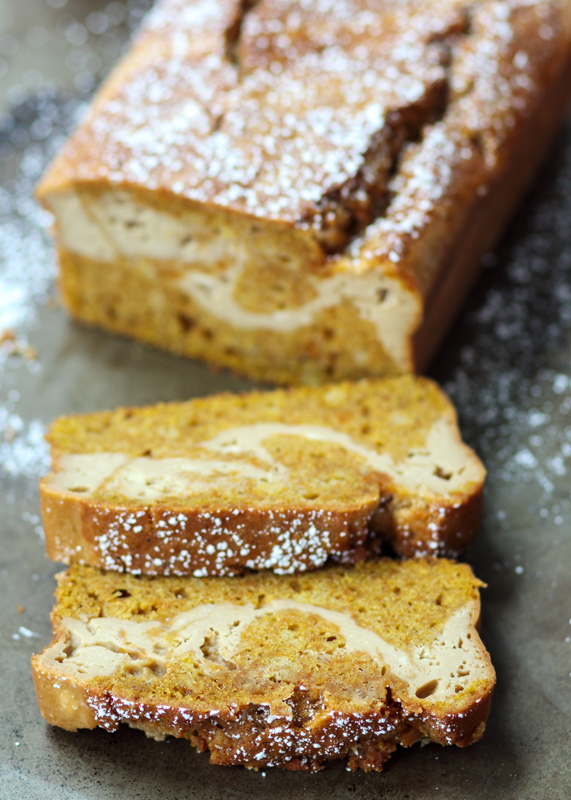 The pumpkin bread on its own is the best pumpkin bread I've ever had. It's moist, well spiced and packed with pumpkin flavor. A lot of pumpkin bread recipes end up being bland and too light on pumpkin flavor so I love that I found my perfect go-to recipe. It also has just the right amount of sweetness for me since I definitely have a sweet tooth.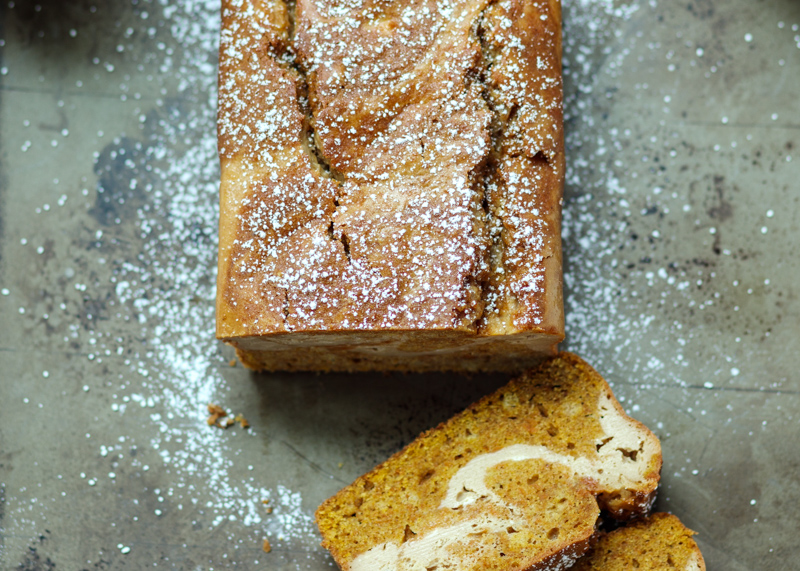 If that wasn't good enough on its own, there's that cookie butter cheesecake swirled throughout the bread! I like the typical pumpkin and cream cheese pairing, but to me the plain cream cheese tends to overpower the pumpkin sometimes since its slight sourness is in such contrast with the warmly spiced pumpkin. I thought the brown sugar and cinnamon spices of the cookie butter would complement the pumpkin really well. And they do!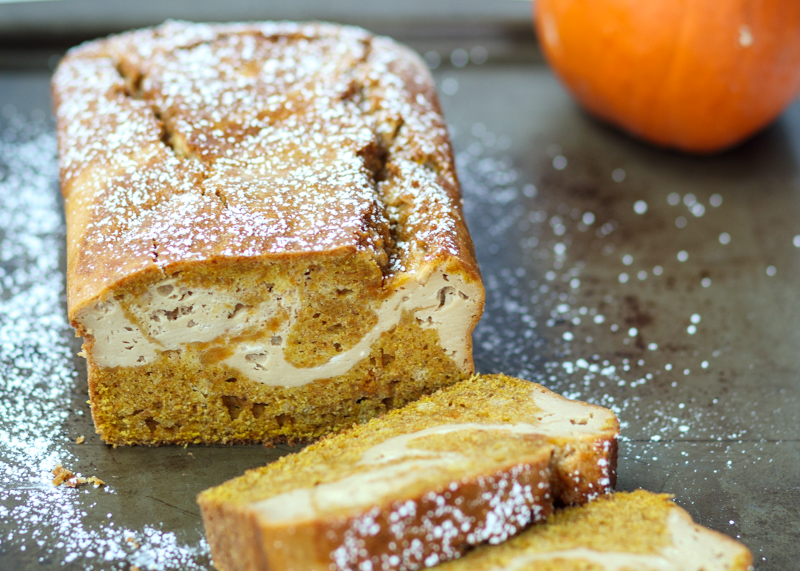 The cookie butter might even make it taste a little too good. I usually share all the treats that I make, but this was one I had a tough time parting with. I gave away two slices and the rest got cut up, wrapped and put into the freezer. Although I'm not sure why I bothered freezing it since it will most likely be gone by the time I even post this recipe. [Update: it's most definitely all gone].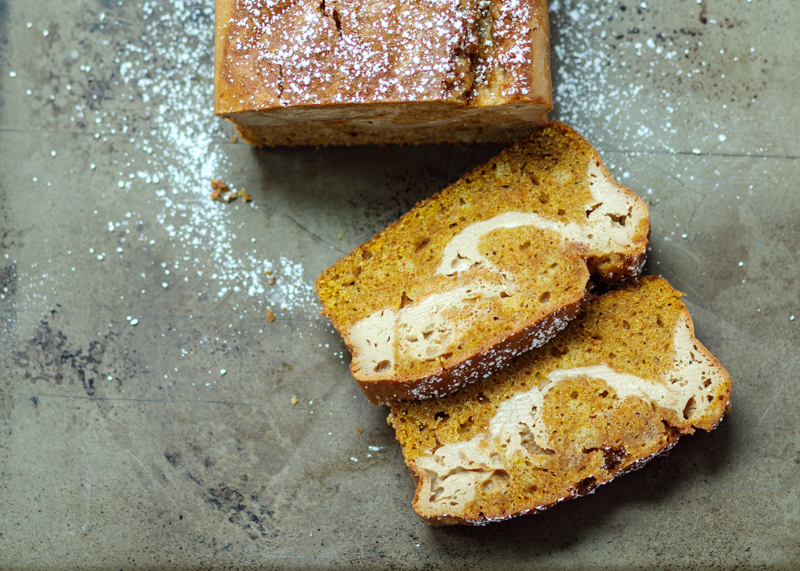 If you've never bought cookie butter, you can find it in a lot of stores now. I buy the Lotus Biscoff brand, which you can find on Amazon here, and Trader Joe's has their own brand that's pretty good as well. Already obsessed with cookie butter? Make my Lemon Cookie Butter Cheesecake Parfaits pronto! Maybe even swapping the lemon curd for some pumpkin puree? Okay, I think I just found a recipe to post for next fall!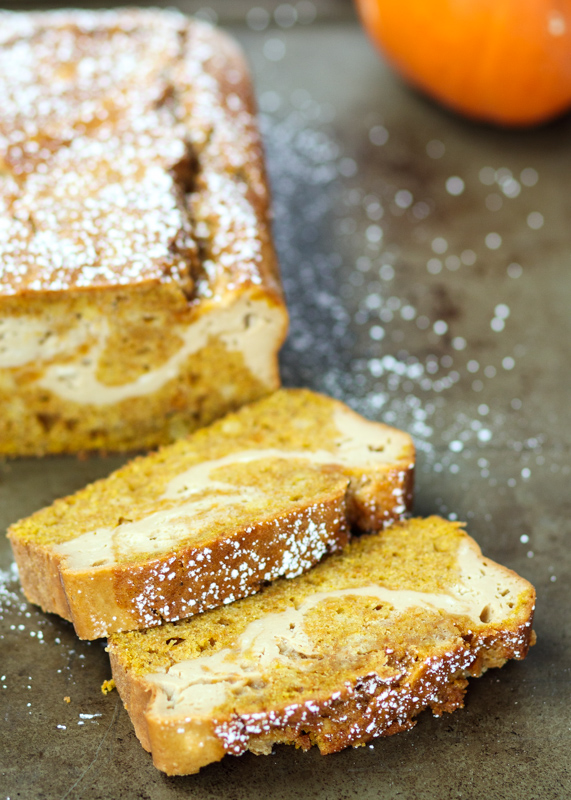 Cookie Butter Cheesecake Stuffed Pumpkin Bread
Ingredients
for the cookie butter cheesecake swirl
8 ounces cream cheese, room temperature
⅓ cup granulated sugar
⅓ cup cookie butter
¼ cup plain yogurt (any fat percentage, Greek or regular)
1 large egg
for the pumpkin bread
1⅓ cups flour
½ teaspoon baking soda
½ teaspoon salt
¾ cup granulated sugar
1 cup pumpkin puree
⅓ cup vegetable oil
1 teaspoon pumpkin pie spice
1 teaspoon vanilla extract
1 large egg
Powdered sugar, for dusting
Directions
for the cookie butter cheesecake swirl
Beat the cream cheese and granulated sugar in a large bowl with a hand mixer or the bowl of a stand mixer until smooth and fluffy. Add the cookie butter, yogurt and egg to the bowl and beat until combined. Set aside.
for the pumpkin bread
Make sure your oven rack is positioned in the bottom third of your oven then preheat the oven to 325 degrees F. Grease and flour a 9 x 5" loaf pan.
In a medium bowl, sift together the flour, baking soda and salt. Set aside.
In a large bowl, add the sugar and pumpkin puree. Whisk to combine then whisk in the oil, pumpkin pie spice, vanilla and egg. Add in the flour mixture and whisk until just combined.
Scoop out and reserve 1 cup of the pumpkin batter. Pour the remaining batter into the prepared baking pan and spread it evenly. Use a spoon to scoop the cookie butter cheesecake mixture onto the pumpkin batter in the pan. Take the reserved 1 cup of pumpkin batter and pour it in a line down the center of the pan. Using a knife, swirl the batter and cheesecake layer by inserting the tip of the knife into the batter and dragging/swirling it about 5 times.
Bake for 1 hour and 15 minutes, or until the top of the loaf is cracked and a toothpick inserted into the center of the loaf comes out clean. Let cool in the pan on a wire cooling rack for 30 minutes then carefully invert onto a plate or another cooling rack before flipping upright. Let cool completely. This will take at least another 1½ hours. Dust with powdered sugar before serving, if desired.
Notes
You can substitute sour cream for the yogurt.
Recipe slightly adapted from

Food Network

.
Some of the links above are affiliate links, which means I may receive a small commission for my referral. This does not affect the retail cost of the item. Thank you for supporting Lemon & Mocha!