Baked Pistachio Crusted Chicken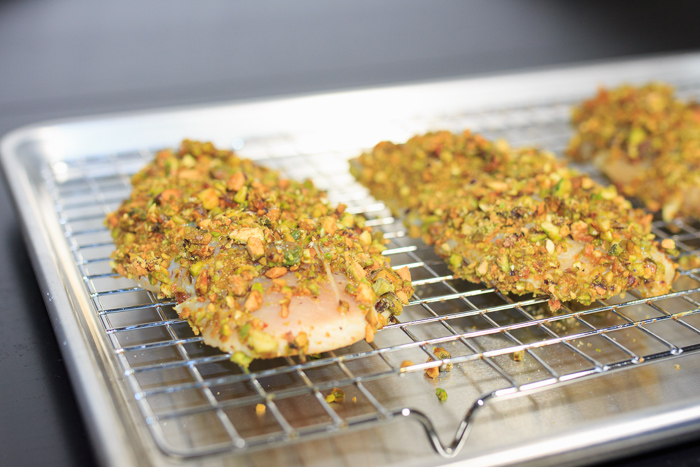 What is there to say about chicken? It's healthy, a great source of protein and can be on the table in under thirty minutes. Did I put you to sleep yet? That is how I was feeling after all the chicken-eating going on in my apartment. The chickens were taking over! Well, at least of the boneless skinless variety. If you've been feeling like this lately then either you're still traumatized from that childhood farm incident or you need to add some pizazz to your dinner table. Lets hope it's the later, I'm a food blogger not a therapist.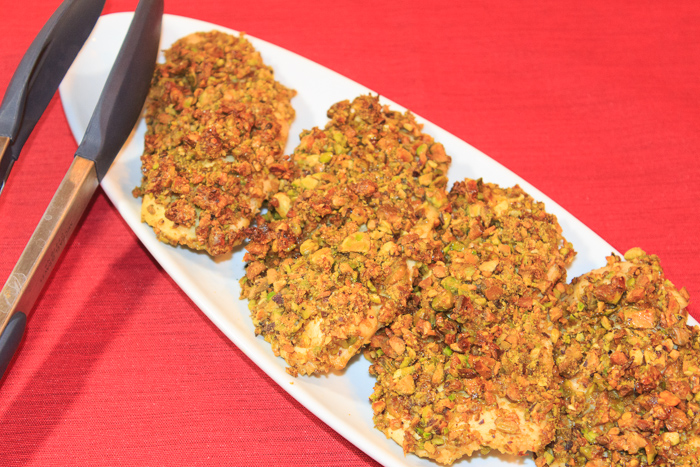 I did not want to remove the chicken takeover from my kitchen as it has many mealtime benefits as previously mentioned. I decided I simply needed to add some new flavors and textures to re-excite myself about dinner. This baked pistachio crusted chicken has a crunchy exterior and juicy interior all while still bringing the health factor. It also pairs really well with last week's roasted beet, blackberry and goat cheese salad; how convenient is that? So put down the grill pan and step away from the stir fry. It's time to wake up your senses and reinvent your chicken.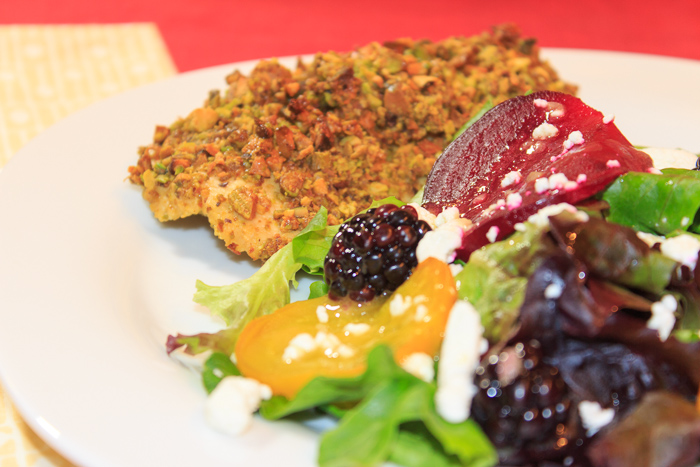 I have some other chicken recipes I am trying out so I will be sure to share those here on Lemon & Mocha. However I am always looking for new suggestions. What is your favorite way to cook up this versatile poultry?

Baked Pistachio Crusted Chicken
Ingredients
2 cups unsalted shelled pistachios
½ teaspoon garlic powder
½ teaspoon onion powder
½ teaspoon paprika
Salt and pepper
4 boneless skinless chicken breasts
Directions
Preheat oven to 400 degrees F.
Lightly coat a cooling rack or roasting rack with cooking spray. Set over a cookie sheet or jelly roll pan and set aside.
Roughly chop the shelled pistachios in a food processor.
Combine the chopped pistachios and seasonings in a shallow bowl.
Place 1 chicken breast in the pistachio mixture and press down to coat. Flip and coat the other side of the breast. Carefully place on the prepared cooling rack. Do not pat the chicken dry as you will need the natural moisture of the chicken to help the pistachio coating stick. Repeat with the remaining chicken breasts.
Bake the chicken for 20 - 30 minutes, or until the internal temperature reaches 160 degrees F. The time varies because every oven is different and chicken can dry out quickly so it's best to use temperature rather than time to judge doneness.
Remove and serve with a big salad or lemon orzo and asparagus.