Italian Wedding Soup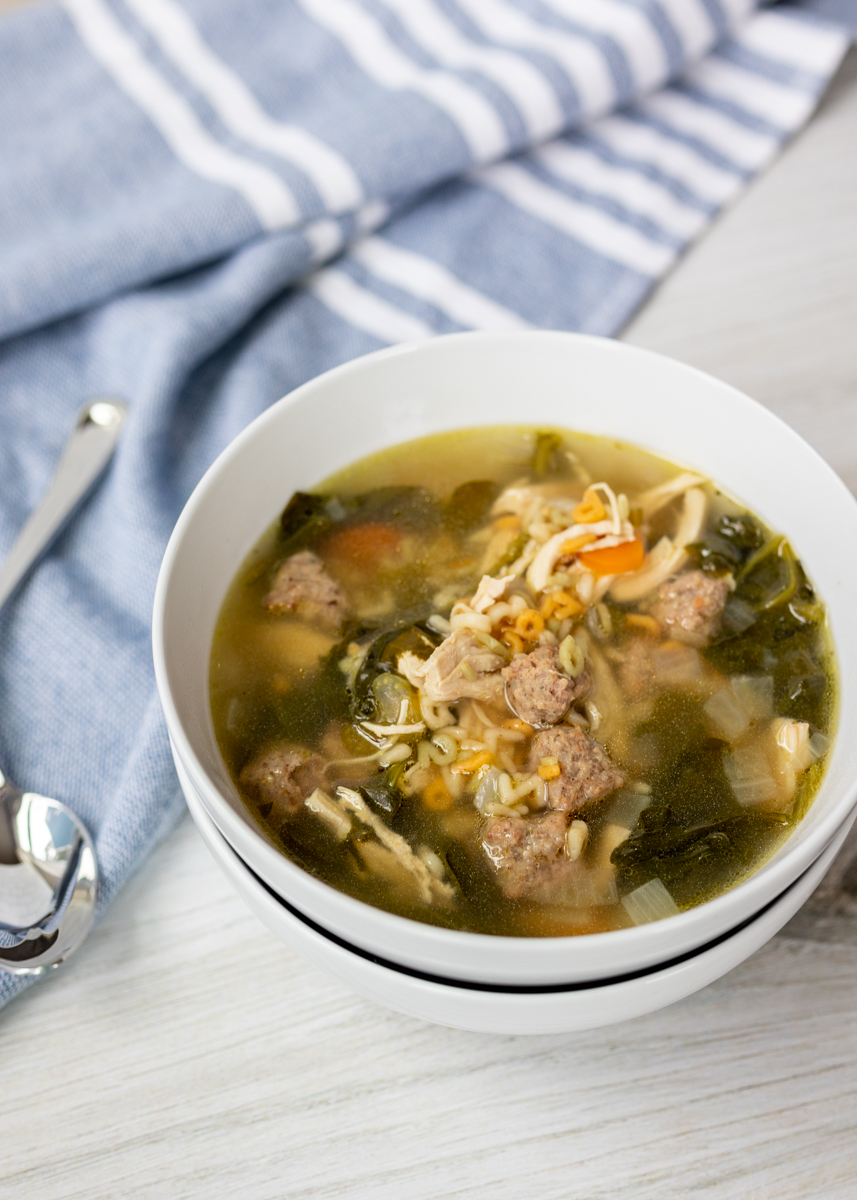 Happy Friday! Today I'm sharing a recipe that will keep you cozy all weekend long. This is another recipe that I've been making for a while, but I'm just getting around to sharing it on Lemon & Mocha.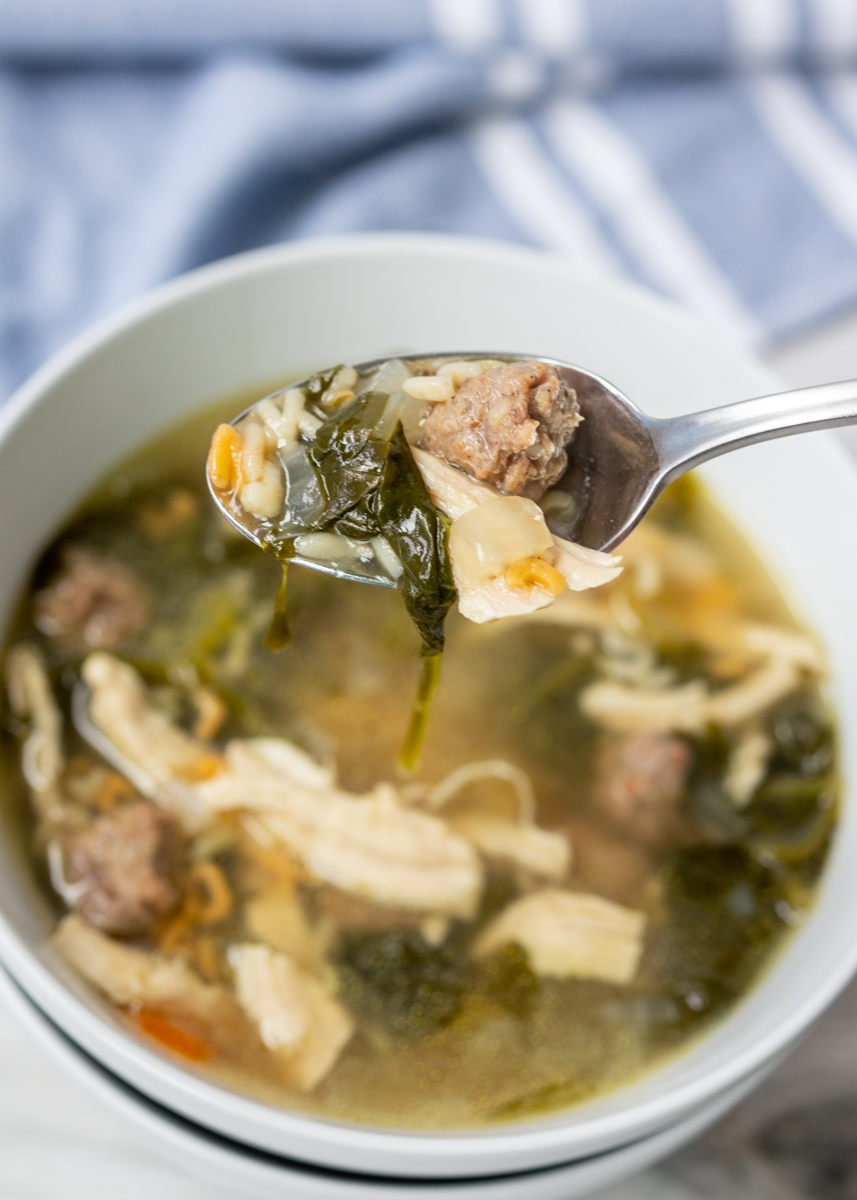 I'm not a big soup person, but when I find one I really love, like the Roast Cauliflower and Garlic Soup or the Healthy Creamy Roasted Carrot Soup, then I just want to eat it all the time. This Italian Wedding Soup is now in my top three along with the two I previously mentioned because it's packed with hearty flavors.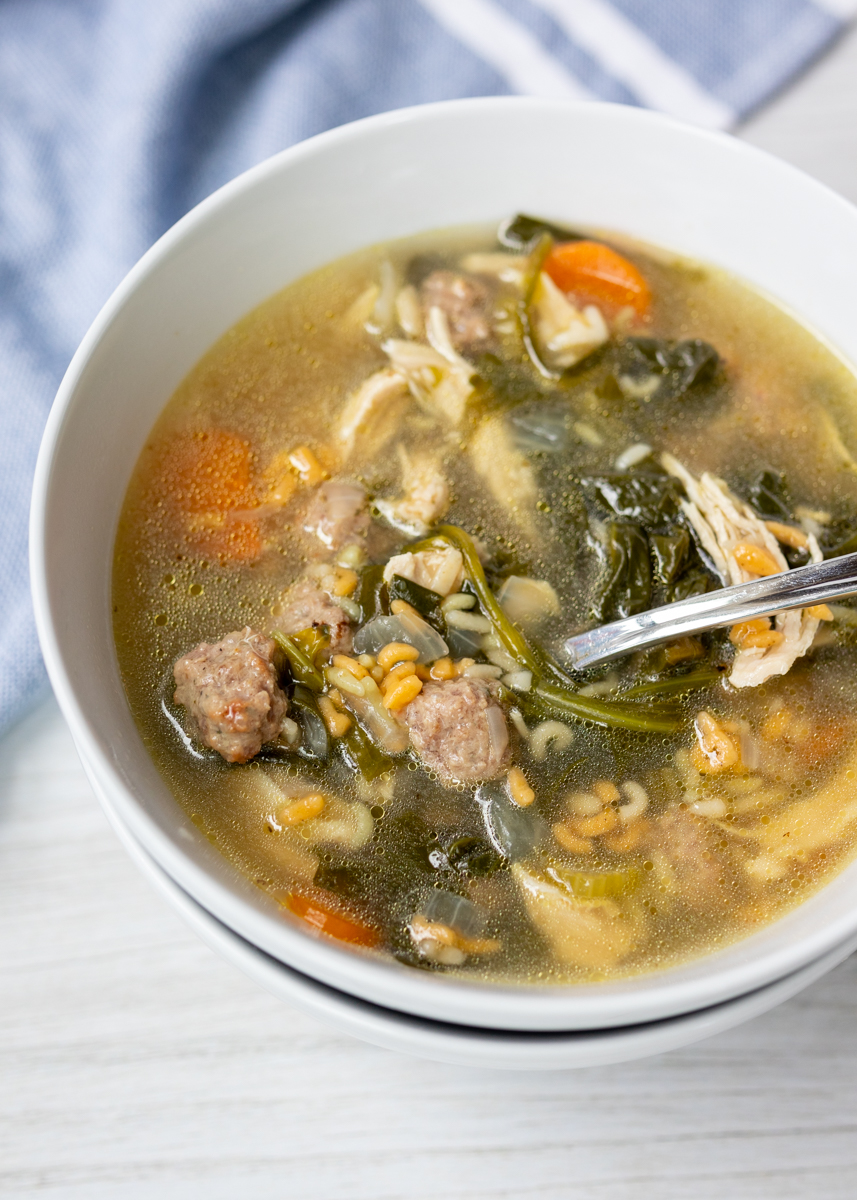 There's mini beef meatballs, little pasta noodles, spinach and even shredded chicken so a bowl of this soup will not leave you hungry. It tastes like a really awesome chicken noodle soup with added spinach and the cutest little meatballs.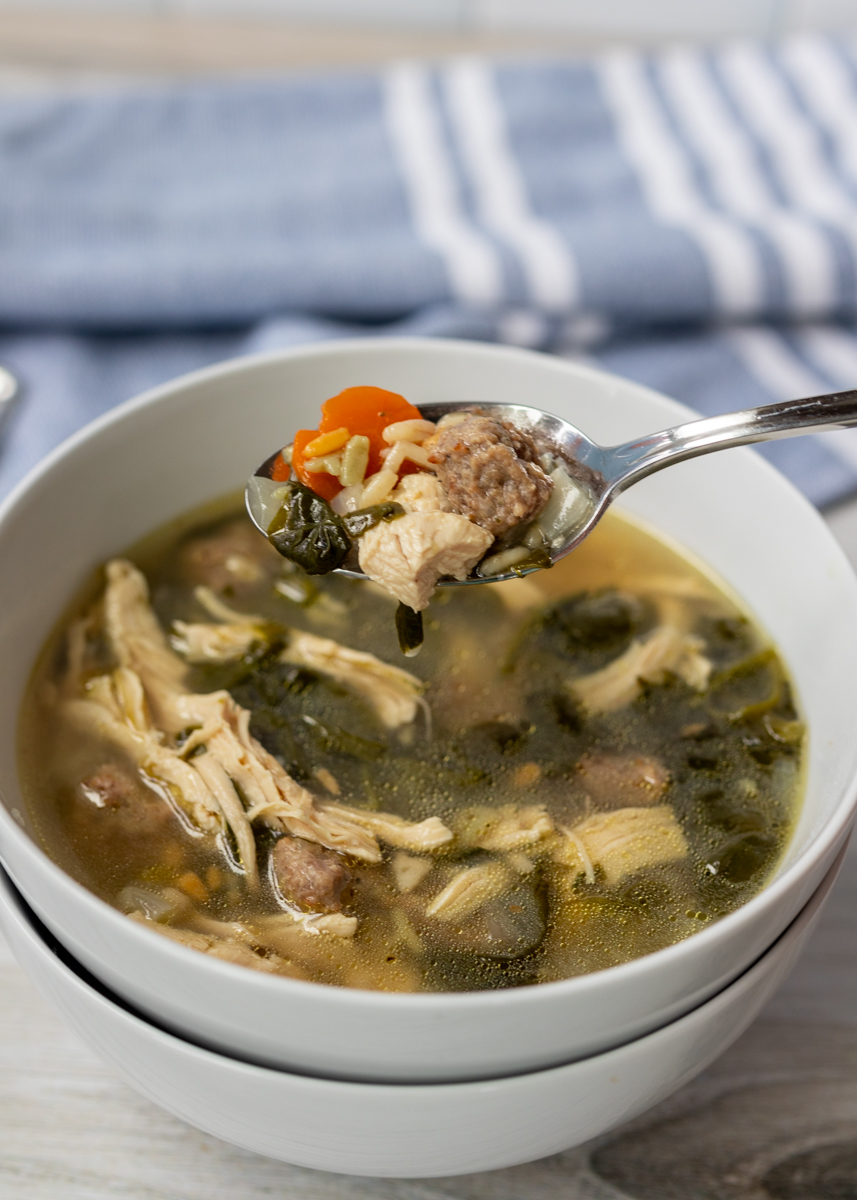 One of the reasons this Italian Wedding Soup gets made frequently in our house is because it's really simple. You could certainly make your own mini meatballs and throw them in to cook in the broth, but I buy frozen mini meatballs from Earth's Best brand to keep things easy. Plus they taste delicious and are the perfect tiny size for the soup so it's a no-brainer.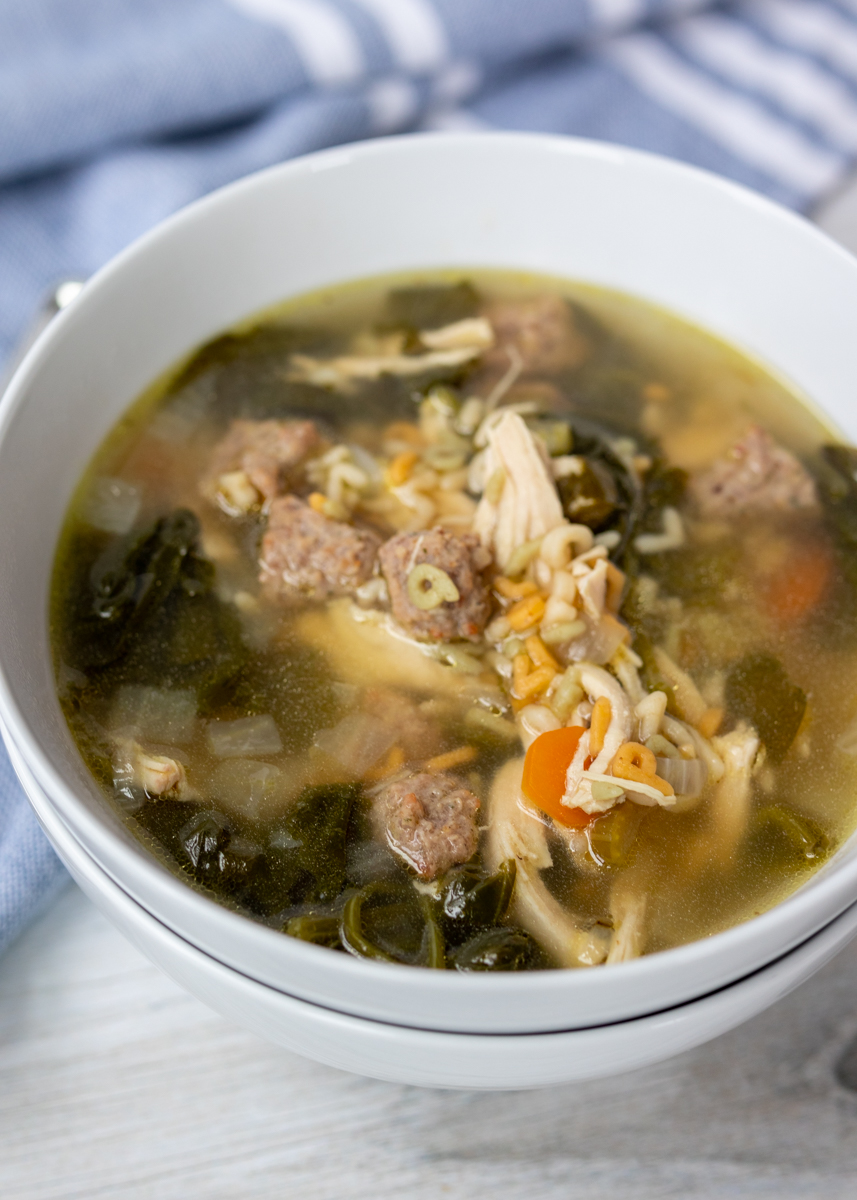 Any type of small pasta you prefer can be used; or whatever type you have on hand, which for me on the day I photographed this recipe was alphabet letter pasta. I hope you all try this one soon so you can enjoy it all fall and winter long!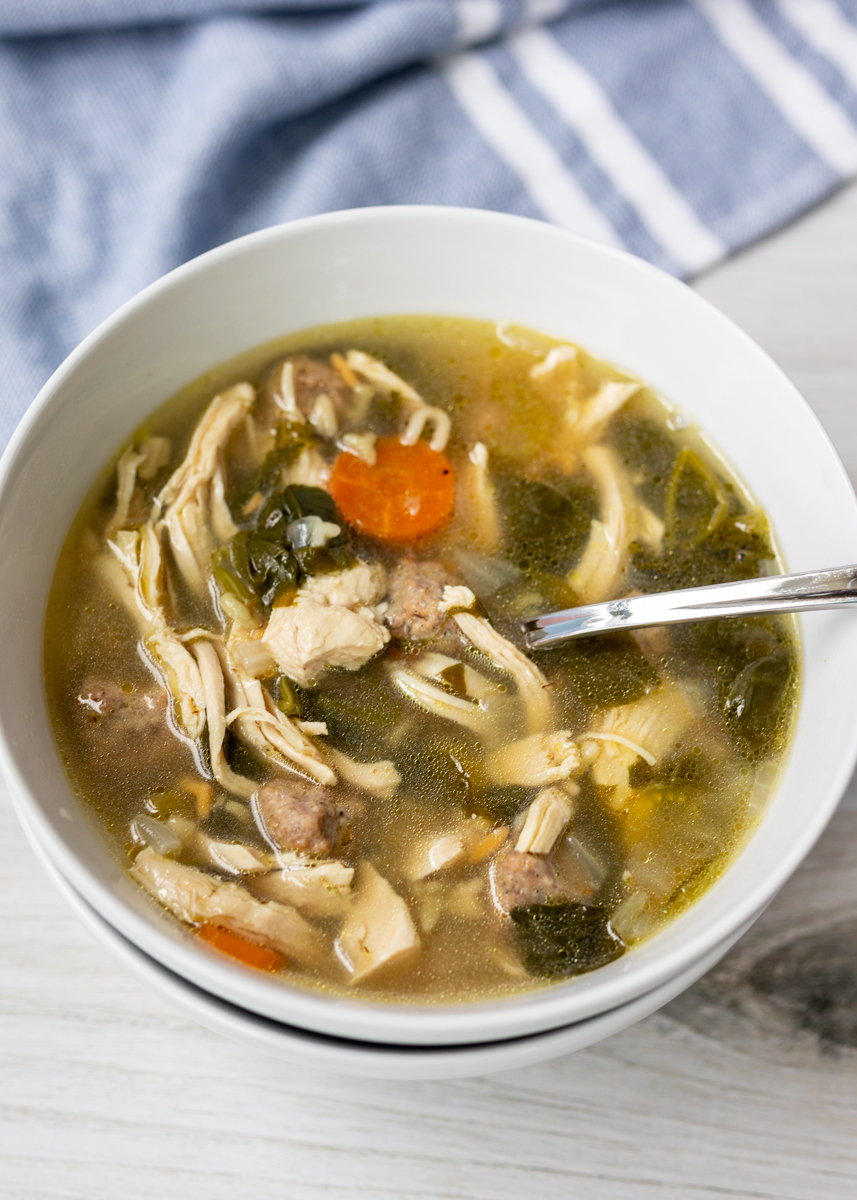 Also, an update: My due date is next week so I am currently on a blog break! I have posts that I have been working hard on for the last few months scheduled to post twice a week throughout November and December. I will check in on comments and emails every now and then, but for the most part if you don't hear from me it's because I'll be spending time with my family after the birth of our baby boy. I'll be sure to check in with you all at some point to give you an update, but in the meantime I hope you all enjoy the posts I have planned and have a wonderful holiday with your family and friends!

Italian Wedding Soup
Ingredients
1 pound boneless skinless chicken breast
2 tablespoons unsalted butter
1 small yellow onion, small diced
2 carrots, peeled then thinly sliced
2 stalks celery, trimmed then thinly sliced
1 clove garlic, minced
12 cups low sodium chicken broth
¾ cup small pasta
8 ounces chopped fresh spinach
14-16 ounces frozen mini beef meatballs (I use Earth's Best)
Salt and fresh ground black pepper
Directions
Place the chicken in a medium saucepan and cover with water. Bring to a boil and boil for 15 minutes. Chicken should have an internal temperature of 165 degrees F. Remove the chicken from the saucepan and shred once cool enough to handle. No need to save the water it cooked in; it was a boneless skinless breast so the water won't be flavorful or broth-like.
Meanwhile, melt the butter in a large stockpot over medium heat. Add the onion, carrots, celery and garlic and season with salt and pepper. Cook, stirring occasionally, for 10 minutes.
Add the broth and bring to a boil. Reduce the heat to low, cover and simmer for 30 minutes.
Season with salt and pepper to taste then add the pasta and cook for 6 minutes. Add the spinach and cook for 3 more minutes. Add the shredded chicken and the frozen mini meatballs. Cover and simmer on low for 30 minutes.
Recipe slightly adapted from

Brown Eyed Baker

.