Healthy Creamy Roasted Carrot Soup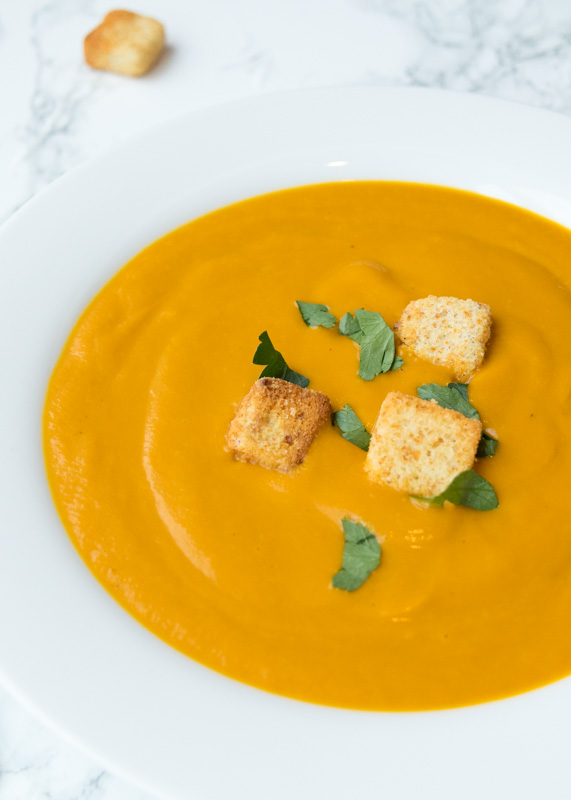 I don't remember what prompted me to try this recipe, but I am so happy I did. Immediately after tasting it for the first time I ran to Matt (well carefully speed-walked), spoon in hand, telling him to stop what he was doing and try this soup. I couldn't believe how something with such basic ingredients could taste so rich of flavor and buttery. Also that a soup without cream and less than a teaspoon of butter per serving could taste like such an indulgence.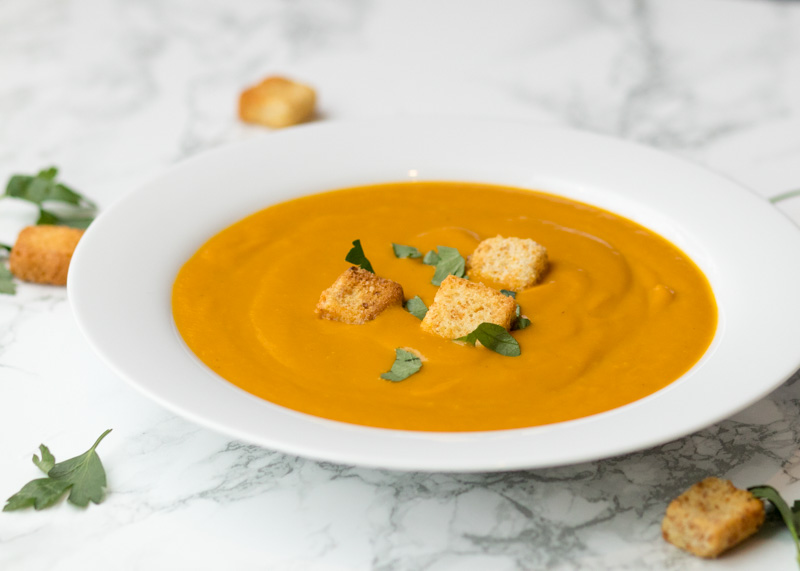 The depth of flavor in this soup starts with roasting the vegetables. The carrots are roasted until they are super tender and blistered, which amplifies their sweetness. Onion slices get roasted with the carrots to bring a richness to their flavor as well. The ginger adds the perfect amount of balance without being overpowering.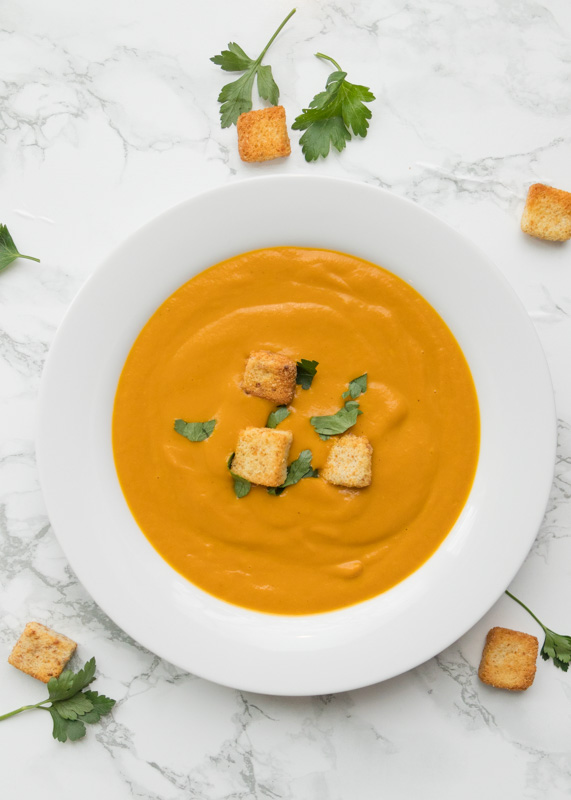 This Healthy Creamy Roasted Carrot Soup freezes well and tastes even better after the flavors have been able to meld together for some time. Although it takes a fair amount of time to make, most of the steps are hands off so it doesn't feel too involved.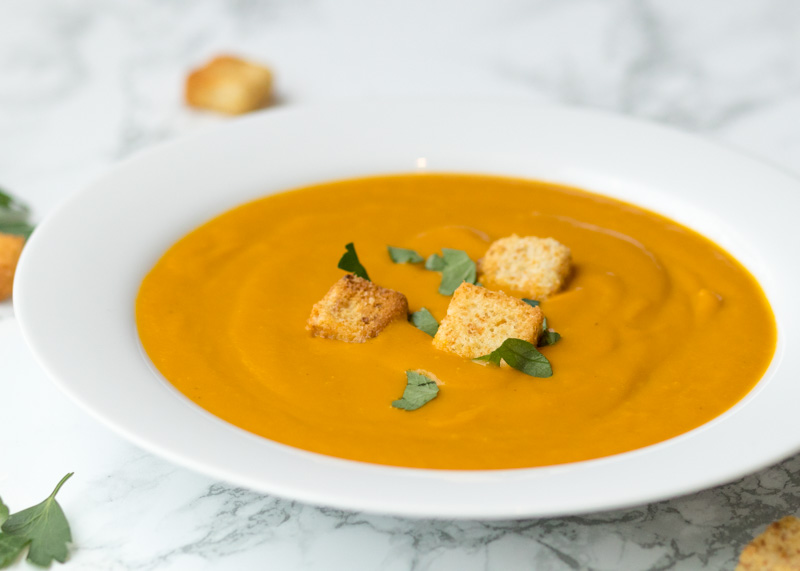 I always ask Matt if he has any dinner requests for the following week and this carrot soup has turned into his most frequent request. Other than meatloaf – the kid loves meatloaf 😂. We end up having it mostly for weekdays, but I've also served it for the holidays. Especially for holidays and dinner parties I like starting the meal with a dish I'm proud of, but that isn't rich or heavy, and this soup fits the bill perfectly. It also makes a great make-ahead lunch – if you have enough leftover from dinner!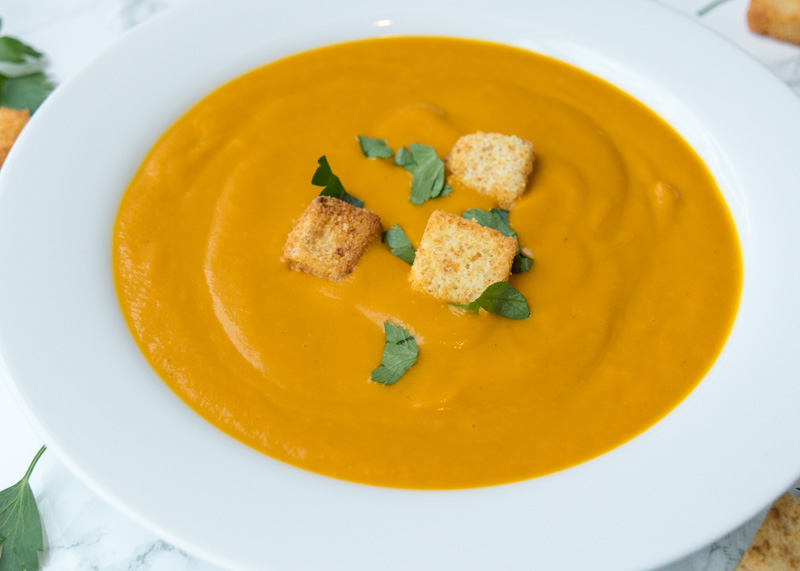 Healthy Creamy Roasted Carrot Soup
Ingredients
2 lbs carrots, peeled and cut into 3-inch lengths
1 medium onion, peel removed and thickly sliced
2 tablespoons olive oil
2 tablespoons unsalted butter
2 ribs celery, roughly diced
1½ - 2 tablespoons minced fresh ginger, from about 1-inch peeled piece, depending on preference
6 cups low-sodium vegetable broth
2 teaspoons salt
¼ teaspoon ground black pepper
Directions
Preheat the oven to 375 degrees F. Line a sheet pan with nonstick aluminum foil and lay the carrots in a single layer. Place the onions in a single layer or if they won't fit you can layer them on top of the carrots. Drizzle with the olive oil then toss to coat. Season with salt and pepper then roast in the oven for about an hour. Toss the carrots once during cooking and check on the onions; you don't want them to burn. The carrots should be soft, blistered and browned.
In a medium saucepan melt the butter over medium heat. Add the celery and ginger and cook until the celery starts to brown, about 5 minutes. Add the roasted carrots and onion, vegetable broth, salt, pepper and 2 cups of water. Bring to a boil then reduce then reduce the heat to low, cover and simmer for about 45 minutes. Remove from the heat.
Use a high-speed blender to puree the soup. If using a regular blender, puree the soup in batches. Once pureed, taste and season with salt and pepper as needed. Tastes best after the flavors have been allowed to meld for a few hours or overnight. Reheat gently on the stove or in the microwave and adjust seasoning to taste before serving.
Recipe adapted from

Fine Cooking

.