Creamy Corn Pasta with Basil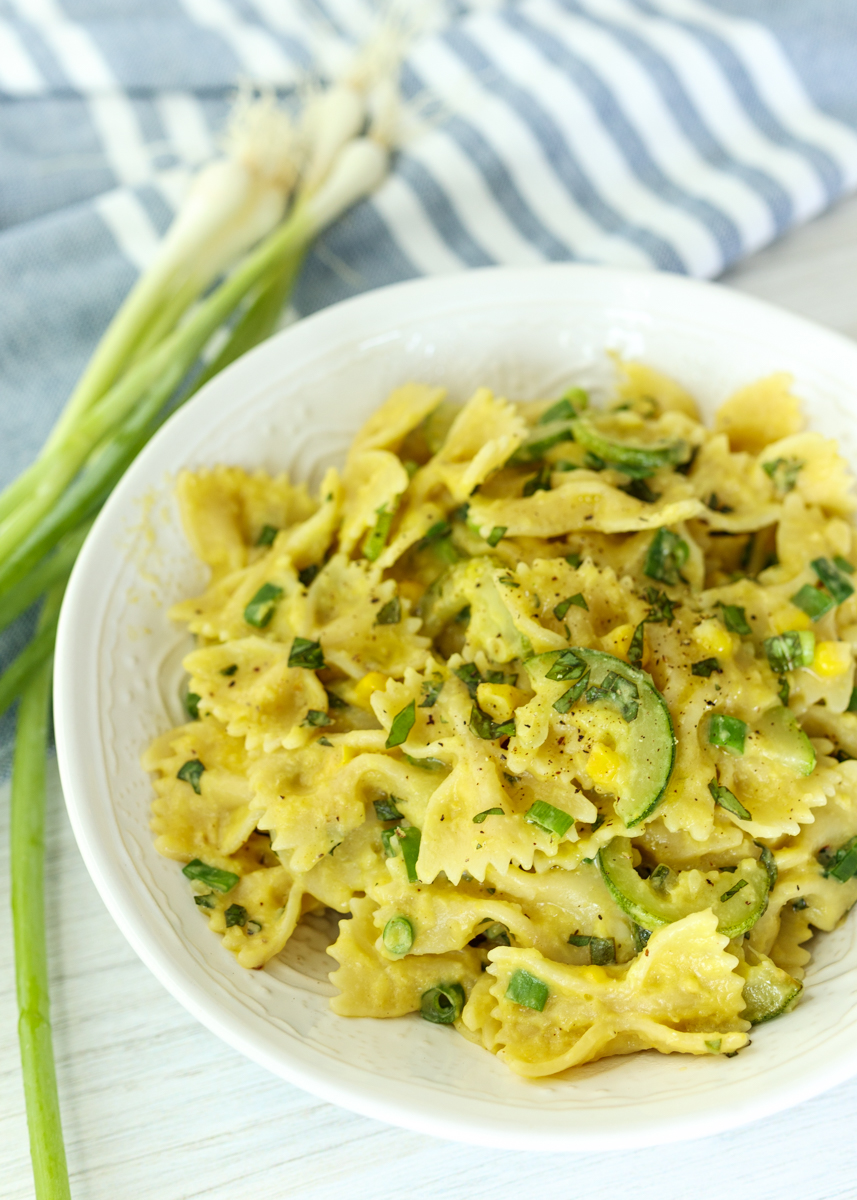 Sometimes I see a recipe shared on Instagram and I need to make it instantly. That's what happened with this Creamy Corn Pasta with Basil. The NY Times Cooking account shared a photo of this summery and fresh pasta dish and revealed the most intriguing part: there is no cream in this luscious dish, just pureed corn.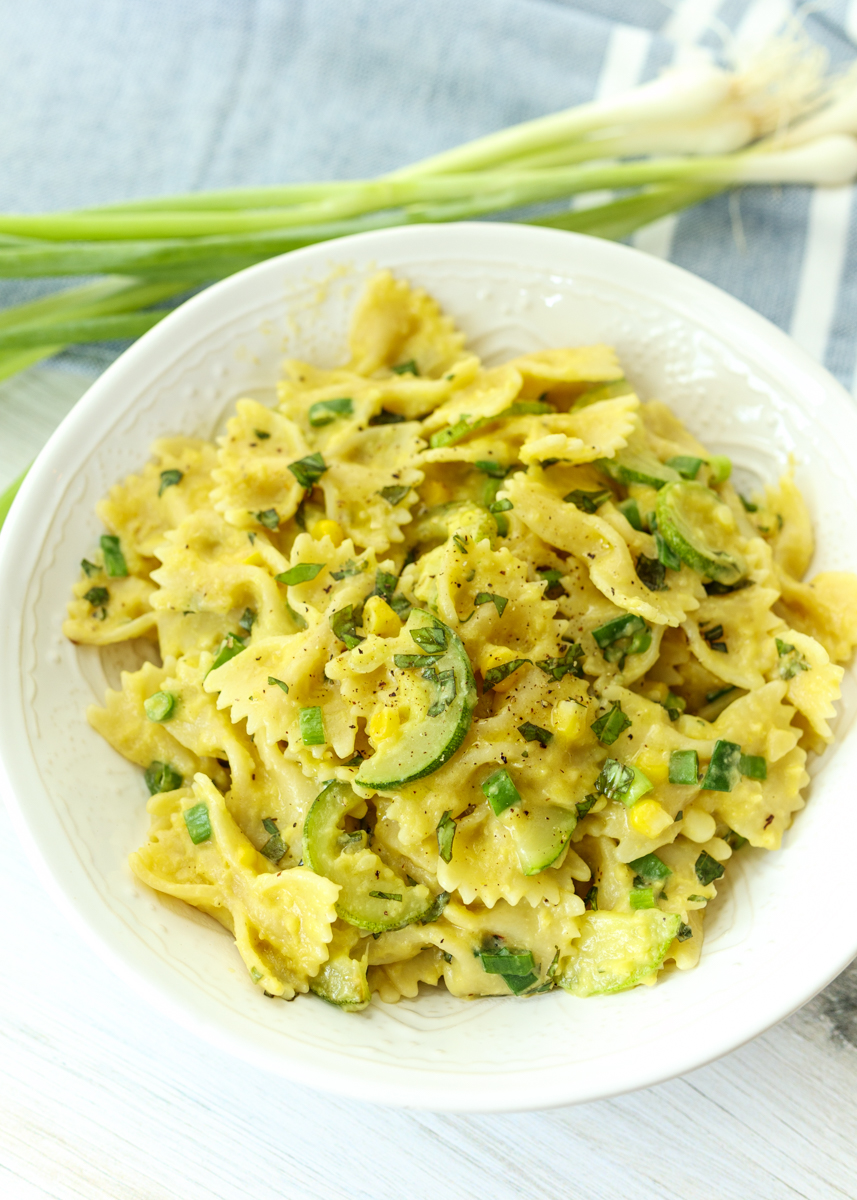 I've shared a bunch of recipes here that have been very successful using pureed cauliflower instead of cream so I was excited to try a similar technique with corn. Matt and I were blown away when we tried this Creamy Corn Pasta with Basil!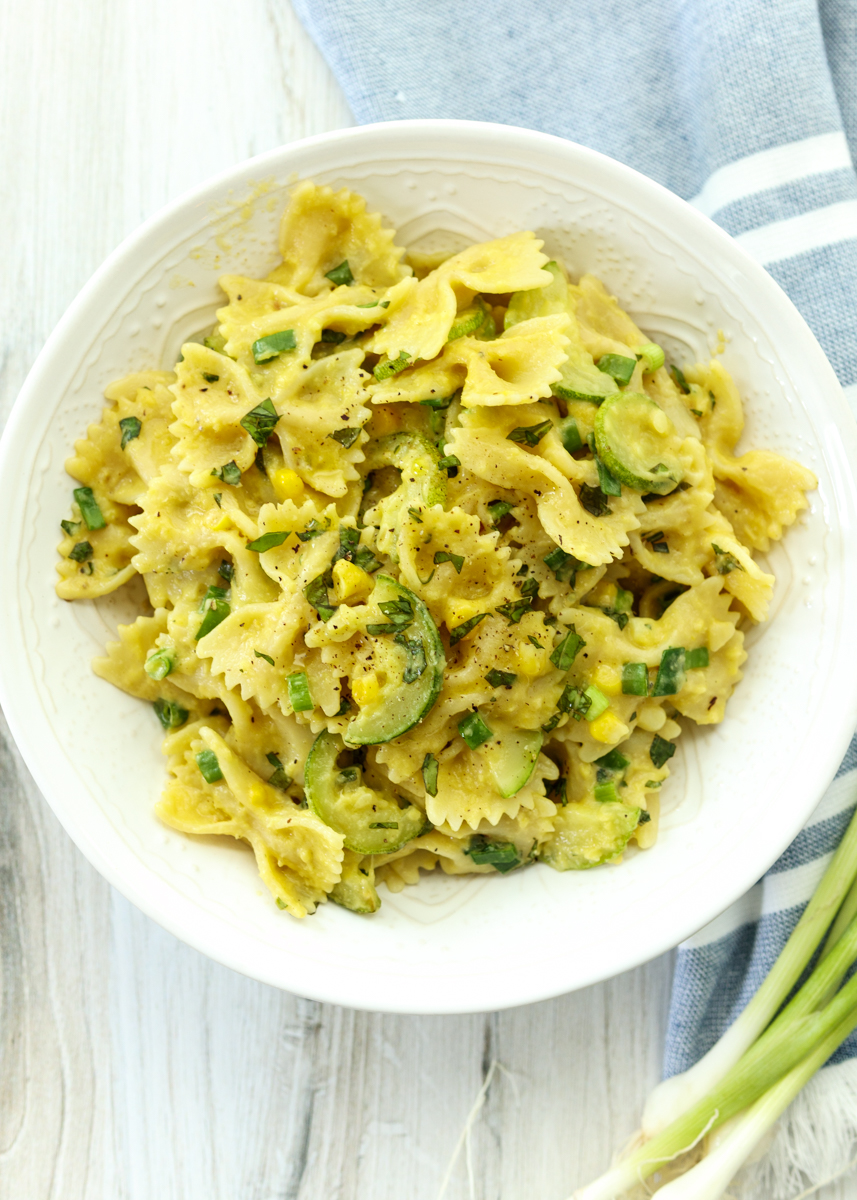 The dish uses such simple ingredients, but it's packed with flavor giving it that can't-stop-eating-it quality. Unlike using pureed cauliflower to get the cream texture without the cauliflower flavor, pureeing part of the sautéed corn amplified the corn flavor so that sweet corn taste is really coating every single farfalle noodle.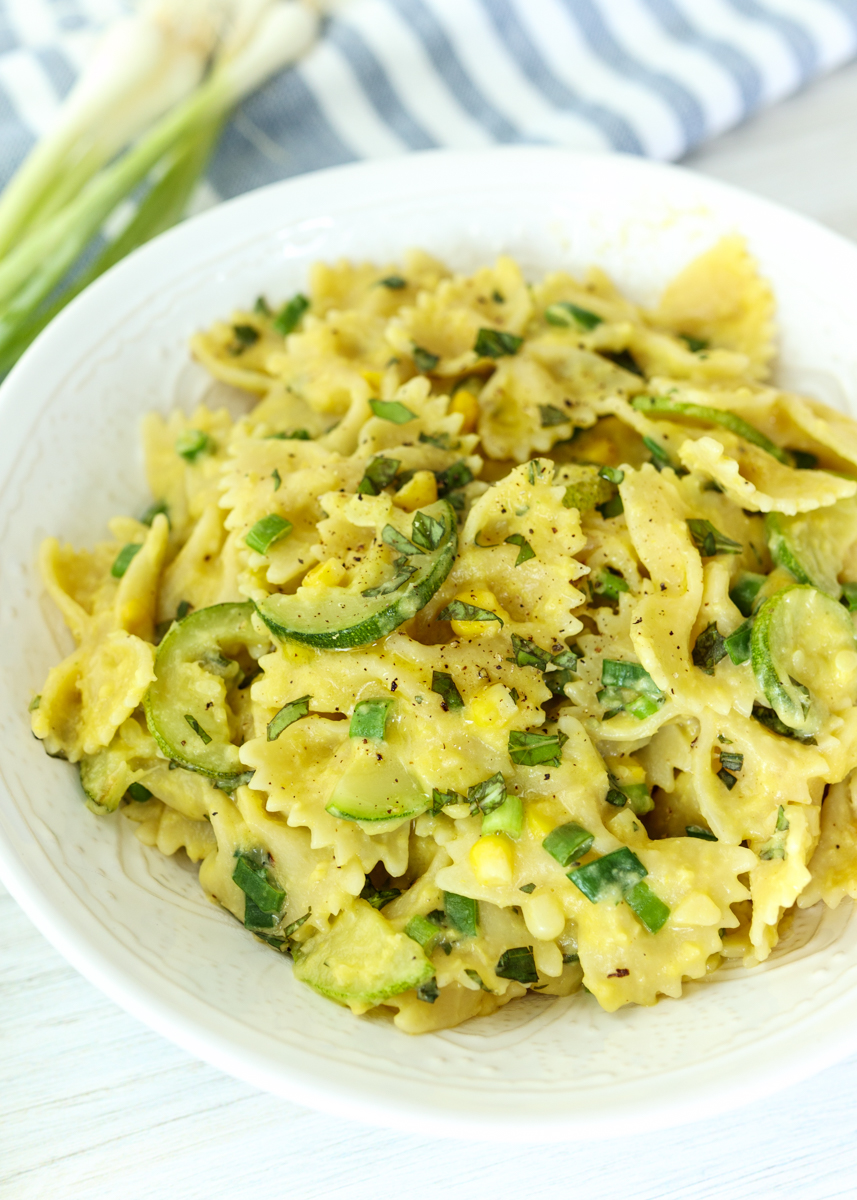 Zucchini and corn is a classic summer pairing so I included some sautéed zucchini to add some more veggies and texture to the dish. Additional ingredients, such as the fresh basil, parsley, Parmesan and jalapeño really make the pasta pop.
I'm so excited I didn't wait around to make this Creamy Corn Pasta with Basil so now I can make it again and again. I hope you all make this one soon!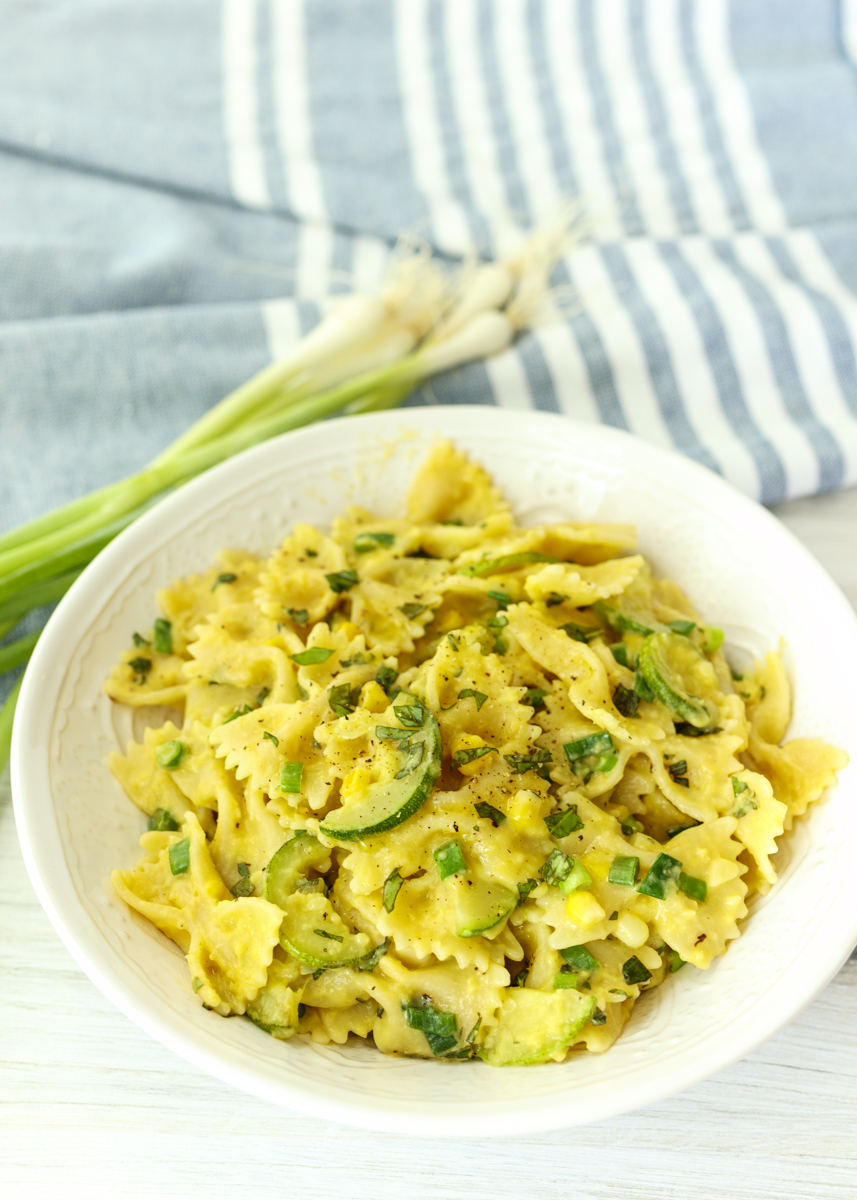 Creamy Corn Pasta with Basil
Ingredients
12 ounces orecchiette or farfalle
1 tablespoon olive oil, plus more for drizzling
6-8 scallions, trimmed and thinly sliced (keep the whites and greens separate)
2 large ears of corn, shucked and kernels removed (about 2 cups kernels)
¼ teaspoon ground black pepper
¼ teaspoon salt
3 tablespoons unsalted butter
1 zucchini, halved lengthwise then cut into half-moon rounds
½ cup grated fresh Parmesan cheese, plus more for serving
⅓ cup roughly chopped basil, plus more for serving
¼ teaspoon red pepper flakes, or to taste
Directions
Cook pasta to al dente, according to the package directions. Drain, making sure to reserve ½ cup of pasta water.
Meanwhile, heat the olive oil over medium heat in a large sauté pan. Add the whites of the scallions, season with salt, and cook for 3 minutes. Add all the corn except keep ¼ cup of the corn aside and add ¼ cup water. Let simmer for 3-5 minutes. Add the pepper and salt then transfer to a blender (or blend with an immersion blender) and puree until smooth.
Return the sauté pan to medium-high heat to melt the butter. Add the zucchini and cook for 3 minutes, stirring occasionally. Add the remaining ¼ cup of corn kernels, season with salt and pepper, and cook for 1-2 minutes. Add the corn puree and cook for 30 seconds.
Reduce the heat to medium and add the cooked pasta and reserved pasta water. Toss to coat and cook for 1 minute then add almost all the scallion greens and Parmesan. Season with red pepper flakes and additional salt and pepper to taste. Serve the pasta hot garnished with a little drizzle of olive oil, chopped scallion greens and Parmesan.
Recipe slightly adapted from

NY Times

.