Cheesy Broccoli Stuffed Chicken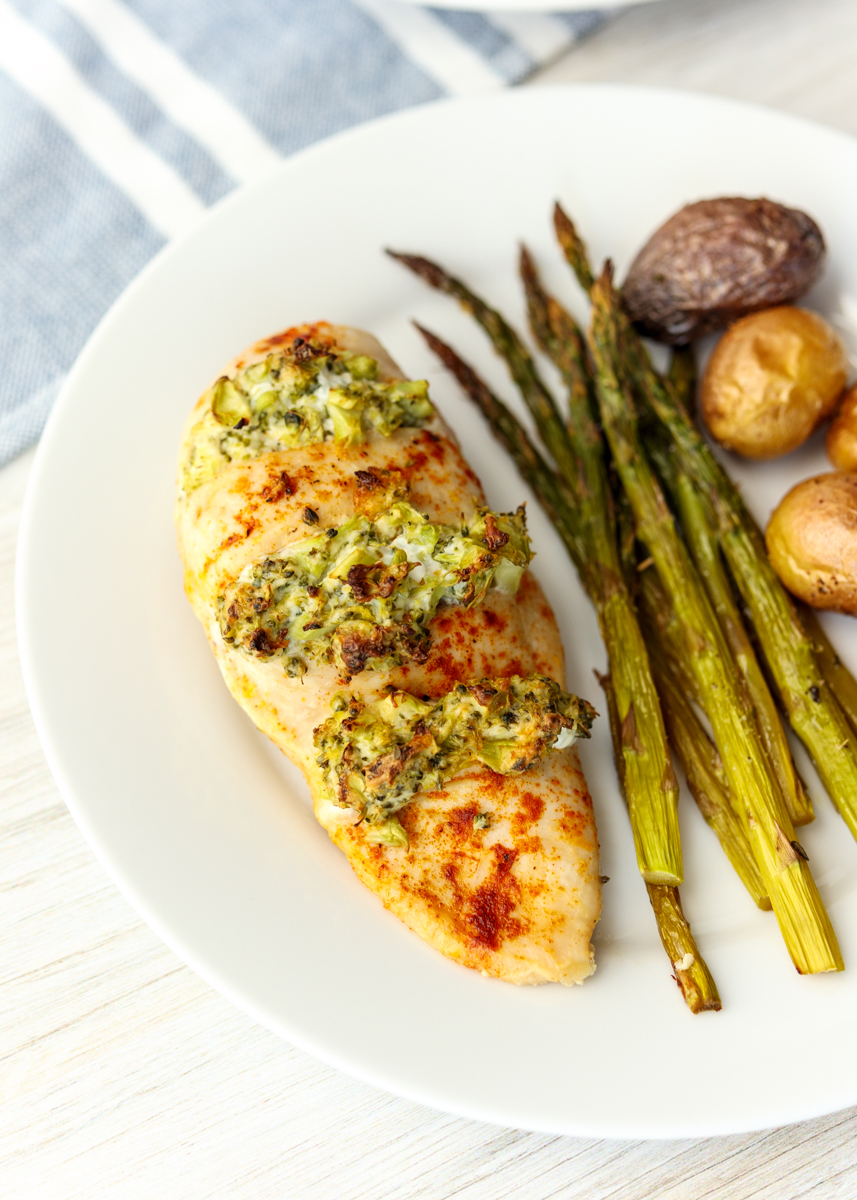 Do you have one specific protein that you eat a lot at your house? For us it's chicken, much to Matt's dismay. Not that he doesn't like it, it's just that we do have it for dinner a lot.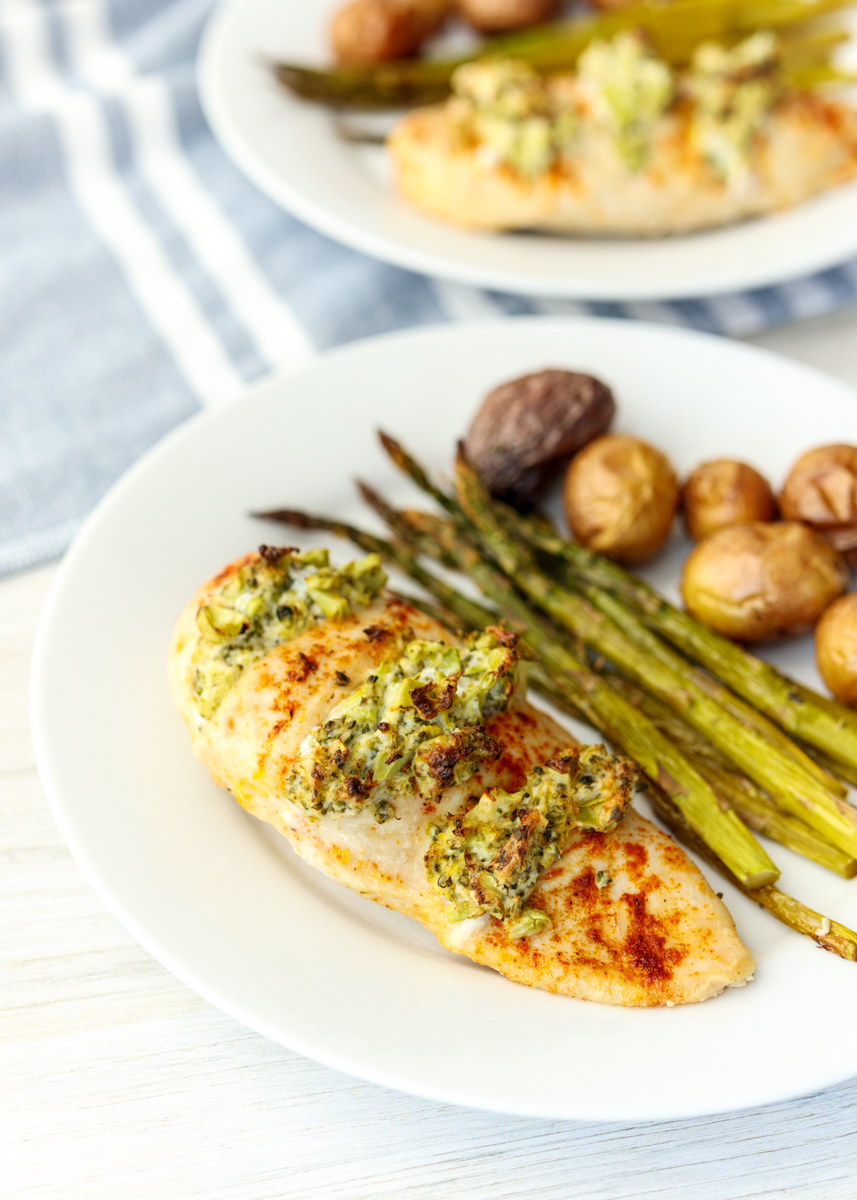 Unless I'm cooking a specific recipe I tend to gravitate towards chicken. It's healthy, fairly inexpensive and versatile. Since it's easy to get stuck in the baked chicken rut I'm always on the lookout for new chicken recipes.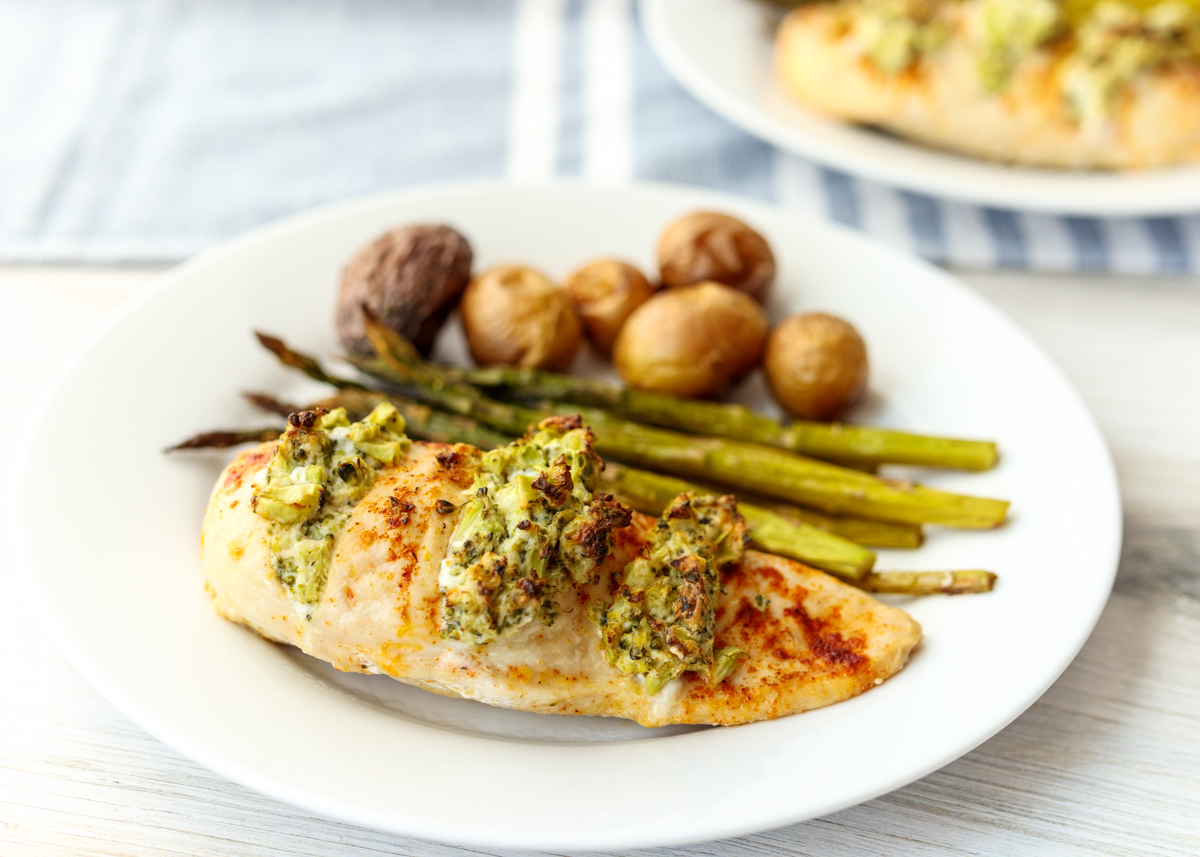 When I saw this Cheesy Broccoli Stuffed Chicken in my Food Network Magazine binder I figured it was worth a shot since it combined two of our dinner go-tos: chicken and broccoli. The cheesiness in this chicken comes from the garlic and herb cheese spread. Love that stuff! You can use Boursin; I usually use Alouette.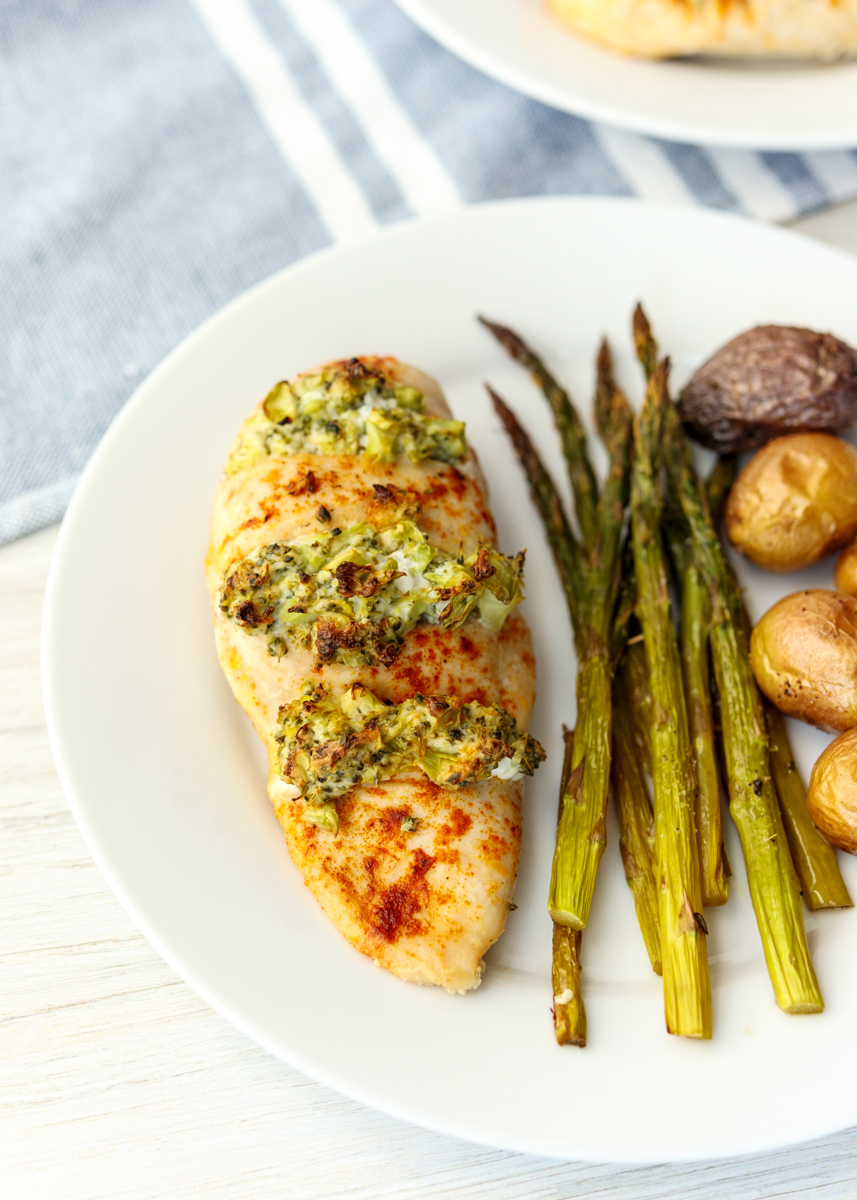 I've never stuffed a chicken by cutting slits in the top, but it worked really well. The chicken stayed nice and moist while the cheesy broccoli filling got a little crisped on the top parts.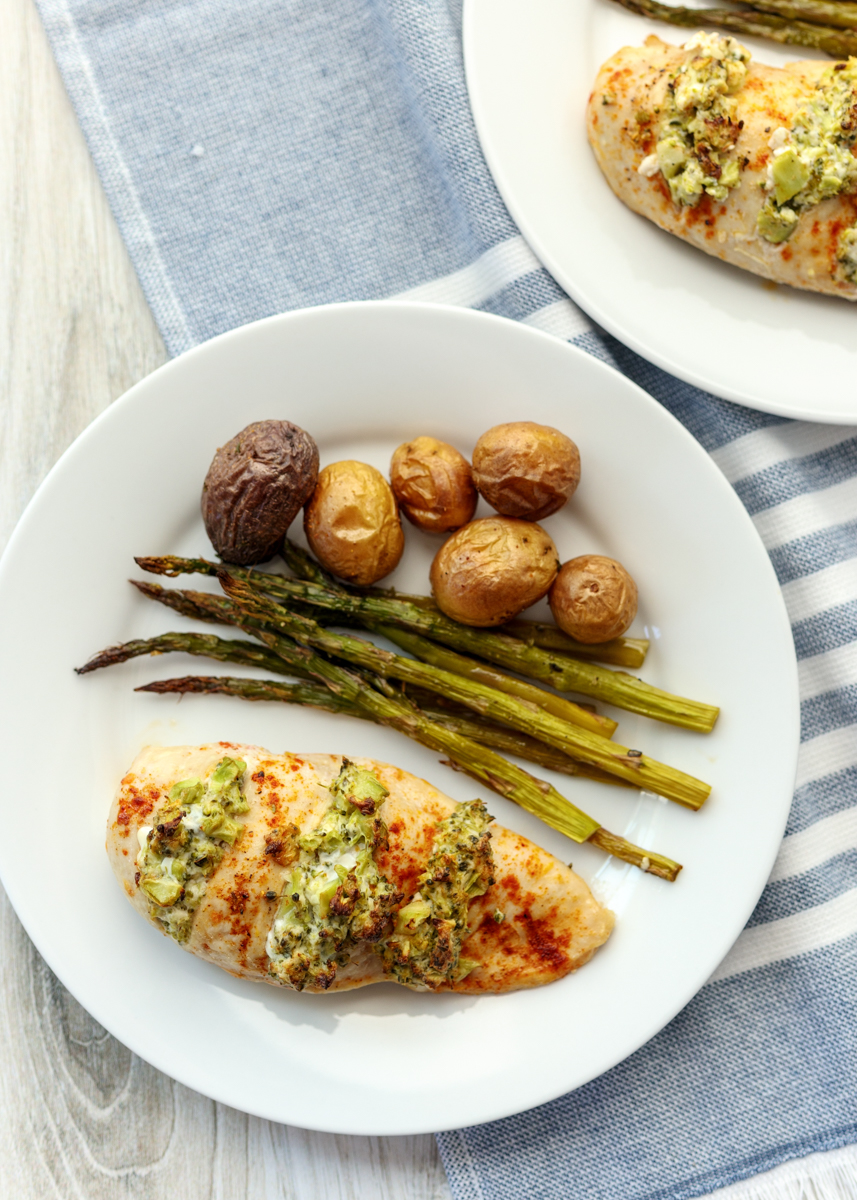 Serve this Cheesy Broccoli Stuffed Chicken alongside some roasted veggies and potatoes or some salad and rice for a perfect dinner meal!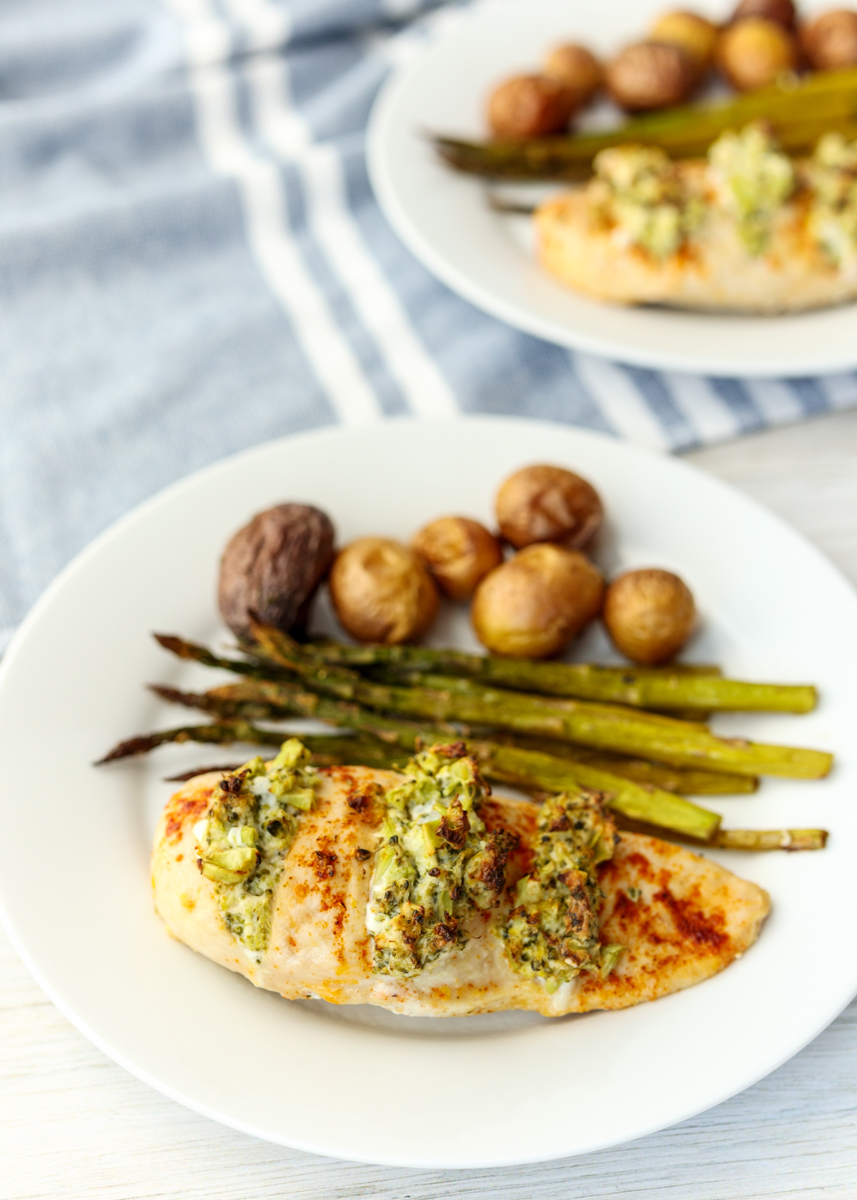 Cheesy Broccoli Stuffed Chicken
Ingredients
1 cup finely chopped broccoli florets and stalks
⅓ cup garlic and herb cheese spread (such as Boursin or Alouette)
½ teaspoon lemon zest
1 tablespoon olive oil, divided
4 small skinless boneless chicken breasts (6-8 ounces each)
½ teaspoon paprika
Salt and pepper
Directions
Preheat the oven to 450 degrees F. Line a baking sheet with nonstick aluminum foil and set aside.
In a small bowl, combine the broccoli, cheese spread, lemon zest and 1 teaspoon of the olive oil. Season with salt and pepper.
Place the chicken breasts on the prepared baking sheet. Cut 3 deep slits into the top of each chicken breast, being sure not to cut all the way through. Drizzle the chicken with the remaining 2 teaspoons of olive oil then season with the paprika, salt and pepper. Use a spoon to stuff the broccoli mixture into the slits of the chicken. Cook the chicken in the oven until it registers 165 degrees F, about 13-15 minutes.
 Recipe from Food Network Magazine
.
Some of the links above are affiliate links, which means I may receive a small commission for my referral. This does not affect the retail cost of the item. Thank you for supporting Lemon & Mocha!