Classic Vanilla Cupcakes with Vanilla Buttercream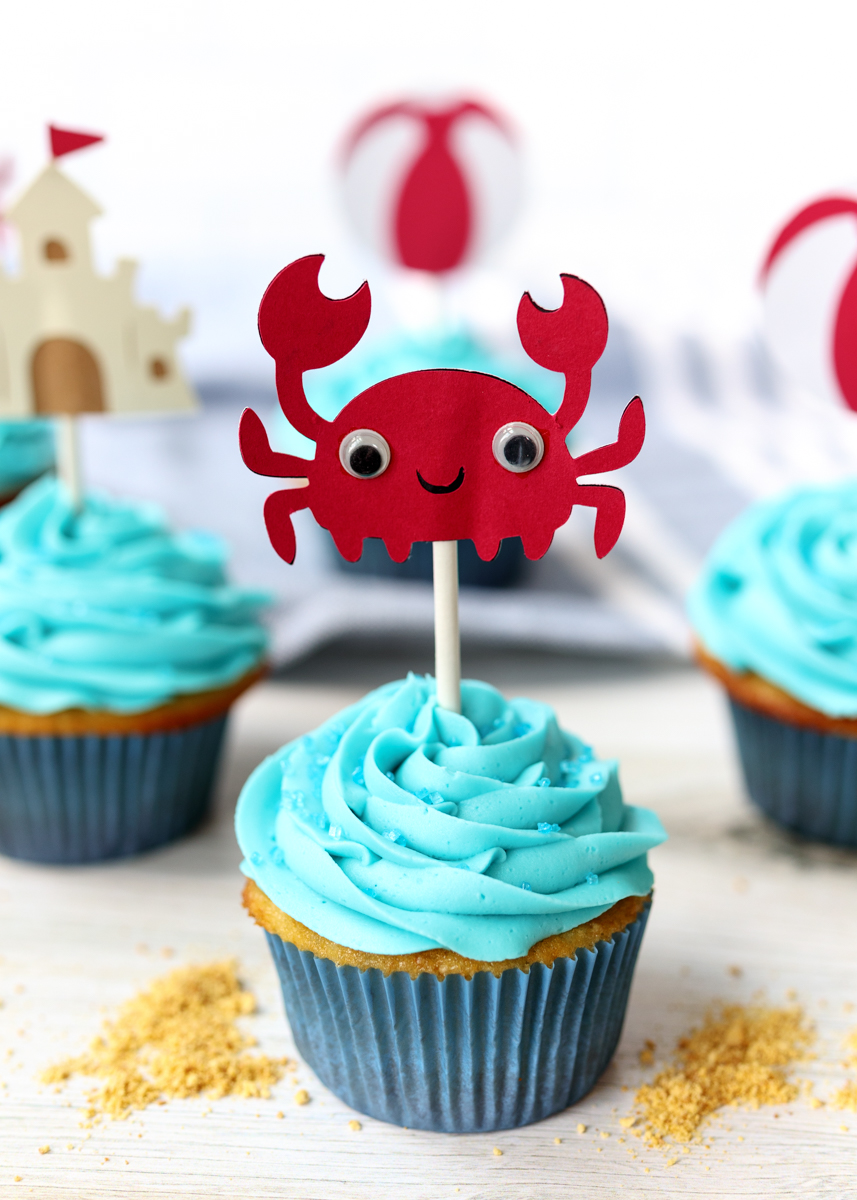 My summer cupcake post is here! I loved all the cupcake toppers my goddaughter sent me, but I think I was most excited about the summer ones. Look how adorable they are! The crab googly eyes get me every time. Since they are beach themed it felt appropriate to post them at the end of my family's annual beach week.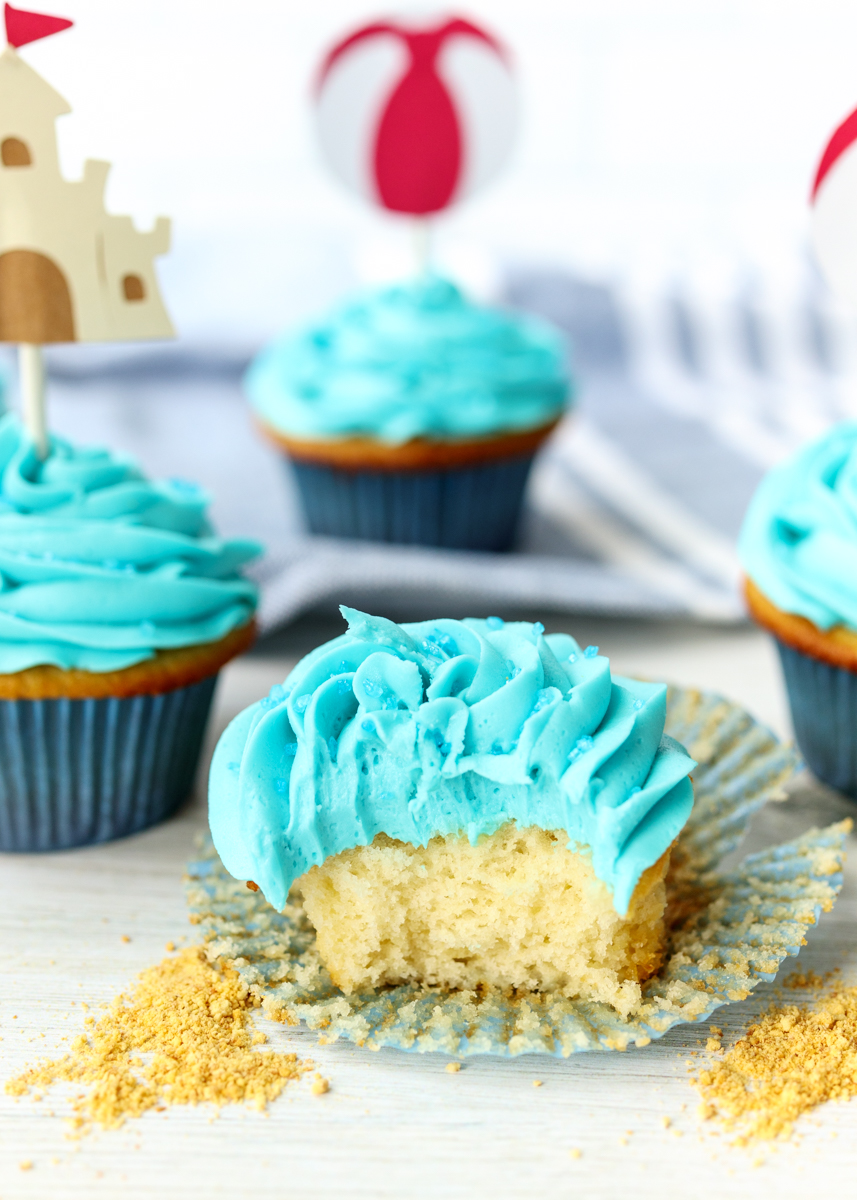 I know we're already halfway through August (UGH), but thankfully these cupcakes are not just summer cupcakes. These are classic vanilla cupcakes with vanilla buttercream. And by classic I mean perfectly moist, extra fluffy, damn good vanilla cupcakes. Do you know how difficult it is to find a homemade vanilla cupcake recipe that tastes just as good – or better – than those made from a box mix? I've tried several over the years and I've been disappointed every single time.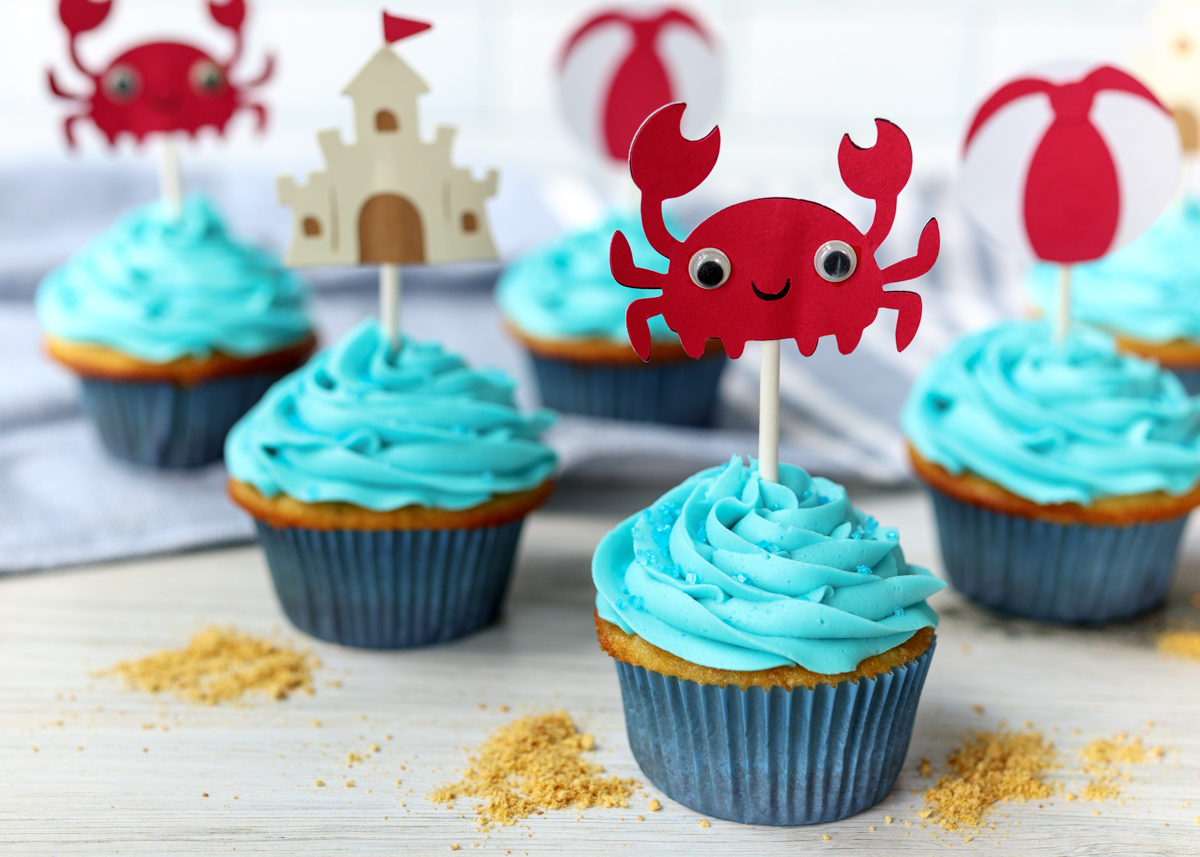 Last week I stumbled upon this delicious vanilla cupcake recipe through a happy accident. I initially was planning on making nectarine cupcakes for the summer cupcake post that were an absolute flop. I plan to revisit that recipe idea, but until then I really wanted to bake and photo something for this post before leaving for beach week the next day.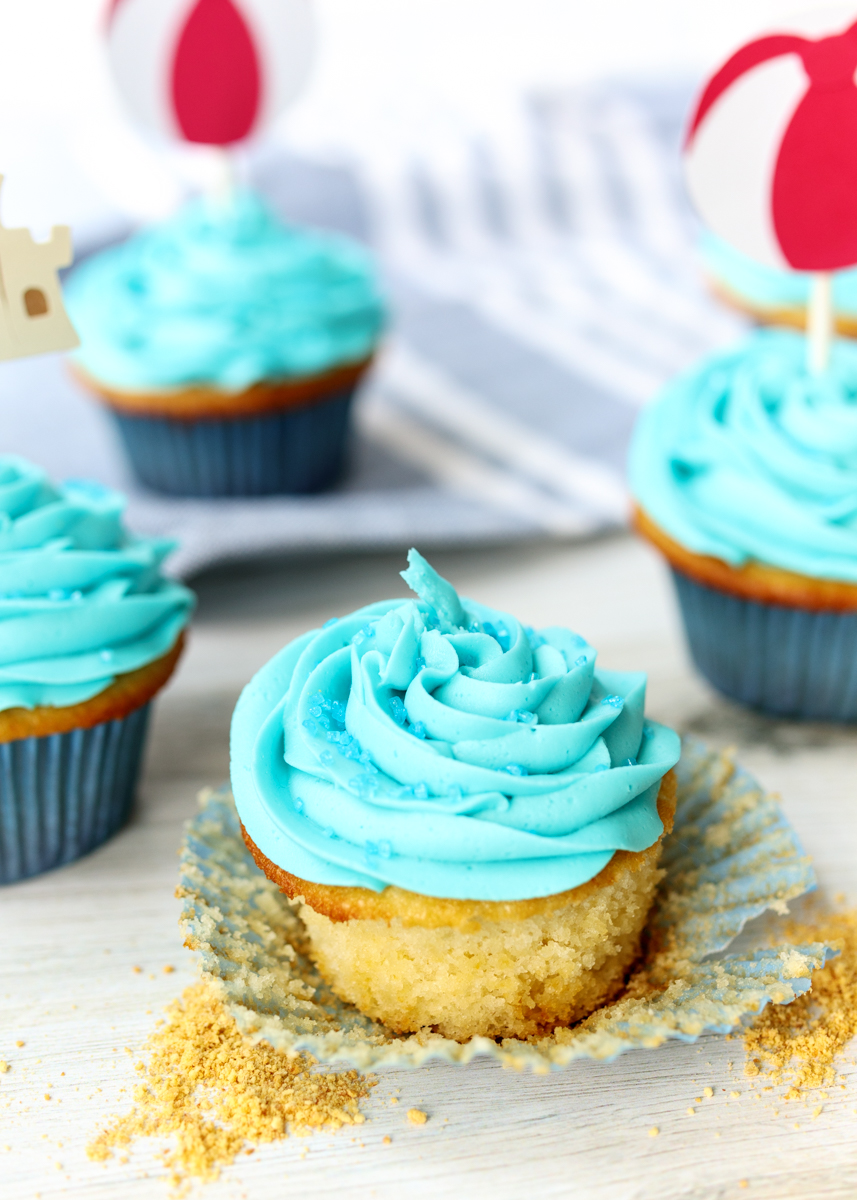 Deciding to revisit my perfect vanilla cupcake search I looked through all my cookbooks and Googled plenty, but there was one problem with every recipe: we only had one egg left in the fridge and I didn't want to go to the store. I know, so lazy, but at least it led me to this recipe! Apparently there's an old-fashioned recipe called a One Egg Cake from the Joy of Cooking and it requires minimal ingredients, is very simple and makes outrageously fluffy cupcakes!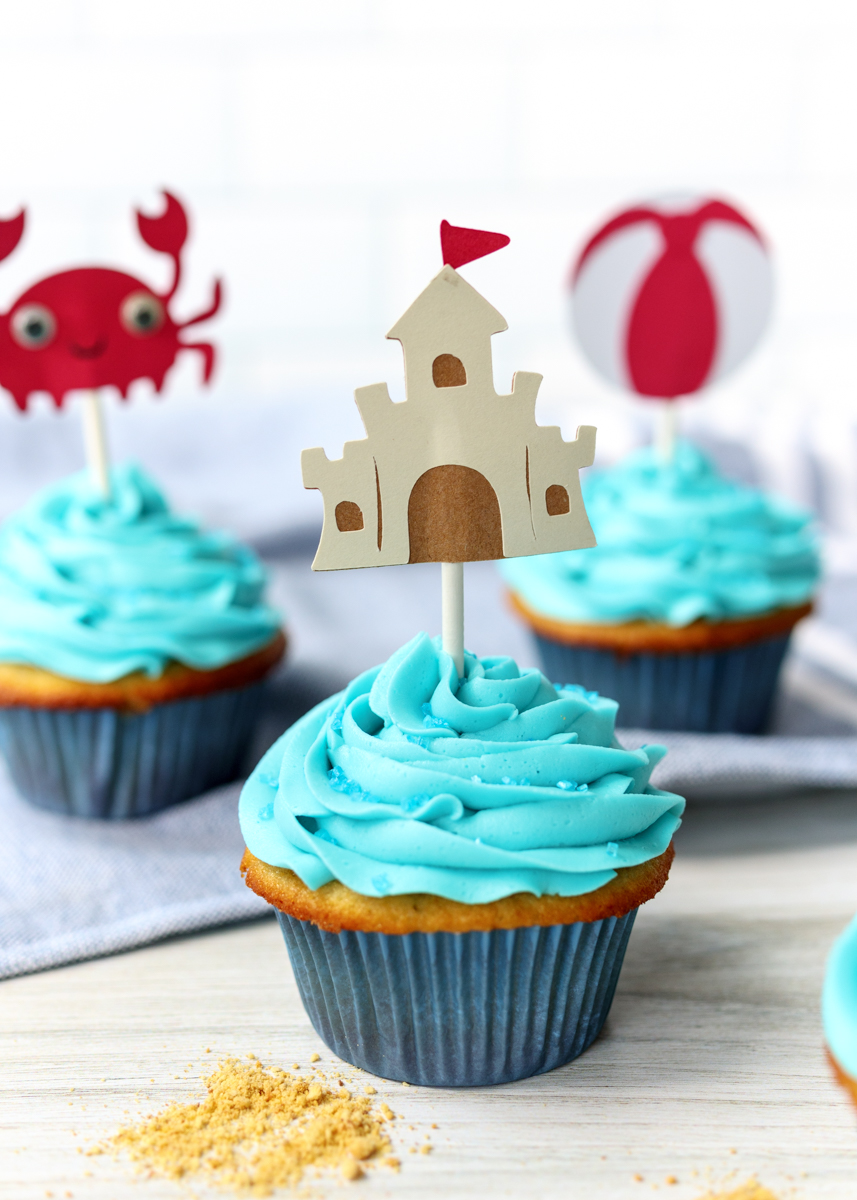 I paired these with a traditional vanilla buttercream because sometimes you're just dying for a classic vanilla-vanilla combo piled high with frosting like you would get at a birthday party. I used a pastry bag fitted with a Wilton 2D tip to frost these cupcakes. If you want something lighter and less sweet then I recommend my mascarpone frosting. Or if you want something chocolatey then definitely make my Perfect Chocolate Frosting. Of course, if you want to turn them into summer cupcakes then make sure to dye the frosting blue and add cute cupcake toppers! Enjoy, friends!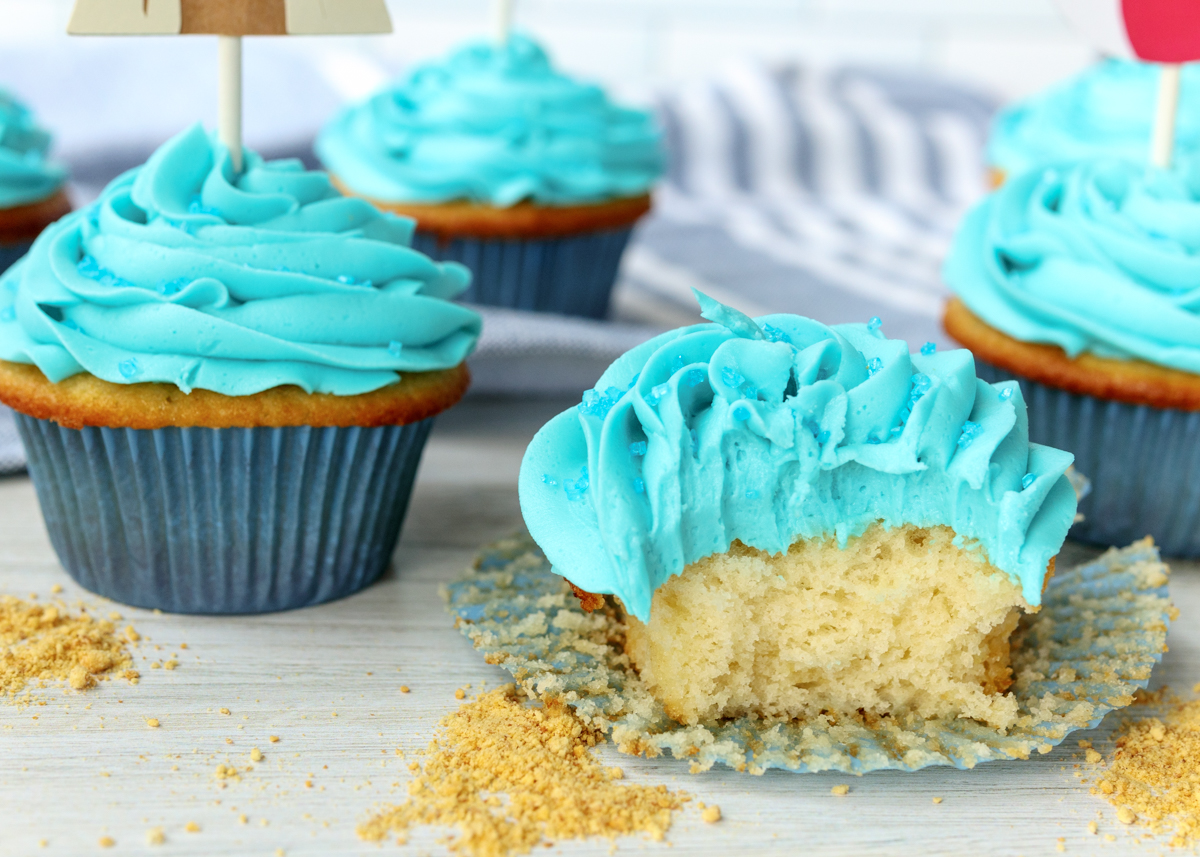 Classic Vanilla Cupcakes with Vanilla Buttercream
Ingredients
for the cupcakes
⅓ cup butter, room temperature
1½ cups granulated sugar
1 large egg
2 teaspoons vanilla extract
1¾ cups all-purpose flour
2½ teaspoons baking powder
¼ teaspoon salt
1 cup milk, any fat percentage you prefer
for the frosting
1 cup unsalted butter (2 sticks), room temperature
2½ cups powdered sugar
½ teaspoon vanilla extract
Directions
for the cupcakes
Preheat oven to 350 degrees F. Line 2 cupcake pans with cupcake liners so you have enough for 16 cupcakes.
In the bowl of a stand mixer or in a large bowl with a hand mixer, cream together the butter and sugar until light and fluffy. Add the egg and vanilla and beat until combined with a whisk attachment, scraping down the sides as needed.
In a medium bowl, sift together the flour, baking powder and salt. Add to the large bowl and beat on low with the whisk attachment until just combined. Add the milk and beat with the whisk attachment until combined. If the batter is lumpy keep whisking until it isn't lumpy.
Use a cookie scoop or batter spoon to fill the cupcake liners so they're half full. You should get 15-16 cupcakes. Bake the cupcakes for 20-22 minutes. They are done with they are golden, the tops spring back when you touch them and just a few moist crumbs come out when you stick a toothpick in the center. Let cool in the pan for 5 minutes then transfer to a wire cooling rack to cool completely before frosting.
for the frosting
In the bowl of a stand mixer or in a large bowl with a hand mixer, beat the butter until soft and fluffy, scraping down the sides as needed. Add the powdered sugar and the vanilla and beat on low until combined, scraping down the sides as needed. I used a pastry bag fitted with a 2D Wilton tip to frost these cupcakes.
Cupcake recipe slightly adapted from

Dinner with Julie

.
Some of the links above are affiliate links, which means I may receive a small commission for my referral if you purchase something. This does not affect the retail cost of the item. Thank you for supporting Lemon & Mocha!