Nutella S'mores Bars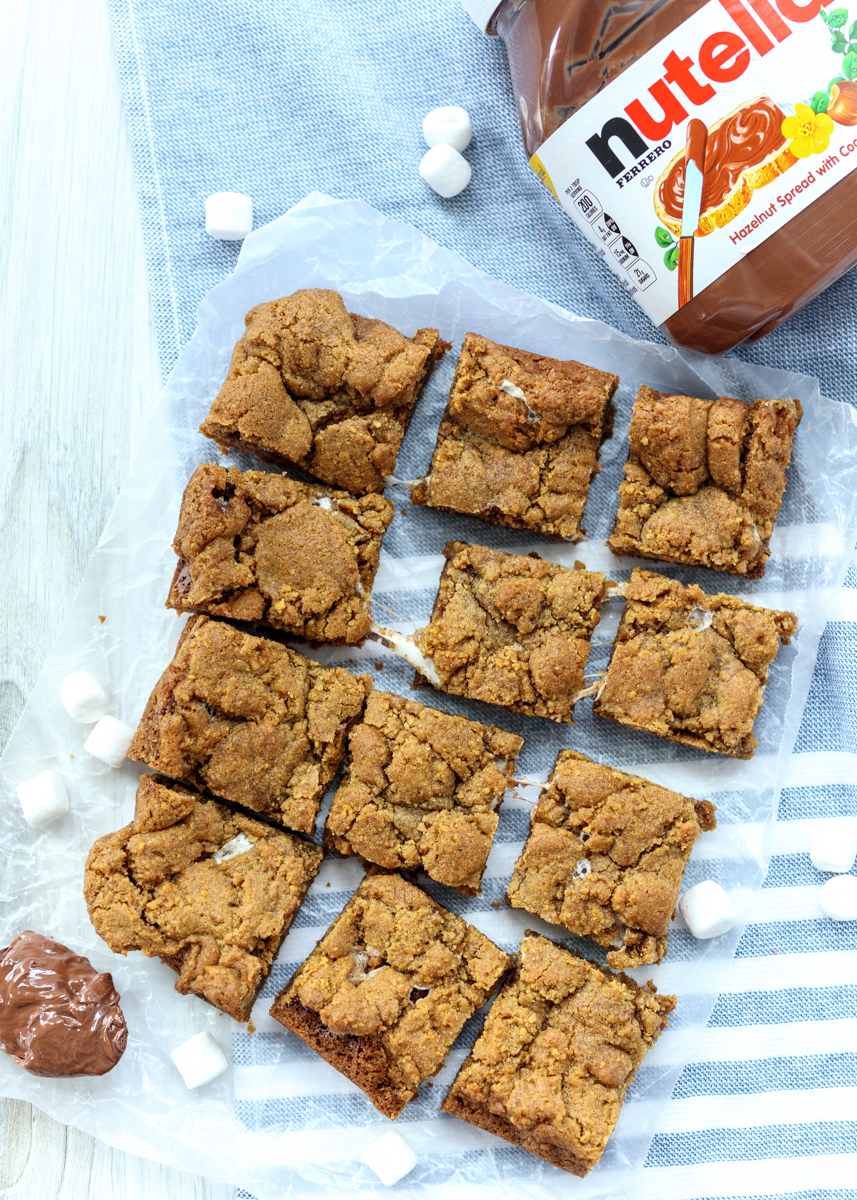 Nutella. S'mores. Bars. Yes, you read that correctly. Graham blondies, Nutella and melted marshmallows combine together for the ultimate on-the-go s'mores treat. Also, tomorrow is National S'mores Day. Not like you need another reason to make these Nutella S'mores Bars as soon as possible.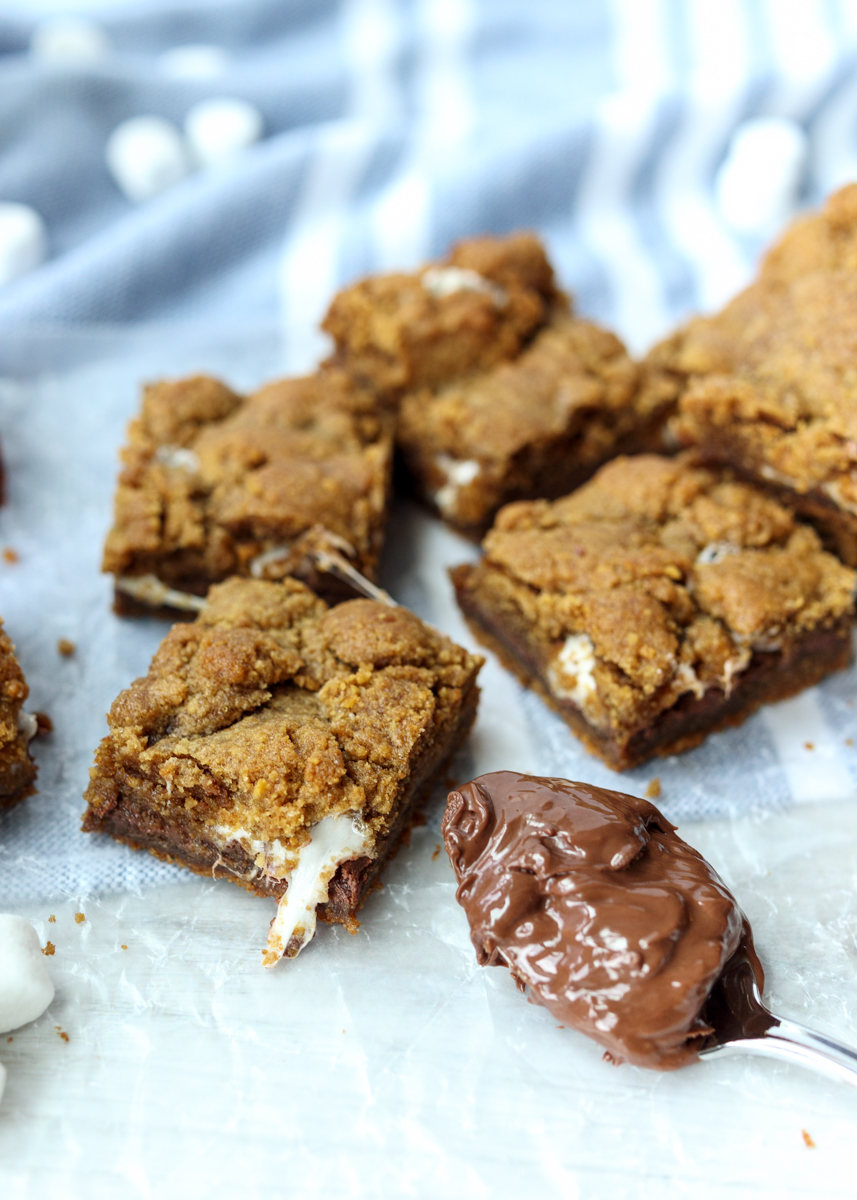 I made these bars for family visiting last summer and they were such a big hit that I look for any excuse to make them now. The graham blondie is made with all brown sugar so it's perfectly chewy. Layered on top of that is Nutella and then gooey marshmallows. The original recipe calls for marshmallow fluff and I've made them both ways. I personally prefer the mini marshmallows because it's easier to just sprinkle them all over the Nutella layer instead of trying to spread sticky fluff on top of Nutella.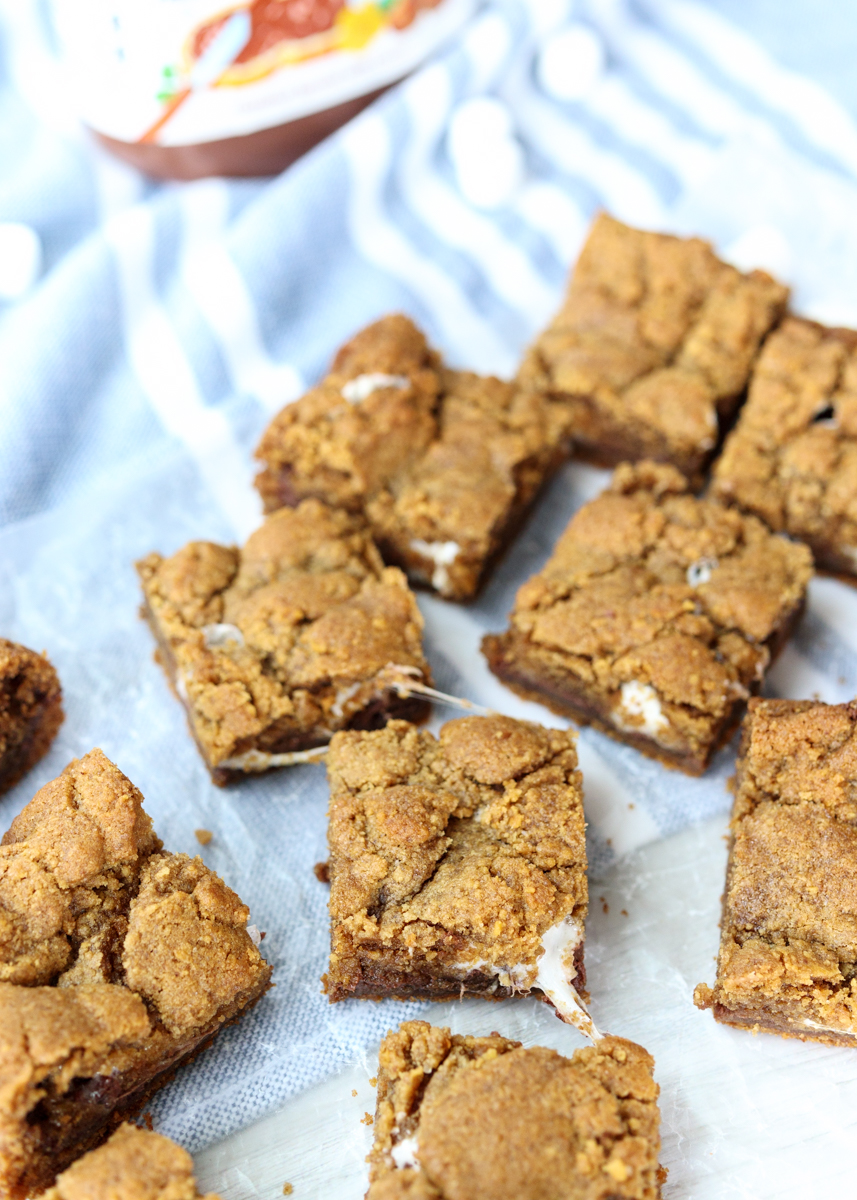 Speaking of the Nutella, if you wanted to make these, but someone has a nut allergy, there is a note in the recipe below for swapping it out with chocolate. If no one has a nut allergy then definitely load up on that creamy chocolate hazelnut spread!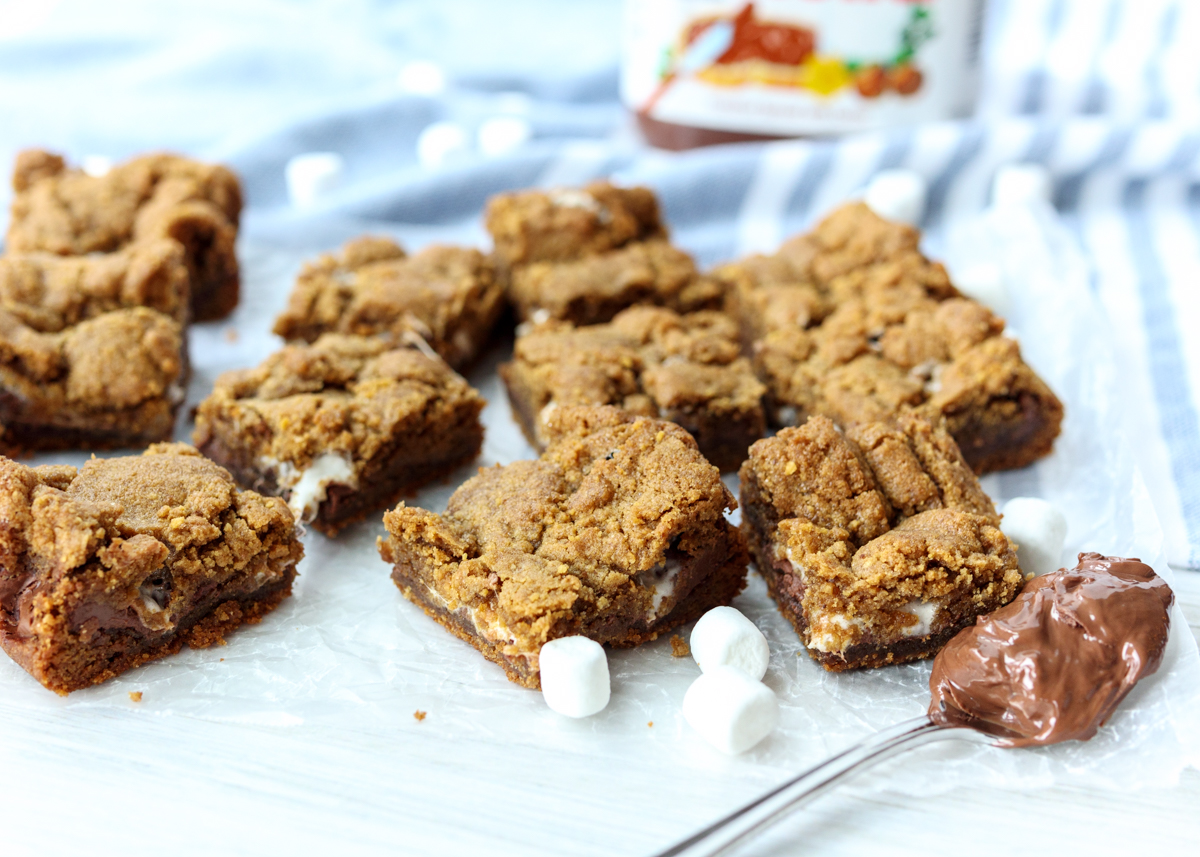 Finally, a second layer of the graham blondie gets put on top and it gets the slightest bit crunchy in the oven. Chewy, gooey and crunchy – yes, please!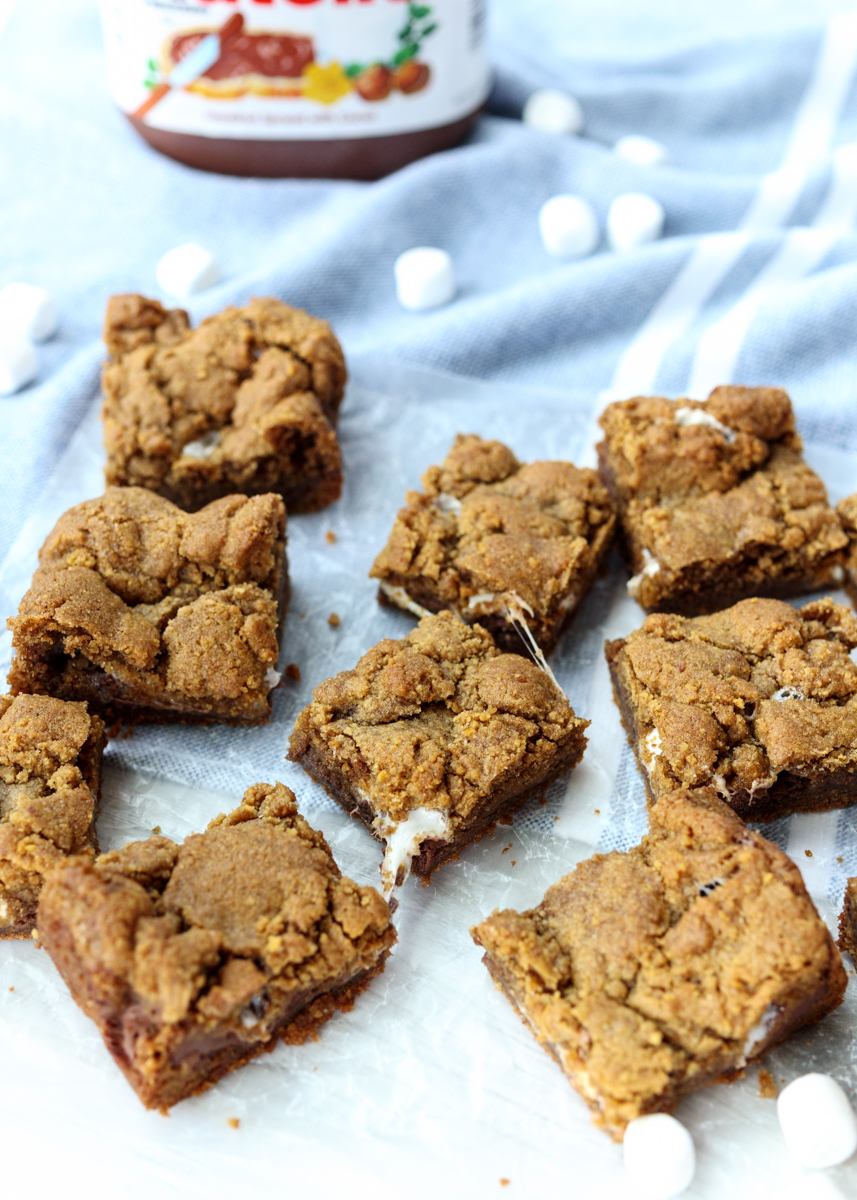 Not that you will have any leftover, but these bars do freeze well. I know this because Matt and I have tried putting some in the freezer to avoid eating them all right away, which has only ever resulted in us each eating them out of the freezer every single day after I've frozen them until they're gone. Hmm, I guess that trick doesn't work well for us, but at least now I know they taste fine after being frozen! I know you all will love these bars just as much as we do – enjoy!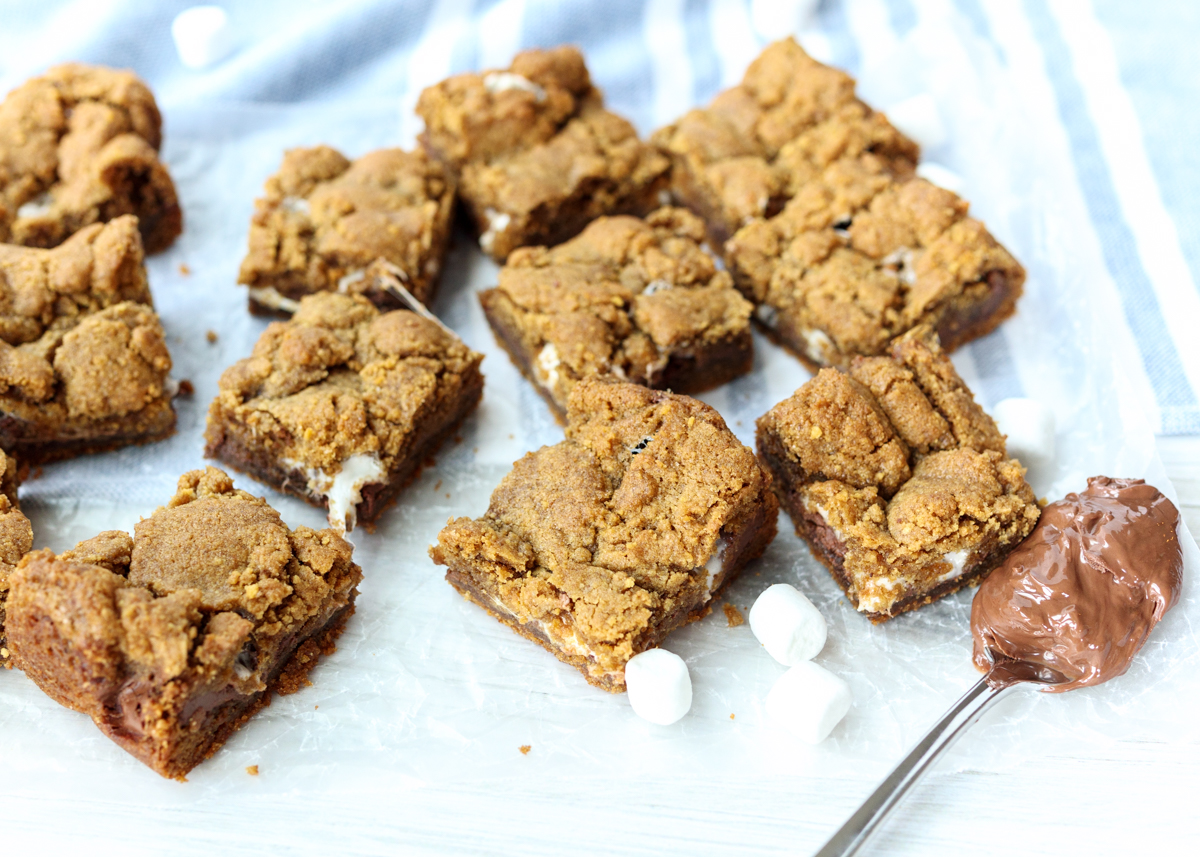 Nutella S'mores Bars
Ingredients
1½ cups graham cracker crumbs
¾ cup all-purpose flour
½ teaspoon baking soda
¼ teaspoon salt
½ cup (1 stick) unsalted butter, room temperature
1 cup brown sugar
2 teaspoons vanilla extract
1 egg
⅓ cup marshmallow fluff or 1½ cups mini marshmallows (enough to form a single layer)
⅓ cup Nutella (see note)
Directions
Preheat oven to 350 degrees F. Line a 8x8-inch pan with parchment paper and set aside. I find it easier to line if I crumple the parchment paper first.
In a medium mixing bowl, whisk together the graham cracker crumbs, flour, baking soda and salt.
In the bowl of a stand mixer or in a large bowl with a hand mixer, cream together the butter and brown sugar until fluffy, about 2 minutes. Add the vanilla and egg, beat until combined. Add the graham mixture and beat on low until just combined.
Spread out half the dough into the prepared baking sheet. Spread the Nutella on top of the dough then top with the fluff or mini marshmallows. Place pieces of the remaining dough on top, lightly pressing down, to form the top crust.
Bake for 20-25 minutes, or until golden brown. Let cool in the pan on a wire cooling rack. Cool completely before cutting.
Notes
If you have a nut allergy, you can substitute the Nutella with a single layer of chocolate chips or Hershey bar squares.
Recipe from

Buns in My Oven

.