Lemon Artichoke Shrimp Scampi in a Foil Packet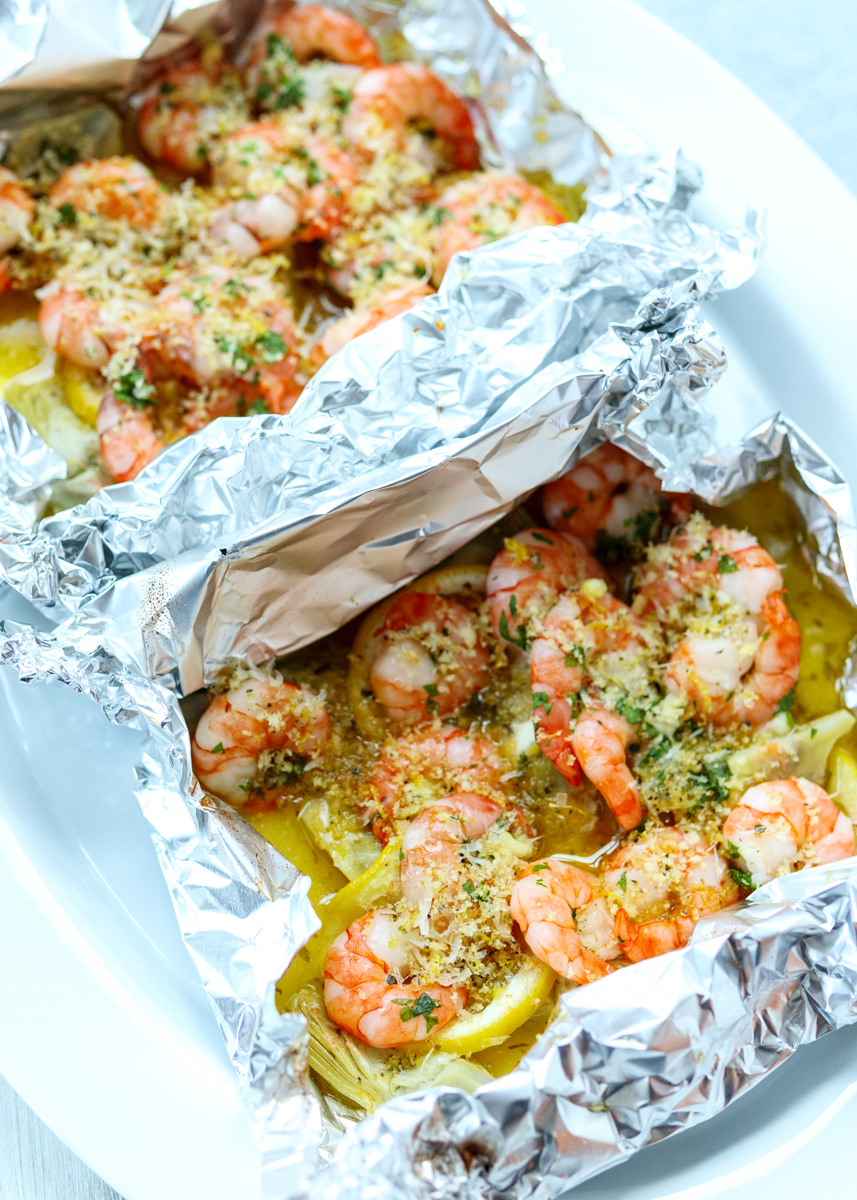 Remember when I said I had exciting dinner recipes to share with you all? Well get psyched to start cooking because this is one of those recipes! In fact it was so good that I bumped it way up in the schedule just so you could have access to it sooner. This Lemon Artichoke Shrimp Scampi in a Foil Packet is fresh, zesty, garlicky and just the right amount buttery.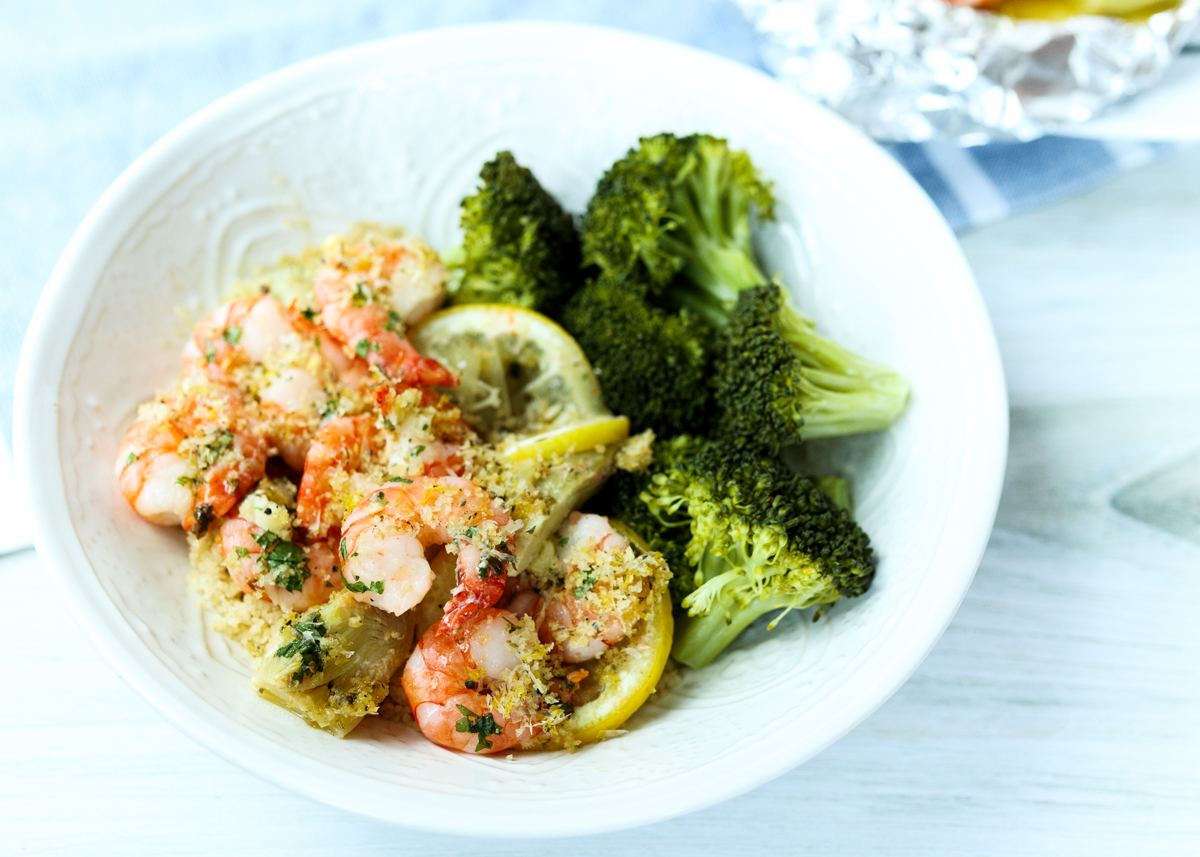 Like last week's Skillet Balsamic Peach Pork Chops with Feta and Basil, this dish is on the table in under thirty minutes making it perfect for weeknight mealtime. Also like last week's dinner recipe, it tastes gourmet enough for company. Even better is that all the cook time is either on your grill or in the oven giving you plenty of time to hang out with your guests or relax with your feet up and a glass of wine until dinner is ready!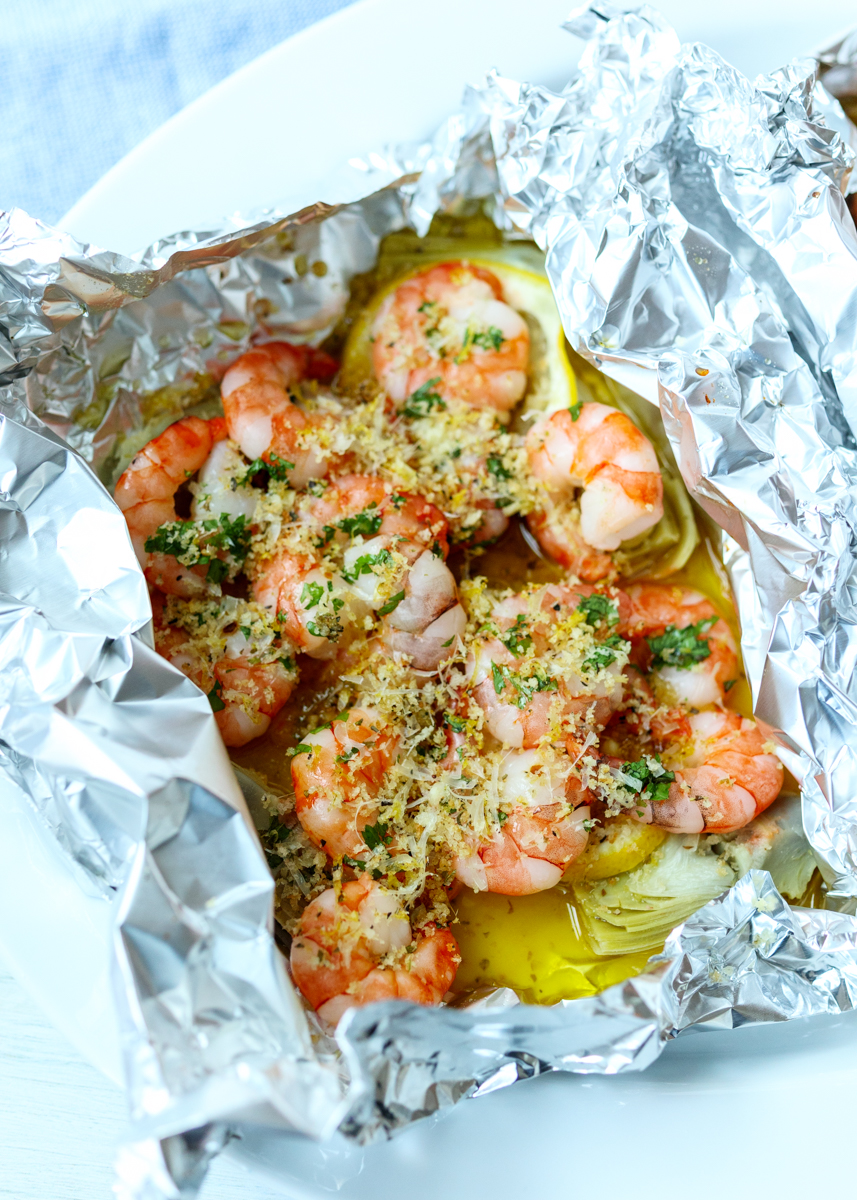 I pulled this recipe from one of my food binders. It was a random side-column weeknight recipe in an issue of the Food Network Magazine from a couple years ago. Normally I skip over these recipes, but I'm so glad I saved it! Never would I have thought it would be so delicious. Now I'm really motivated to continue cooking through my food binders to see what other hidden gems have been sitting in there for all these years!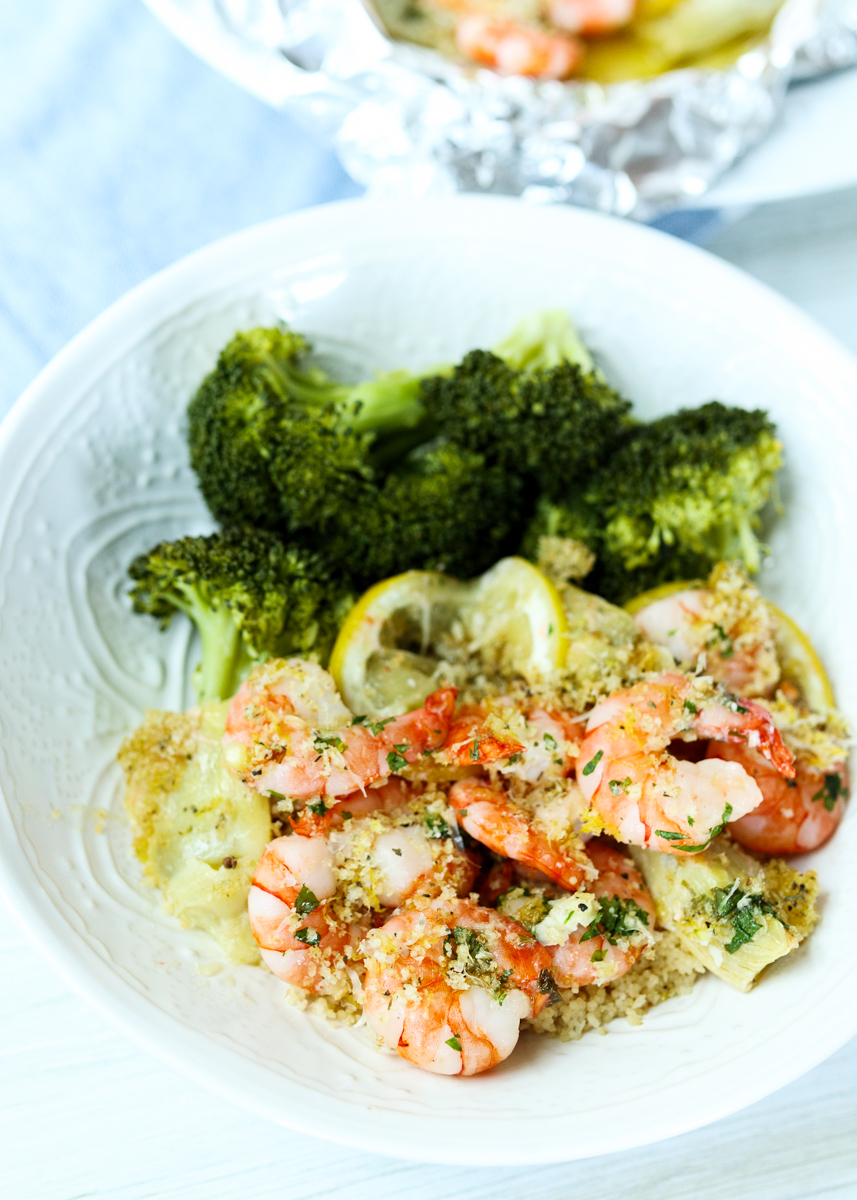 These foil packets have artichoke hearts, lemon slices and shrimp all layered together and cooked with garlic, oregano, fresh parsley, olive oil, white wine and a little butter. The best part is after they're cooked you top them with a crunchy breadcrumb mixture of toasted panko, Italian seasoning, lemon zest, grated Parmesan and more garlic. I served the shrimp over whole wheat cous cous, which is both super quick to make and soaked up all the extra lemony-butter sauce perfectly. I like serving extra veggies with dinner so I steamed some broccoli, too, but that definitely made the portions too big since the packets on their own are pretty shrimp-packed.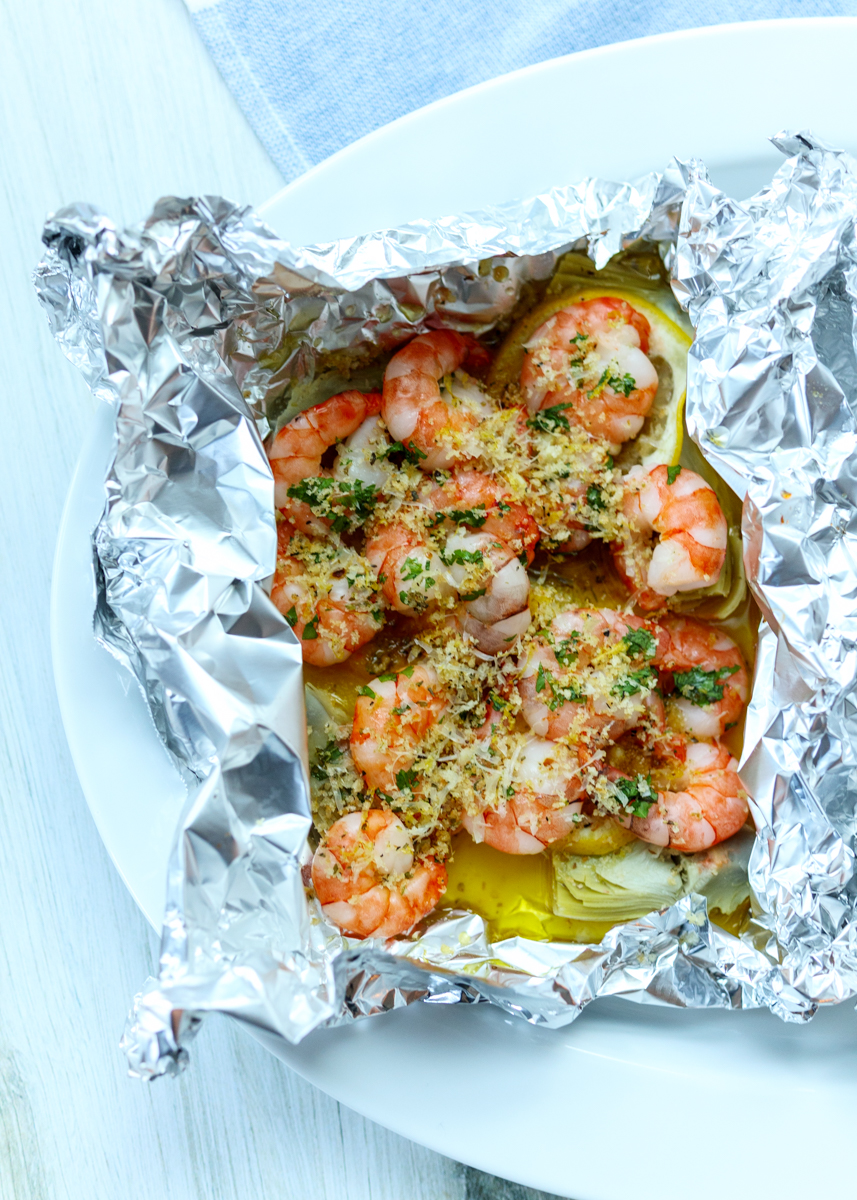 I made these foil packets in our big toaster oven so I included the oven instructions in the recipe below. If you're making them on the grill I included the instructions from the original recipe, although I have not tried these foil packets on the grill so I can't guarantee the recommended cook time. If you do make them on the grill just follow the instructions to check them after ten minutes to see if the shrimp are cooked through or not. I found in the oven the shrimp took longer than I thought to cook through, which is why I listed seventeen to twenty minutes for the oven cook time. I think it was because they were wrapped up in the packet so it took them longer than if they were just on a baking sheet directly exposed to the heating element. Also, I found the shrimp in the middle of the packet, which means they were under the thickest, folded part of the foil, were the shrimp that were taking the longest to cook. I hope you all try this one soon!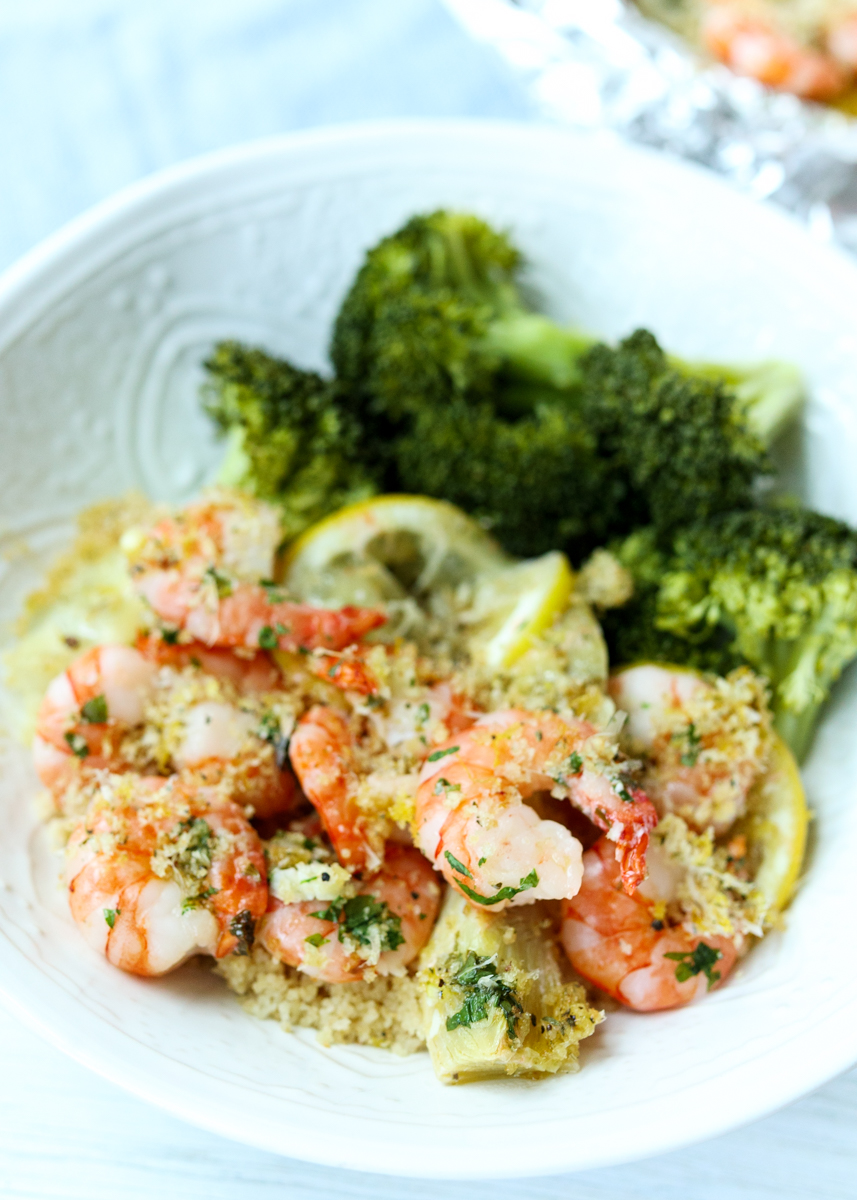 Lemon Artichoke Shrimp Scampi in a Foil Packet
Ingredients
2 tablespoons plus 1 teaspoon extra-virgin olive oil, divided
2 tablespoons panko breadcrumbs
1 teaspoon Italian seasoning
1 teaspoon lemon zest, plus ½ lemon, thinly sliced
2 cloves garlic (1½ cloves minced, ½ clove grated)
2 tablespoons grated Parmesan cheese, plus more for topping
4-5 ounces frozen quartered artichoke hearts, thawed
¼ teaspoon dried oregano
2 tablespoons unsalted butter
¾ pounds large peeled and deveined shrimp
⅛ teaspoon red pepper flakes
2 tablespoons chopped fresh parsley
¼ cup dry white wine
Salt
Directions
If using the grill, preheat to medium-high. If using the oven, preheat to 400 degrees F.
Heat the 1 teaspoon of olive oil in a small skillet over medium heat. Add the panko breadcrumbs and cook until toasted and golden, stirring frequently. Remove from the heat and put the toasted panko in a small mixing bowl. Add the Italian seasoning, lemon zest, grated garlic and Parmesan cheese. Set aside.
Tear off 2 sheets of aluminum foil large enough to fully enclose a single layer of half the shrimp. Divide the artichoke hearts between the 2 foil sheets. Season with a little salt and divide the dried oregano between the 2 foil sheets. Place the lemon slices over top then add 1 tablespoon of butter to each packet. Season the shrimp with salt and then divide between the 2 packets, placing on top of the lemon slices and artichokes. Season with the red pepper flakes, fresh parsley and minced garlic. Drizzle with the dry white wine and the remaining 2 tablespoons of olive oil, divided between the two packets. Fold in the sides of the foil packets then bring the other 2 ends together to fold over and completely seal. There should be a little room left in the packet for heat to circulate.
If grilling, grill until the shrimp are just cooked through, about 10 minutes. If baking, cook in the oven until the shrimp are just cooked through, about 17-20 minutes. Carefully open the packets and sprinkle with the panko mixture before serving.
Notes
If you would prefer to use canned quartered artichoke hearts simply rinse and drain well.
 Recipe from July/August 2017 issue of Food Network Magazine
.
Some of the links above are affiliate links, which means I may receive a small commission for my referral. This does not affect the retail cost of the item. Thank you for supporting Lemon & Mocha!