Mediterranean Salad with Roasted Red Pepper Vinaigrette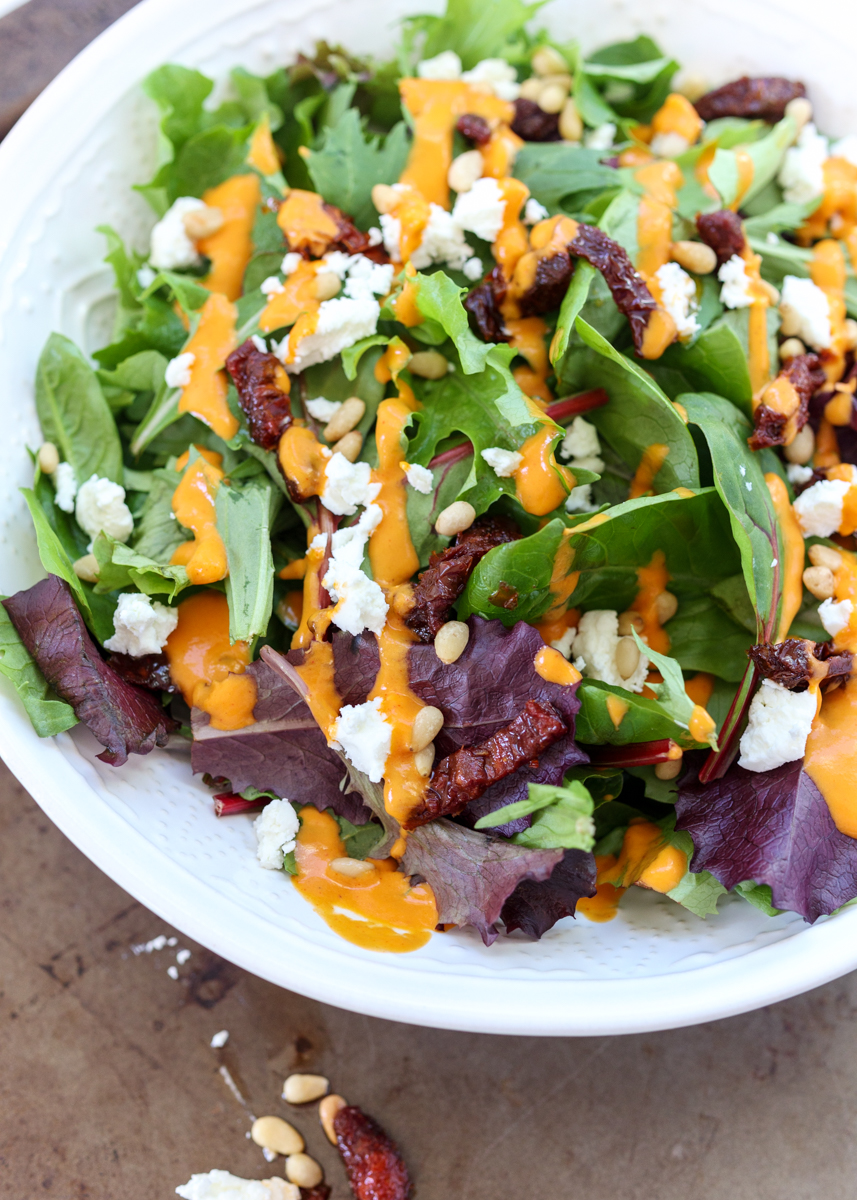 I only post salads when I'm obsessed and this is definitely one of those times. This Mediterranean salad has mixed greens, toasted pine nuts, goat cheese, sun-dried tomatoes and a creamy and tangy roasted red pepper vinaigrette. It sounds so simple, but the combination will make you start craving cold salad in the middle of February.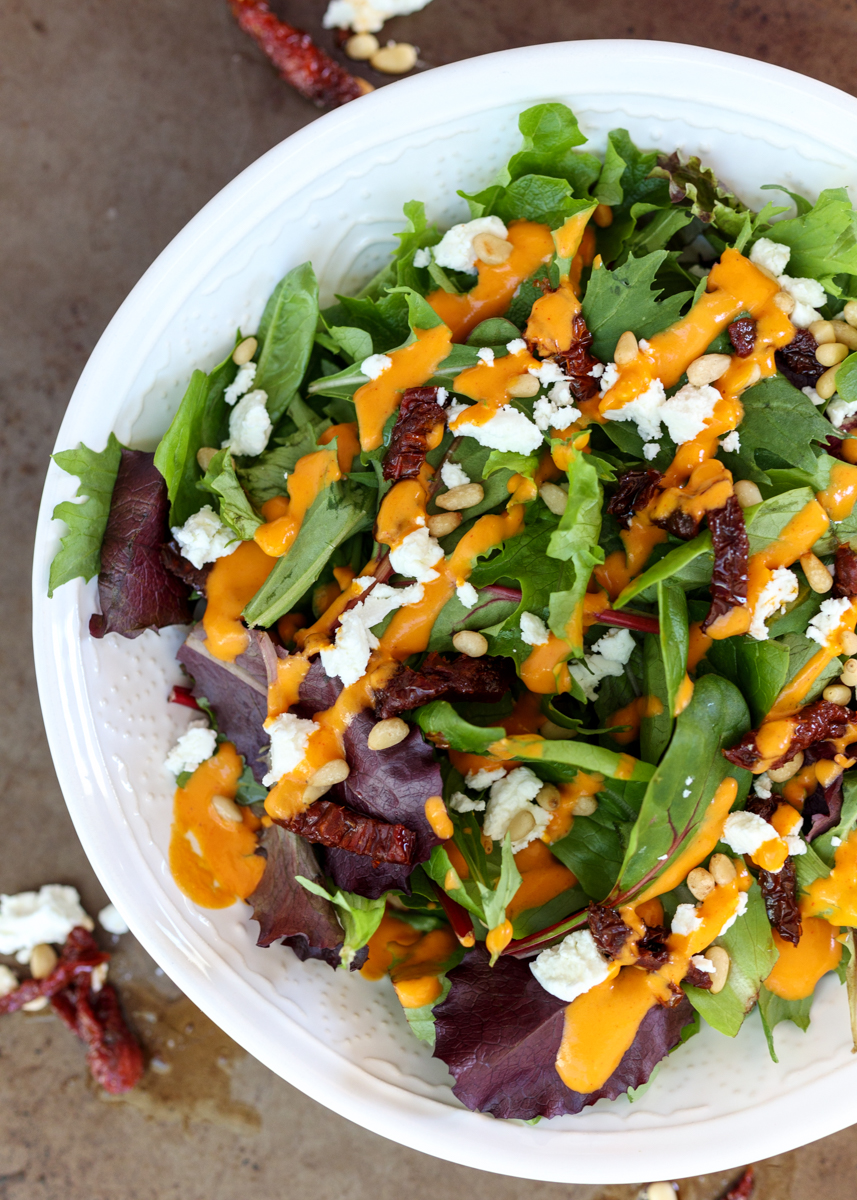 The inspiration for this salad came all the way from a restaurant in Colorado. Matt and I just got back from spending an awesome week skiing out in Colorado with my parents and brother! As I've mentioned before, my brother lives in Colorado so it's the perfect place for a family reunion vacation during the wintertime. While we were out there we got a ton of fresh snow, raced each other down the mountain and of course ate plenty of good food. One of my favorite dishes from a restaurant we typically go to is this Mediterranean Salad with Roasted Red Pepper Vinaigrette.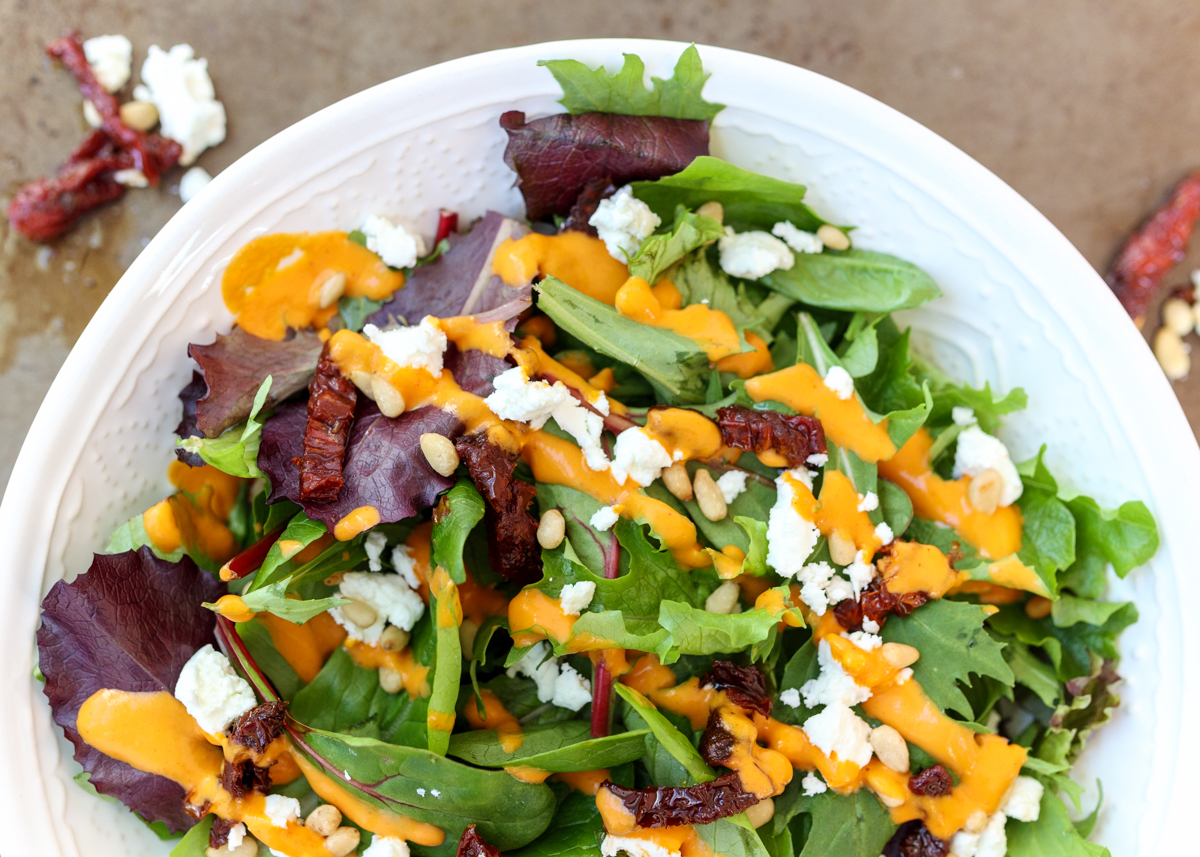 I started thinking about it the weeks before our vacation was going to start and decided that since it's so simple I should just try to recreate it myself. I'm not quite sure why I waited so many years to do this, but I'm so glad I did! There's something magical about the crispy and nutty pine nuts with the creamy goat cheese and the rich sun-dried tomatoes. Side note: I wrote this in the recipe, but make sure you use the sun-dried tomatoes that come in a jar packed in oil, not the ones that come in a bag.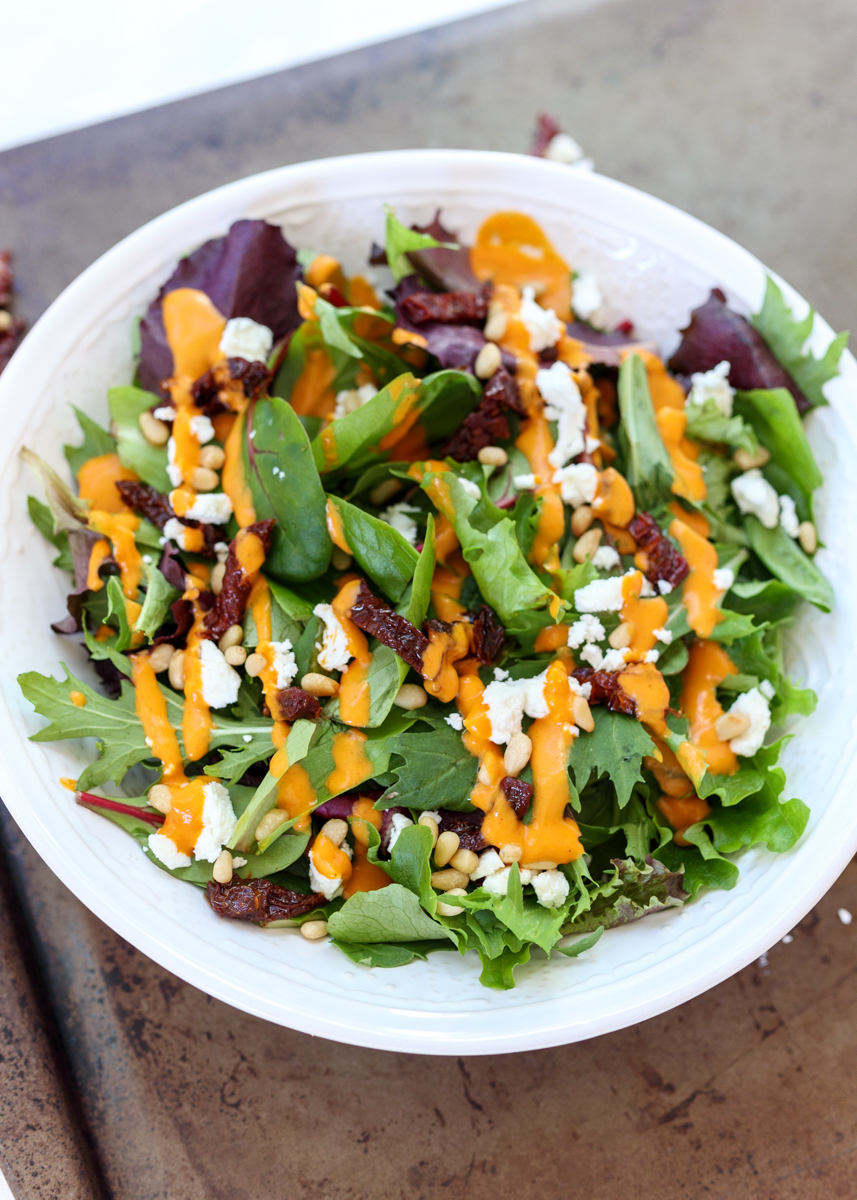 The roasted red pepper dressing is just five ingredients, but it takes the salad to a whole new delicious level. A roasted red pepper, olive oil, red wine vinegar, smoked paprika and salt to taste get pureed in a high-speed blender until smooth and creamy. The dressing adds to the tanginess of the sun-dried tomatoes and gives the whole salad a zing that balances the goat cheese. We actually didn't go to that restaurant this past week as this salad is the only standout dish from there, but I don't even mind because now I can make it for myself whenever I want! Yum!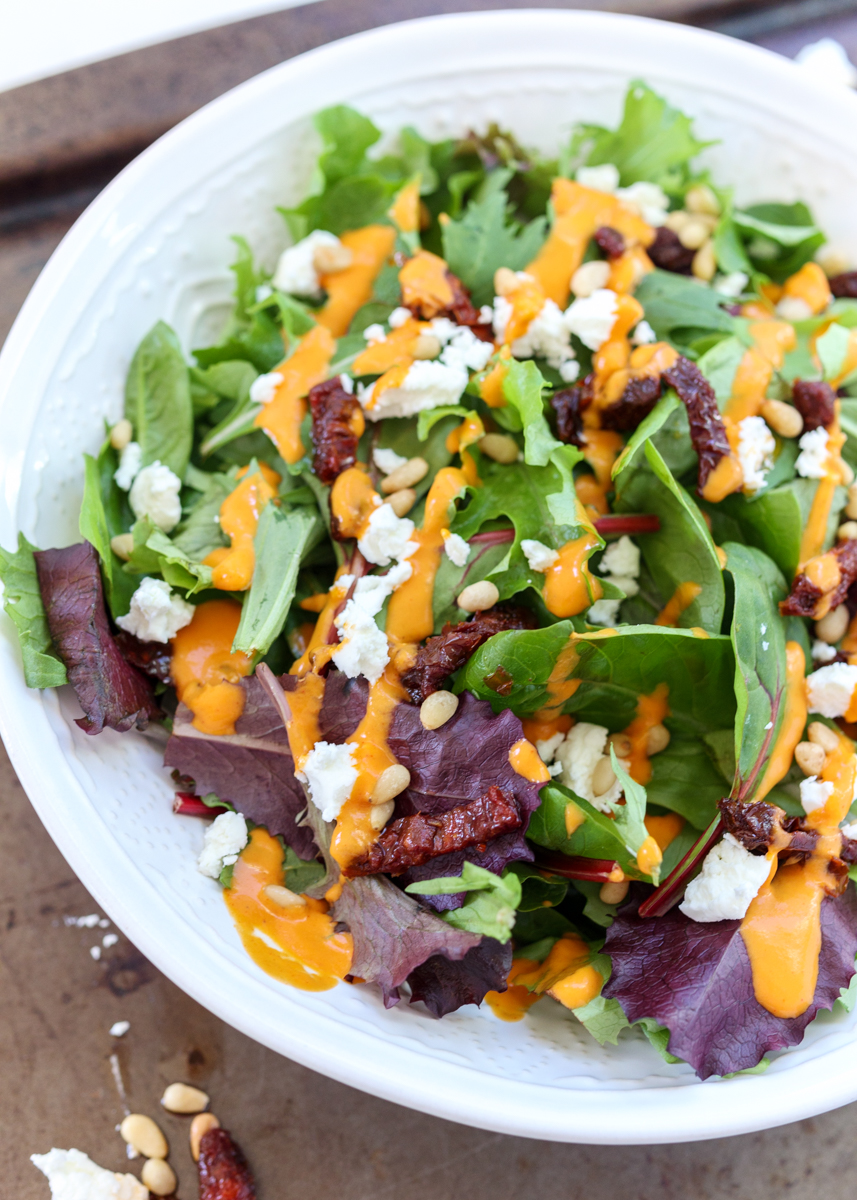 Mediterranean Salad with Roasted Red Pepper Vinaigrette
Ingredients
1 red pepper
¼ cup olive oil
1½ tablespoons red wine vinegar
½ teaspoon smoked paprika
8 cups spring mix salad greens
¼ cup toasted pine nuts
½ cup sun-dried tomatoes (from the jar/oil-packed), julienned
2 ounces goat cheese, plus more if desired
Salt and ground black pepper
Directions
Roast the red pepper. Preheat the oven to 400 degrees F. Spray a baking sheet or aluminum foil covered baking sheet with nonstick cooking spray. Wash and dry the red pepper then place on the baking sheet. Bake 20 minutes, flip the pepper over then bake for 20 more minutes. When the pepper is cool enough to handle, remove and discard the skin, stem and seeds.
Make the dressing. Add the roasted red pepper, olive oil, red wine vinegar and smoked paprika to a high-speed blender. Blend until smooth then season with salt and pepper to taste.
In a large mixing bowl or salad bowl, toss the salad greens with the pine nuts and the julienned sun-dried tomatoes. Add your preferred amount of the roasted red pepper dressing and toss. Crumble the goat cheese over top and serve.