Baked Barbecue Chicken Egg Rolls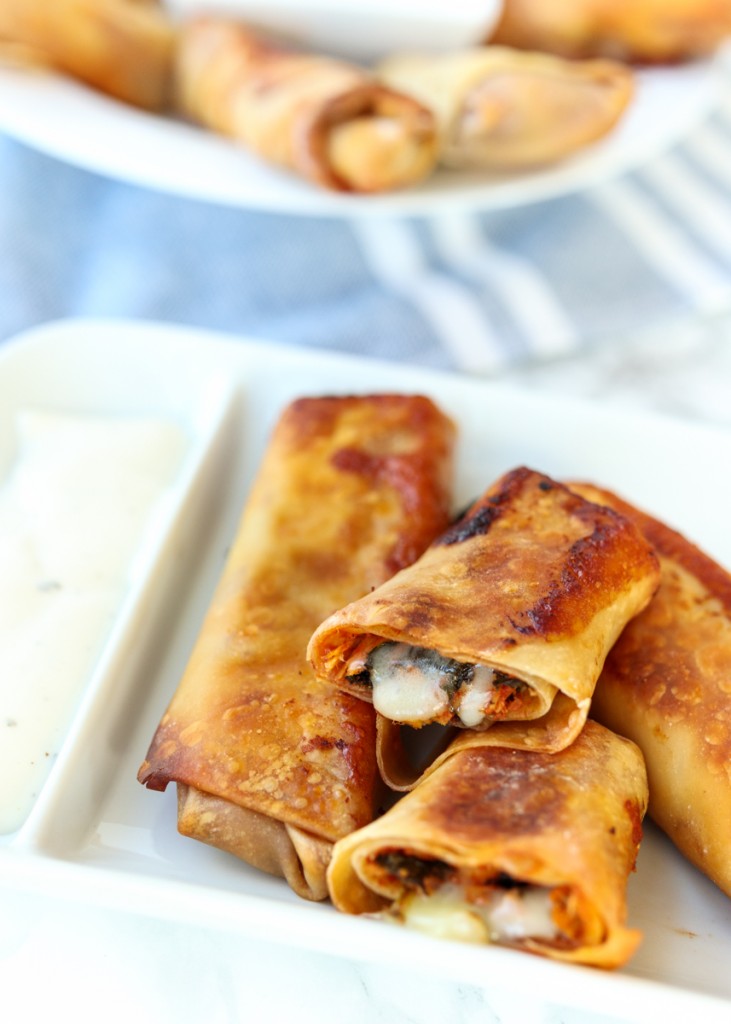 Every week for the last couple months I've been saying to Matt, "Listen to all the awesome recipes I have coming up in January!" and then I make him listen to me read them all for the bajillionth time because I'm just so excited about them. Yes, the last couple months because I'm a planner so I've had these in the works for quite some time. All the recipes I'm posting this month are indicative of how Matt and I eat when we're at home. Sure, we have the occasional pasta night or indulgent meal, but recipes like the Sheet Pan Honey Mustard Roasted Salmon and Broccoli and today's Baked Barbecue Chicken Egg Rolls are how we eat 90% of the time we're home.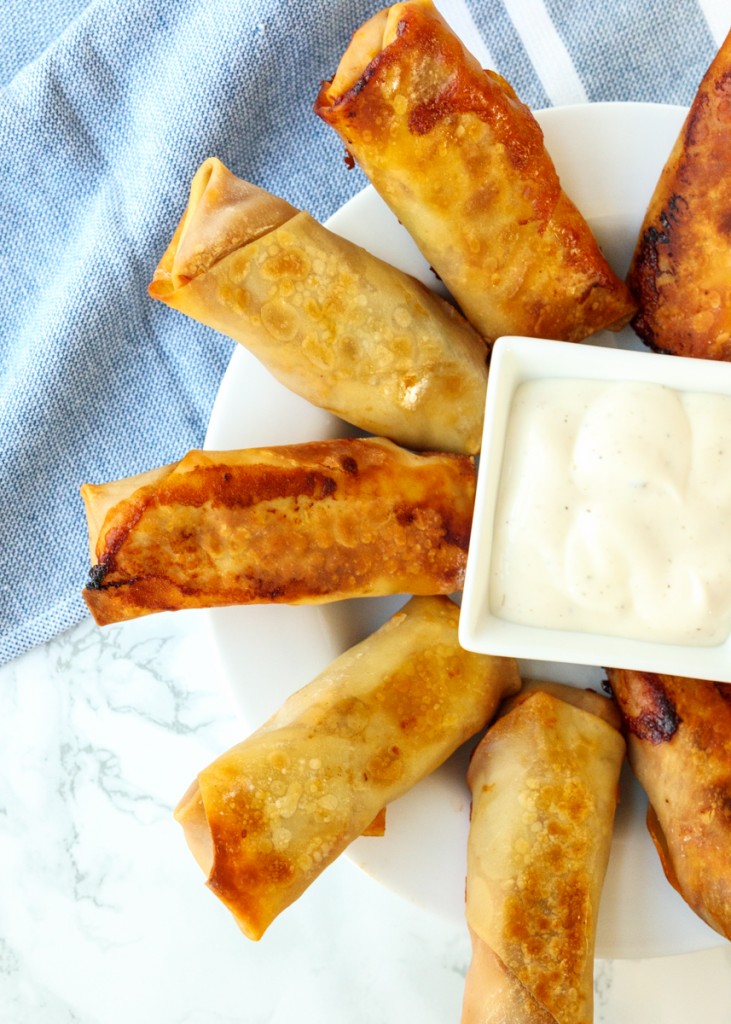 Even though I keep talking about healthy meals and posting healthy recipes in January, we don't really look at them as health food. To us they're just really delicious meals we love that happen to be good for us, too. My excitement stems from finally sharing all these recipes that have been made over and over in our kitchen last year; whether we make them once a month or whether I just came up with it and made it four times in a row because we got hooked. These Baked Barbecue Chicken Egg Rolls fall into the latter category.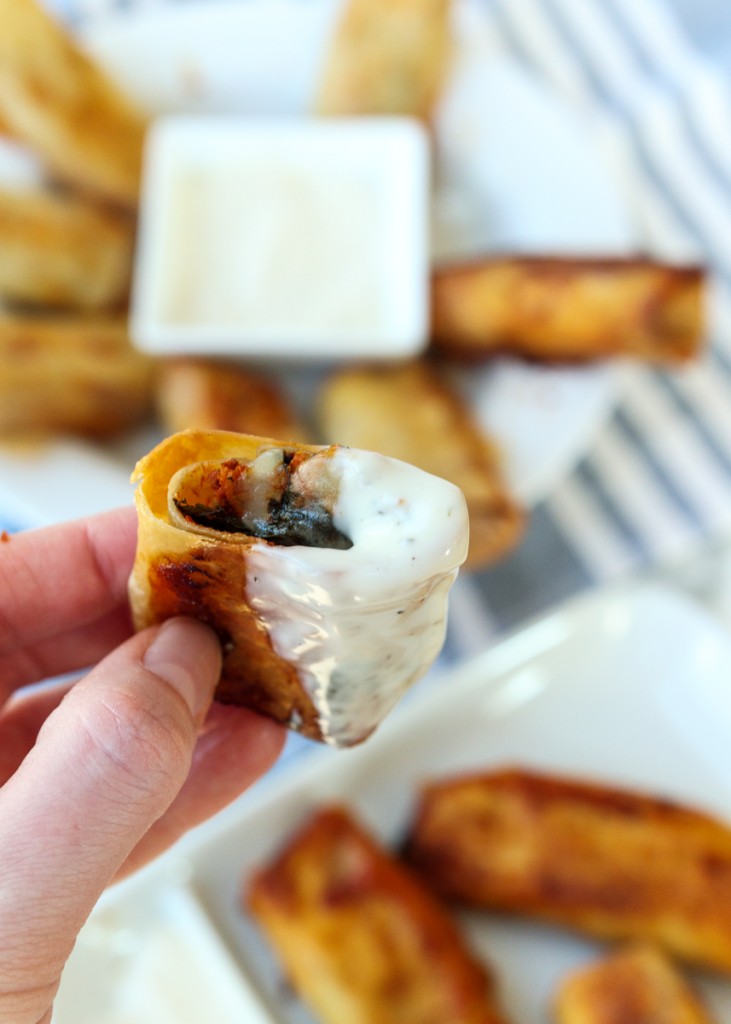 I had this idea to combine two of our favorite new meals from last year: the Barbecue Chicken Stuffed Sweet Potatoes and the Southwest Turkey Baked Egg Rolls. Shredded cooked chicken gets tossed in barbecue sauce (I recommend my homemade refined sugar free recipe, which I've posted in the recipe below) and some chopped steamed spinach before being rolled up in the egg roll wrappers with some sharp cheddar cheese. They only take 16 minutes to bake and the outside gets really crispy, while the cheese inside gets gooey. I'm literally drooling as I'm typing this – sorry folks!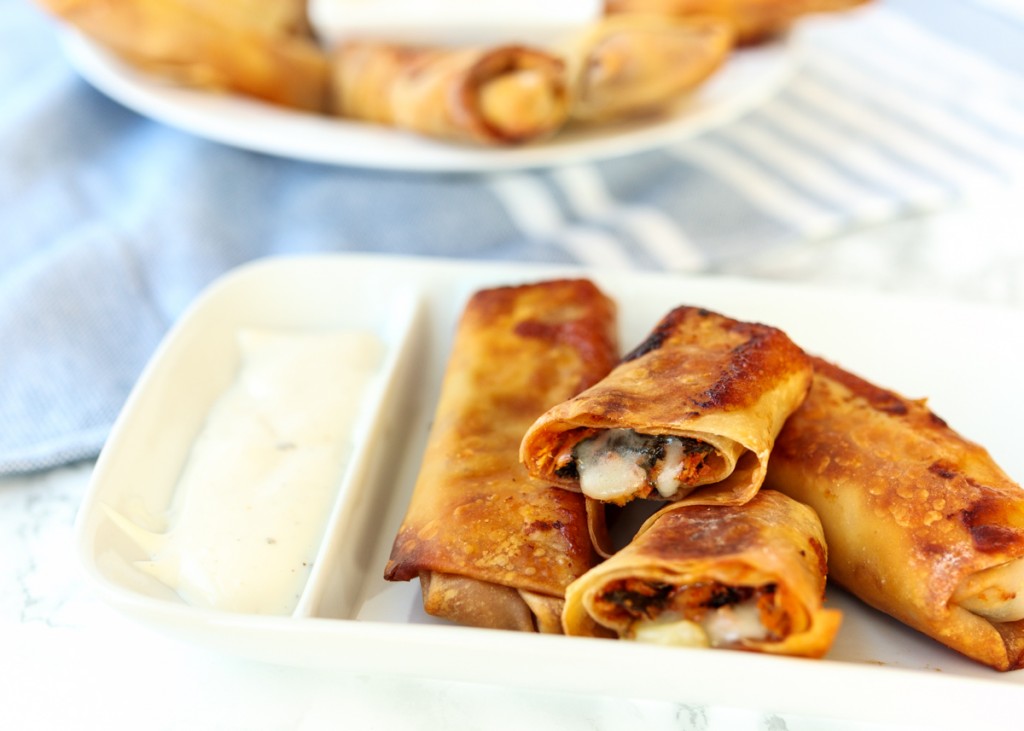 Matt loves barbecue sauce so he proclaimed that he likes these even more than the Southwest Turkey Baked Egg Rolls. I don't think I could choose because it depends on what I'm in the mood for, but these definitely win in their simplicity of the filling. Another reason we've had these egg rolls so much recently is because they freeze so well. We're big fans of freezing meals so we have something quick instead of succumbing to takeout and I freeze these after they've been baked and cooled. To reheat, I just put them on the toast setting of our Breville Smart Oven or you could bake them at 375 degrees F for ten minutes.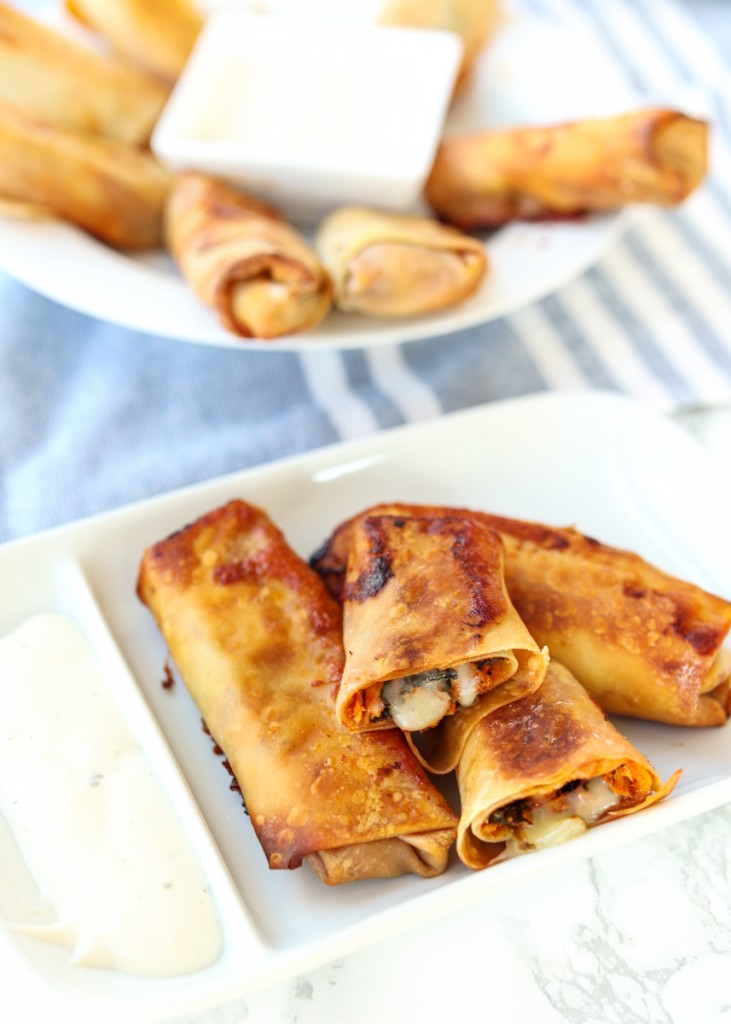 I love having ranch dressing with barbecue sauce so I was excited to see so many healthier ranch dressings made with Greek yogurt at the grocery store! I got one from Hidden Valley Ranch and it's so good with these egg rolls, but with way less calories and fat. I hope you all try these soon!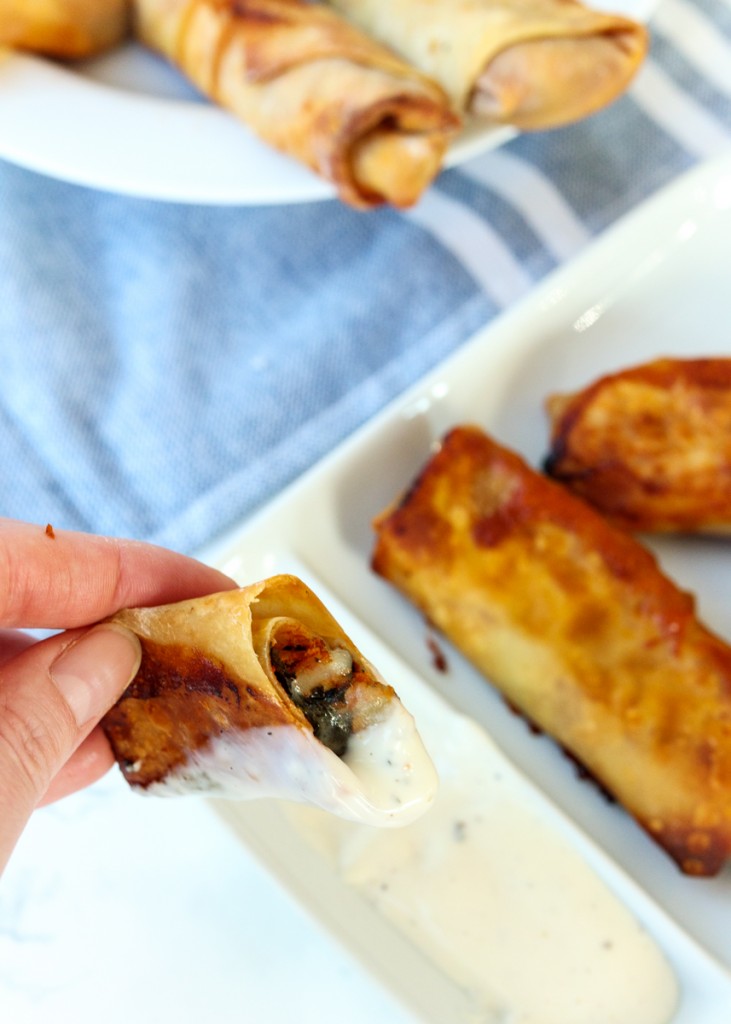 Baked Barbecue Chicken Egg Rolls
Yield:
7 servings (3 rolls per serving)
Ingredients
for the egg rolls
1 pound boneless skinless chicken breasts, cooked and shredded
1¼ cups barbecue sauce
½ cup steamed and strained spinach
3 tablespoons chopped red onion
21 egg roll wrappers, see note
1¼ cups shredded sharp cheddar cheese
Greek yogurt ranch dressing, for dipping
for the barbecue sauce
1 small can tomato paste, about 6 ounces
1 cup water
2 tablespoons apple cider vinegar
4 teaspoons molasses
4 teaspoons Worcestershire sauce
4 teaspoons maple syrup
2 teaspoons dijon mustard
1 teaspoon onion powder
1 teaspoon garlic powder
½ teaspoon paprika
¼ teaspoon salt
¼ teaspoon ground black pepper
Directions
for the egg rolls
Preheat the oven to 400 degrees F. Line a baking sheet with nonstick aluminum foil or coat with cooking spray and set aside.
In a medium bowl, combine the shredded chicken, barbecue sauce, spinach and red onion until fully coated.
Before filling the egg roll wrappers, make sure you have a little bowl or cup of warm water and a clean work surface. Place the egg roll wrapper down so that a corner is facing you. Scoop 3 tablespoons of the chicken mixture and place it near the bottom corner of the wrapper. I like to adjust the mixture so it's more of a log shape then a big mound. Place a tablespoon of the shredded cheese on top. Take the bottom corner of the wrapper and fold it up and over the mixture so it's completely covering it then continue to roll it one more time. Fold in the left and right corners so they create a little envelope then continue to roll it until it's 1 roll away from the top corner. Wet your finger with the water and use it to moisten the whole exposed top corner. Fold the corner down to close up and seal the roll. Place it on the baking sheet. Repeat for the remaining rolls then coat all the rolls with cooking spray.
Bake the rolls for 8 minutes, then flip them over and bake for another 8 minutes. They should be crispy and golden brown. Serve warm with the ranch dressing.
for the barbecue sauce
Combine all the ingredients in a small saucepan. Bring to a boil then reduce to low heat, cover and simmer for 15 minutes, stirring occasionally. Remove from the heat.
Notes
I use Nasoya egg rolls wrappers. In Whole Foods I find them in the refrigerated section near the hummus and guacamole. In Wegmans I find them in the refrigerated section near the tofu and blocks of cheese.
Some of the links above are affiliate links, which means I may receive a small commission for my referral if you purchase something. This does not affect the retail cost of the item. Thank you for supporting Lemon & Mocha!