Raspberry Peach Turnovers with a Fresh Raspberry Glaze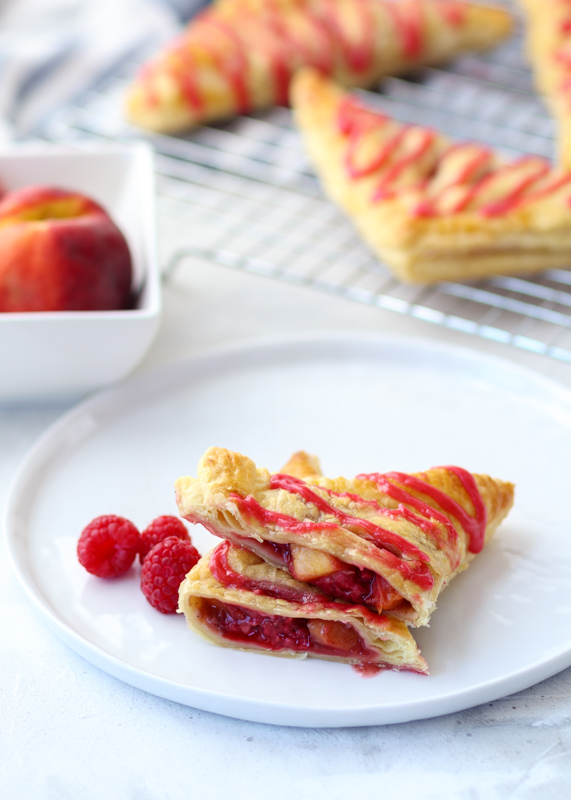 I have a huge dessert obsession, except when it comes to fruit pies. I love key lime pie, pumpkin pie, pecan pie and definitely ice cream pie, but I'm fairly indifferent when it comes to fruit pies. Matt, on the other hand, has a huge fruit pie obsession, specifically cherry pie. Usually if there's a fruit pie I might take a bite, but that will be the extent of it. However, a few years ago, Matt's parents came to visit and brought a Raspberry Peach Pie from an orchard near their house. Raspberry is one of Matt's favorite fruits, but it definitely isn't mine. I figured I would try a bite and that would be the end of it. Instead, I couldn't stop eating the Raspberry Peach Pie! The tartness of the raspberries mixed with the rich sweetness of the in-season peaches had me hooked.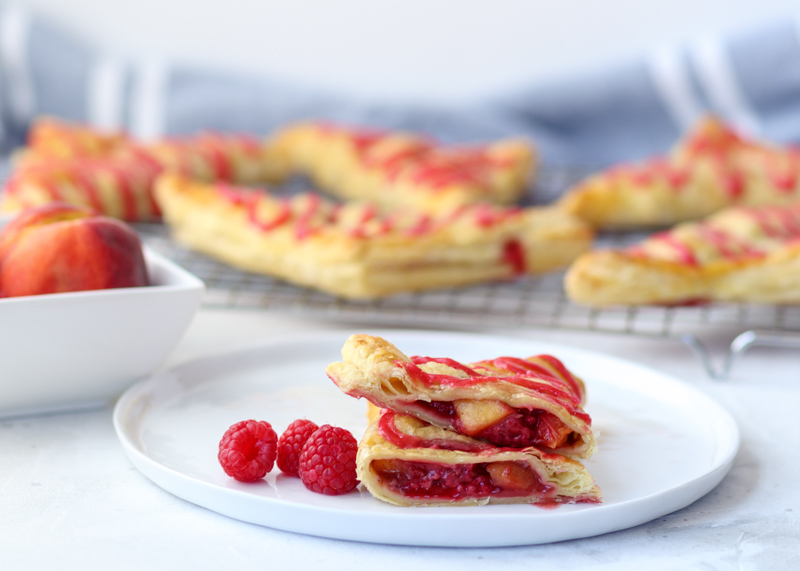 I've been wanting to recreate that pie for years, but I haven't been adventurous enough in the kitchen with pie making. I've also been all about simple recipes this summer so I brainstormed how I could still get that same mouthwatering combination in an easier manner than test-baking pies all summer. The answer was easy – Raspberry and Peach Turnovers! I love working with store-bought puff pastry because it's ready to use as soon as you thaw it. If you've never bought puff pastry before you can find it in the freezer section of your grocery store, usually near the other frozen desserts and fruit.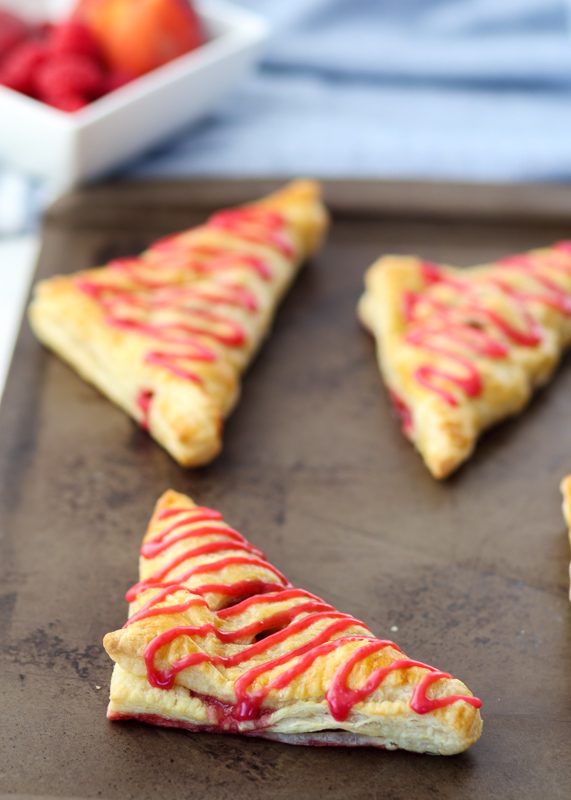 Peaches are in peak season right now and I've been getting some super sweet and juicy ones at the store. I tossed the fresh peaches with raspberries, cinnamon and a little brown sugar for some added sweetness. The fruit mixture gets stuffed in the puff pastry before being topped with an egg wash and baked until golden brown. The heat of the oven reduced the raspberries to an almost jam-like texture in the turnovers, which paired really well with the sweet peaches and cinnamon flavoring. Pie crust is good, but for me, puff pastry takes the cake pie. It's light, flaky and definitely buttery.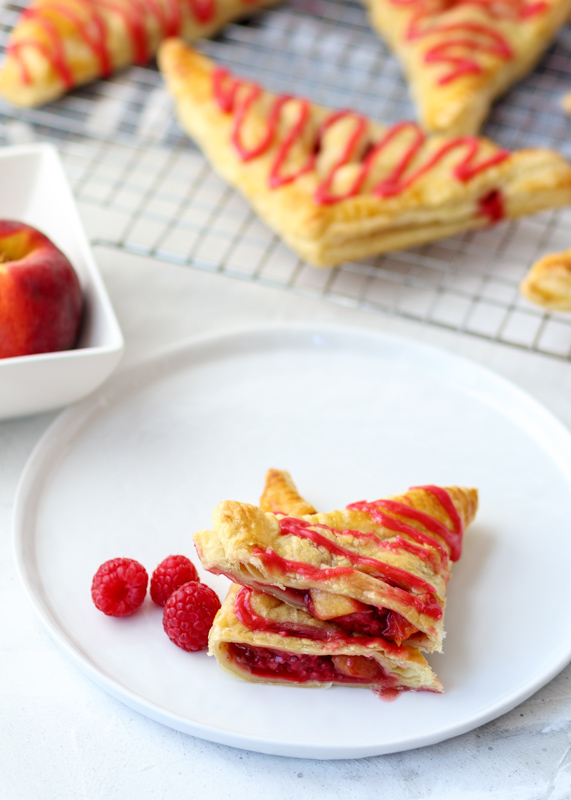 Since the Raspberry Peach Turnovers are so simple on their own I decided to give them a little something extra. You could top them with powdered sugar OR you could drizzle them with this easy fresh raspberry glaze. Look how pretty the glaze looks on the turnovers! The glaze also helps bring in some additional raspberry flavoring and sweetness. Don't be shy with the glaze; after I took these photos I smothered the turnovers with all the rest of the glaze!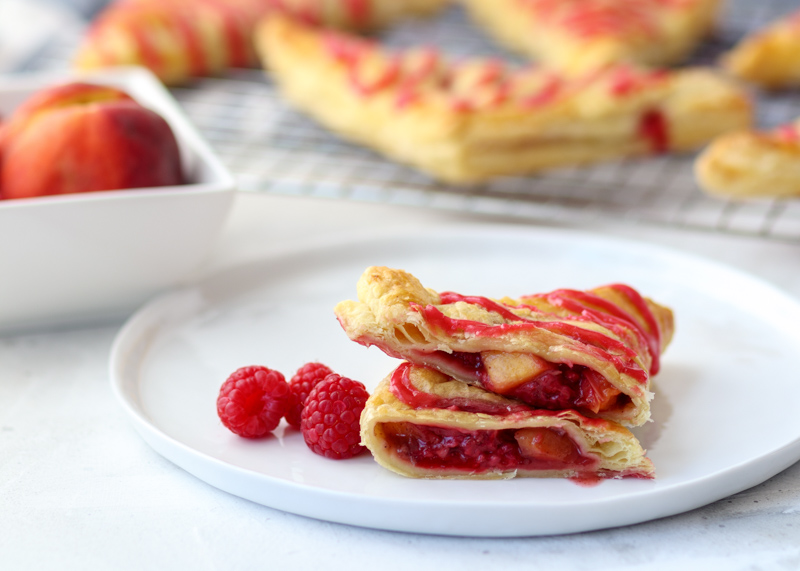 One bite of these turnovers brought me right back to that raspberry peach pie, but I love how easy then puff pastry turnovers are. These are perfect to make for a brunch treat, a fruity dessert or simply because you have fresh raspberries and peaches to use. The bulk of the turnover is the fruit so make sure your fruit is ripe and bursting with fresh summer flavor!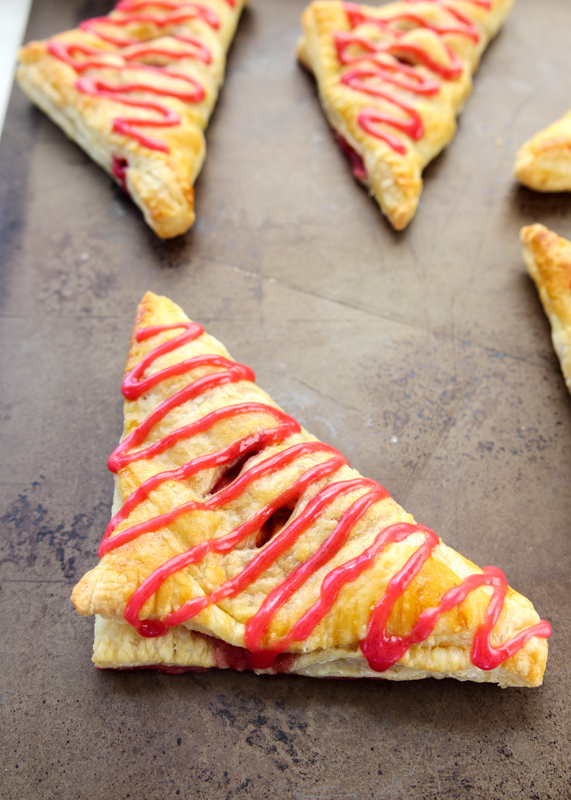 Raspberry Peach Turnovers with a Fresh Raspberry Glaze
Ingredients
for the pastries
1 package frozen puff pastry (2 sheets - 17.3 ounce package), thawed according to manufacturer's instructions (see note)
1 cup fresh raspberries
2 cups diced ripe peaches, skin on
¼ teaspoon ground cinnamon
1½ tablespoons brown sugar
1 egg
for the glaze
⅔ cup fresh raspberries
1 ½ tablespoons water
1 tablespoon sugar
1 teaspoon lemon juice
½ teaspoon vanilla extract
¾ cup powdered sugar
1 tablespoon milk
Directions
for the pastries
Preheat the oven to 400 degrees F. Line a baking sheet with parchment paper or coat with nonstick spray and set aside.
In a medium bowl, combine the raspberries, diced peaches, cinnamon and brown sugar.
Roll each sheet of puff pastry into a 12" square. Divide each 12" square into 4 squares.
Scoop some raspberry and peach filling onto the center of each puff pastry square. I found about ⅓ cup was the perfect amount for not over-filling them. Fold one corner of the puff pastry square to the opposite corner to make a triangle. Press the edges together with your fingers and then press down with a fork to seal the turnover. Cut a couple slits in the top of the turnover so it doesn't puff up too much while it is baking. Repeat for the remaining turnovers.
Beat the egg with a teaspoon of water then brush over the tops of the turnovers. Bake for 14-16 minutes, or until they are golden brown. Let cool before topping with the glaze.
for the glaze
Combine the raspberries, water, sugar and lemon juice in a small saucepan over medium heat. Cook for about 10 minutes, stirring and mashing the raspberries frequently. Remove from the heat and stir in the vanilla extract. Strain over a fine mesh colander into a bowl to remove the seeds then let cool. Once cool, whisk in the powdered sugar and milk. If your glaze is too thick, add some more milk. If your glaze is too thin, add some more powdered sugar. Drizzle over the cooled turnovers.
Notes
You want to try to touch and work with the puff pastry the least amount of time possible because touching it makes the pastry warm, which means less of a rise during the baking. I leave the second roll of puff pastry in the fridge until I'm done working with the first one.
The amount of brown sugar you want to use may depend on how sweet or tart your fruit is. I found 1½ tablespoons to be the perfect amount of sweetness for us when we used in-season raspberries and peaches.