Spaghetti Squash with Spinach & Mushroom Marinara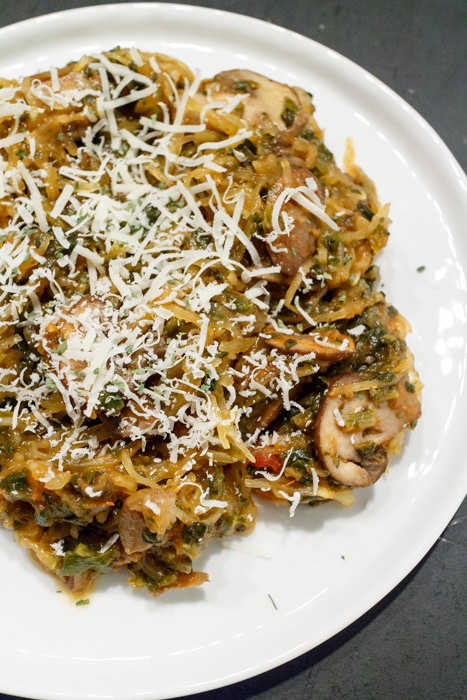 Sometimes I'm in the mood to just go to town on a big plate of food. I don't like feeling guilty about it though so I recently came up with this easy stuff-yourself-silly dish:  spaghetti squash with spinach and mushroom marinara. Are you familiar with spaghetti squash? When baked the squash's strands resemble angel hair pasta in appearance and texture. The taste is pretty mild and is a great pasta substitute. Plus one cup of cooked spaghetti squash has only 42 calories. Yes I typed that number accurately.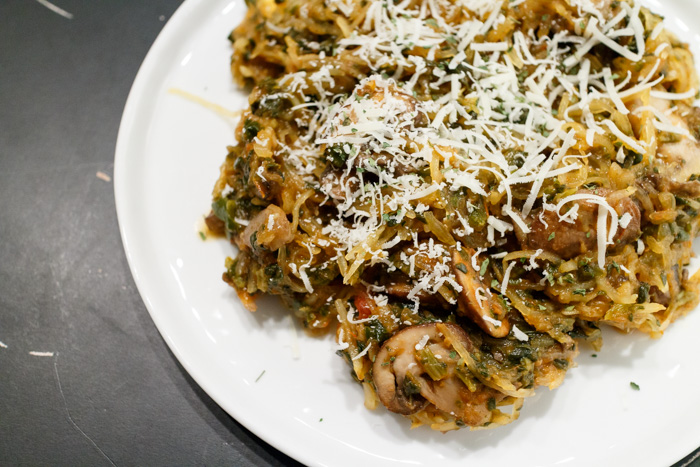 When you get home from the grocery store with this huge oblong squash your first challenge will be breaking the sucker open. Do not underestimate this task! You will need a large sharp knife and a level cutting surface. It may take a few tries and certainly will not be perfect, unless of course you are skilled in the art of slicing large hard objects in half lengthwise, but try your best.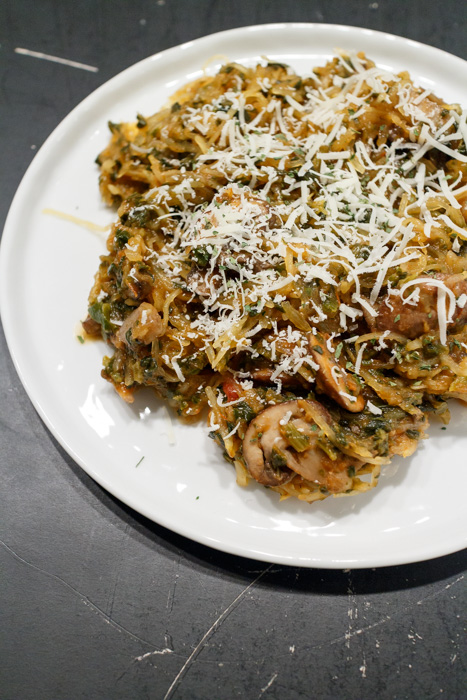 Once the spaghetti squash is cut in half you will shake your head and think I'm playing an early April Fool's Day joke on you as you wonder how in the world is that solid hunk of squash ever going to resemble spaghetti strands. Well you just have to trust me on this! It is purely amazing food magic. Scoop out the seeds then bake the squash until tender. Once it's cool enough to handle a simple scraping with a fork transforms the squash into thin strands. Mix with some marinara, cooked spinach, sautéed mushrooms and fresh Parmesan and you're ready to indulge!

Spaghetti Squash with Spinach & Mushroom Marinara
Ingredients
1 spaghetti squash, cut in half lengthwise and seeds removed
1 tablespoon olive oil
1 clove garlic, minced
1 package sliced cremini mushrooms, about 5 ounces
1½ cups preferred marinara sauce
8 ounces frozen spinach, prepared according to package instructions
Salt and pepper
Freshly grated Parmesan, for serving
Directions
Preheat oven to 400 degrees F.
Place the spaghetti squash on a baking sheet flesh side up. Season with salt and pepper. Roast for 35-40 minutes. Remove from the oven and let cool for 10 minutes.
Scrape the tines of a fork along the cooked squash to create the strands. It sounds weird, but as soon as you do it you will understand what I mean. Continue scraping until you reach the skin and all the flesh has been turned into strands.
Meanwhile heat the olive oil in a large saucepan over medium-high heat. Sauté the garlic for 30 seconds then add the sliced mushrooms. Season with salt and pepper. Sauté, stirring occasionally, until the mushrooms are cooked then add the marinara and prepared spinach.
Add the spaghetti squash strands and toss well with tongs until well combined with the sauce and spinach. Season with salt and pepper to taste. Serve hot topped with the Parmesan.