Spaghetti Squash with Spinach & Mushroom Marinara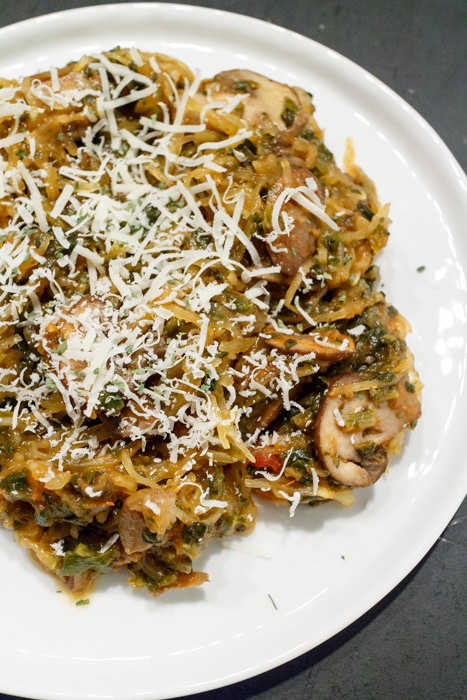 1 spaghetti squash, cut in half lengthwise and seeds removed
1 tablespoon olive oil
1 clove garlic, minced
1 package sliced cremini mushrooms, about 5 ounces
1½ cups preferred marinara sauce
8 ounces frozen spinach, prepared according to package instructions
Salt and pepper
Freshly grated Parmesan, for serving
Preheat oven to 400 degrees F.
Place the spaghetti squash on a baking sheet flesh side up. Season with salt and pepper. Roast for 35-40 minutes. Remove from the oven and let cool for 10 minutes.
Scrape the tines of a fork along the cooked squash to create the strands. It sounds weird, but as soon as you do it you will understand what I mean. Continue scraping until you reach the skin and all the flesh has been turned into strands.
Meanwhile heat the olive oil in a large saucepan over medium-high heat. Sauté the garlic for 30 seconds then add the sliced mushrooms. Season with salt and pepper. Sauté, stirring occasionally, until the mushrooms are cooked then add the marinara and prepared spinach.
Add the spaghetti squash strands and toss well with tongs until well combined with the sauce and spinach. Season with salt and pepper to taste. Serve hot topped with the Parmesan.
Recipe by
Lemon & Mocha
at http://www.lemonandmocha.com/2014/11/21/spaghetti-squash-with-spinach-mushroom-marinara/