Rainbow Inside-Out Faux Hostess Hi-Hat Cupcakes & One Year Blogiversary!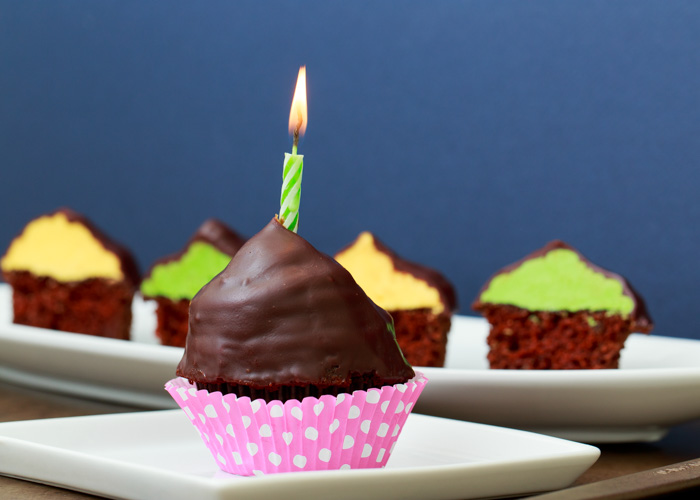 Today is an amazing day. It is Lemon & Mocha's one year blogiversary! What is a blogiversary you ask? A blog anniversary, of course! It has been one year since I wrote my first ever post on this site.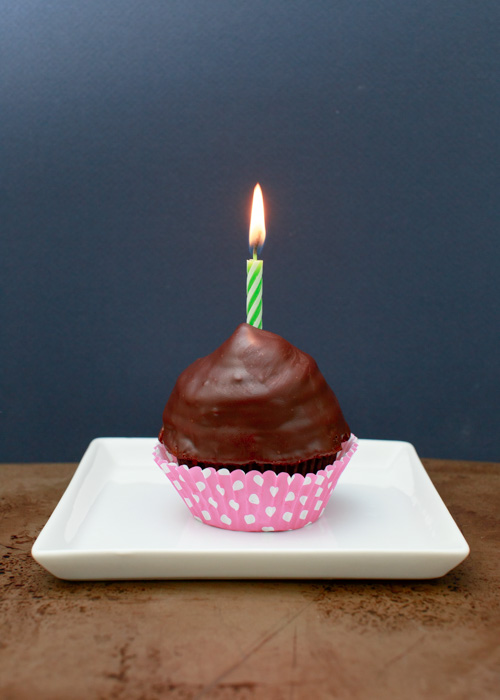 For years I would hungrily read others' food blogs eager to start my own and was always delighted when there would be some epic and exciting blogiversary post. I couldn't wait to one day have my own blogiversary and here we are, how crazy is that?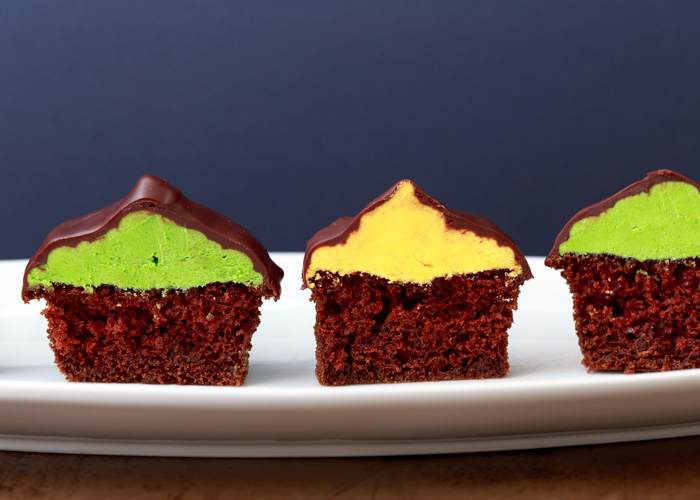 I cannot say enough to thank my family, friends, blog readers and hungry web browsers who have encouraged and supported me throughout this past year. For anyone who has ever shared Lemon & Mocha with a friend, made one of my recipes, liked a Facebook post, or simply let me know the photos made them hungry, I love you!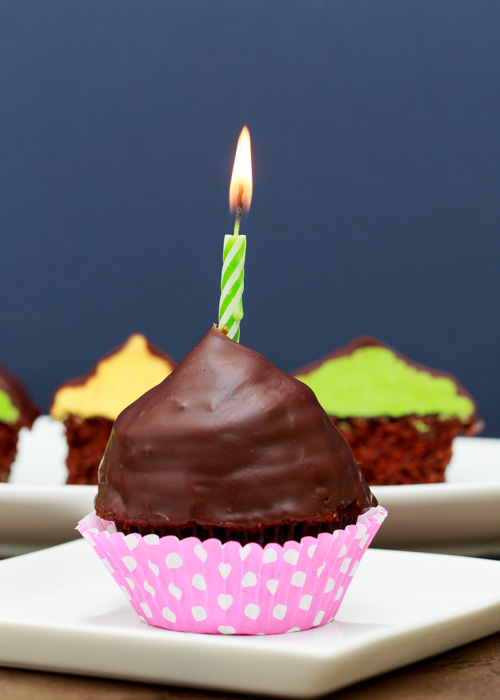 Every single comment and e-mail is sure to make my day and brings even more joy to something I already love doing so much.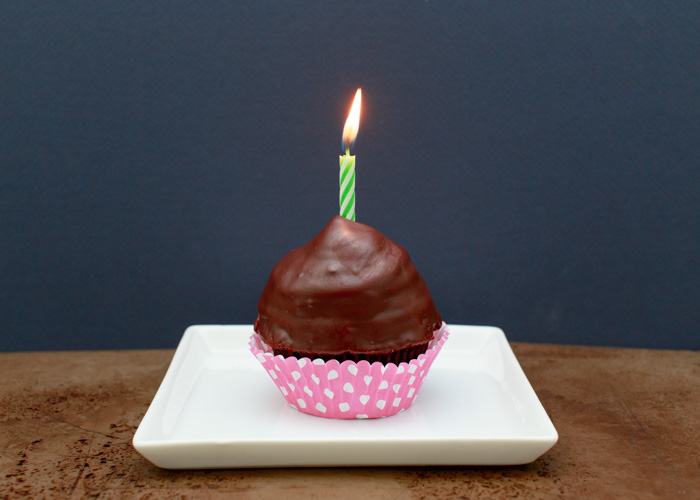 Deserving of a very special thank you is Matt who has been by my side for every photo shoot, gorge session, kitchen melt-down (yes, there were quite a few of those), WordPress update and post edit. The amount of love and time he has put into Lemon & Mocha simply because he knows how much it means to me is remarkable; I am forever grateful and blessed!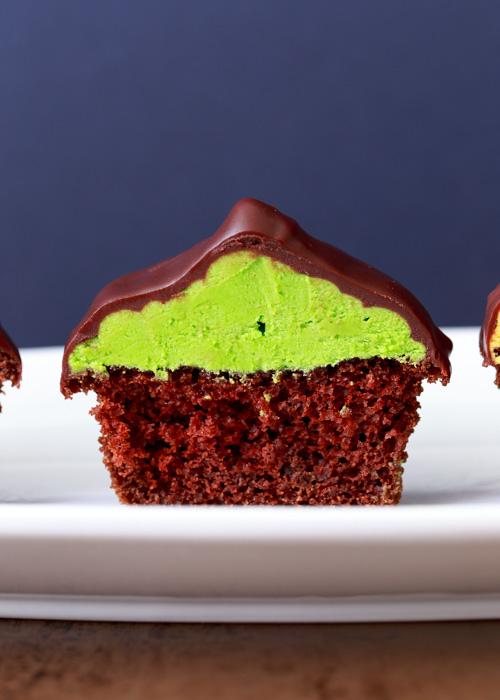 Here at Lemon & Mocha we are celebrating with something very exciting- this unbelievable recipe for rainbow inside-out faux Hostess hi-hat cupcakes. Whew, that was a mouthful, but the name says it all! Oh baby, these are out of this world! I'll let the pictures speak for themselves, as well as previous posts on my Perfect Chocolate Cupcakes and chocolate ganache. Enjoy and thanks for visiting!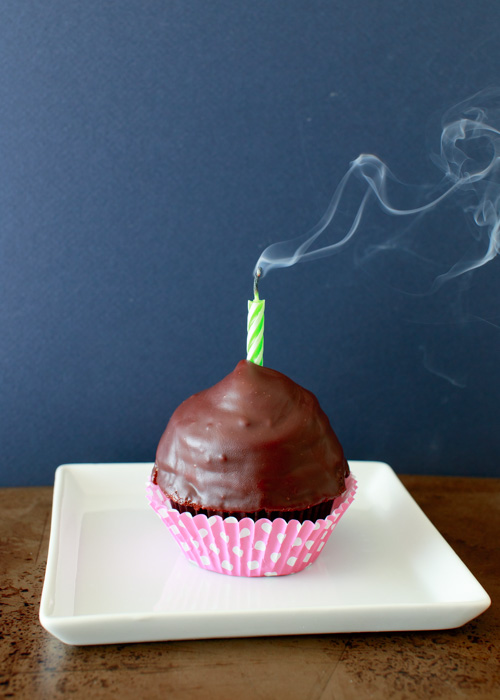 Rainbow Inside-Out Faux Hostess Hi-Hat Cupcakes & One Year Blogiversary!
Ingredients
24 chocolate cupcakes, chilled in the fridge
18 tablespoons unsalted butter, softened (2¼ sticks)
4½ cups powdered sugar
2¼ cups marshmallow creme (Fluff)
4½ tablespoons heavy cream
Food coloring, if desired
1 batch

chocolate ganache

, still warm and in the saucepan
Directions
Beat together the butter, powdered sugar, marshmallow creme, and heavy cream with a stand mixer fitted with the whisk attachment or a hand mixer. Start slowly to make sure you don't coat your kitchen with powdered sugar then increase the speed to medium or medium-high. Continue to beat until the mixture is fluffy.
If planning to make the cupcakes rainbow colored, divide the filling into 4 separate bowls. Dye each bowl of frosting a different color. I did green, blue, yellow and purple. Fill a pastry bag fitted with a wide round tip with 1 color of frosting. To frost the cupcakes I piped a circle rim around the edge of the cupcake then loosely filled in a thin layer so the top surface was covered. I then piped around in a circle slowly bringing the swirl inwards as it got higher and brought it to a point. After frosting place the cupcakes in the freezer and chill until the frosting is hardened. Continue with each color of frosting.
Working with 2 cupcakes at a time, take the cupcakes out of the freezer. Tilt the saucepan with the ganache and dip the frosting portion of the cupcake into the ganache. Make sure the frosting is completely coated. Place the ganache-topped cupcakes in the fridge to chill then repeat with 2 more cupcakes. Keep chilled in the fridge until serving.
Frosting from

The Curvy Carrot

.