Honey, Pear & Prosciutto Pizza with Arugula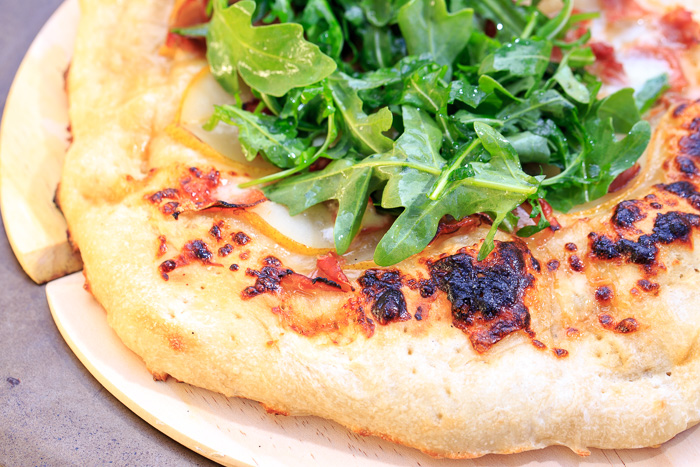 Pizza is a wonderful thing. Unless you're lactose intolerant or soulless, otherwise, truly wonderful. The combination of crispy and chewy crust, gooey savory cheese, and whatever inventive toppings your tastebuds desire is irresistible.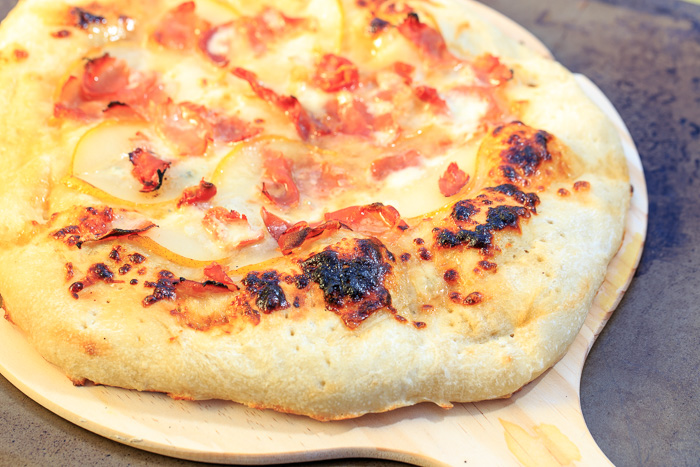 Last Christmas my stepmom got me this countertop pizza oven from Sur La Table. Ever since then Matt and I have been pizza making machines! Well, the pizza oven is the machine, we're just an extension of its awesomeness. This bad boy cooks up crispy bottom pizzas with chewy crust and molten cheese in under ten minutes. Oh yeah!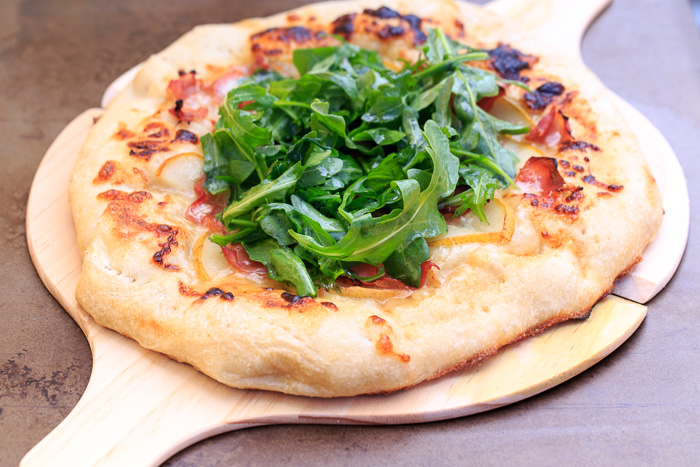 I didn't make a list of possible pizza combinations as I usually do with other foods, but I don't think we have made the same pizza twice. When my Uncle Rob sent me a huge jar of his homemade honey I instantly knew I wanted to use some of it for a pizza. I love recipes that combine sweet and savory.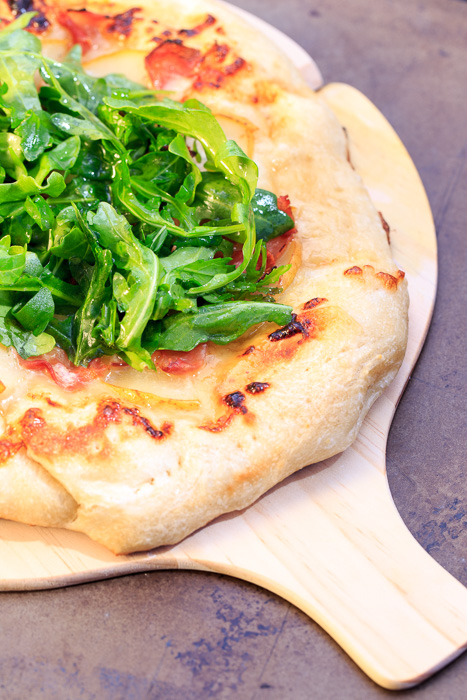 This is a white pizza, which does not mean that it has heliophobia or that it is attending a Diddy party. It simply means it doesn't have any sauce. Which is fine because the honey, cheese, pear, prosciutto and arugula do more than alright on their own. They come together fabulously for a delightful sweet, savory, salty, herby, cheesy and thirds-don't-mind-if-I-do dinner.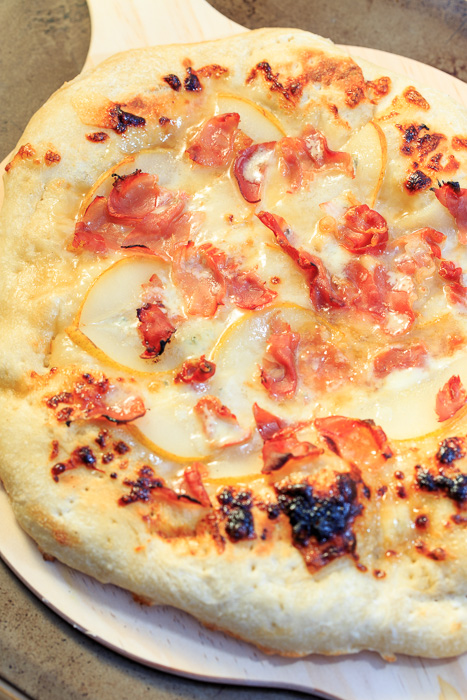 Okay, time for you to go ahead and make this pizza! I'm going to be sitting here writing a pizza combination list, don't mind me.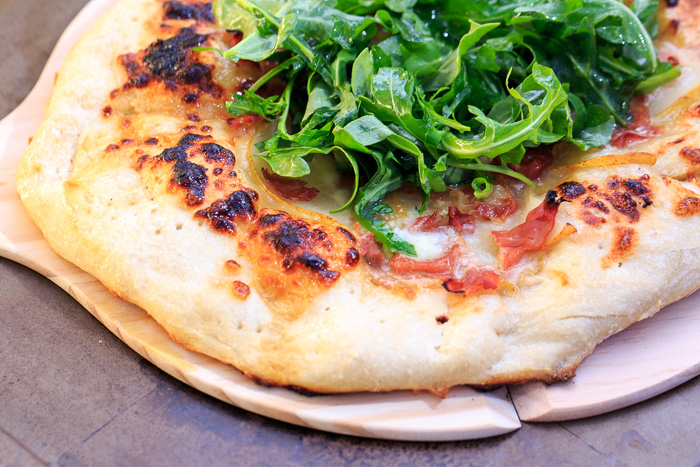 Honey Pear & Prosciutto Pizza with Arugula
Ingredients
for the pizza
1 ball pizza dough
1 tablespoon honey
1 tablespoon olive oil
1½ cups shredded mozzarella
1 pear, thinly sliced
3-4 slices prosciutto
⅓ cup crumbled gorgonzola
for the arugula salad
4 cups arugula
¼ cup olive oil
2 tablespoons lemon juice
Salt and pepper
Directions
for the pizza
Preheat oven and prep dough according to pizza dough instructions. Lightly pierce the dough all over with a fork to help keep it from puffing up in the oven.
Mix the honey with the olive oil and brush over the dough, leaving the crust untouched. Top with the mozzarella then the pear slices. Tear the prosciutto slices and place evenly over the top of the pizza. Add the gorgonzola then bake according to pizza dough instructions.
for the arugula salad
While the pizza is baking whisk together the olive oil, lemon juice, salt and pepper to taste. Toss with the arugula, being sure not to overdress. Place on top of the pizza after it comes out of the oven just before serving.