Sun-dried Tomato and Smoked Paprika Deviled Eggs with Crispy Shallots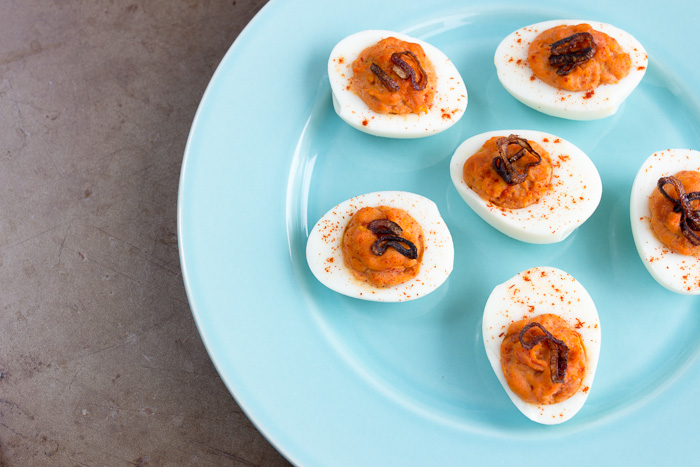 Deviled eggs have long been one of my favorite snacks for a gathering. They are perfect for every occasion: Christmas, Fourth of July, birthdays… who doesn't like birthday eggs? However they seem to be most closely associated with Easter because of all the extra hard boiled eggs people tend to have after dyeing them, so I thought it was only fitting to post a deviled egg recipe in time for the holiday. These aren't any old plain Jane deviled eggs. No, sir, these are jazzed up and pack a punch. Who knew deviled eggs could smack your tastebuds so hard? These are sun-dried tomato and smoked paprika deviled eggs with crispy shallots.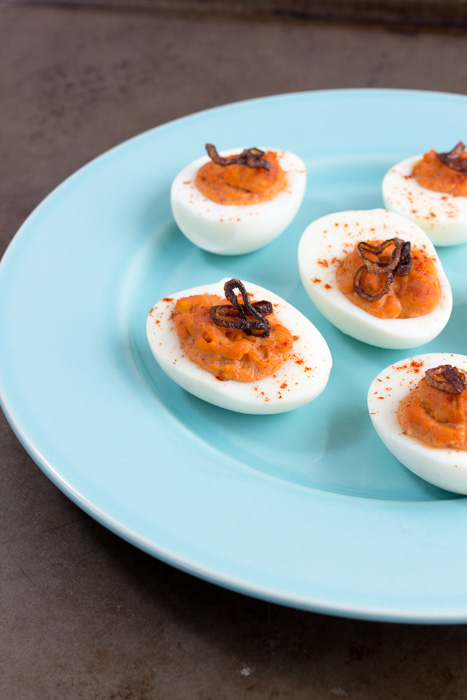 I knew I wanted to post a variation of deviled eggs for Easter, but I didn't know which way to lean. Smoked salmon or bacon? Avocado or goat cheese? The possibilities went on and you all know how I feel about possibilities. Hint: I love them! The answer came to me in the form of a little plastic baggie. No it's not what you think… I was high on excitement over the little sample of smoked paprika my friend brought me one morning. I had never cooked with smoked paprika before, but I could smell it from four feet away and was tingling with anticipation.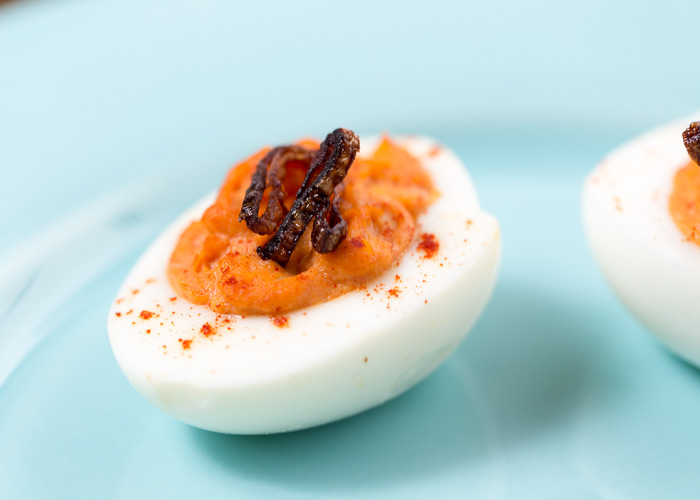 If you haven't experienced smoked paprika before, it's like regular paprika on steroids with an injection of smoke flavor. I tried thinking about what additional flavors would pair well and came across one of my favorite ingredient combinations in my pantry: sun-dried tomatoes and shallots. I had made a delicious sun-dried tomato mayonnaise a few months ago, which I will hopefully be sharing on Lemon & Mocha soon, and thought the technique would work perfectly for the deviled eggs.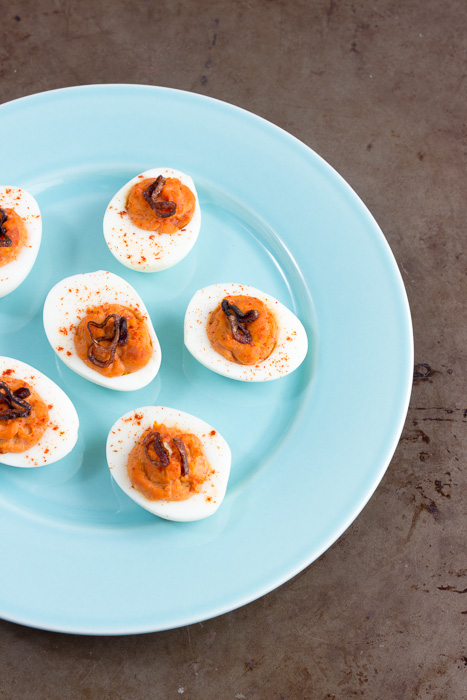 Well it did and they were so tasty that I didn't even share any. Except with Matt, he was all over these bad boys. Oh, and I almost forgot the crispy shallots! They are such an easy addition, but make a world of difference with their added texture. Lightly frying them up mellows their flavor and I definitely made extras to nibble on while I was cooking.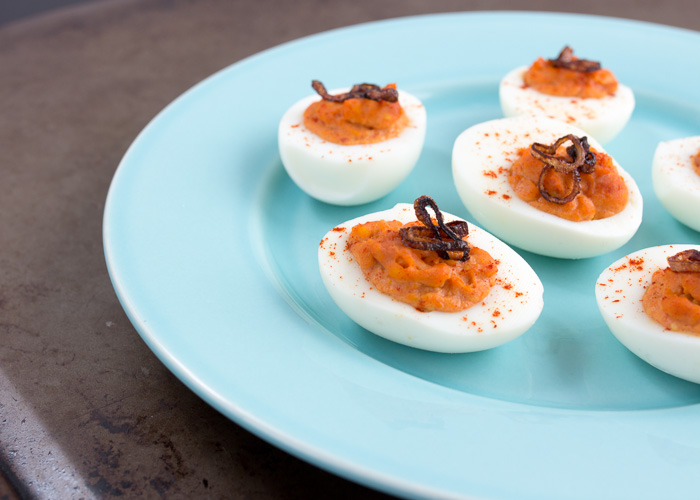 So if you're looking for something full of flavor to liven up your traditional Easter brunch, your plain Jane birthday eggs or your late night rager snack spread, these deviled eggs will have everyone asking for more.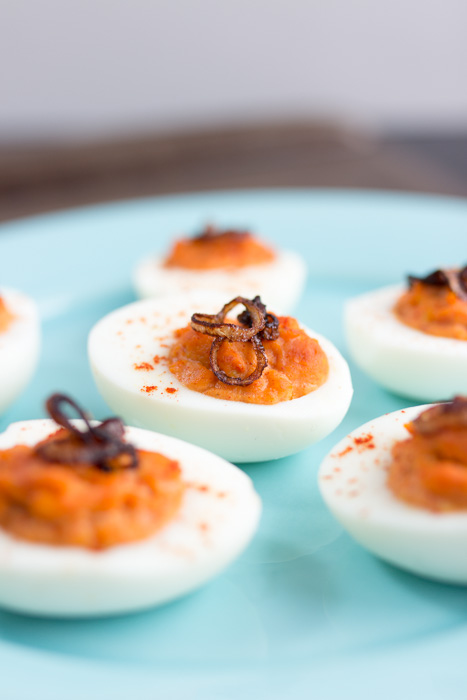 Sun-dried Tomato Deviled Eggs with Crispy Shallots
Ingredients
1 small shallot
2 tablespoons vegetable oil
¾ cup boiling water
3 tablespoons julienned sun-dried tomatoes
3 tablespoons mayonnaise
6 hardboiled eggs, peeled
1 teaspoon smoked paprika, plus additional for garnish
Salt and pepper
Directions
Slice the shallot into very thin rings.
Heat the vegetable oil in a small sauté pan over medium-high heat. Once the oil is hot place a small handful of the sliced shallots into the sauté pan and let fry. Once the shallots are crispy, but not burned, about 2-3 minutes, remove with a slotted spoon and place on a paper towel. Repeat until all the shallot slices are crispy.
Combine the boiling water and sun-dried tomatoes and let them soak for 5-10 minutes. Meanwhile, carefully slice the hardboiled eggs lengthwise and place the egg yolks in a food processor. When the sun-dried tomatoes are done soaking drain them and place them in the food processor with the egg yolks. Add the mayonnaise and smoked paprika. Puree the mixture until smooth then season with salt and pepper to taste.
Evenly spoon the mixture into the empty egg whites or fill a pastry bag with the egg mixture and pipe evenly into the empty egg whites. Dust with some additional smoked paprika before serving.