April Fool's Pumpkin Cupcakes with Cream Cheese Frosting and Salted Butter Caramel Sauce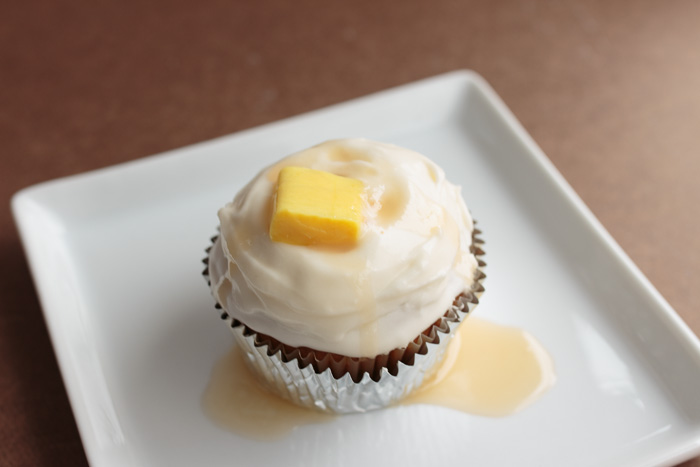 What can you say about the humble potato? They are a starchy vegetable, inexpensive and abundant. They may seem plain and boring, but once transformed into french fries, latkes, scalloped potatoes and gnocchi, well you know where I'm headed with this. Of course we can't forget mashed potatoes. Imagine the most perfect mashed potatoes you've ever eaten. A creamy and smooth texture, a buttery and rich flavor and the perfect combination of seasonings. I bet 98% of people could eat a whole plate of those perfect mashed potatoes. The other 2% are either allergic to potatoes or delicious things. Now imagine those perfect mashed potatoes in a little individual serving to have all to yourself. Now imagine those perfect mashed potatoes are actually cupcakes. Wait, what?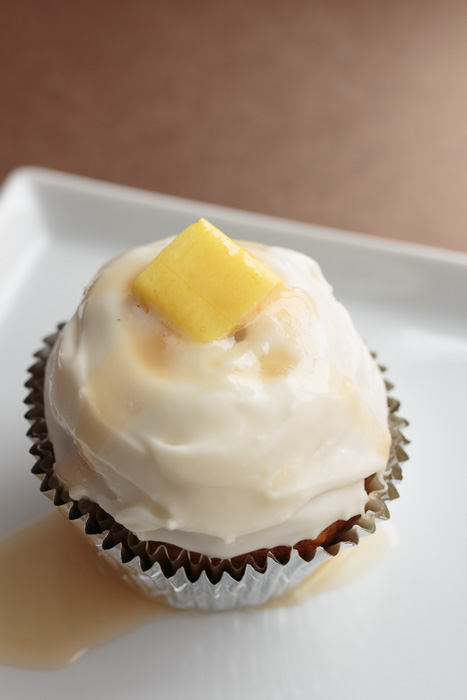 Did I trick you? Maybe the title gave it away. Happy April Fool's! These aren't mashed potatoes at all, but pumpkin cupcakes with a cream cheese frosting and salted butter caramel sauce. Although now I kind of want mashed potatoes.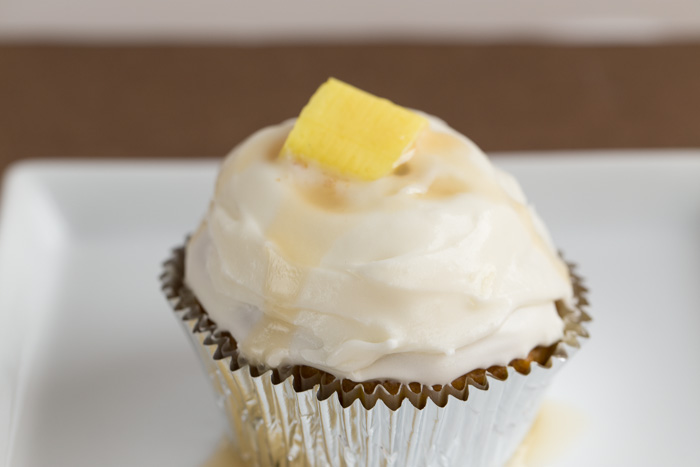 But put that thought out of your mind and switch gears to dessert. A perfectly spiced and moist dessert that will have you swooning. And your mind reeling because you thought it was a cup of mashed potatoes. That's a melted yellow Starburst on top, not butter!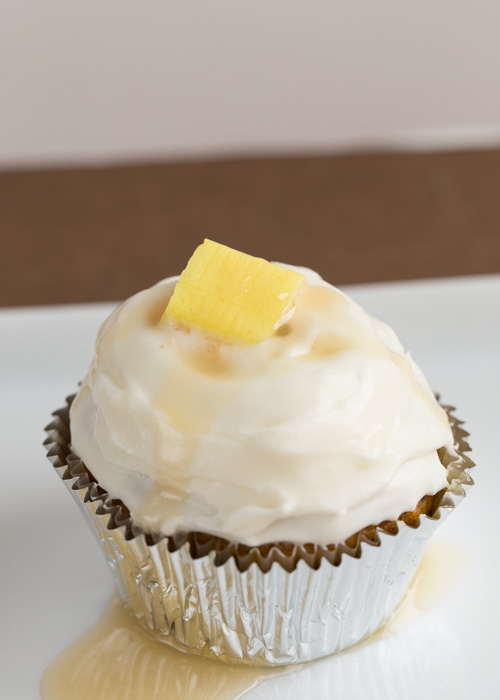 Even if you aren't that into April Fool's and silly pranks aren't your thing, you still have to make these cupcakes. If you continue to frolic about your days without tasting this exact combination of pumpkin, cream cheese and caramel, I'll have to weep for you every night. And I dislike crying, especially when I'm trying to eat cupcakes. So go ahead and make these sneaky treats!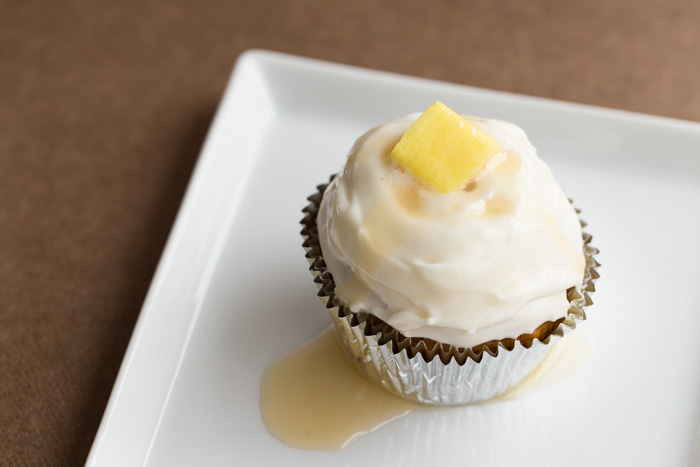 April Fool's Pumpkin Cupcakes with Cream Cheese Frosting and Salted Caramel Sauce
Ingredients
for the cupcakes
1¾ cups all-purpose flour
1 teaspoon baking powder
1 teaspoon baking soda
½ teaspoon salt
1½ teaspoons ground cinnamon
¼ teaspoon ground nutmeg
¼ teaspoon ground cloves
½ cup dark brown sugar
2 large eggs
1 cup pure pumpkin
½ cup vegetable oil
⅓ cup milk
1 teaspoon vanilla extract
for the frosting
5 ounces cream cheese
3 tablespoons unsalted butter, room temperature
1½ cups powdered sugar, plus 2 tablespoons
2 teaspoons clear vanilla extract
for the caramel sauce
6 tablespoons unsalted butter
¾ cups sugar
1 cup heavy cream, divided
½ teaspoon vanilla extract
1¼ teaspoons coarse salt
for assembly
Directions
for the cupcakes
Preheat oven to 350 degrees F. Completely line one 12-cup muffin pan with foil cupcake liners and two cups of a second 12-cup muffin pan. Set aside.
In a large bowl sift together the flour, baking powder, baking soda, salt, cinnamon, nutmeg and cloves. Set aside.
Whisk together the brown sugar and eggs until combined. Add the pumpkin, milk, vegetable oil and vanilla and stir until combined.
Stir the wet ingredients into the dry ingredients until just combined, making sure not to over-mix.
Evenly spoon the batter into the lined cups. Bake for 18 minutes, or until a toothpick inserted into the center of a cupcake comes out clean. Let cool completely on a wire rack until frosting.
for the frosting
Beat the cream cheese and the butter in the bowl of an electric mixer on medium-high speed until fluffy, about 2-3 minutes.
Add the powdered sugar and beat on low speed until combined. Increase the speed to medium-high and beat for another 2-3 minutes.
Add the vanilla and beat until combined.
for the caramel sauce
In a large saucepan melt the butter over medium heat. Add the sugar and cook until the sugar is a rich golden brown, making sure to stir often.
Remove from the heat and whisk in half of the cream. Be careful as the mixture may splatter.
Once combined stir in the rest of the cream, the vanilla and the salt. If any lumps form slowly whisk the caramel sauce over low heat.
for assembly
Spread the cream cheese frosting on the cupcakes, slightly mounding the frosting. Create a well in the center of the frosting with a small spoon. Place 1 Starburst at an angle in the well.
Drizzle warm caramel into the frosting well until it fills up and spills over like gravy.
Notes
Leftover caramel sauce can be kept in the fridge for 2 weeks and reheated slowly in the microwave or in a saucepan over low heat.
Pumpkin cupcakes from

Sally's Baking Addiction

.
Cream cheese frosting slightly adapted from

Annie's Eats

.
Salted butter caramel sauce from

The Perfect Scoop

.
Cupcake assembly from

Hello, Cupcake!