Nutella Stuffed French Toast with Vanilla Pecan Butter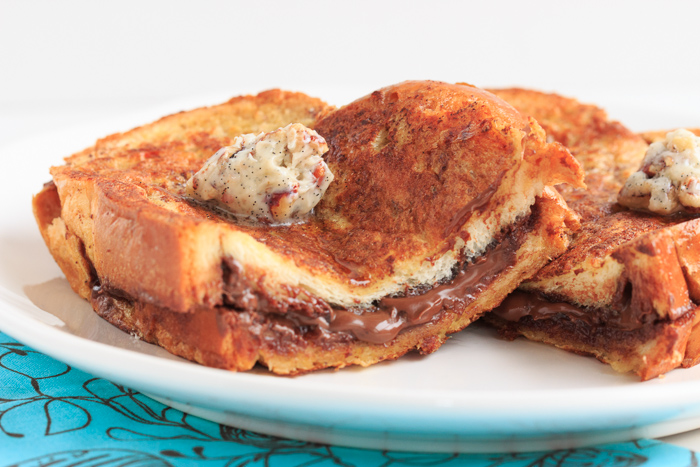 I have a confession to make. I have never made french toast. Well, before today's post of course. It had been sitting on my kitchen bucket list of fifty things I want to conquer in the kitchen for quite some time now so when Matt suggested making it I decided to rise to the challenge. Except it wasn't a challenge at all! French toast is so simple that I cannot believe I put it off for so long.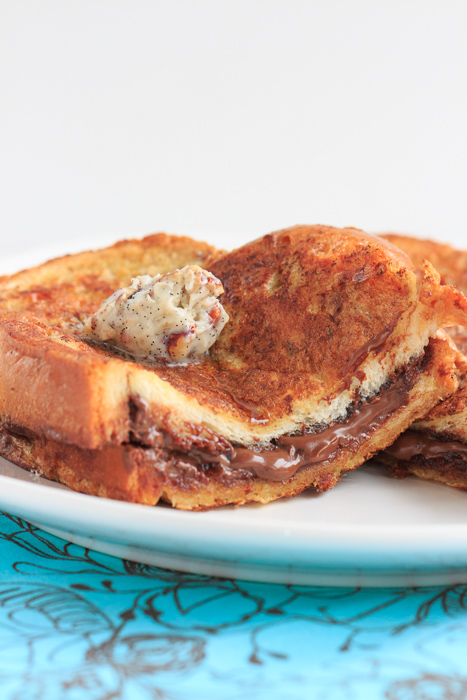 Today's creation is Nutella stuffed french toast with vanilla pecan butter. I'll give you a minute to let that sink in. I had a jar of chocolate hazelnut spread sitting in the cabinet after making some other sweet treat I will be sharing with you in a few weeks. I was wondering how we should use it up so I wouldn't succumb to eating the whole jar with a spoon and asked Matt what he thought we should do with it. Without hesitation he suggested making Nutella french toast and using up the leftover vanilla pecan butter from the pomegranate brussels sprouts. Genius! See why I love this guy? Well also for other reasons besides his knack for all things delicious and resourcefulness in the kitchen, but that's not important right now.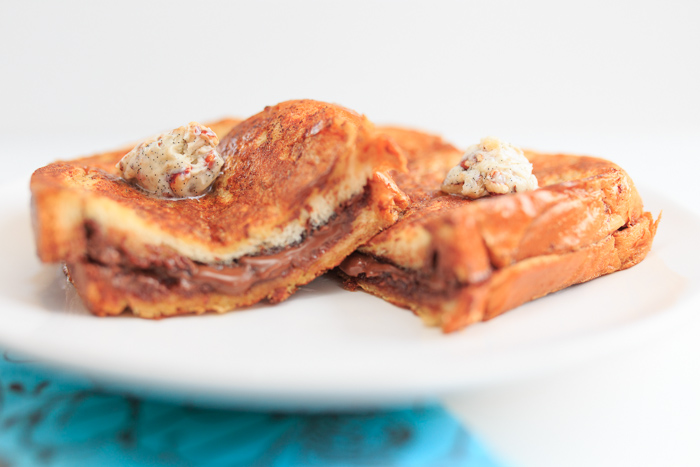 What is important is that you grab some Nutella, crack a couple eggs and start making this french toast right now. Unless of course you're at work or it's the middle of the night and you are fresh out of chocolate hazelnut spread. Otherwise you have no excuse! At a friend's house? They won't mind if you borrow their kitchen for this dish. Dinnertime? Hello, ever heard of breakfast for dinner? In a canoe in the middle of a lake? Well what the heck are you doing reading my blog right now?
I used challah for my french toast, but you can really use any type of bread as long as it doesn't have a lot of holes. Brioche is a popular choice because it has a high butter and egg content so it adds a nice richness to the dish. The thick slices of french toast slathered with creamy chocolate hazelnut spread and then griddled until crispy on the outside while still soft on the inside was enough to make me swoon. But then I added the butter speckled with real vanilla bean seeds and crunchy toasted pecans and I was in heaven. Complete breakfast or snack-time-dinner-time-just-not-canoe-time heaven. Enjoy!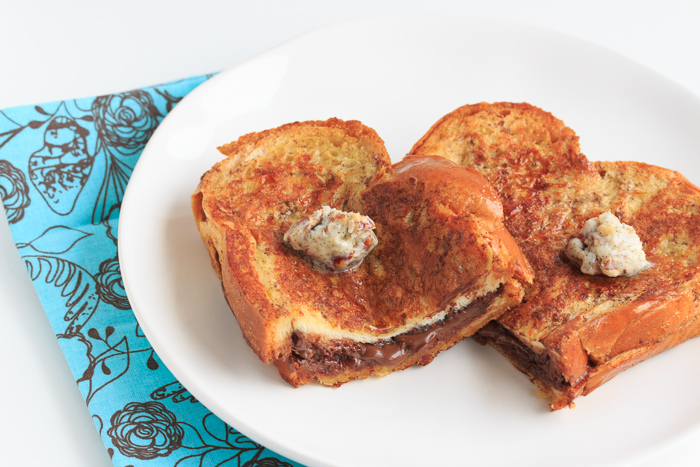 Nutella Stuffed French Toast with Vanilla Pecan Butter
Ingredients
for the french toast
2 eggs
3 tablespoons milk
½ teaspoon vanilla
½ teaspoon ground cinnamon, divided
¼ teaspoon ground nutmeg, divided
Cooking spray or 1 tablespoon butter
4 slices thick cut bread, challah or brioche suggested
6 tablespoons nutella, divided
for the vanilla pecan butter
¼ cup pecans
6 tablespoons unsalted butter, room temperature
Seeds scraped from 1 vanilla bean
Directions
for the french toast
In a shallow bowl large enough to fit the slices of bread beat the eggs with a fork or whisk. An 8" x 8" Pryex pan works well.
Add the milk, vanilla, ¼ teaspoon ground cinnamon and ⅛ teaspoon ground nutmeg then mix or whisk to combine.
Heat a griddle or skillet over medium heat and coat with cooking spray or the tablespoon of butter.
Make a sandwich with 2 slices of the bread and 3 tablespoons of the nutella. Lay the sandwich flat in the prepared egg mixture and let sit for 1 minute. Flip the sandwich and let sit for another minute. Pick up the sandwich and let all the excess egg mixture drip off. If there is a lot of excess egg mixture that won't drip off push off with the fork or whisk.
Place on the heated griddle or skillet. Let cook for 4 minutes, or until brown, then flip. Cook the other side for 4 minutes, or until brown. Remove from the heat and top with the vanilla pecan butter.
Repeat for the remaining serving.
for the vanilla pecan butter
Preheat the oven to 350 degrees F.
Evenly spread the pecans on a baking sheet and place in the oven until toasted, about 5 minutes. Once toasted, remove from the oven then chop once cool.
In a small bowl combine the butter and vanilla bean seeds then add the pecans. Stir until combined.
Notes
This makes a lot of extra vanilla pecan butter. Use it for more servings of french toast, to top pumpkin pancakes or to make the pomegranate molasses brussels sprouts posted a couple weeks ago.
French toast slightly adapted from

Half Hour Meals
.
Butter from

Bobby Flay
.