Nutella Stuffed French Toast with Vanilla Pecan Butter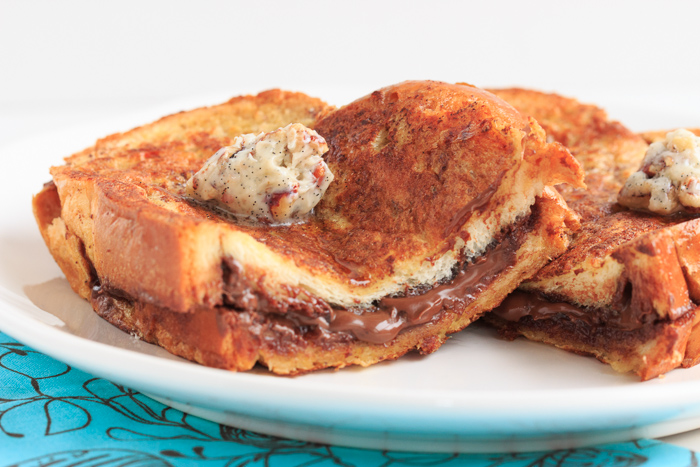 2 eggs
3 tablespoons milk
½ teaspoon vanilla
½ teaspoon ground cinnamon, divided
¼ teaspoon ground nutmeg, divided
Cooking spray or 1 tablespoon butter
4 slices thick cut bread, challah or brioche suggested
6 tablespoons nutella, divided
¼ cup pecans
6 tablespoons unsalted butter, room temperature
Seeds scraped from 1 vanilla bean
In a shallow bowl large enough to fit the slices of bread beat the eggs with a fork or whisk. An 8" x 8" Pryex pan works well.
Add the milk, vanilla, ¼ teaspoon ground cinnamon and ⅛ teaspoon ground nutmeg then mix or whisk to combine.
Heat a griddle or skillet over medium heat and coat with cooking spray or the tablespoon of butter.
Make a sandwich with 2 slices of the bread and 3 tablespoons of the nutella. Lay the sandwich flat in the prepared egg mixture and let sit for 1 minute. Flip the sandwich and let sit for another minute. Pick up the sandwich and let all the excess egg mixture drip off. If there is a lot of excess egg mixture that won't drip off push off with the fork or whisk.
Place on the heated griddle or skillet. Let cook for 4 minutes, or until brown, then flip. Cook the other side for 4 minutes, or until brown. Remove from the heat and top with the vanilla pecan butter.
Repeat for the remaining serving.
Preheat the oven to 350 degrees F.
Evenly spread the pecans on a baking sheet and place in the oven until toasted, about 5 minutes. Once toasted, remove from the oven then chop once cool.
In a small bowl combine the butter and vanilla bean seeds then add the pecans. Stir until combined.
This makes a lot of extra vanilla pecan butter. Use it for more servings of french toast, to top pumpkin pancakes or to make the pomegranate molasses brussels sprouts posted a couple weeks ago.
Recipe by
Lemon & Mocha
at http://www.lemonandmocha.com/2013/12/23/nutella-stuffed-french-toast-with-vanilla-pecan-butter/