Flourless Chocolate Walnut Cookies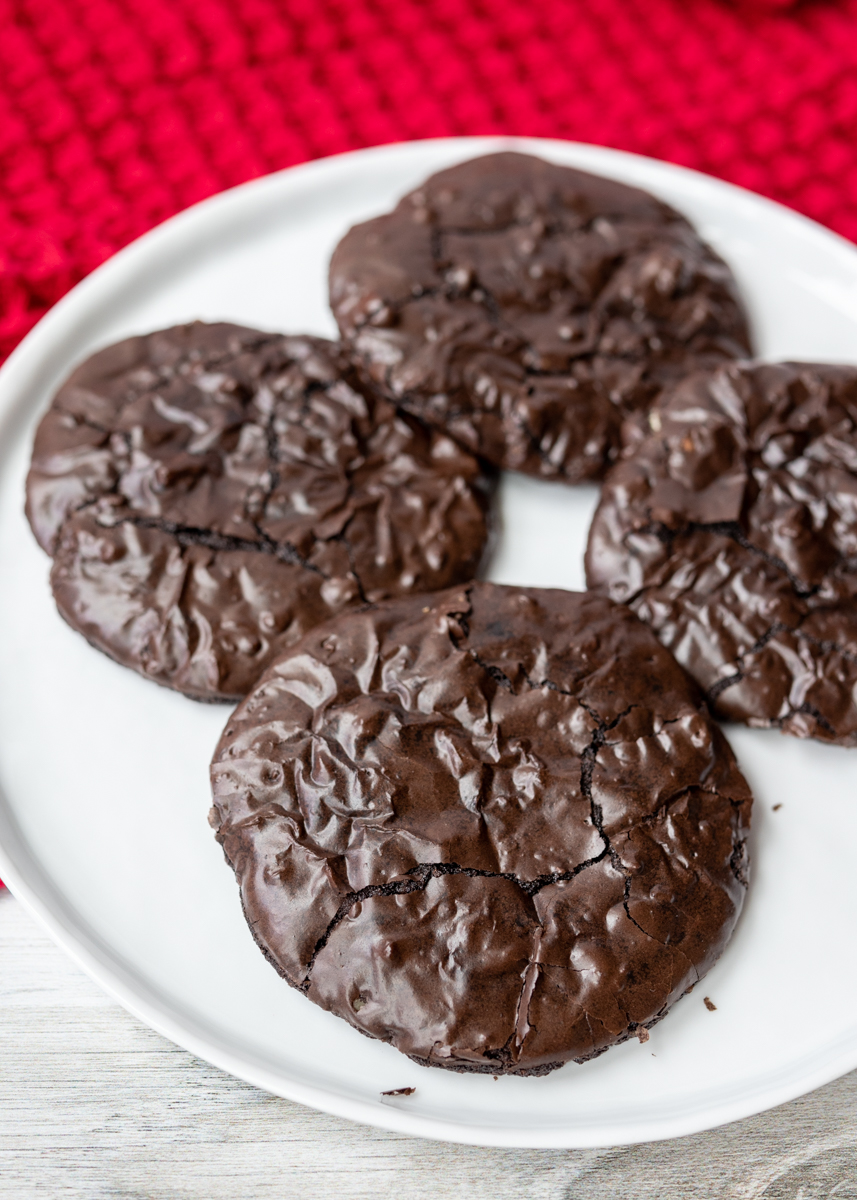 Welcome to day two of Lemon & Mocha's 12 Days of Cookies! I'm sharing these Flourless Chocolate Walnut Cookies well in advance of the holiday cookie swap season because they freeze beautifully. However, if you are like me and have trouble "forgetting" that delicious cookies are sitting in your freezer then making them ahead won't really help you out at all since they'll all most definitely be gone by the time December is here.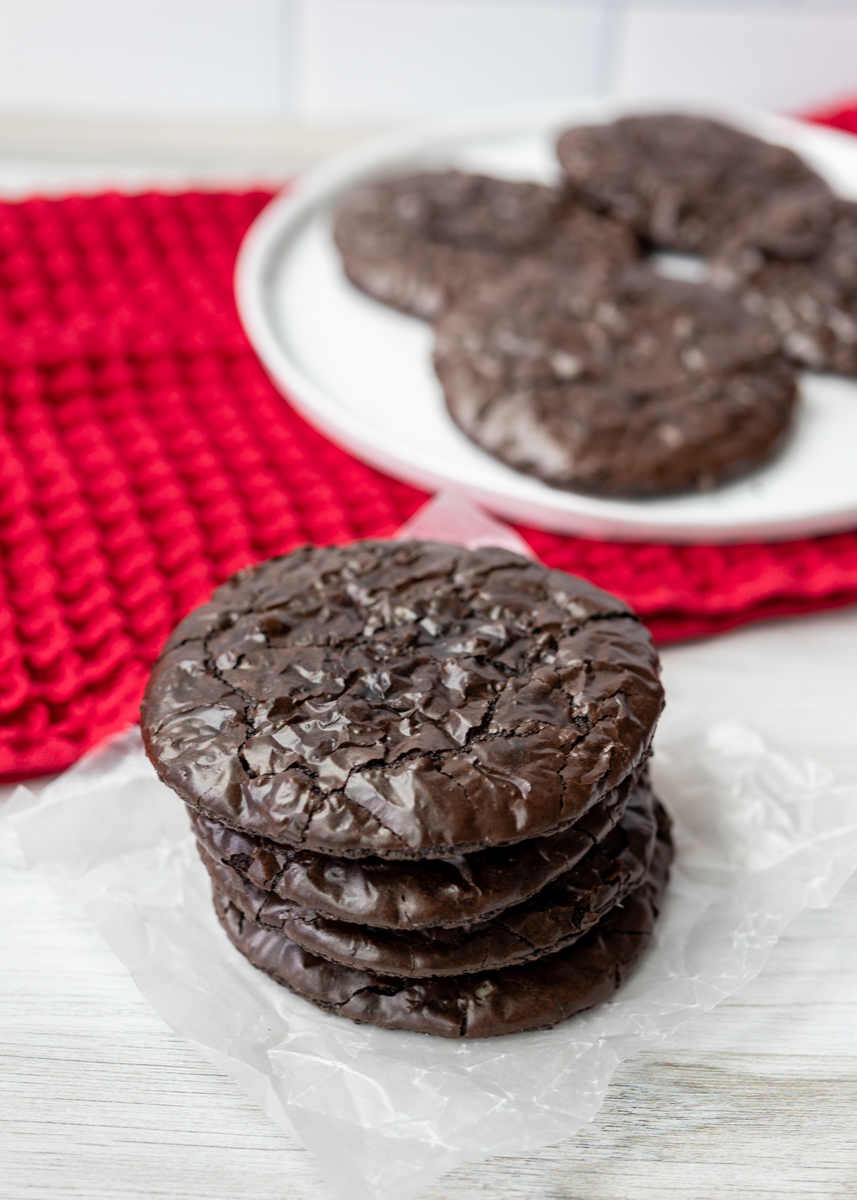 The best way to describe these cookies is that they taste like fudgey chocolate walnut brownies in cookie form. Chewy and with a crackly top, these Flourless Chocolate Walnut Cookies are the brownie lover's dream cookie. Also, the chocoholic's dream cookie. Also, they're just damn delicious cookies!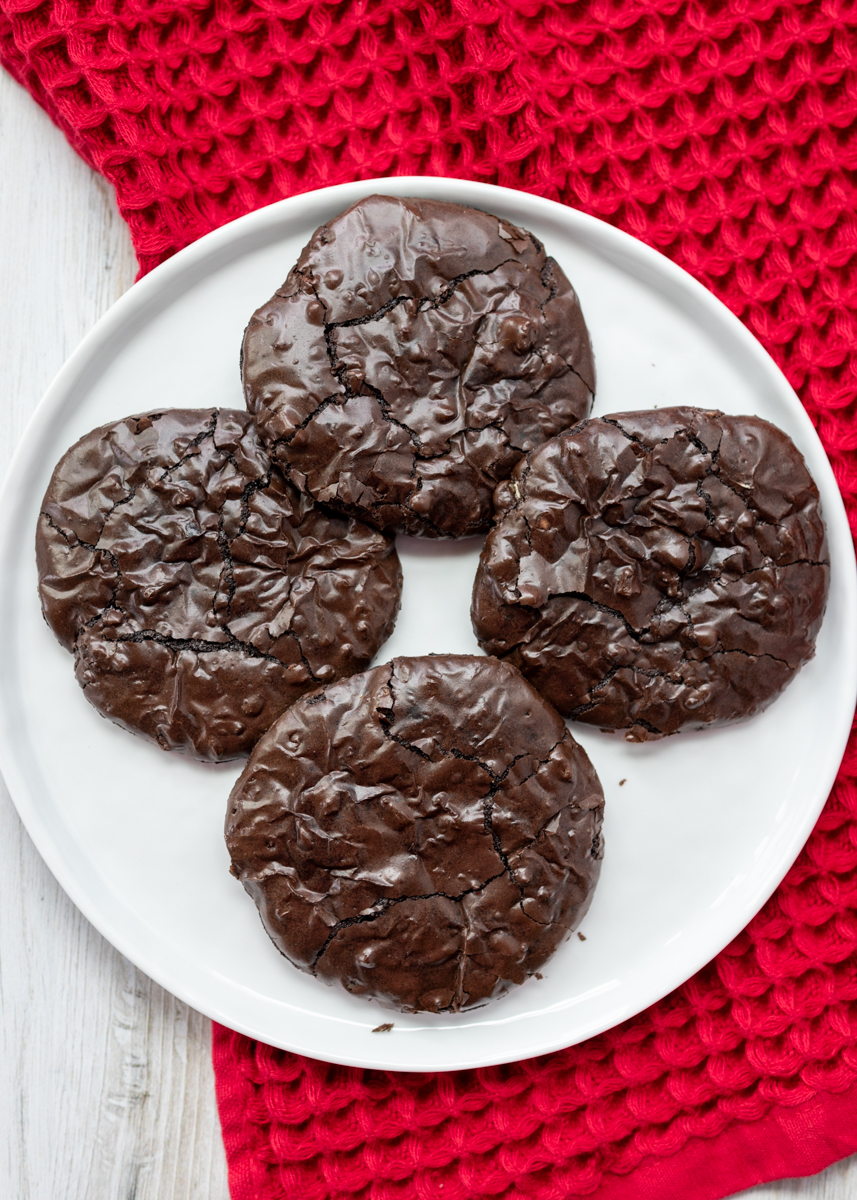 Making these cookies is very simple and only requires six ingredients. Woo hoo! Since they are flourless, they are quite different from your typical cookie batter. The base batter involves confectioners' sugar, cocoa powder, salt, egg whites and vanilla extract. That's it! No flour, butter or egg yolks.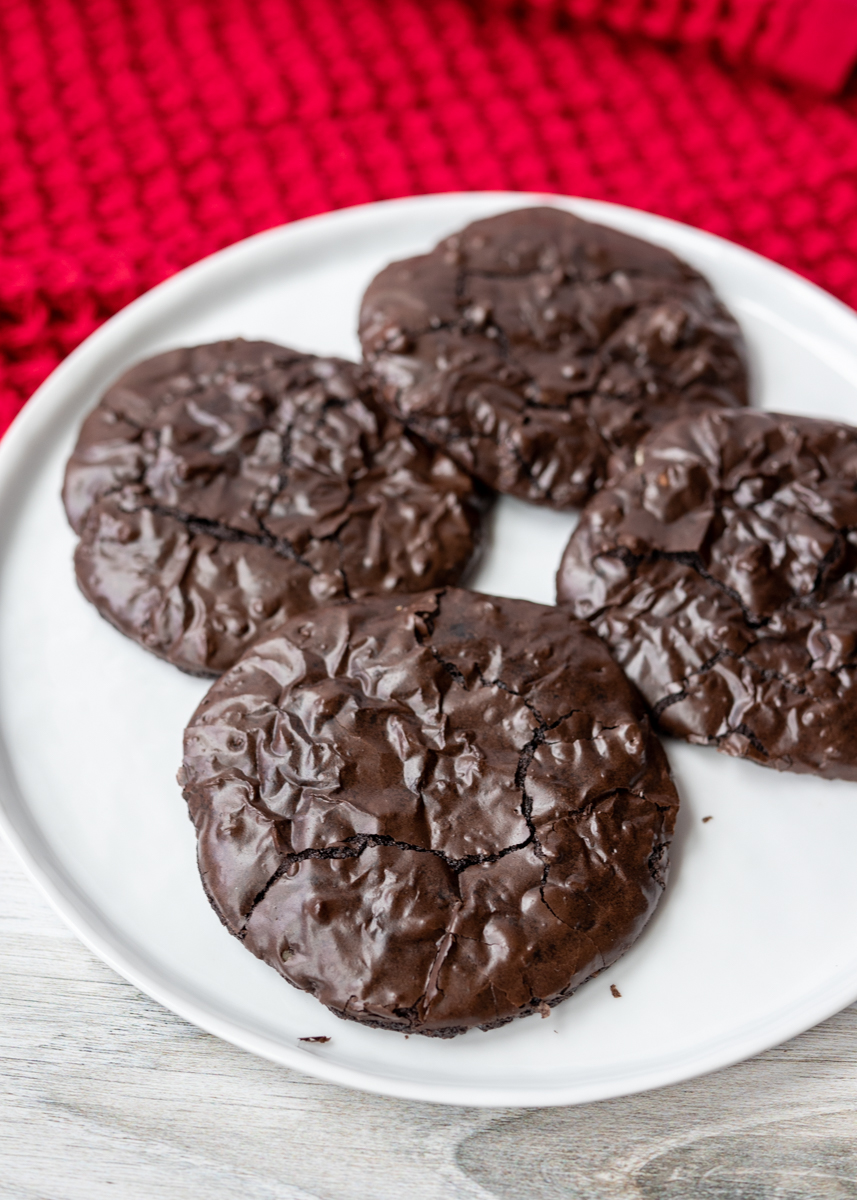 To make sure you have a rich, chocolatey taste you're going to want to use Dutch-processed cocoa powder. I typically use the Hershey's Special Dark Cocoa Powder, which is a blend of regular and Dutch-processed cocoa powder, with excellent results.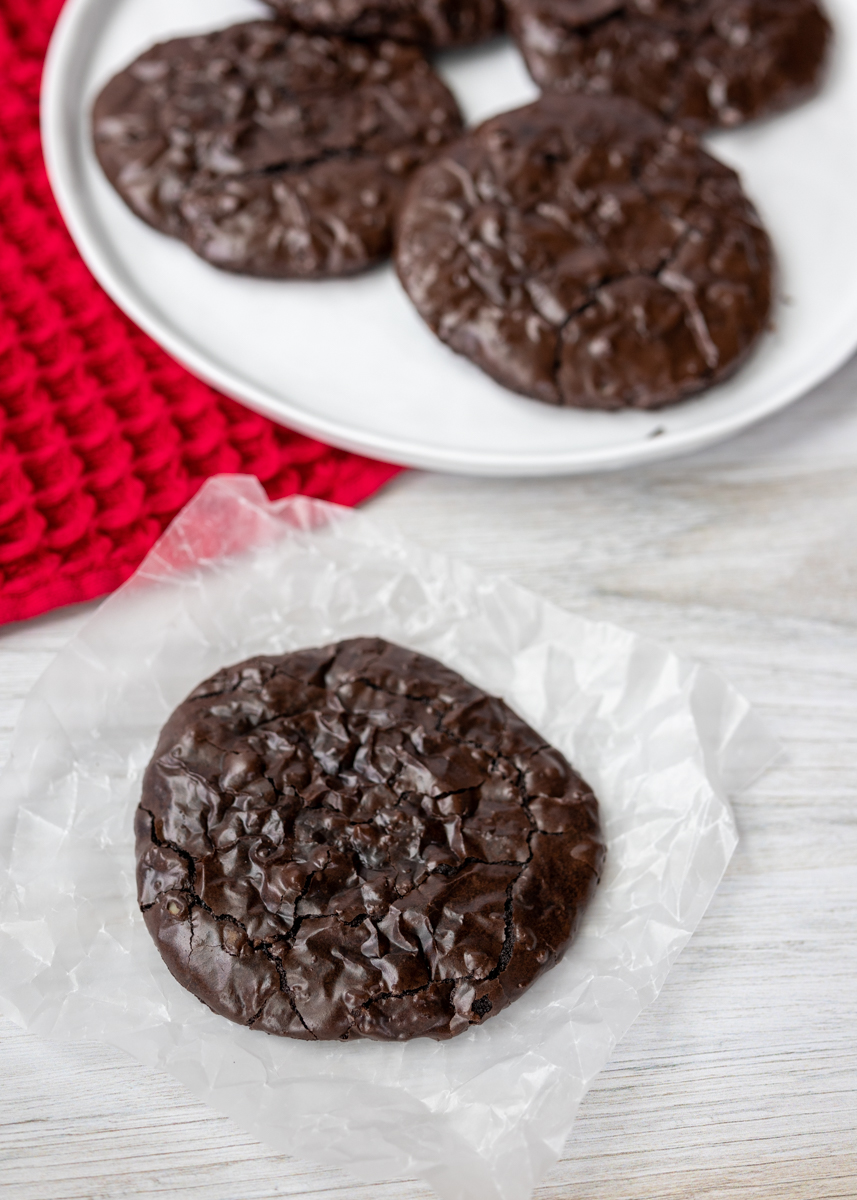 I highly recommend these easy and fudgey cookies for your cookie platter this year or for anytime you're feeling like you want a brownie-cookie treat. The only thing I'm going to try differently next time I make this, which I'm sure will be very soon, is to put in some chocolate chips because I'm a chocolate chips instead of walnuts kind of gal when it comes to brownies, not that you would know it from how many of these cookies I ate… oops! Enjoy!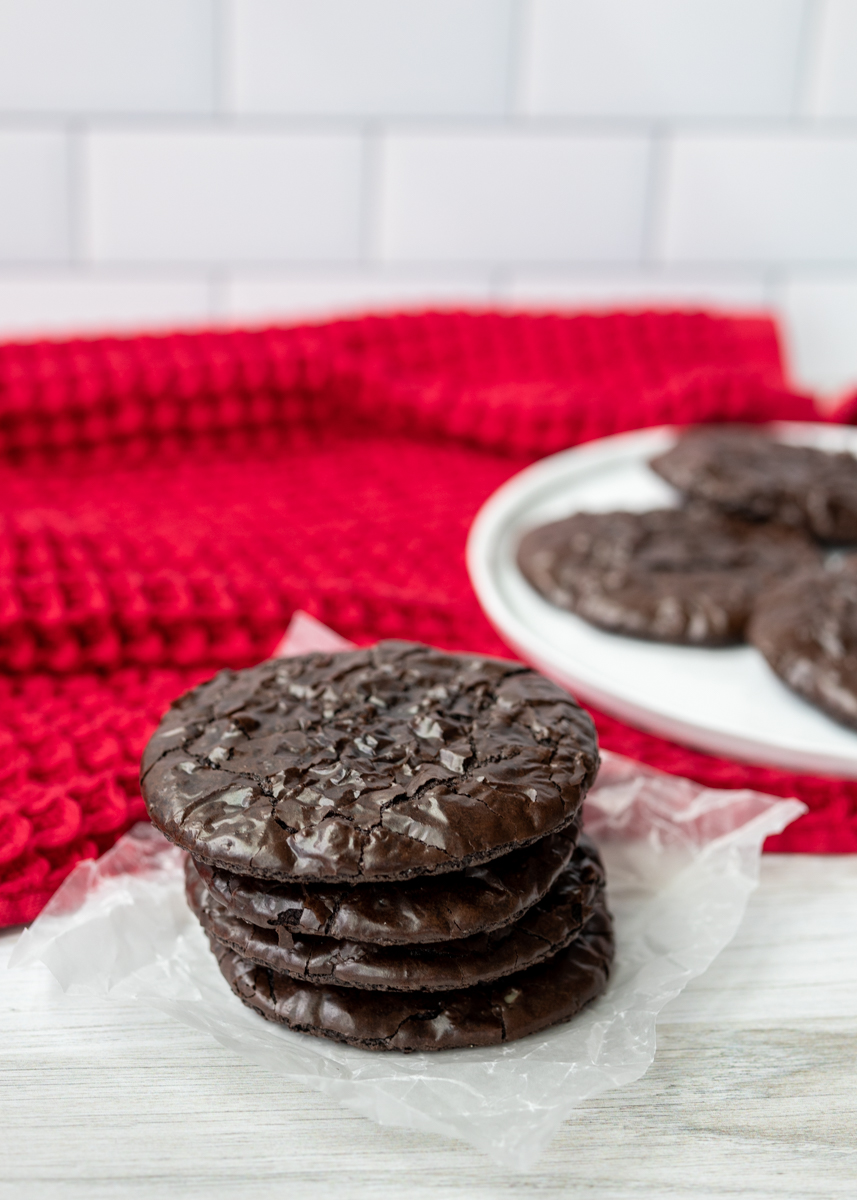 Flourless Chocolate Walnut Cookies
Ingredients
2¾ cups walnut halves, roughly chopped
3 cups confectioners' sugar
½ cup plus 3 tablespoons Dutch-processed cocoa powder
¼ teaspoon salt
4 large egg whites, at room temperature
1 tablespoon vanilla extract
Directions
Preheat oven to 350 degrees F, making sure oven racks are in the upper and lower thirds positions. Line 2 baking sheets with parchment paper and set aside.
Toast the walnuts. Spread the chopped walnuts onto a large baking sheet and toast in the oven for 5-7 minutes, or until golden and toasted, being sure not to let burn.
In the large bowl of a stand mixer, combine the confectioners' sugar, cocoa powder, salt and toasted walnuts on low speed with the paddle attachment. Add the egg whites and then vanilla then beat on medium speed for 3 minutes, or until mixture thickens slightly.
Use a large cookie scoop to scoop the batter into 12 mounds, 6 on each baking sheet, about 3-inches apart. Put the cookies in the oven and immediately lower the temperature to 325 degrees F. Bake for 14-16 minutes, switching the baking sheets halfway through baking. They are done with the tops are glossy and lightly cracked. Carefully slide the parchment paper with the cookies onto wire cooling racks to let the cookies cool completely on the parchment on the wire racks. Store in an airtight container at room temperature.
Recipe from

Food52 Genius Desserts: 100 Recipes That Will Change the Way You Bake

.
Some of the links above are affiliate links, which means I may receive a small commission for my referral. This does not affect the retail cost of the item. Thank you for supporting Lemon & Mocha!