Roasted Cauliflower Caesar Salad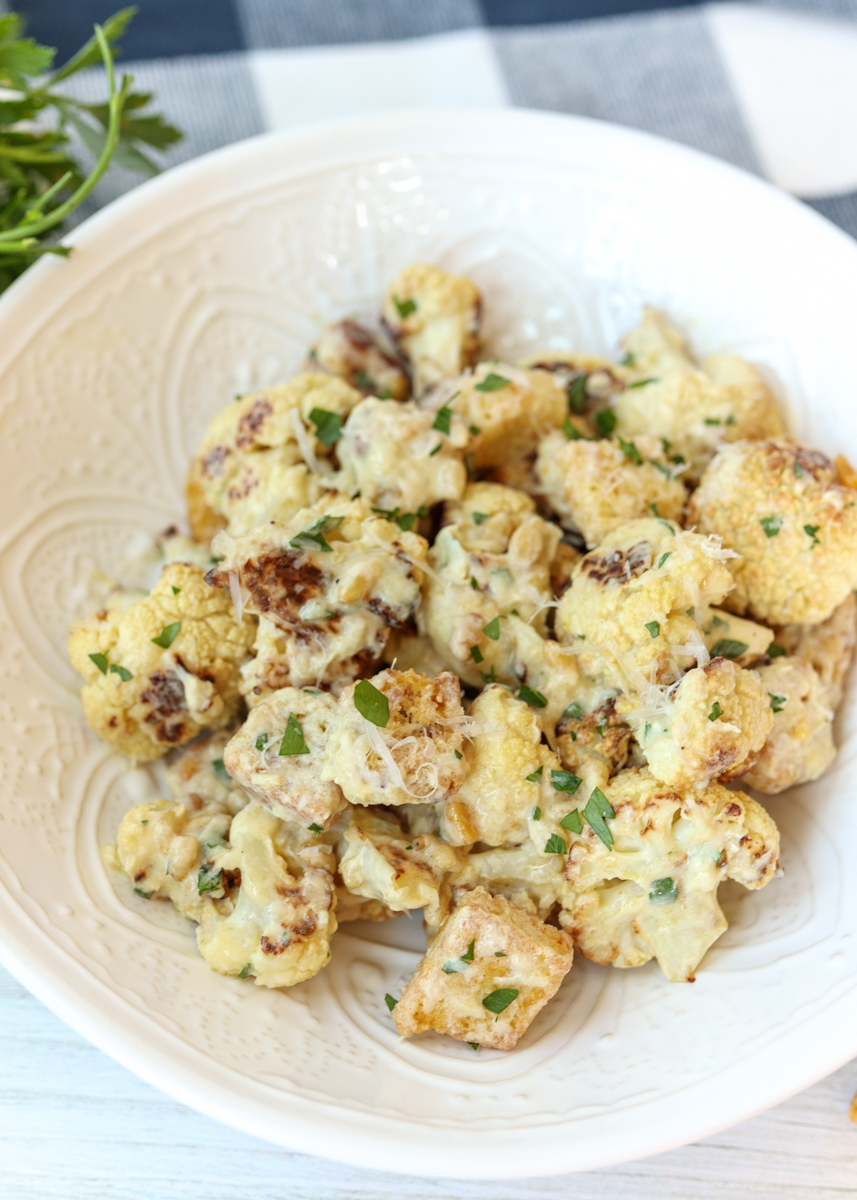 One thing I did not anticipate with my pregnancy was how tricky eating out was going to become. Yes, I knew I wasn't going to be able to eat raw seafood or cold deli meat, but there were so many other food concerns I was not aware of! I'm sure the list now is different than it was many years ago, but as a fairly adventurous eater there are many foods I'm supposed to avoid. In addition to raw seafood and cold deli meat, there's also unpasteurized cheeses, smoked fish, pate, fish high in mercury, raw eggs and under-cooked meat. I'm probably even forgetting some!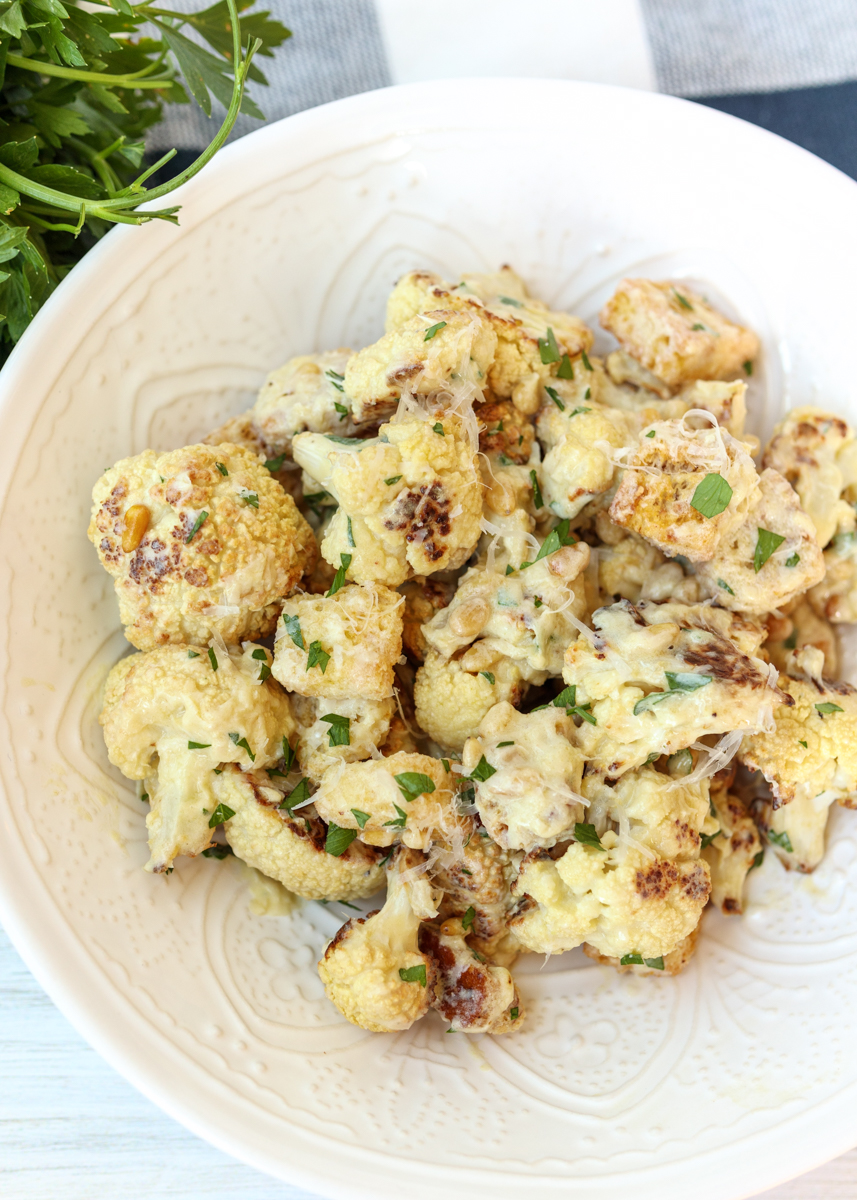 Ordering at a restaurant for the last eight months has involved more questions than I've ever asked a waiter. Oftentimes I'll order something different than what I would like to just because it's easier and won't require a twenty questions game. One dish I love eating, but have run into some issues is Caesar salad. Although most restaurants these days don't use raw egg in their homemade Caesar dressing, I've still run into a couple that do.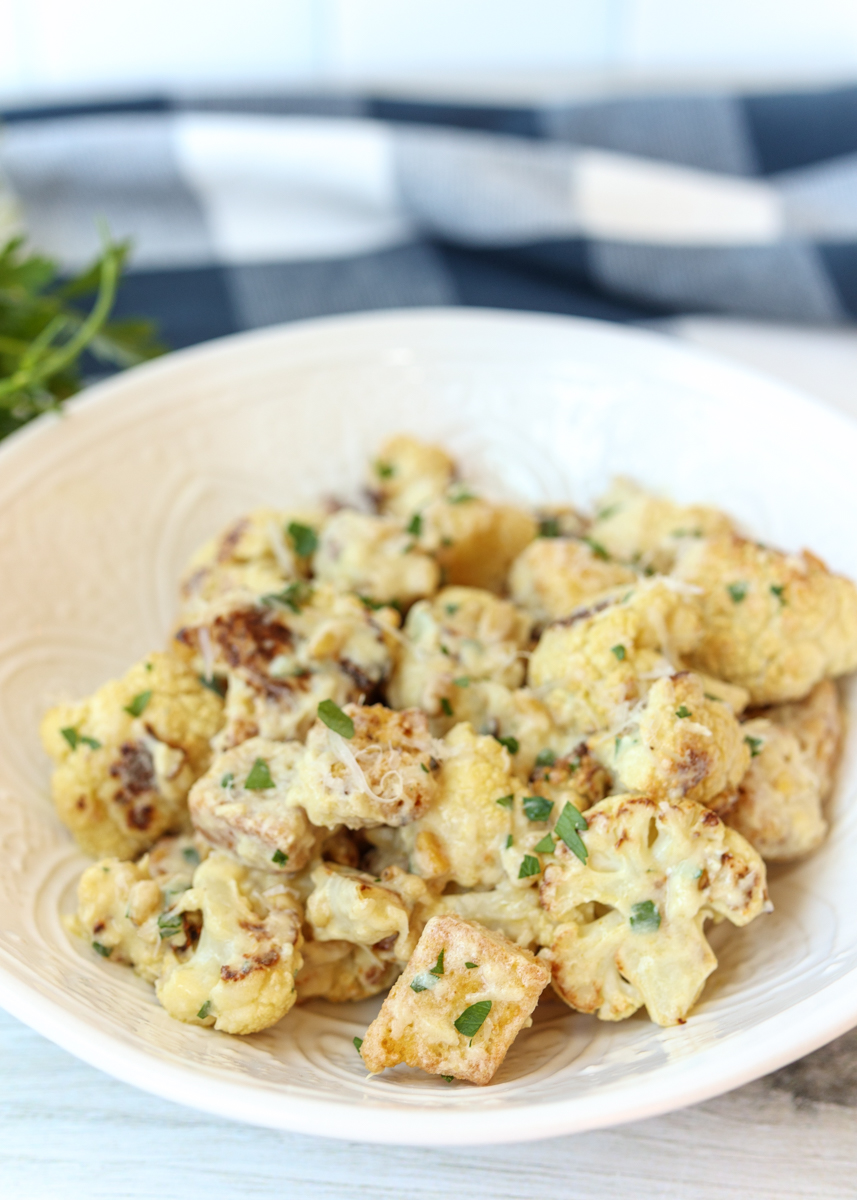 The good news is this recipe I have for you today involves no raw egg. In fact, it involves no egg at all! This Roasted Cauliflower Caesar Salad is a super tasty twist on a classic dish and is perfect because cauliflower is in peak season right now. Caramelized roasted cauliflower florets are tossed with crispy croutons, fresh parsley, toasted pine nuts and plenty of Parmesan cheese.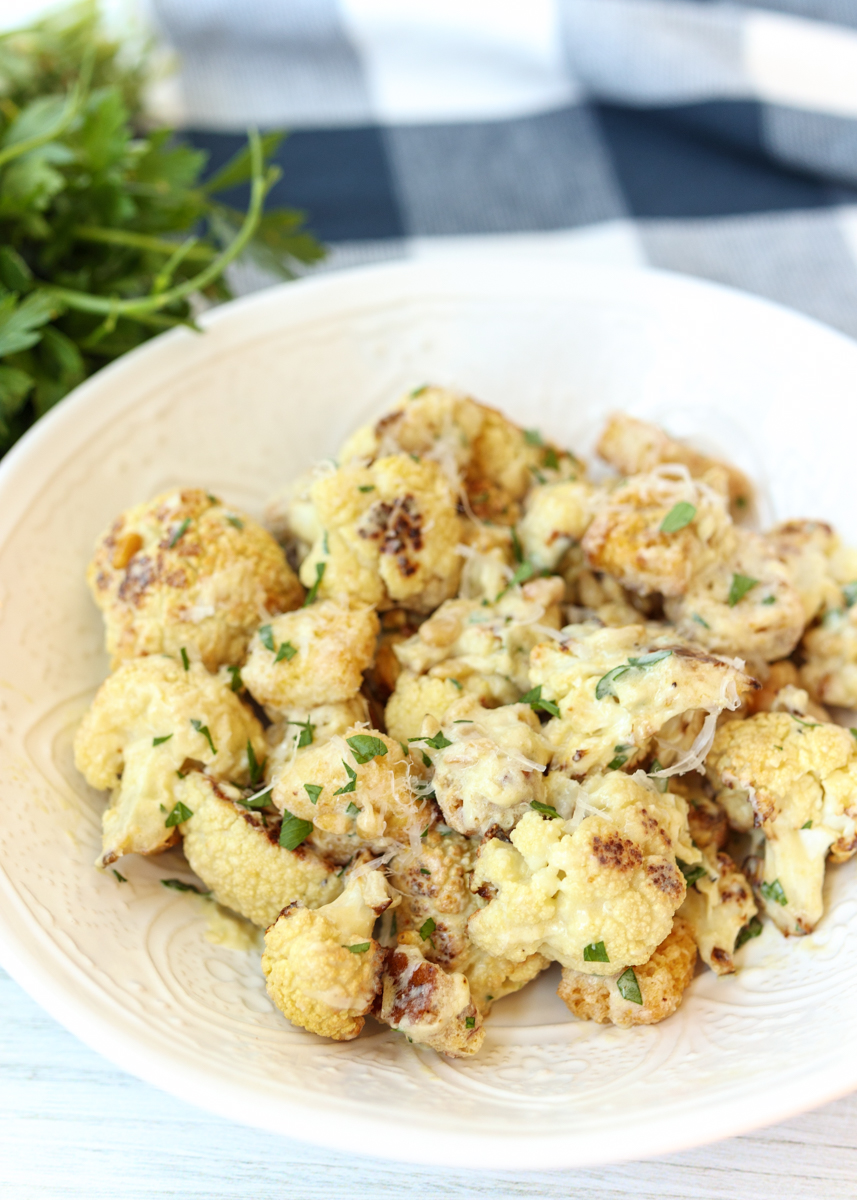 However, the real winner here is the homemade Caesar dressing made with Greek yogurt. Just like with the homemade tarter sauce, the combination of ingredients in the dressing keeps it from tasting "yogurty" and instead it tastes just like the real deal, especially when tossed in the salad.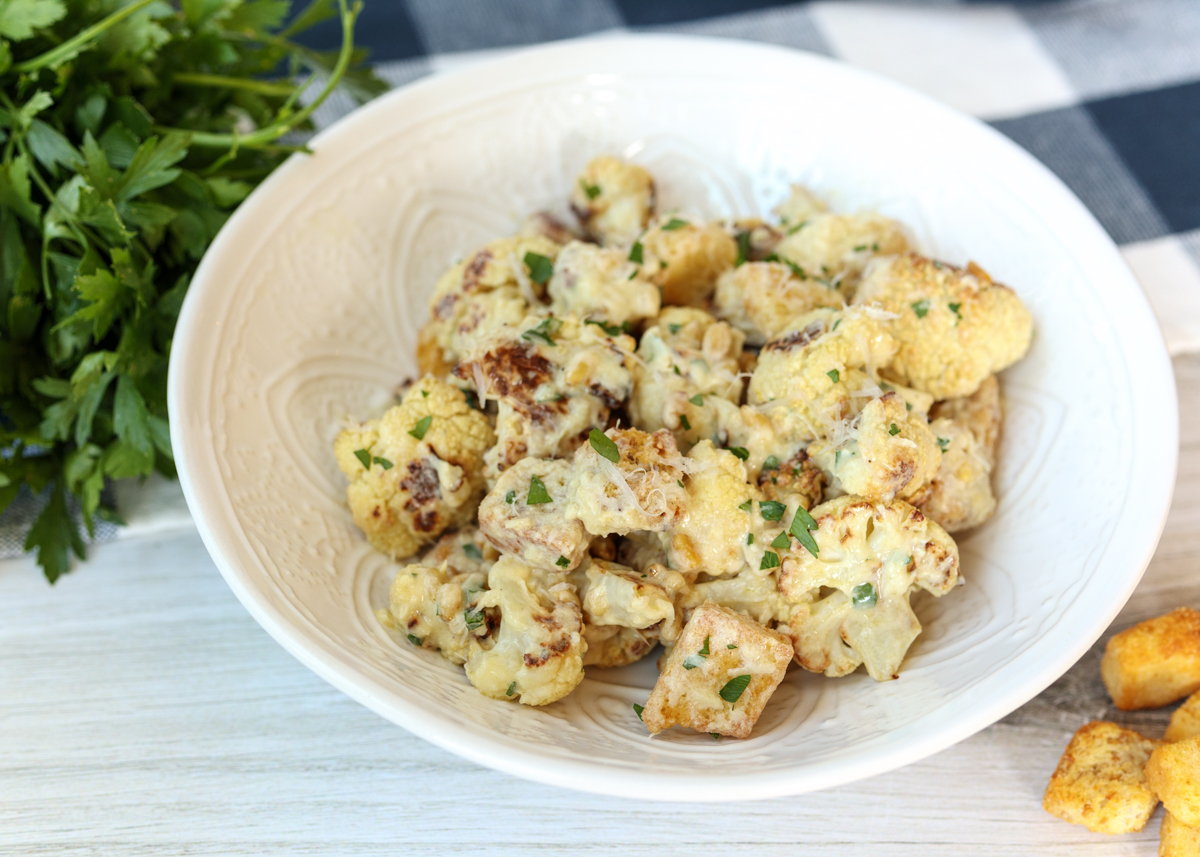 The only thing I might do differently next time I make this is to toss in some salad greens because I want to make a main dish out of this instead of just having it on the side since it's so good! Enjoy, friends!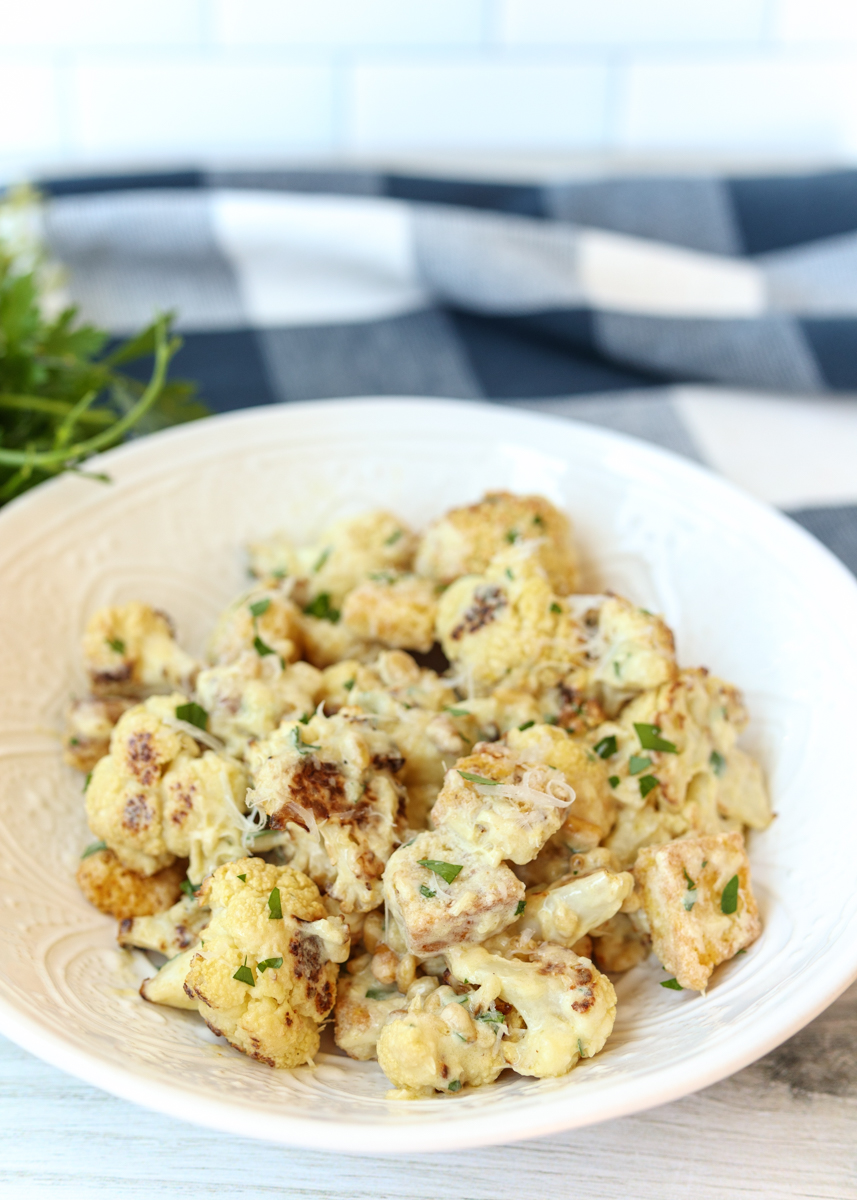 Roasted Cauliflower Caesar Salad
Ingredients
2 heads cauliflower, cut into large florets
⅓ cup plain Greek yogurt
⅓ cup olive oil, plus 3 tablespoons for the cauliflower
½ cup fresh grated Parmesan
1 teaspoon Worcestershire sauce
1 teaspoon dijon mustard
Juice of 1 lemon
1 cup croutons
¼ cup toasted pine nuts
¼ cup fresh parsley, chopped
Salt and ground black pepper
Directions
Preheat oven to 425 degrees F. Place the cauliflower florets on the baking sheet then drizzle with 3 tablespoons of the olive oil. Toss to coat then season with salt. Roast for 35-40 minutes, or until browned and tender. Let cool.
Make the dressing. Whisk together the yogurt, remaining ⅓ cup of olive oil, Parmesan, Worcestershire, dijon and lemon juice. Toss with the cauliflower, croutons, pine nuts and parsley. Season with salt and pepper to taste.
 Recipe from July/August 2017 issue of Food Network Magazine
.
Some of the links above are affiliate links, which means I may receive a small commission for my referral. This does not affect the retail cost of the item. Thank you for supporting Lemon & Mocha!