Butternut Squash Ravioli in a Sage Brown Butter Sauce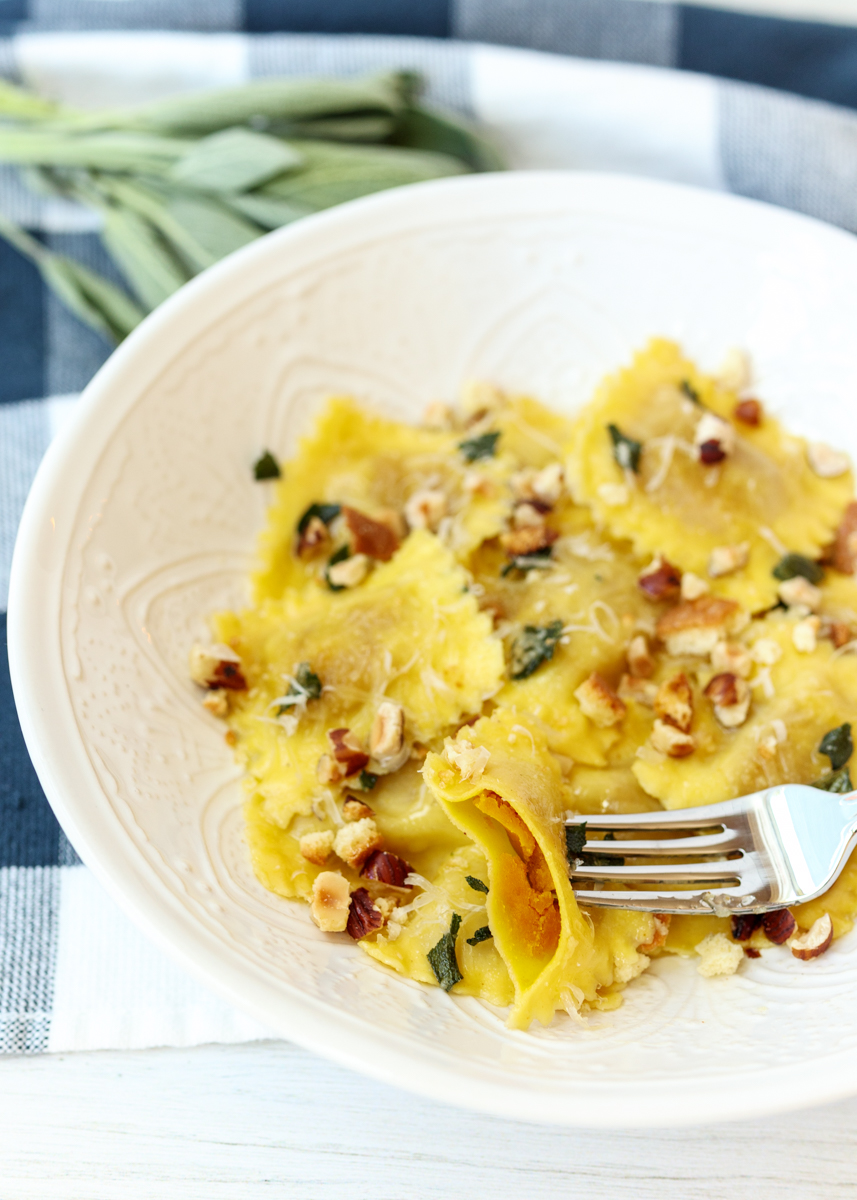 I want to be clear right from the first sentence that this is not a recipe for homemade butternut squash ravioli. What we're focusing on today is this easy and delicious brown butter sage sauce. Add some fall raviolis, toasted hazelnuts and crumbled biscotti cookie and you will think you're at a fine dining restaurant instead of your own kitchen!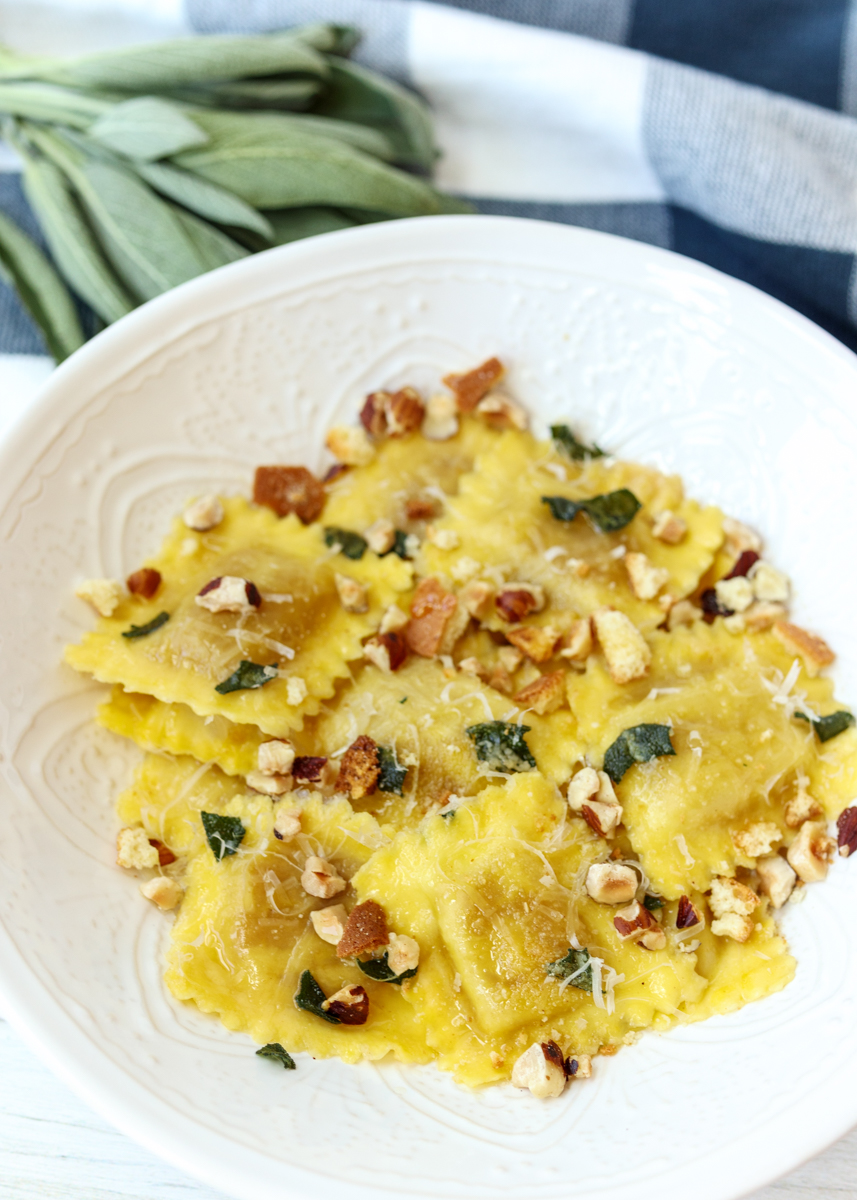 Now, if you're feeling really ambitious you certainly could use homemade ravioli for this dish, but fall brings a wide variety of fresh butternut squash and pumpkin ravioli to the grocery stores so I'm all about taking advantage to get a quick meal on the table.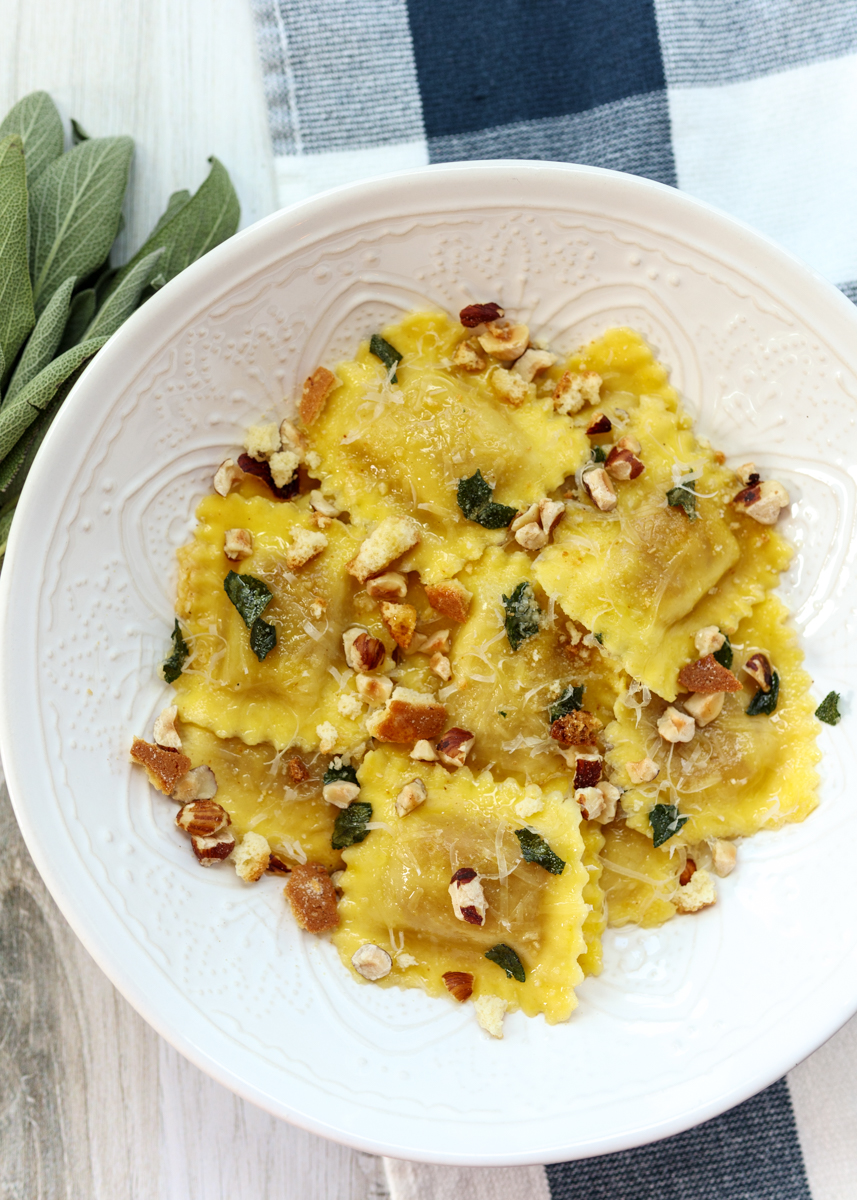 Every time I see squash ravioli in a brown butter sage sauce on a restaurant menu I always end up ordering it so I decided it was time to make some to enjoy at home. If you've never had brown butter, it's simply butter that has continued to cook over low heat after it has melted until it has a darker color and tastes rich, nutty and toasted.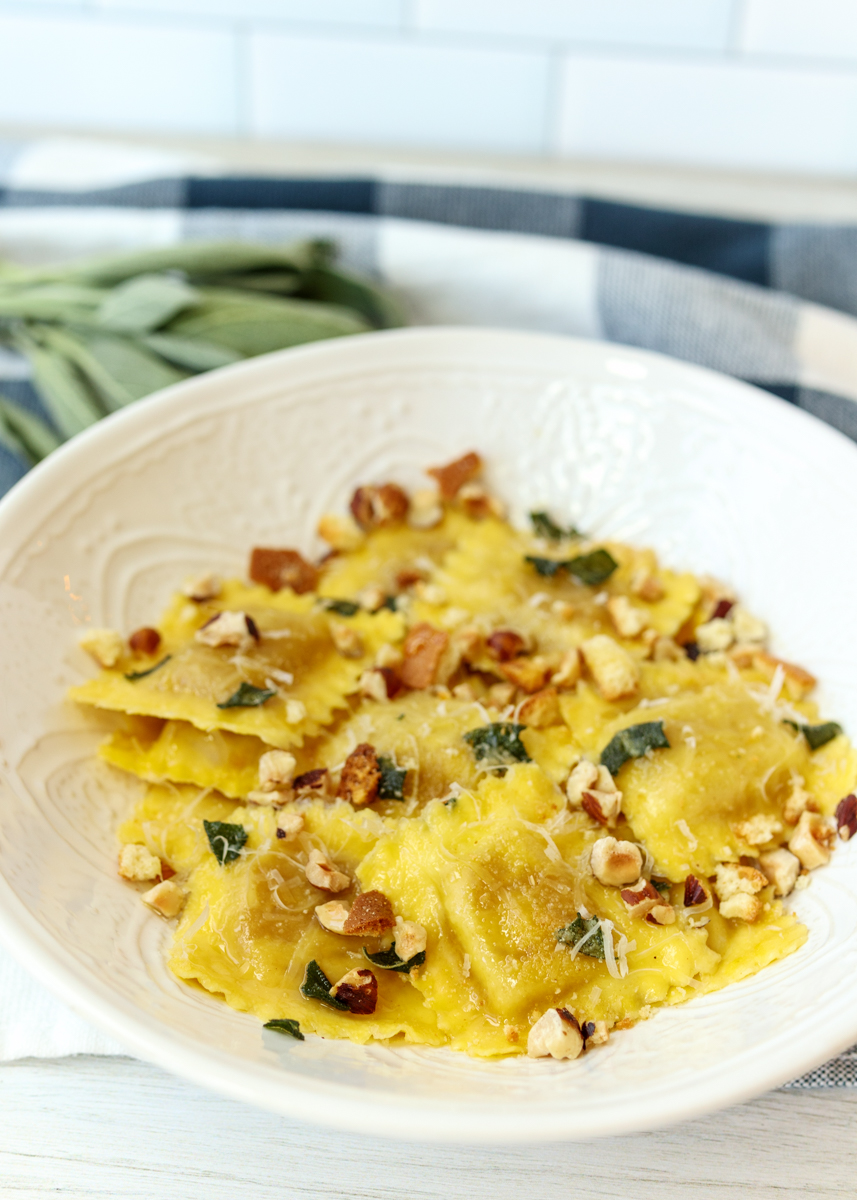 Also, if you've never browned butter that means you've never made my Perfect Chocolate Chip Cookies! If that's the case please stop reading right now and go bake these cookies!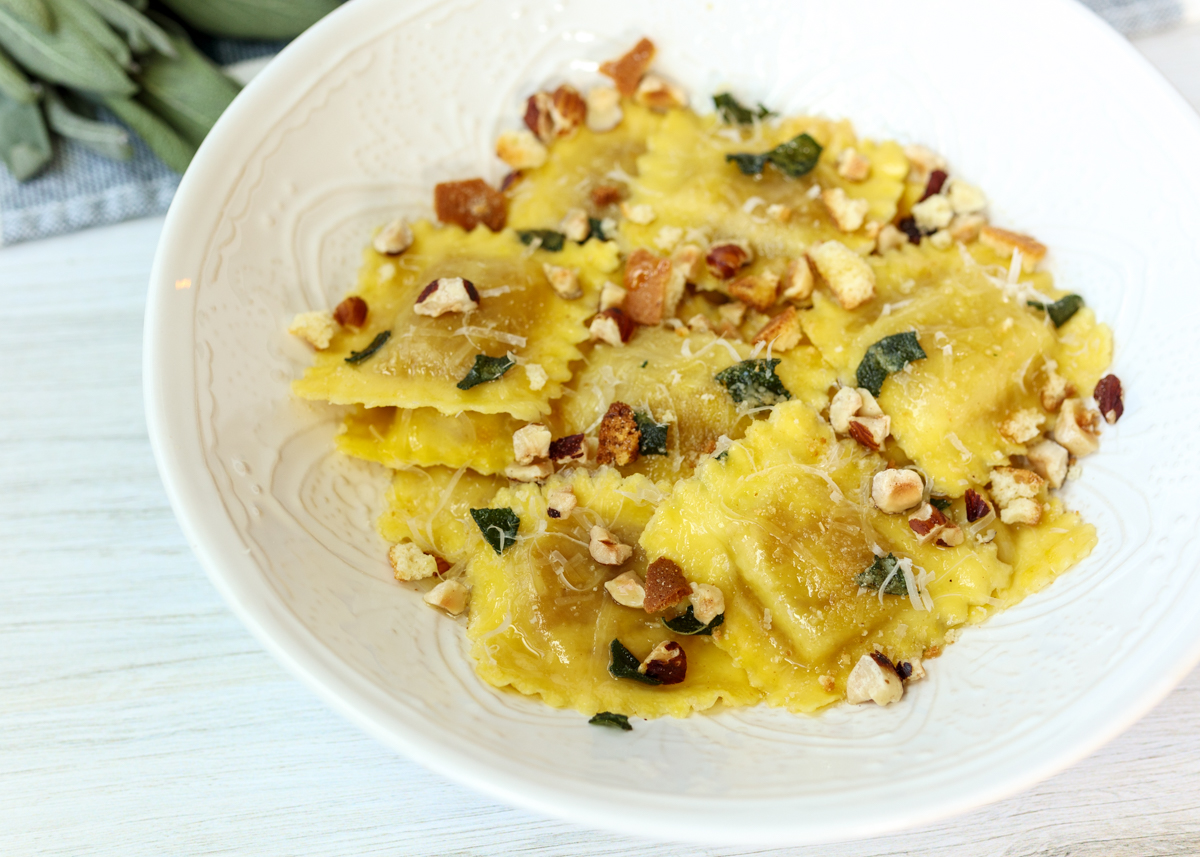 Okay, for those of you that are still with us, the sauce is simply brown butter that we then use to fry a couple sage leaves before removing from the heat. A little seasoning and Parmesan are added before tossing with the cooked ravioli. The toasted hazelnuts and crumbled biscotti add just the right amount of crunch to the finished dish. I love using hazelnuts since they're so buttery, but you could also use toasted pine nuts or pistachios. Enjoy this one and have a great weekend!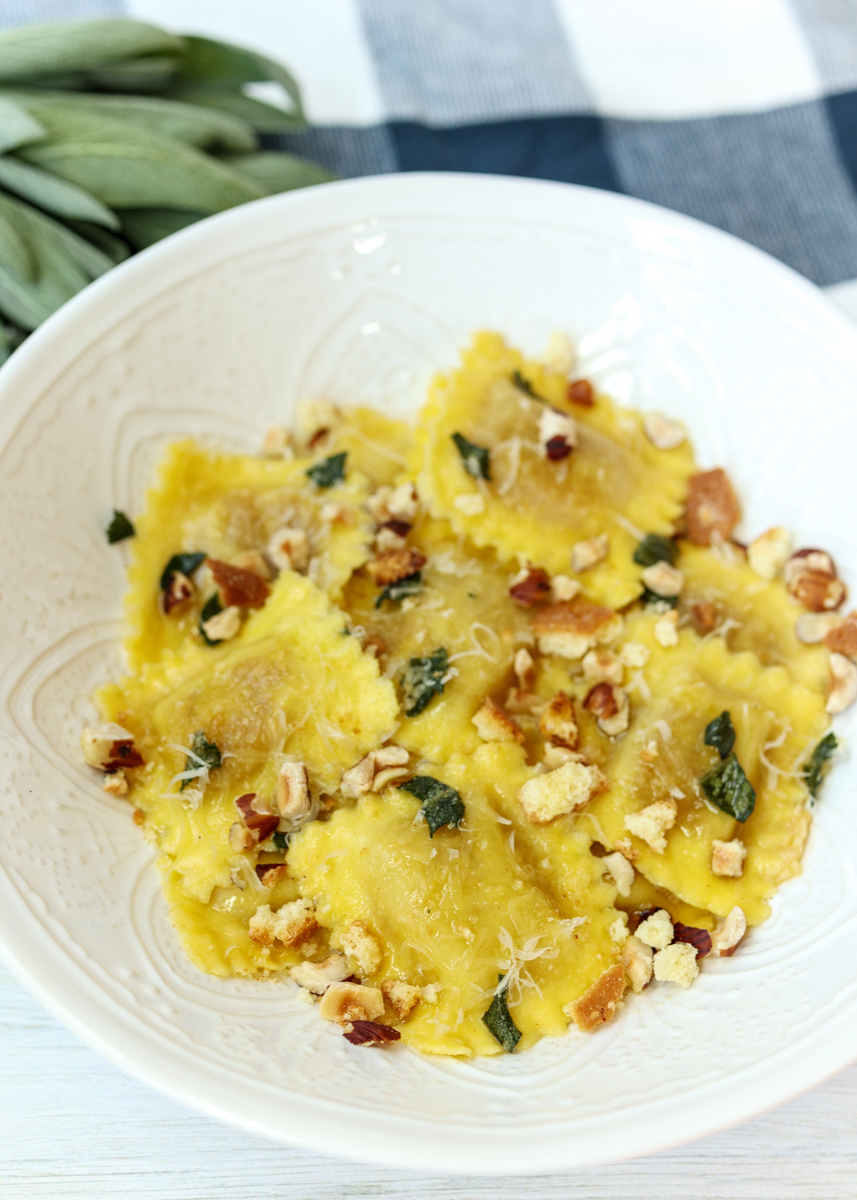 Butternut Squash Ravioli in a Sage Brown Butter Sauce
Ingredients
½ cup chopped hazelnuts
1 pound fresh butternut squash or pumpkin ravioli
6 tablespoons unsalted butter
6 fresh sage leaves, torn
Pinch of ground nutmeg
½ cup fresh grated Parmesan, plus more for serving
2 amaretti or biscotti cookies, crumbled
Directions
Toast the hazelnuts. Preheat oven to 350 degrees F. Spread the chopped hazelnuts on a baking sheet then bake for 3-5 minutes, or until lightly toasting, being careful not to let burn. Set aside.
Cook the fresh ravioli according to the package directions. If they're done before the browned butter sauce, very lightly toss with olive oil so they don't stick together.
Melt the butter in a large sauté pan over medium-low heat. Once melted, let the butter continue to cook, swirling the pan occasionally. Once the butter is a light tan and starts to smell a lightly nutty, add the torn sage leaves. Let the sage leaves lightly crisp up then remove from the heat. Add the ground nutmeg. Add the cooked raviolis and toss to coat. Add the Parmesan. Plate the raviolis and sauce then top each plate with the toasted hazelnuts and crumbled cookies. Top with additional Parmesan, if desired.
Recipe slightly adapted from

Food Network

.