Crispy Baked Coconut Shrimp Topped with Peanut Sauce and Pineapple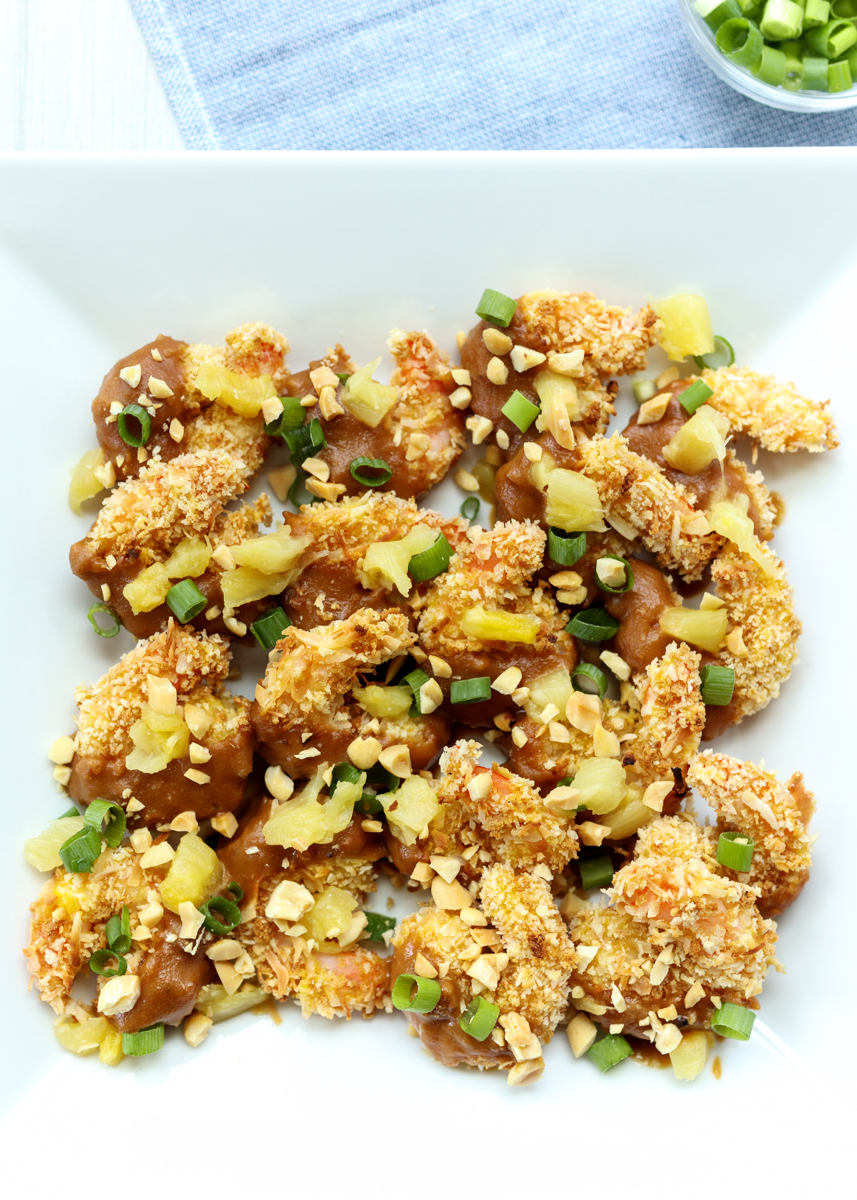 I have another restaurant inspired dish for you! I say inspired because it is actually quite different from the original. This time it's from a New England classic – Legal Sea Foods. There's a few restaurants Matt and I have been to over and over and Legal Sea Foods is definitely in that category. It helps that there's a lot of them here in Massachusetts and that we've always seemed to have one near us, whether it was the one in Chestnut Hill while we were still at Boston College or the one in Harvard Square that we could walk to when we lived in Cambridge.
It was at their Harvard Square location that we first tried their Thai style fried calamari. It is described on the menu simply as "Thai style – pineapple and peanuts," and when it came out we could smell the rich peanut sauce.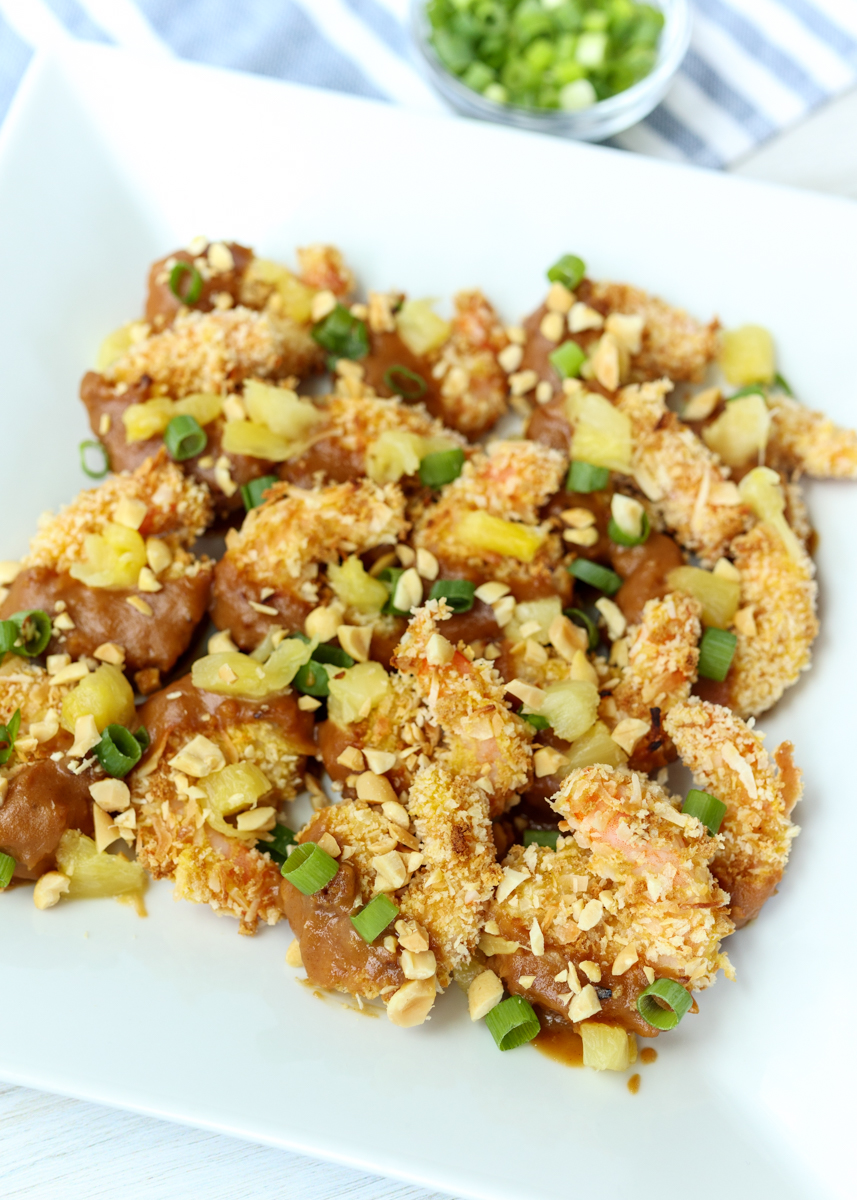 The crispy fried calamari was smothered in an addictive peanut sauce, scallions, chopped peanuts and pineapple chunks. We were hooked! They are actually pretty spicy and normally I cannot do spice, but I will happily suffer through every time just for some of these saucy, crispy calamari bites!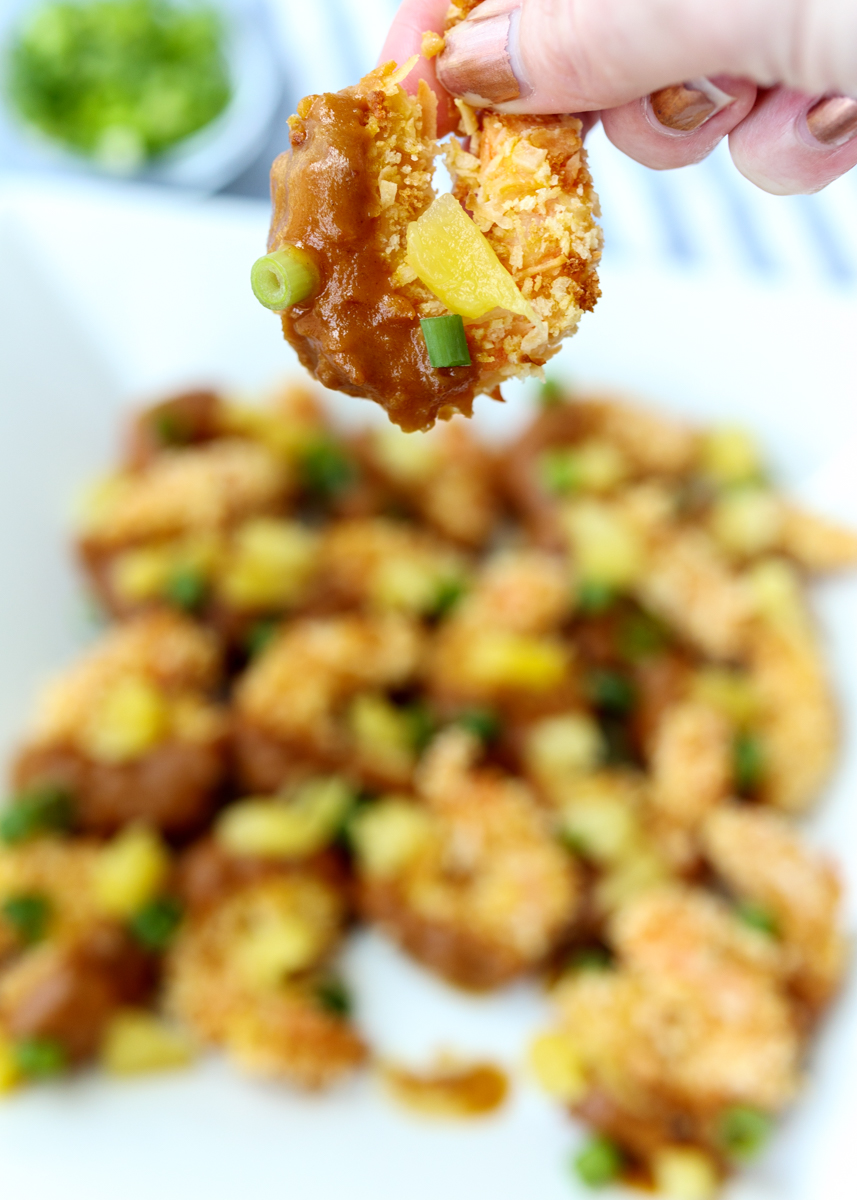 Now if you're wondering why I'm talking about calamari when this is clearly a shrimp recipe that is a big part of why I'm using the word "inspired." This Crispy Baked Coconut Shrimp with Peanut Sauce and Pineapple can be served as a party appetizer or as a main course alongside some rice and salad.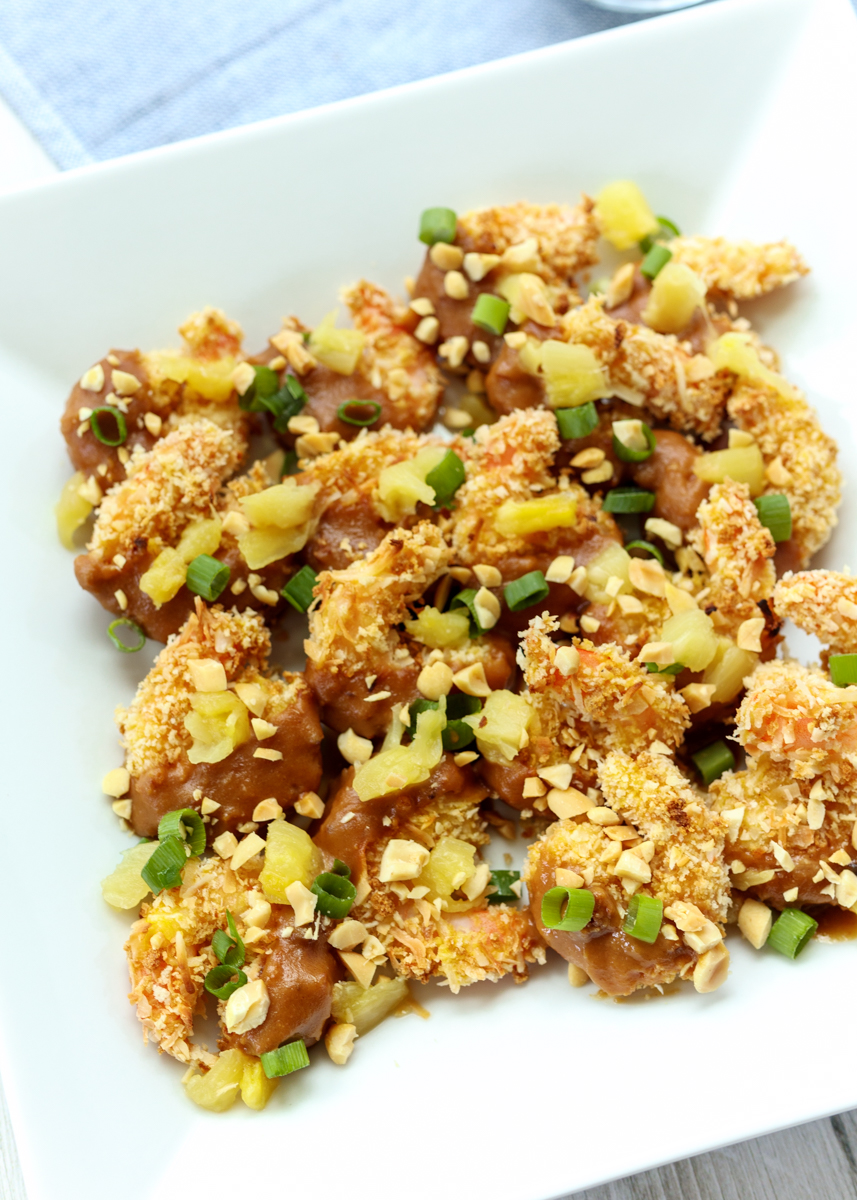 The panko breadcrumbs, which are already crunchy, get pre-baked to ensure they create the crispiest coating for the shrimp. The shredded coconut is another departure from the original, but I love the flavor combination along with the peanut sauce and pineapple. A little savory, a little sweet and a whole lot of deliciousness. I hope you enjoy these Crispy Baked Coconut Shrimp with Peanut Sauce and Pineapple!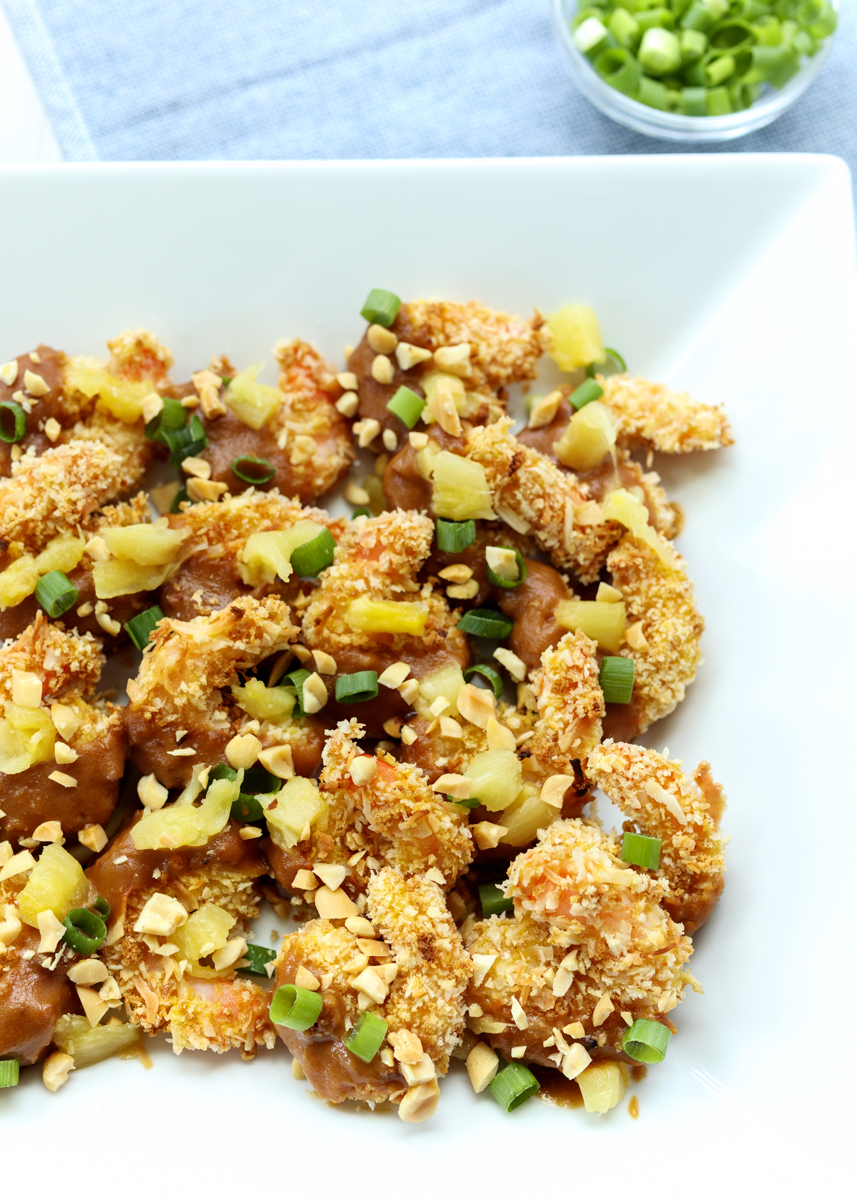 Crispy Baked Coconut Shrimp Topped with Peanut Sauce and Pineapple
Ingredients
for the shrimp
1 cup panko breadcrumbs
½ cup unsweetened shredded coconut (see note)
½ teaspoon salt
½ cup flour
2 eggs, beaten
1 pound shrimp, peeled, deveined and tails removed
¼ cup chopped peanuts
¼ cup sliced scallions
¼ cup chopped fresh pineapple
Salt and pepper
for the peanut sauce
¼ cup creamy peanut butter (don't use natural peanut butter)
2 tablespoons low sodium soy sauce
1-2 tablespoons light coconut milk or water (depending on how thick you want your sauce)
1 tablespoon maple syrup
1 tablespoon lime juice
¼ teaspoon ground ginger
⅛ teaspoon red pepper flakes
Directions
for the shrimp
Preheat oven to 350 degrees F. Place the panko and coconut on a baking sheet then bake until golden, about 4 minutes. Remove from the oven and toss with ½ teaspoon salt.
Preheat oven to 425 degrees F. Place a wire cooling rack on top of baking sheet then spray with nonstick cooking spray. Set up a breading station for the shrimp with three shallow bowls. Place the flour tossed with salt and pepper in the first one. Add the beaten eggs to the second one and the panko mixture to the third.
Bread the shrimp. Coat with the flour, shaking off excess, then dip in the egg, letting excess drip off. Coat completely in the panko mixture then place on the prepared wire rack. Repeat until all the shrimp are breaded then bake for 8-10 minutes. Serve immediately along with the peanut sauce, chopped peanuts, scallions and pineapple.
for the peanut sauce
Whisk everything together until combined.
Notes
If you don't want to use coconut, just omit it and add an additional ½ cup of panko.
Baked shrimp recipe from

Pinch and Swirl

.