Crispy Baked Coconut Shrimp Topped with Peanut Sauce and Pineapple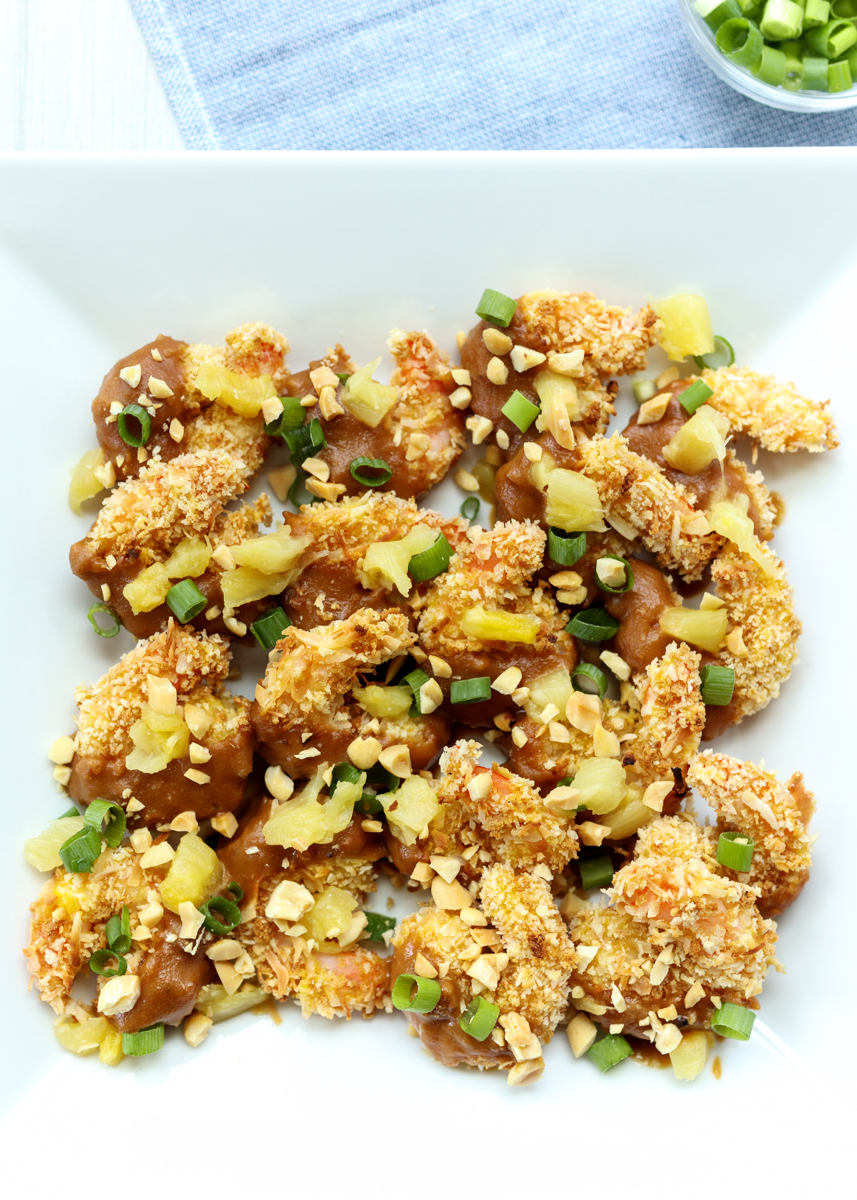 1 cup panko breadcrumbs
½ cup unsweetened shredded coconut (see note)
½ teaspoon salt
½ cup flour
2 eggs, beaten
1 pound shrimp, peeled, deveined and tails removed
¼ cup chopped peanuts
¼ cup sliced scallions
¼ cup chopped fresh pineapple
Salt and pepper
¼ cup creamy peanut butter (don't use natural peanut butter)
2 tablespoons low sodium soy sauce
1-2 tablespoons light coconut milk or water (depending on how thick you want your sauce)
1 tablespoon maple syrup
1 tablespoon lime juice
¼ teaspoon ground ginger
⅛ teaspoon red pepper flakes
Preheat oven to 350 degrees F. Place the panko and coconut on a baking sheet then bake until golden, about 4 minutes. Remove from the oven and toss with ½ teaspoon salt.
Preheat oven to 425 degrees F. Place a wire cooling rack on top of baking sheet then spray with nonstick cooking spray. Set up a breading station for the shrimp with three shallow bowls. Place the flour tossed with salt and pepper in the first one. Add the beaten eggs to the second one and the panko mixture to the third.
Bread the shrimp. Coat with the flour, shaking off excess, then dip in the egg, letting excess drip off. Coat completely in the panko mixture then place on the prepared wire rack. Repeat until all the shrimp are breaded then bake for 8-10 minutes. Serve immediately along with the peanut sauce, chopped peanuts, scallions and pineapple.
Whisk everything together until combined.
If you don't want to use coconut, just omit it and add an additional ½ cup of panko.
Recipe by
Lemon & Mocha
at http://www.lemonandmocha.com/2019/08/05/crispy-baked-coconut-shrimp-topped-with-peanut-sauce-and-pineapple/