Mushroom Mac and Cheese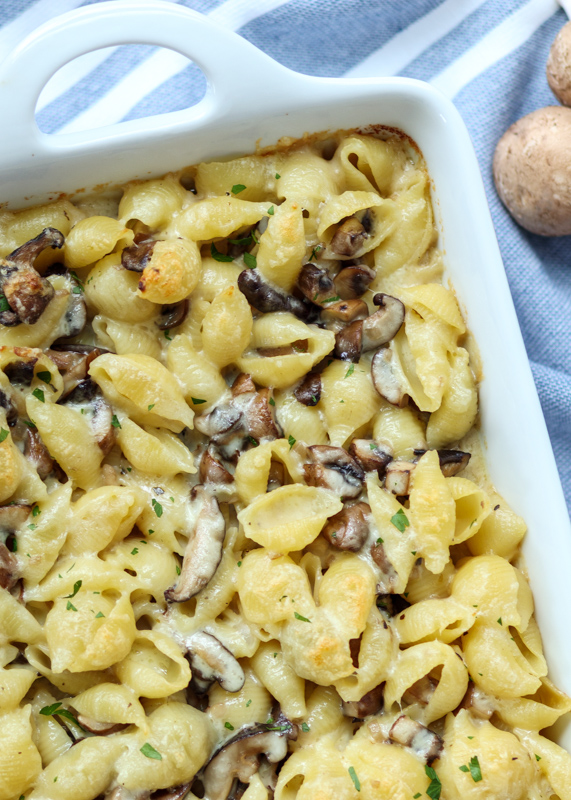 Today is Lemon & Mocha's five year anniversary! Can you believe it? Five years ago today I published the first ever Lemon & Mocha blog post and here we are with another first – the first ever mac and cheese recipe on the site! Can you believe that? I can't decide which thing shocks me more. I think, and anyone who knows me well will agree, that this being the first mac and cheese recipe is the most surprising part of today by far. I am OBSESSED with macaroni and cheese. I have been since I was a kid and I'm equally surprised I haven't just turned into a big mac and cheese noodle so far. Although not for a lack of trying – check out my Halloween costume from last year!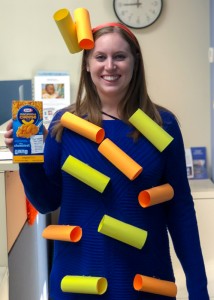 When I was in middle school I would come home from school every day and eat an entire box of Kraft macaroni and cheese. I took my box mac and cheese very seriously, too. I remember one time being at my best friend's house and telling her mom not to worry, that I would make the box of mac and cheese because I knew the secret way to make it taste best (more butter, less milk, is key!). Nowadays, I'm all about the Annie's mac and cheese. But what I love most of all is a cheesy, gooey, flavor packed homemade macaroni and cheese.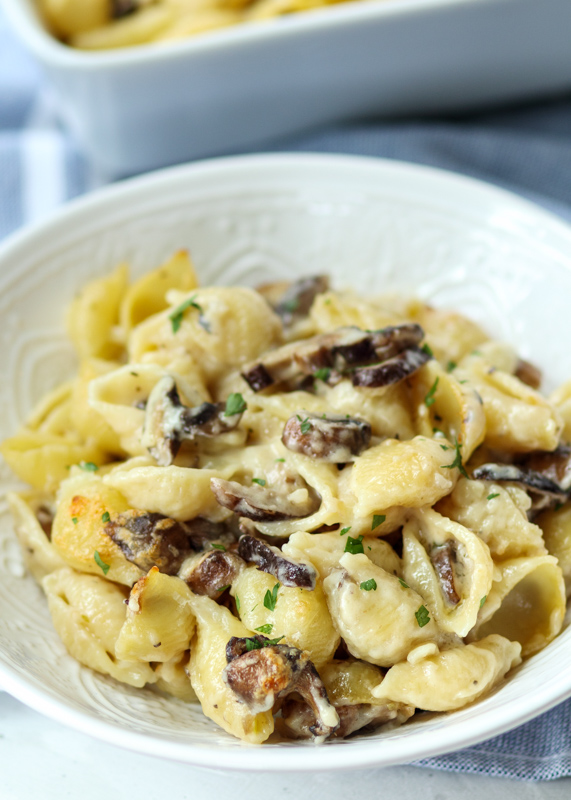 The flavor packed part is really important because a quality mac and cheese needs to be more than just noodles and melted cheese sauce. It has to have depths to its flavors so each bite takes you on a flavor roller coaster. Not a huge upside down one, but like a medium curvy one so just when you think you've settled in another flavor curve hits your palate. I usually use multiple types of cheeses and a little dijon mustard in all my homemade mac and cheeses as a start for that extra depth of flavor.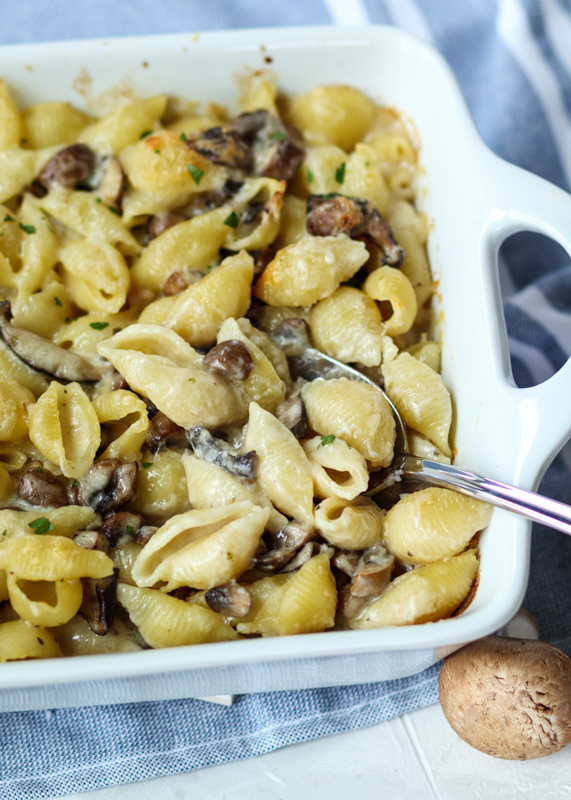 This mushroom version is some next level mac and cheese though since it's loaded with umami. If you aren't familiar with the term, check out my Balsamic Roasted Mushrooms post! We're sautéing both cremini and shiitake mushrooms in shallots and garlic before putting them in the dish so they've reached their peak deliciousness. We're also using dried mushrooms, which get re-hydrated in some warm water before being sautéed. The reason we do this is so we create a rich mushroom liquid that we use right in the Mushroom Mac and Cheese. This lets rich mushroom flavor permeate every bite, even if you don't get an actual piece of mushroom.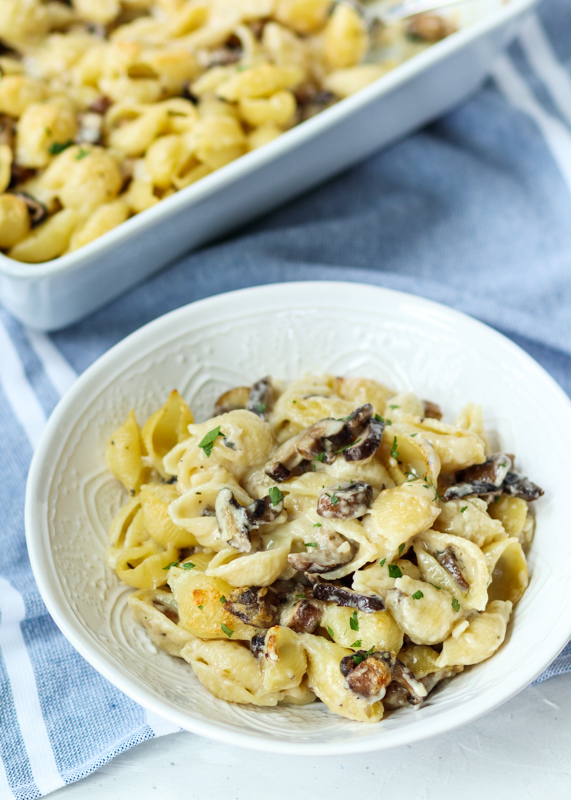 I've made this mac and cheese in the past, but this most recent time Matt and I couldn't get enough of it. The minute I took my last photo I grabbed a fork and started eating it right from the serving bowl – smelling it while photographing had been tortuous! We didn't want to eat it all over the weekend because it's, you know, not the healthiest, so I froze a container of it. Needless to say, that container promptly got defrosted the next night!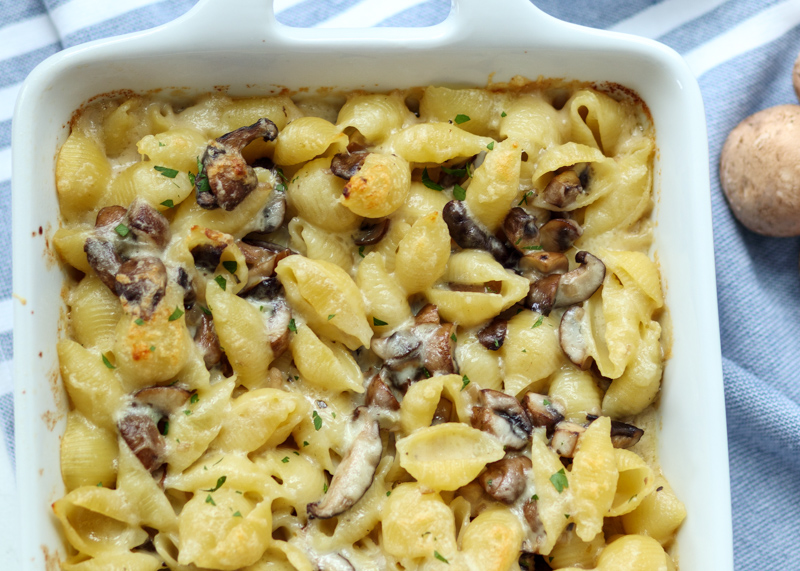 I can't believe this is the first macaroni and cheese recipe I'm posting on Lemon & Mocha, but I promise it won't be my last. Also, how many times did I just type mac and cheese? It must be my favorite word combination. Thank you all so much for continuing to follow this journey with me! As much as I pour my heart into my cooking, I equally pour my heart into my writing each week and connecting with everyone in this tiny online space brings me so much joy. So thank you, thank you, thank you!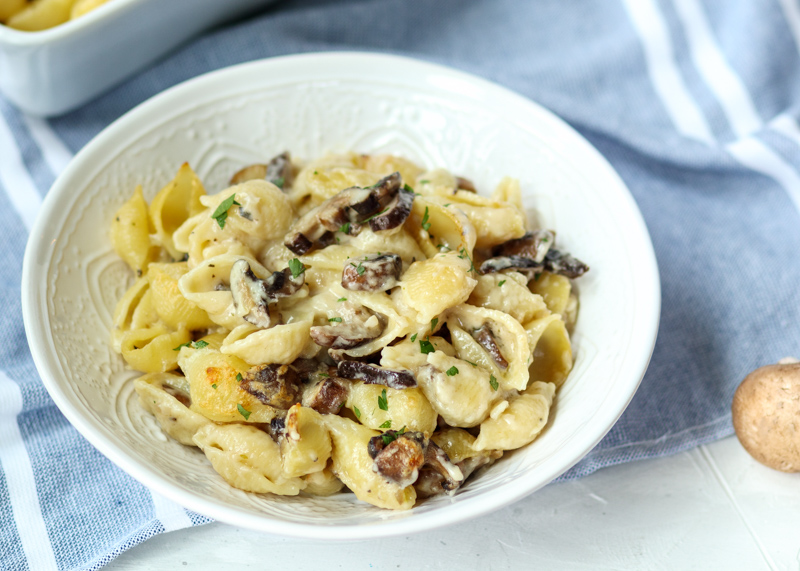 Mushroom Mac and Cheese
Ingredients
½ ounce dried shiitake mushrooms
1 cup hot water
1 pound dried medium shell pasta
5 tablespoons unsalted butter, divided
1 tablespoon olive oil
1 large shallot, minced
2 cloves garlic, minced
10 ounces whole cremini mushrooms, stems removed and chopped
½ teaspoon dried oregano
3 tablespoons flour
¼ cup white wine
2 cups whole milk
2 cups shredded gruyere cheese
1½ cups shredded fontina cheese, divided
1 cup shredded sharp or smoked cheddar cheese
1 tablespoon dijon mustard
Salt and pepper
Directions
Submerge the dried mushrooms in the hot water. Let sit for 30 minutes to 1 hour. When they are done, remove them from the water, squeeze them out, then chop and place with the other chopped mushrooms. Make sure to reserve the mushroom stock.
Preheat the oven to 375 degrees F. Lightly spray a 9x13" baking pan with nonstick cooking spray and set aside.
Cook the pasta to al dente according to the box instructions. Drain.
Heat 2 tablespoons of the butter and the olive oil in a large skillet over medium-high heat. Sauté the shallot and garlic for 1-2 minutes. Add the chopped cremini and shiitake mushrooms. Add the dried oregano and season with salt and pepper. Sauté until the mushrooms have stopped releasing liquid and are browned. Set aside.
In a large dutch oven or stock pot, melt the remaining 3 tablespoons of butter over medium-low heat. Add the flour and cook for about 3 minutes, whisking constantly. The roux should be slightly darkened. Add the white wine, whisk to combine and let cook for 1 minute. Add the milk and whisk. Once the milk has warmed, add 2 cups shredded gruyere, 1 cup shredded fontina and 1 cup shredded cheddar, whisking after each addition. Once smooth, add 3 tablespoons of the mushroom stock (the water the dried mushrooms were in), the mustard and the cooked mushroom mixture. Stir to combine. Add the cooked pasta and stir to completely coat. Taste and season with salt and pepper as needed.
Pour the mac and cheese into the prepared baking pan. Sprinkle the remaining ½ cup shredded fontina cheese on top. Bake for 20 minutes.