Greek Chicken Bowls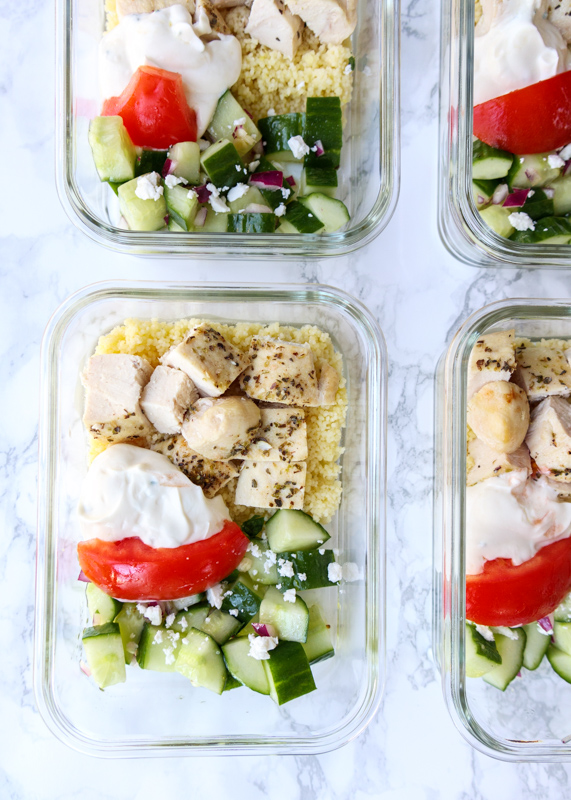 I don't know where to start with these Greek Chicken Bowls. I know it's unusual for me to be at a loss for words when it comes to food, but I think it stems from there not being an interesting or exciting reason as for why I created this dish. There's no restaurant meal these bowls are based on. The recipe isn't adapted from some cookbook I like. I wasn't making them with anyone particular in mind that loves Greek food or anything. I was simply trying to create a healthy lunch I could meal prep for Matt and I that wasn't anything like any of the dishes I normally make. So that's how these Greek Chicken Bowls came to be. Super uninteresting and definitely not exciting. But what is exciting is how a healthy meal can be so packed with flavors and textures.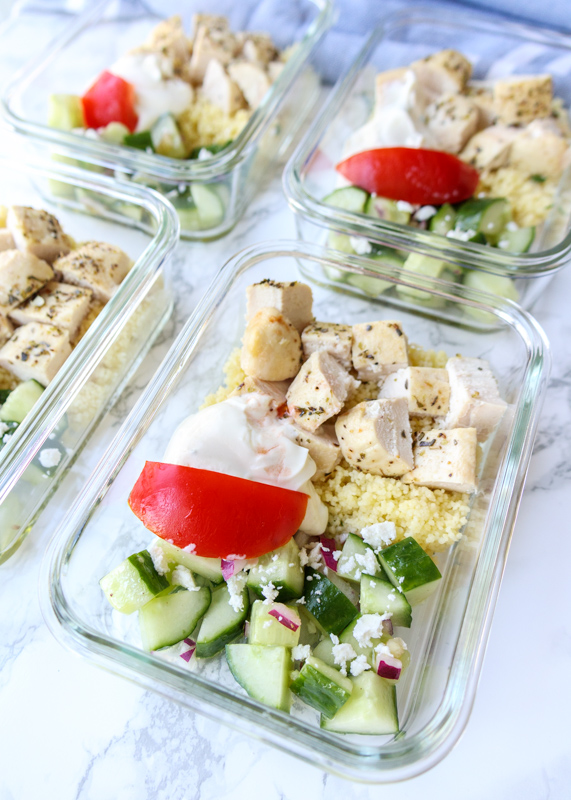 These Greek Chicken Bowls have a few more components than my normal prepped meals, but all the components are so simple that I don't even mind it. The star of the dish is the marinated chicken. It took me a couple tries to get it right, but the version I landed on imparts plenty of lemon and oregano flavor after the chicken has been baked with only thirty minutes of marinating time.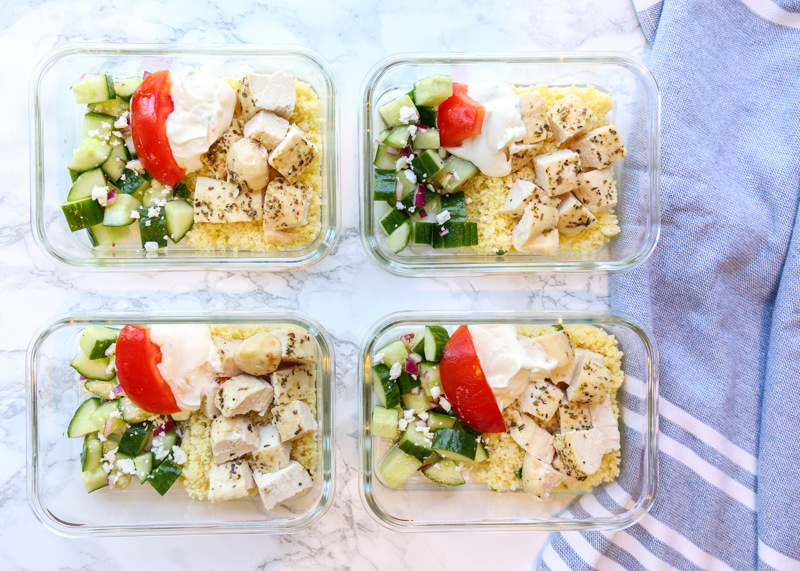 I also love that I always have all the ingredients right in my pantry or fridge so I can whip this Greek marinated chicken up any day of the week. I like using chicken tenders because they take less time to bake than chicken breasts. They also have more edges to soak up the Greek vinaigrette marinade making for even more flavorful Greek Chicken Bowls.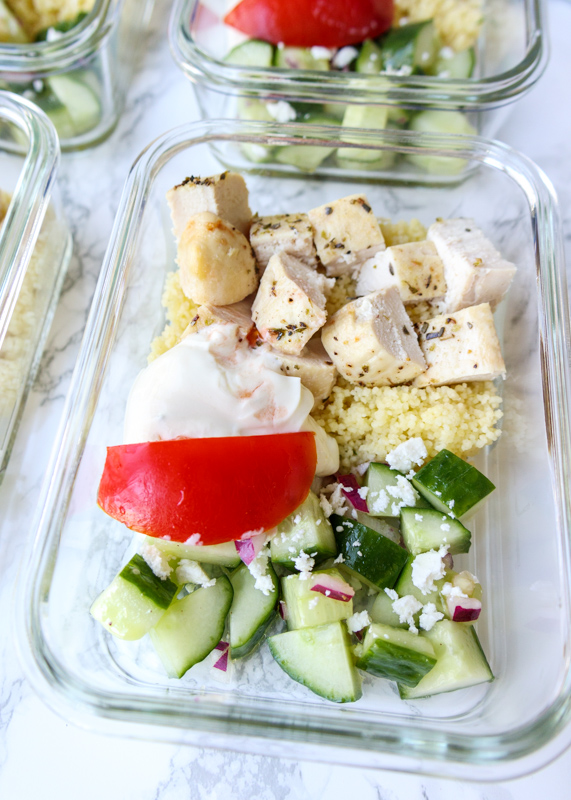 If you would rather grill your chicken, go for it! The juicy chicken gets served alongside some lemon cous cous, a quick cucumber salad and an easy yogurt mint sauce. I'm lemon obsessed and Greek food is big on lemon flavors so you knew I had to sneak it into multiple components! You could definitely make the chicken on its own and serve with different sides, but if you're going to make more components than just the chicken I strongly recommend you make all four components. The chicken, cous cous, cucumber salad and yogurt sauce all balance each other and bring unique flavors to the dish creating that perfect bite!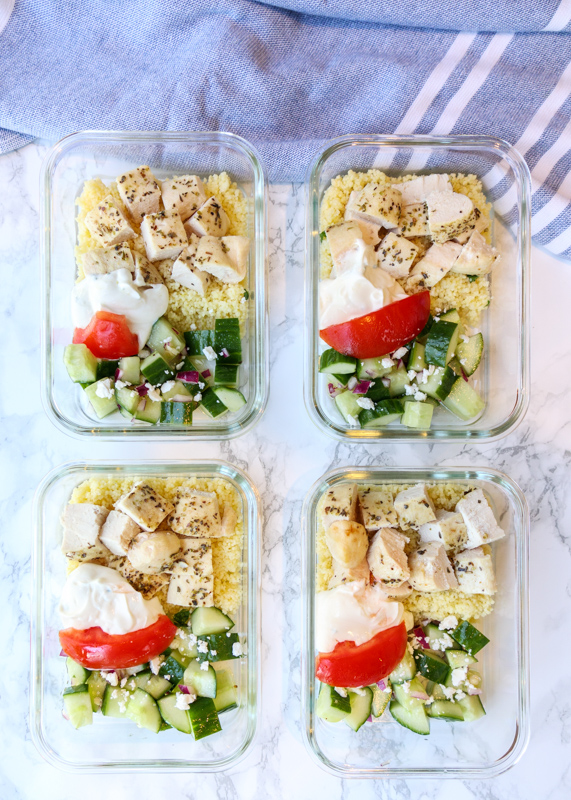 Greek Chicken Bowls
Ingredients
for the chicken
1 pound boneless skinless chicken breasts or tenders
¼ cup olive oil
¼ cup lemon juice
1 teaspoon dried oregano
1 teaspoon dried parsley
½ teaspoon garlic powder
½ teaspoon salt
¼ teaspoon ground black pepper
for the cous cous
½ cup uncooked cous cous
1 tablespoon packed parsley leaves, finely chopped
Zest from ½ lemon
for the cucumber salad
2 cup diced English cucumber, about ⅔ of a large English cucumber
1½ tablespoons finely diced red onion
½ - 1 clove garlic, minced
1½ tablespoons olive oil
2 teaspoons red wine vinegar
1 tablespoon feta cheese crumbles
Salt and pepper to taste
1 tomato, for garnish
for the yogurt mint sauce
1 container plain nonfat Greek yogurt, about 5.3 ounces
2 leaves fresh mint, chopped
1 teaspoon honey
1 teaspoon lemon juice
1 teaspoon olive oil
Directions
for the chicken
In a shallow bowl or container big enough to fit the chicken, whisk together the olive oil, lemon juice, dried oregano, dried parsley, garlic powder, salt and black pepper. Add the chicken and make sure all the pieces get completely coated. Marinate in the fridge for at least 30 minutes.
Preheat the oven to 350 degrees F.
When the chicken is done marinating, bake for 30 minutes (22 minutes for tenders) or until they register 165 degrees F with a meat thermometer. Let cool slightly then dice and divide among the 4 containers.
for the cous cous
Bring ½ cup water to boil in a small saucepan. Remove the pan from the heat. Add the cous cous and a pinch of salt. Stir then cover, letting sit for 10 minutes. The cous cous should absorb the water and be soft. Fluff with a fork then stir in the lemon zest and chopped parsley. You can add some olive oil if you would like, but I skipped it since I was trying to reduce the amount of oil in the overall dish. Divide the cous cous among the 4 containers.
for the cucumber salad
Combine the diced cucumber, diced red onion, minced garlic, olive oil and red wine vinegar in a small bowl. Season with salt and pepper to taste. Divide among the 4 containers then divide the feta cheese between the 4 containers and sprinkle on top of the salad.
for the yogurt mint sauce
Combine all the ingredients in a small bowl. Divide among the 4 containers.
Notes
This bowl is meant to be eaten cold because of the cucumber salad and yogurt sauce.