Arroz Verde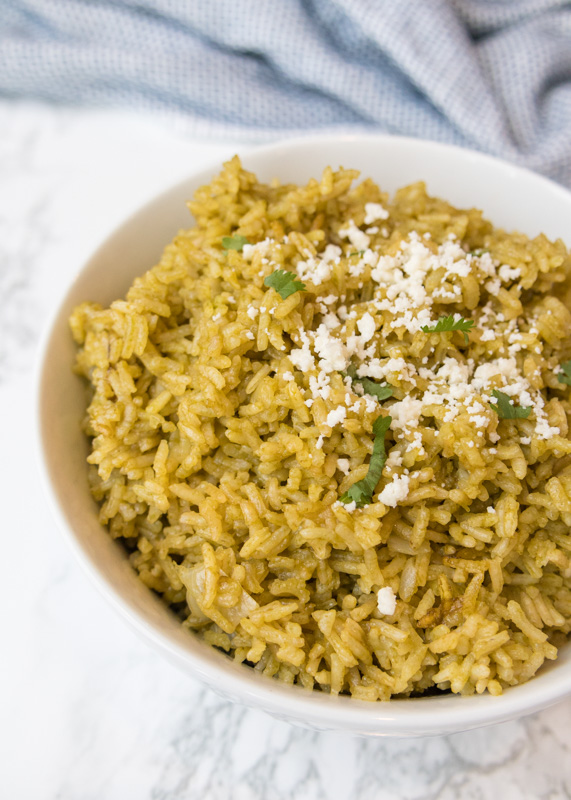 We're back at it today with another tasty dish from Pati's Mexican Table. Pati gave this arroz verde the title of My Favorite Green Rice, but I'm renaming it simply My Favorite Rice because it is the best rice I've ever made. The rice is so simple, but it has great flavor to it that really complements dishes like the Sweet and Salty Salmon well. A vibrant green puree is made from poblano chiles, parsley, cilantro and garlic. The puree gets soaked into the uncooked rice before finishing cooking in the water, broth and lime juice. It amazes me that such a small step added to cooking regular rice could make such a huge impact in the flavor. Similar to a few other dishes I've had on here where I've used chili peppers (Mexican Street Corn Pasta Salad and Monday's Sweet and Salty Salmon), the poblano peppers have the seeds and pith removed so they do not make the rice spicy.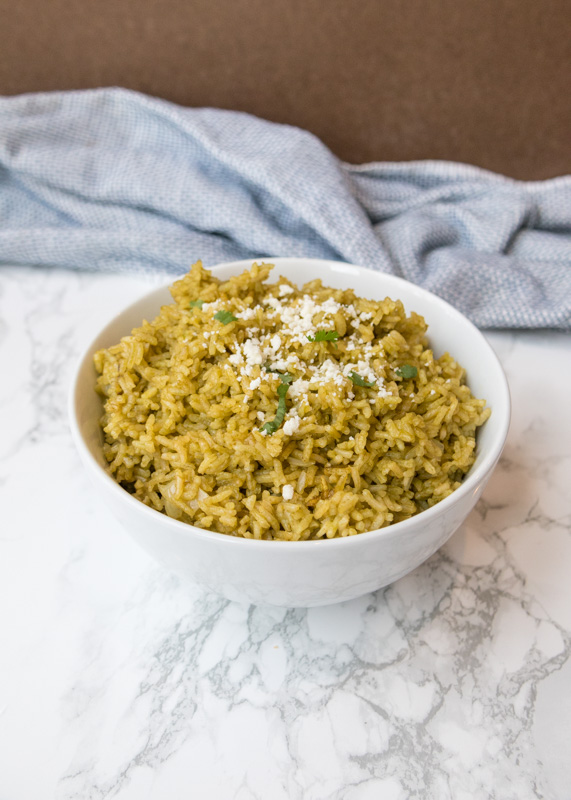 I love using my Breville Risotto Plus for this rice dish because it lets me sauté and then switch it to the rice cooker setting all in the same pot. I know I've talked about this appliance before, but I love it! In our house it is used as our slow cooker, rice cooker and steamer. We also use the risotto setting when we're feeling fancy and indulgent. The sauté feature is especially helpful for slow cooker recipes that require you to sauté onions or sear meat before turning on the slow cooker setting.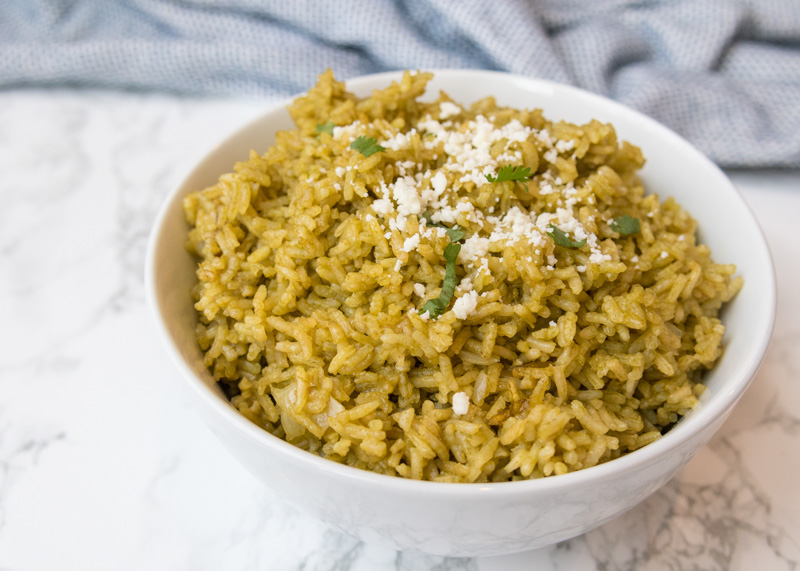 Anyway, back to My Favorite Rice! If you don't have a rice cooker with a sauté setting just follow the directions below for stove-top cooking. In addition to pairing with my favorite Mexican dishes from Pati's Mexican Table I also love serving this rice to spice up an otherwise "boring" dinner, such as grilled chicken and veggies. Once you try it you won't want plain rice again!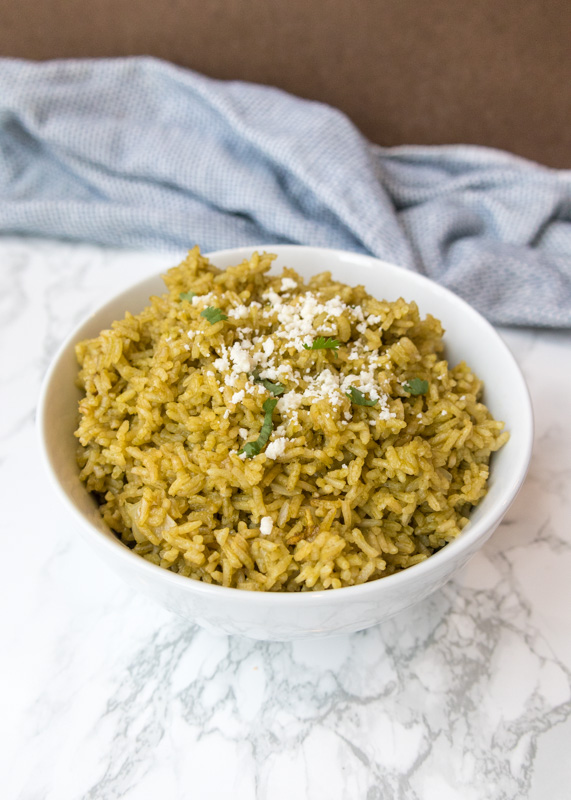 Arroz Verde
Ingredients
2 poblano chiles, seeds and pith removed, roughly cut into chunks
½ cup water
⅓ cup parsley leaves
⅓ cup cilantro leaves
2 cloves garlic
1½ teaspoons coarse salt
2½ - 3 cups vegetable broth
3 tablespoons vegetable oil
2 cups jasmine or long-grain white rice
½ white onion, chopped
1 tablespoon lime juice
Crumbled Cotija cheese, for topping if desired
Directions
Puree the poblanos, water, parsley, cilantro, garlic and salt in a blender or food processor until smooth. Pour into a measuring cup and note the amount (or note the amount if your blender has measurements on the side). In a separate liquid measuring cup, measure out enough vegetable broth so that when added to the amount of poblano puree you make the two liquids together equal 4 cups. Keep the poblano puree and the vegetable broth separate.
In a medium saucepan over medium-high heat, heat the oil then add the rice. Cook, stirring often, until the rice changes to a milky white color, about 5 minutes. Add the chopped white onion and continue to sauté until softened, about 3 minutes.
Pour the poblano puree into the pan with the rice and continue to stir while it cooks. Cook until the puree thickens and then is mostly absorbed by the rice, about 3 minutes. Stir in the vegetable broth and lime juice then bring to a boil. Cover and reduce the heat to low. Let cook for 15 minutes or until most of the liquid has been absorbed. The rice should be cooked and tender, but there should still be some moisture in the pan. Fluff with a fork or rice paddle then serve with the crumbled cheese on top, if desired.
Notes
If you are using a rice cooker with a sauté setting, switch to the rice cooker setting immediately after stirring in the vegetable broth and lime juice and cover with the lid.
Recipe from

Pati's Mexican Table

.
Some of the links above are affiliate links, which means I may receive a small commission for my referral. This does not affect the retail cost of the item. Thank you for supporting Lemon & Mocha!