Chocolate-Dipped Browned Butter Rice Krispie Treats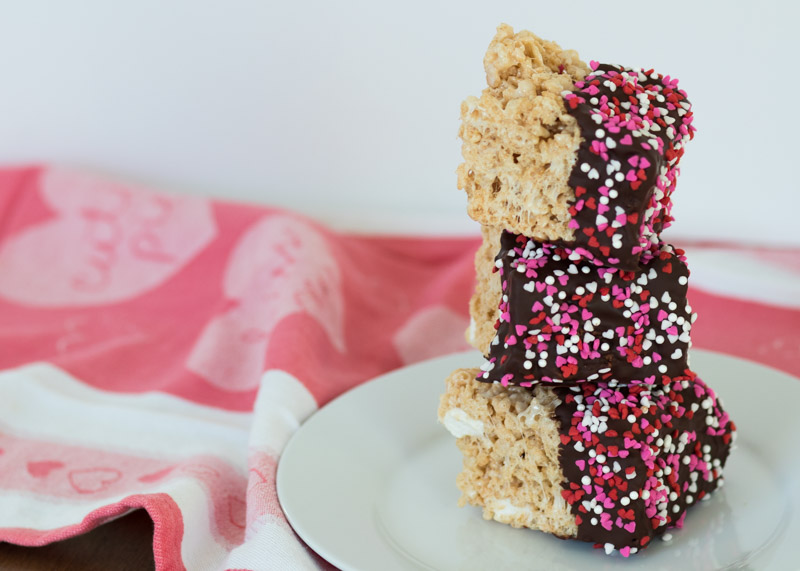 Valentine's Day gives me all those sappy love feels, not just because of all the hearts and pink covered chocolates in the stores, but because that was the day Matt and I had our first official date ten years ago. The two weeks after we met we had our little dinner dates in the dining hall and lunches on the quad, but this was our first real date.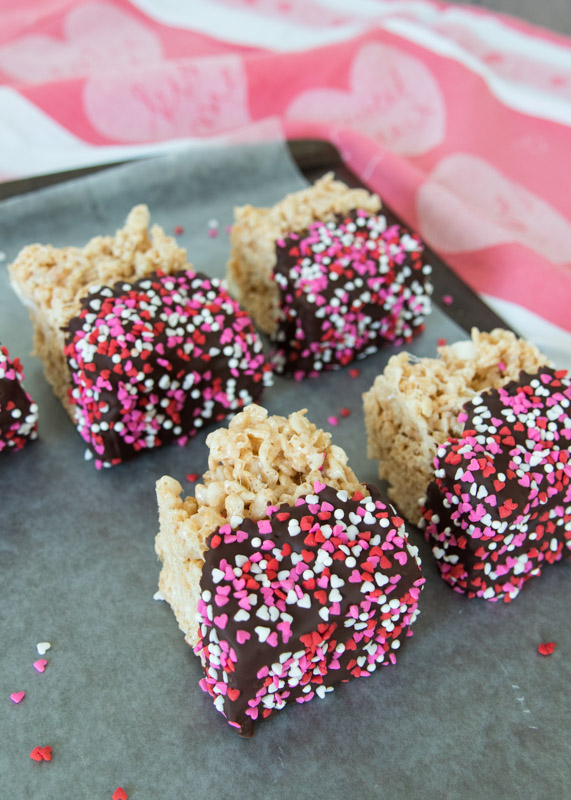 When Matt asked me to go out to dinner on "Thursday" I didn't even realize it was Valentine's Day at first. As we walked through Boston we held hands in the pocket of Matt's coat since neither of us brought gloves on the cold night. Matt wanted to surprise me and show me this hidden sneaker store. It is fronted by a convenience store and you have to walk through the Snapple machine in the back so he said he needed deodorant to get me to go over there (not sure why he picked something so unromantic and didn't go with shampoo or something 😂 but sappy and goofy sums us up pretty well). Then we went and had burgers, fries, and milkshakes; I can still feel the energy of that night like it was just last week.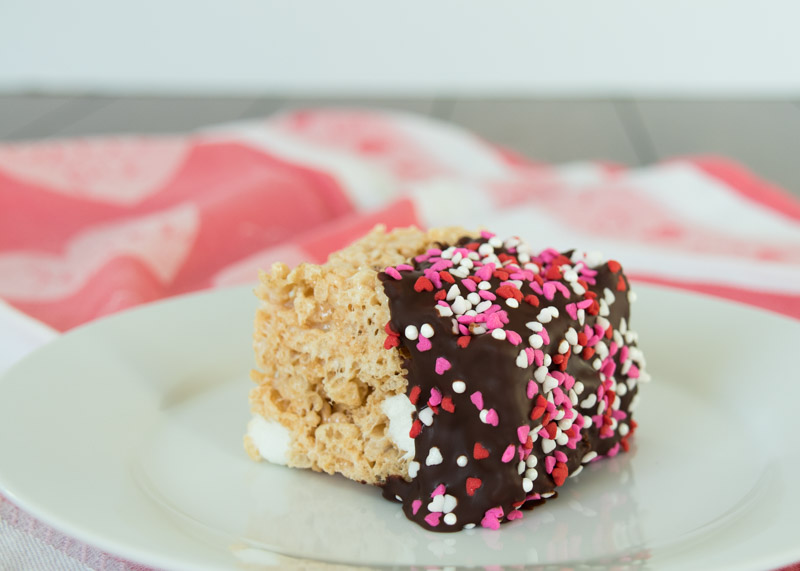 Since I was especially feeling like celebrating love this year I wanted to make something that looked cute while tasting next-level delicious. Enter these Chocolate-Dipped Browned Butter Rice Krispie Treats.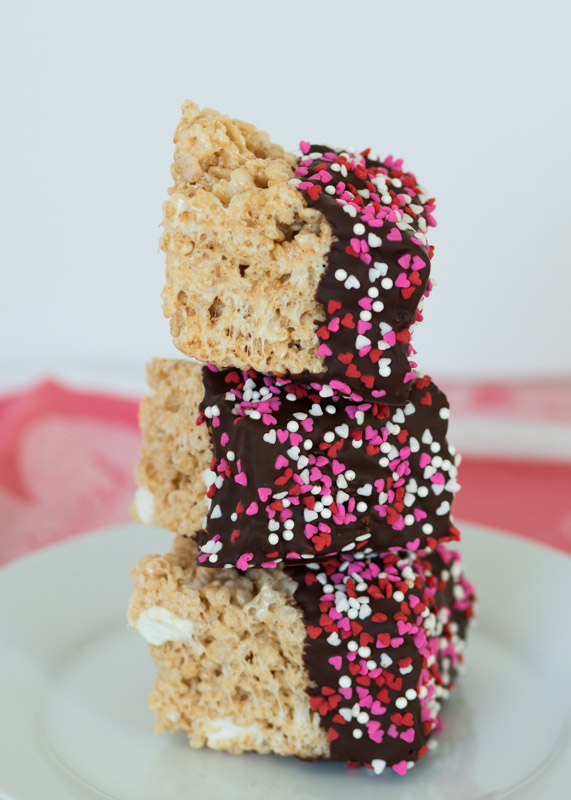 I find normal krispie treats bland so I started brainstorming on how to make them into a treat I would want a second and a third of. My first thought was to cover it in semisweet chocolate since chocolate makes everything better and it would also let me use the adorable heart sprinkles I bought.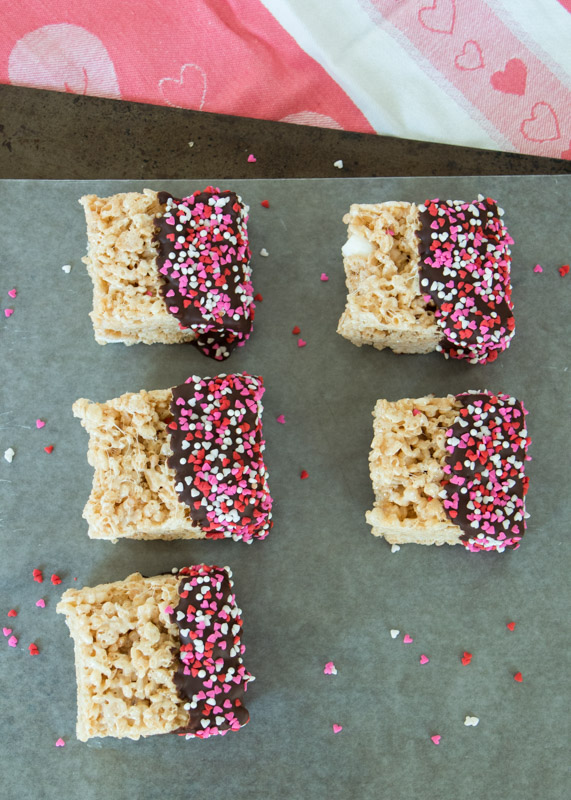 Then I looked at the recipe on the back of the Rice Krispies box and thought that if we were bothering to melt the butter we might as well keep melting to brown it to create a richer, toasted flavor, similar to my Perfect Chocolate Chip Cookies.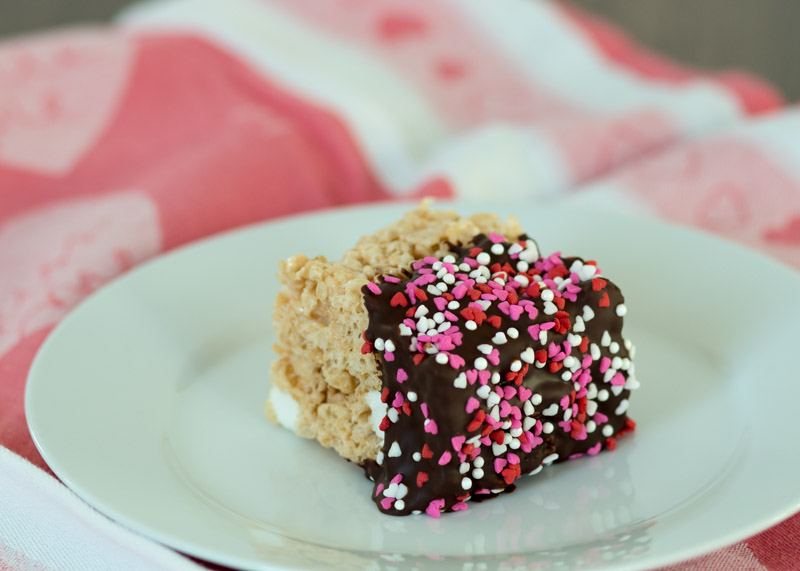 Lastly, adding some extra mini marshmallows at the end gives you little pockets of gooey marshmallow. These amped up krispie treats are so quick to make, but when you're done they look (and taste!) like they just came out of a bakery. Time to express your sappy love feels this Valentine's Day with these Chocolate-Dipped Browned Butter Rice Krispie Treats!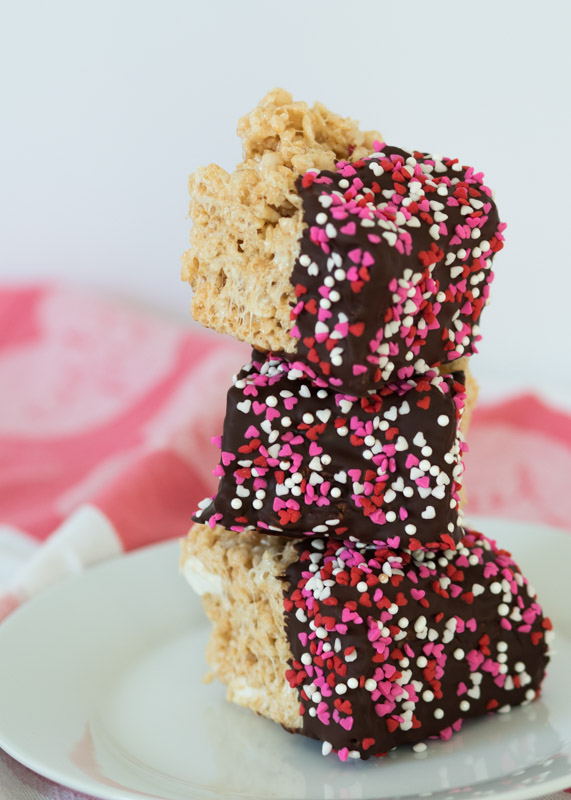 Chocolate Dipped Browned Butter Rice Krispie Treats
Yield:
12 regular or 9 jumbo krispie treats
Ingredients
3 tablespoons butter
4¾ cups mini marshmallows
1 teaspoon vanilla extract
¼ teaspoon salt
6 cups Rice Krispies cereal
1 cup semisweet chocolate chips, plus more as needed
1 teaspoon vegetable oil, plus more as needed
Sprinkles
Directions
Line a 13x9 pan or a 9x9 pan (see note) with nonstick aluminum foil and set aside.
In a large pot big enough to fit all the cereal, melt the butter over medium heat. Continue to cook the butter, making sure to continuously swirl the pan, until the butter is golden brown in color, about 4 minutes. Lower the heat then add 4 cups of the marshmallows, stirring until melted. Remove from the heat and stir in the vanilla and salt.
Add the cereal to the pot and gently stir until coated. Gently stir in the remaining ¾ cup of mini marshmallows. Pour the contents of the pot into the prepared pan and spread evenly. I used a small piece of wax paper to lightly press on the krispie treats in the pan to create an even-ish surface without pressing too hard (you don't want the krispie treats to be dense). Let cool completely.
Once cooled, remove the foil from the pan and cut the krispie treats with a sharp knife. Line a small baking pan or sturdy cutting board that will fit in your fridge with wax paper and set aside.
Add the chocolate chips and the vegetable oil to a microwave-safe measuring cup or bowl. I used a 2 cup measuring cup since it is deep and narrow - ideal for chocolate dipping. Microwave for 30 seconds, stir, then continue microwaving and stirring at 15-second intervals until the chocolate is completely melted. Dip half the krispie treat into the melted chocolate and let the excess drip off. Coat with sprinkles and set on the wax paper to cool. Continue with the remaining krispie treats, melted more chocolate as needed, then place in the fridge to allow the chocolate to harden. Remove from the fridge as soon as the chocolate has hardened then store at room temperature in an airtight container.
Notes
For 12 normal-sized krispie treats use a 13x9 pan. For 9 jumbo-sized krispie treats use a 9x9 pan.
The krispie treats stay for a few days, but they taste best the same day.