Maple Walnut Blondies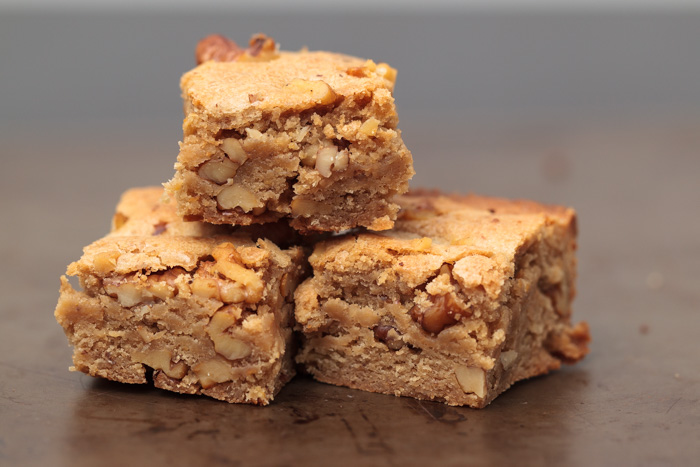 Today is part three of Lemon & Mocha's holiday brownie extravaganza series! After this we are going to take a minor break from the brownies, but they will be back soon, I promise!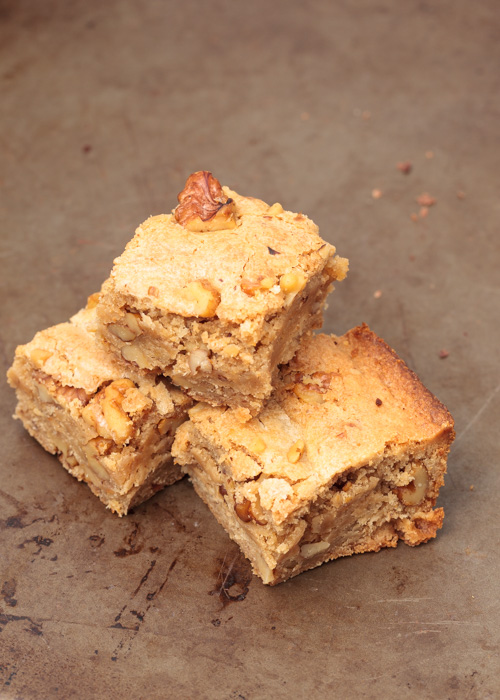 When I was looking over my brownies that I had dipped, drizzled, dunked and doused in chocolate I realized the brownies were missing their tasty counterpart: the blondie. A blondie is basically a chocolate-less brownie and I love them equally. Ok, maybe the chocolate lover in me likes brownies more, but blondies are also extremely tasty. Especially when they have chocolate chips.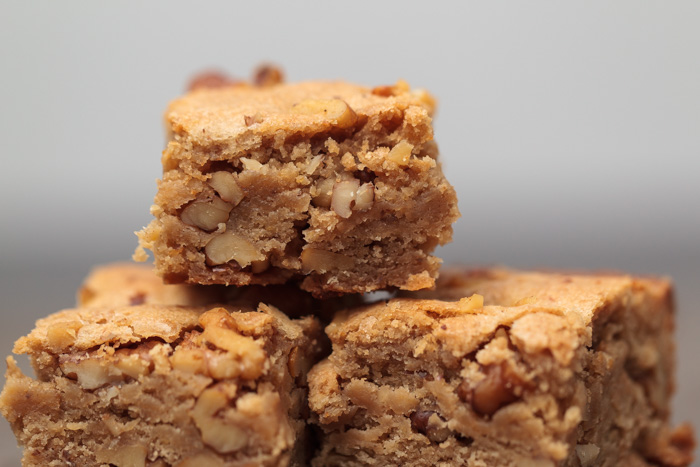 But I am excited to say that these 100% chocolate-free blondies were one of my favorites from my brownie baking bonanza. Maple walnut blondies. They are chewy, with a bit of crunch from the walnuts, and have a very subtle maple flavor.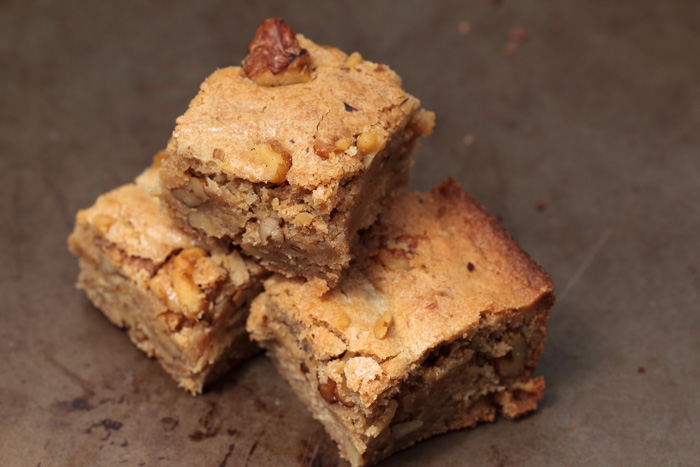 The recipe I used mentioned that using real maple syrup would have a more mild maple taste, while using maple flavored syrup would produce a pronounced maple blondie. I only had the real stuff in my fridge so that's what I went with and a lot of people told me that they were pleasantly surprised by the subtly of the maple. So step away from the chocolate and make these delicious maple walnut blondies!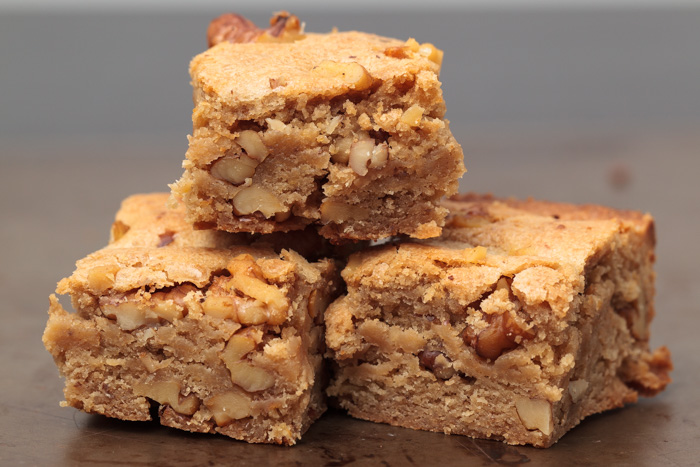 Maple Walnut Blondies
Ingredients
11 tablespoons unsalted butter, half melted
1 cup packed light brown sugar
1 teaspoon salt
½ cup plus 2 tablespoons maple syrup, divided
1 large egg
2 teaspoons vanilla extract
2 cups all-purpose flour
¼ teaspoon baking soda
1 ¾ cups walnuts, chopped and divided
Directions
Preheat oven to 375 degrees F. Grease a 9x9" baking pan and set aside.
In a large bowl combine the butter, brown sugar and salt.
Add ½ cup of the maple syrup and the egg, then stir to combine.
Add the flour and baking soda, then stir to combine. Once completely combined, stir in 1 ½ cups of the walnuts.
Spread the batter into the prepared pan and use a spatula to smooth the top. Drizzle the remaining 2 tablespoons of maple syrup over the batter then swirl into the batter with the spatula. Evenly sprinkle the remaining ¼ cup of walnuts onto the top.
Bake about 30 minutes, or until the blondies are golden and just set in the center. Be sure not to overbake. Let blondies cool in the pan completely on a wire rack. Cut and serve.
Notes
For a subtle maple flavor, use real maple syrup. For a pronounced maple flavor, use maple flavored syrup.
Recipe from

Serious Eats

.